Harrop A10976 E-Locker for Craig's 1999 LX470 front 8" IFS 3rd.
(72 BIG pics loading)
April 6 2020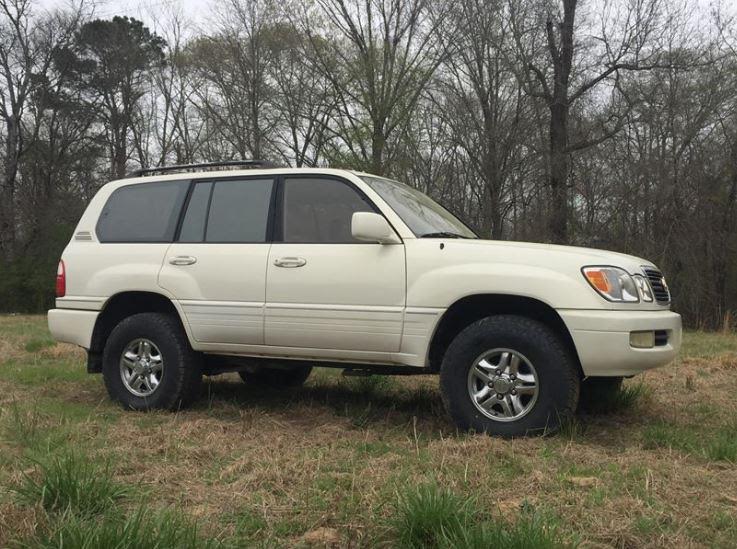 Craig's 100 series Landcruiser is seeing more and more changes and mods.
This link only covers the front installation of the Australian Harrop and new
bearings. The stock 430 gears are not being changed out.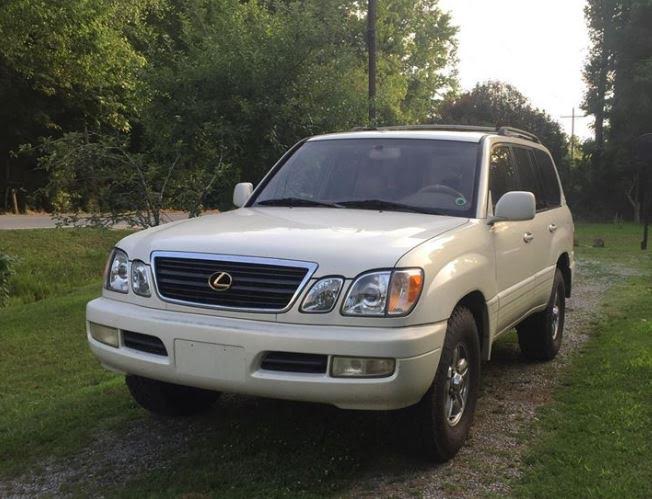 This Landcruiser sees the trails of Arkansas.
Craig sent me a list of the mods and upgrades he has made so far.......
New Denso O2 Sensors
New OEM PowerTilt Motor
New OEM Power Telescopic Motor
New SPC UCAs
New LCAs
New OEM Rack
New Transmission Fluid Hoses
New Power Steering Hoses
New OEM CV Axles and Flanges
New Denso Rebuilt Altenator
New Motor Mounts
Trail Tailor Transmission/Transfer Skip Sliders
Trail Tailor Rear Shock Guards
Trail Tailor Rear LCA Rock Guards
Basically everything on the front end suspension replaced except AHC.
More to come
Replace Rear Upper and Lower Control Arms
Rear Harrop E-Locker (Need to your assistance like the front)
Bumpers with spare carrier.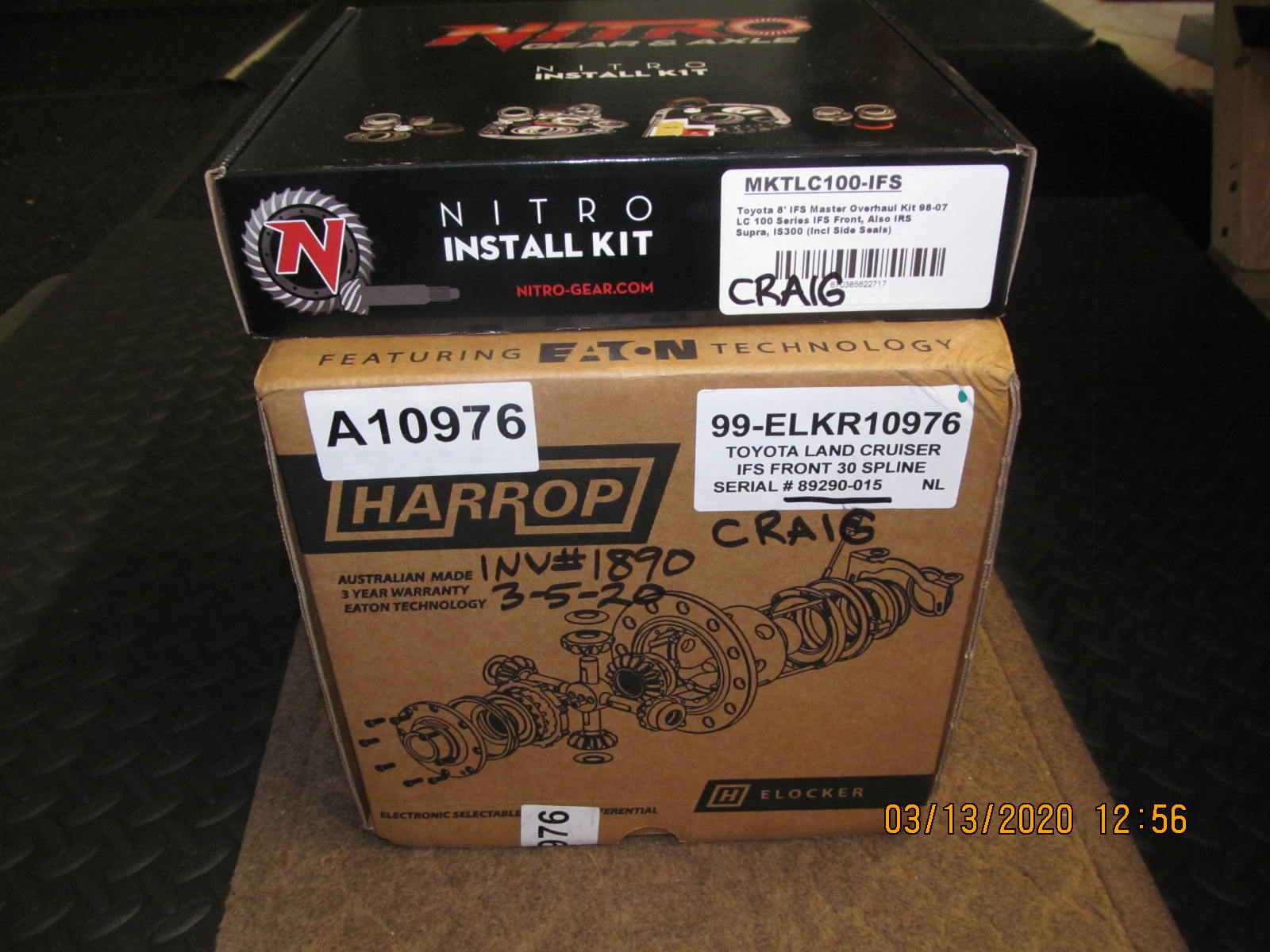 The 100 series Nitro master install kit came from JustDifferentials.com
The Harrop was drop-shipped from Australia and took only 4 or 5 days to show up.
At the time of this typing the Harrop is retailing at $1400.
....And this box arrives from Craig with his front IFS unit inside.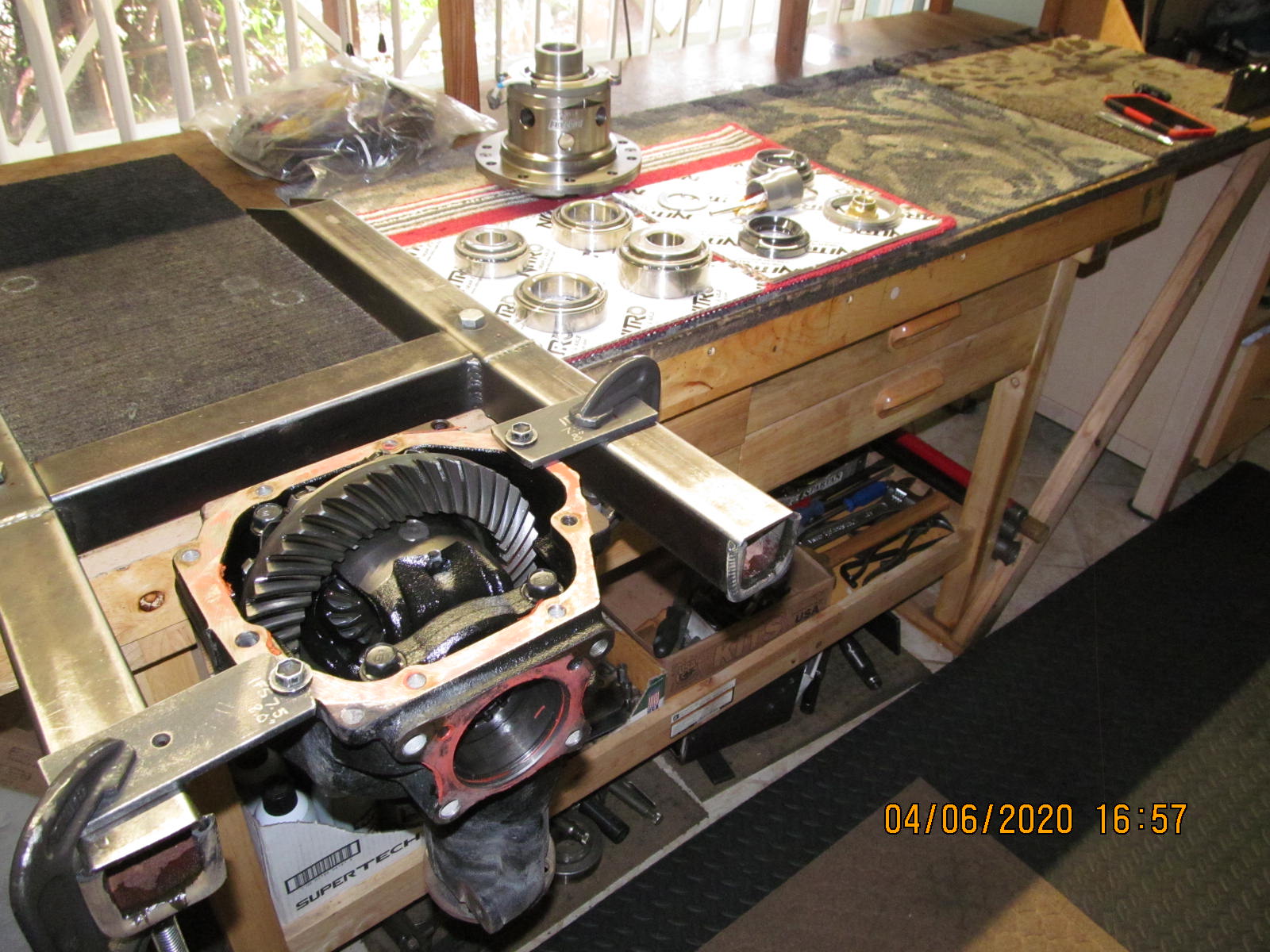 Mounted up on the bench with the product to go in.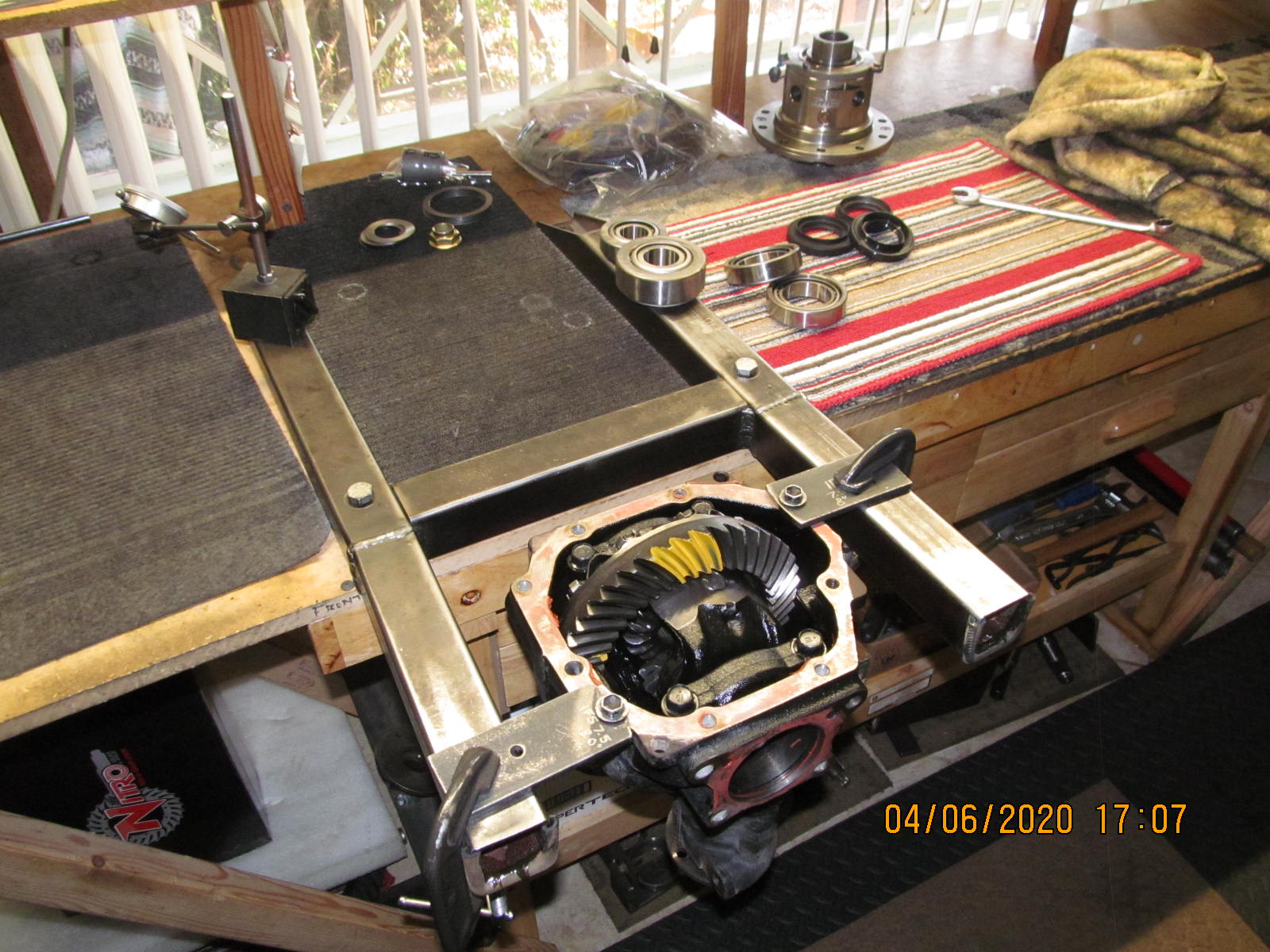 There was really nothing wrong with this front 3rd and old bearings were still in ok shape
but still is a good idea to run a pattern check.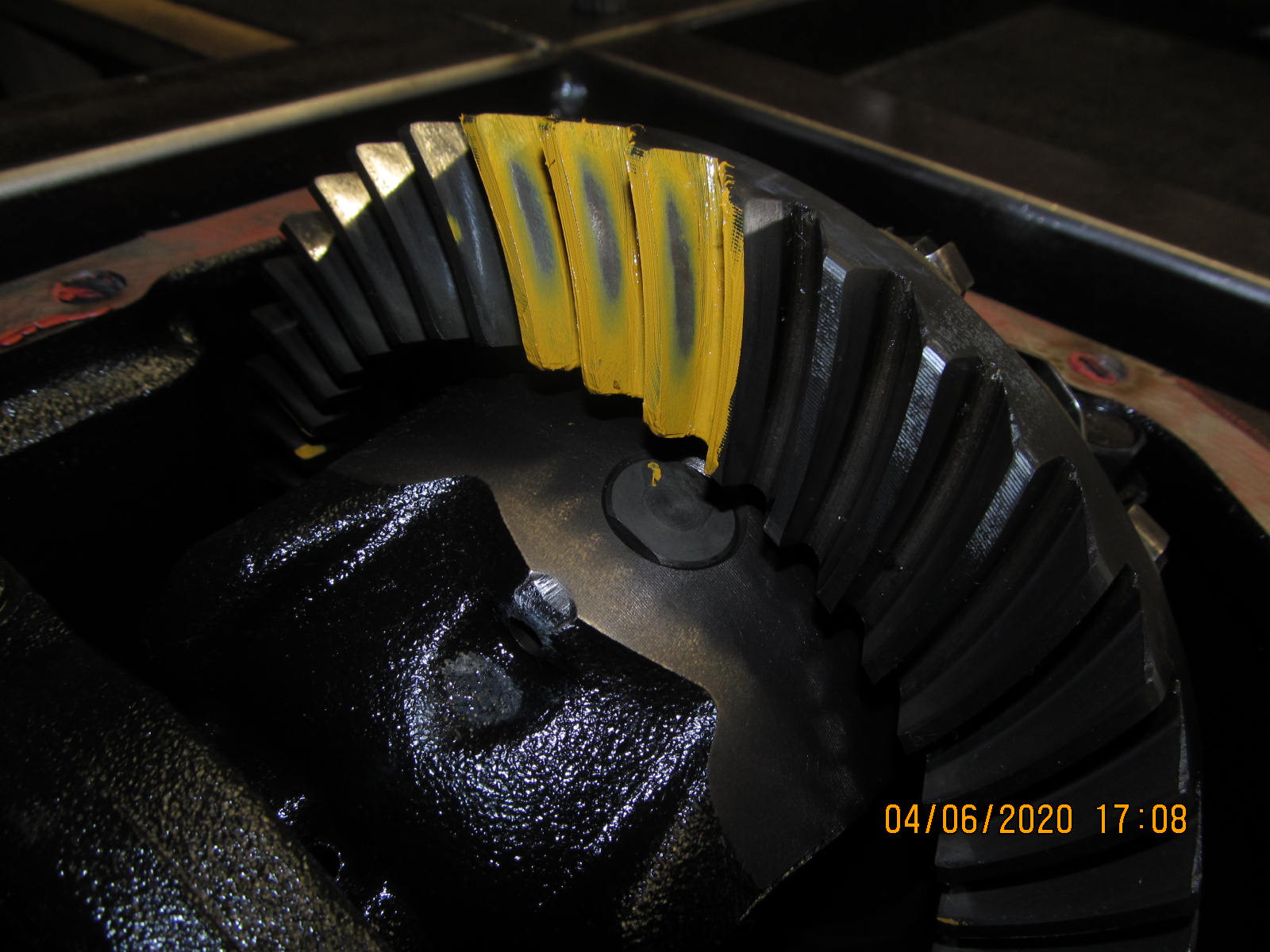 The drive side still looks respectable.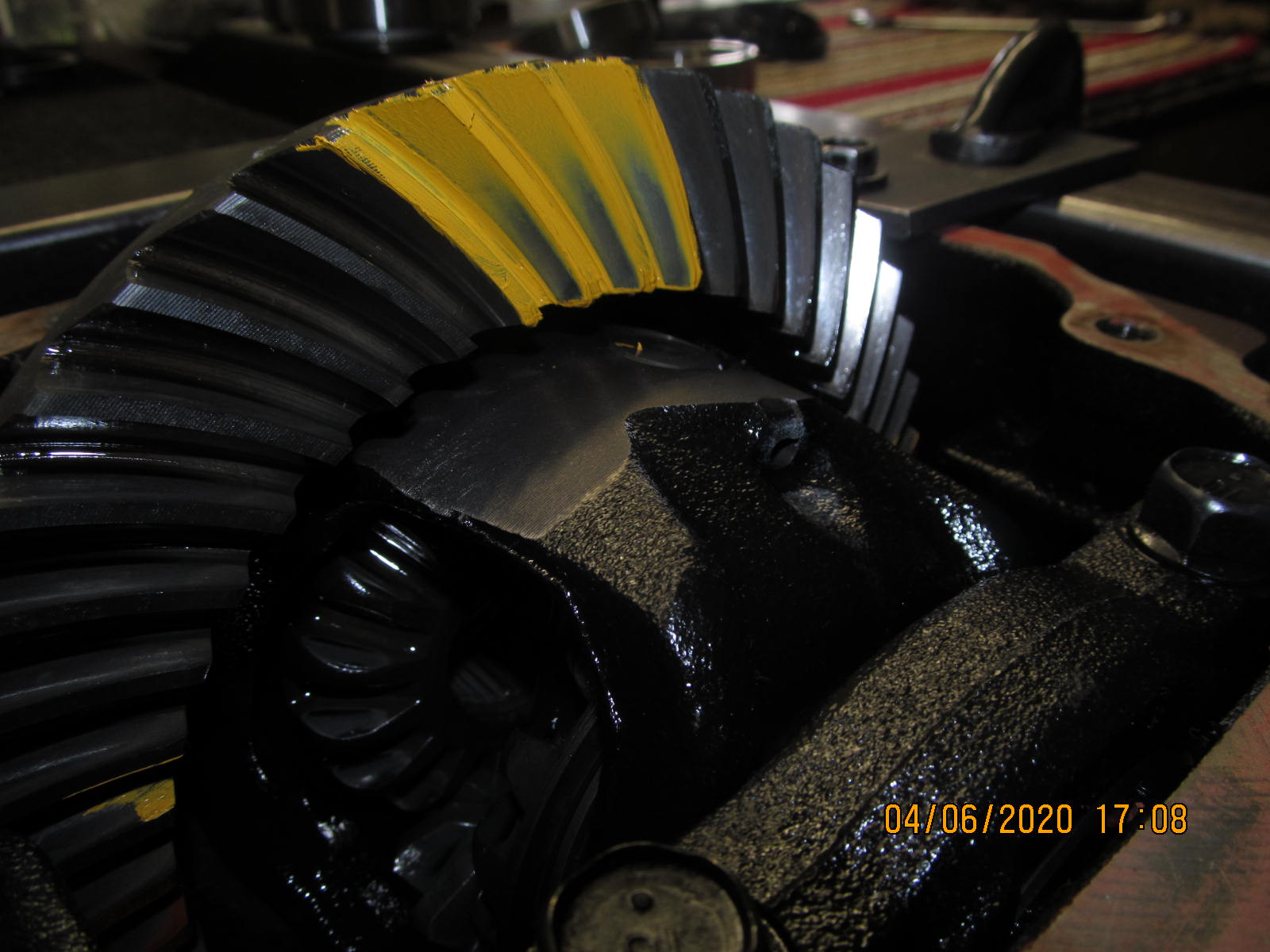 Coast is favoring the toe but is ok.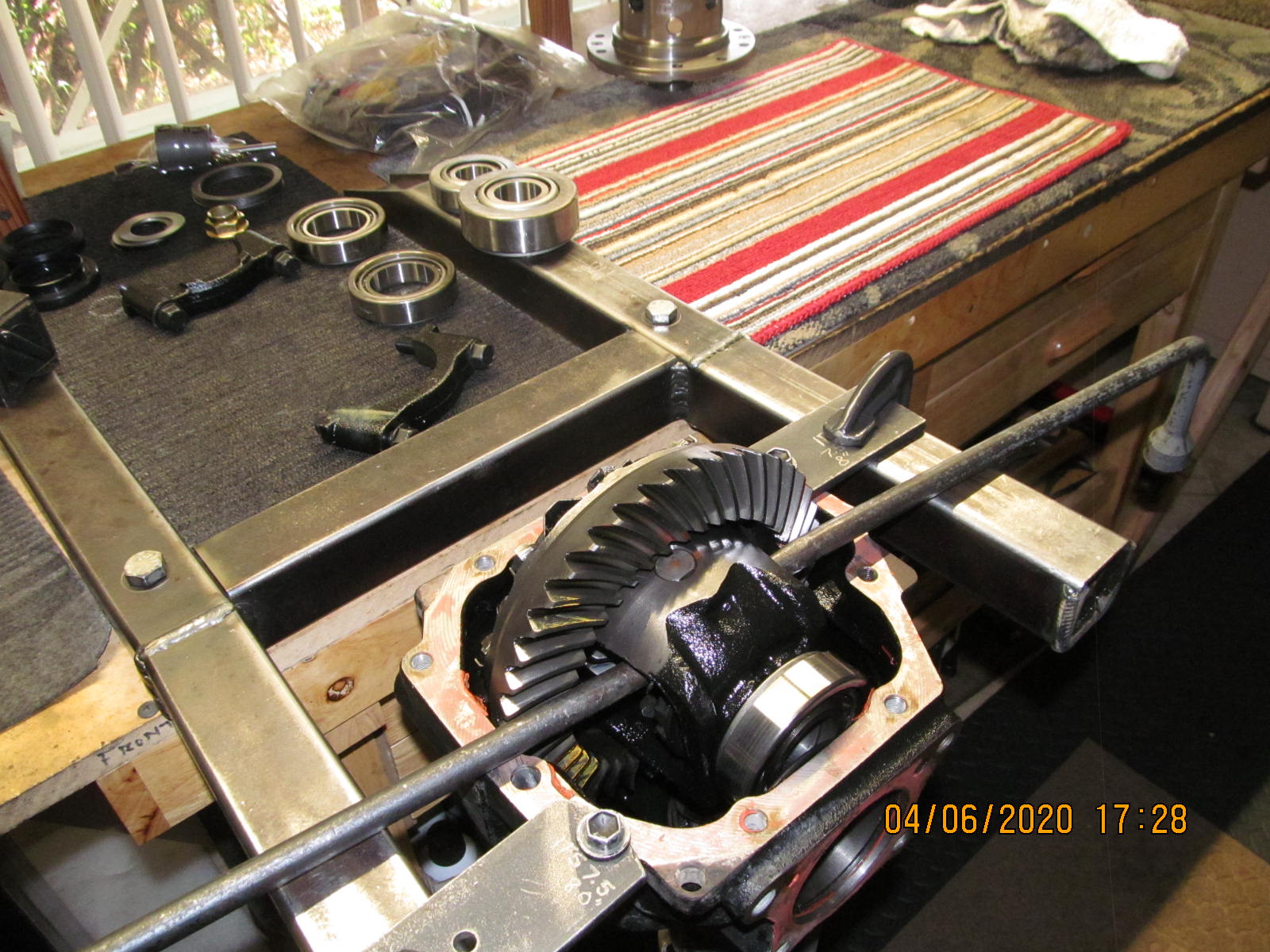 There was still some carrier bearing preload left and 2 crowbars coaxed the center carrier out in no time.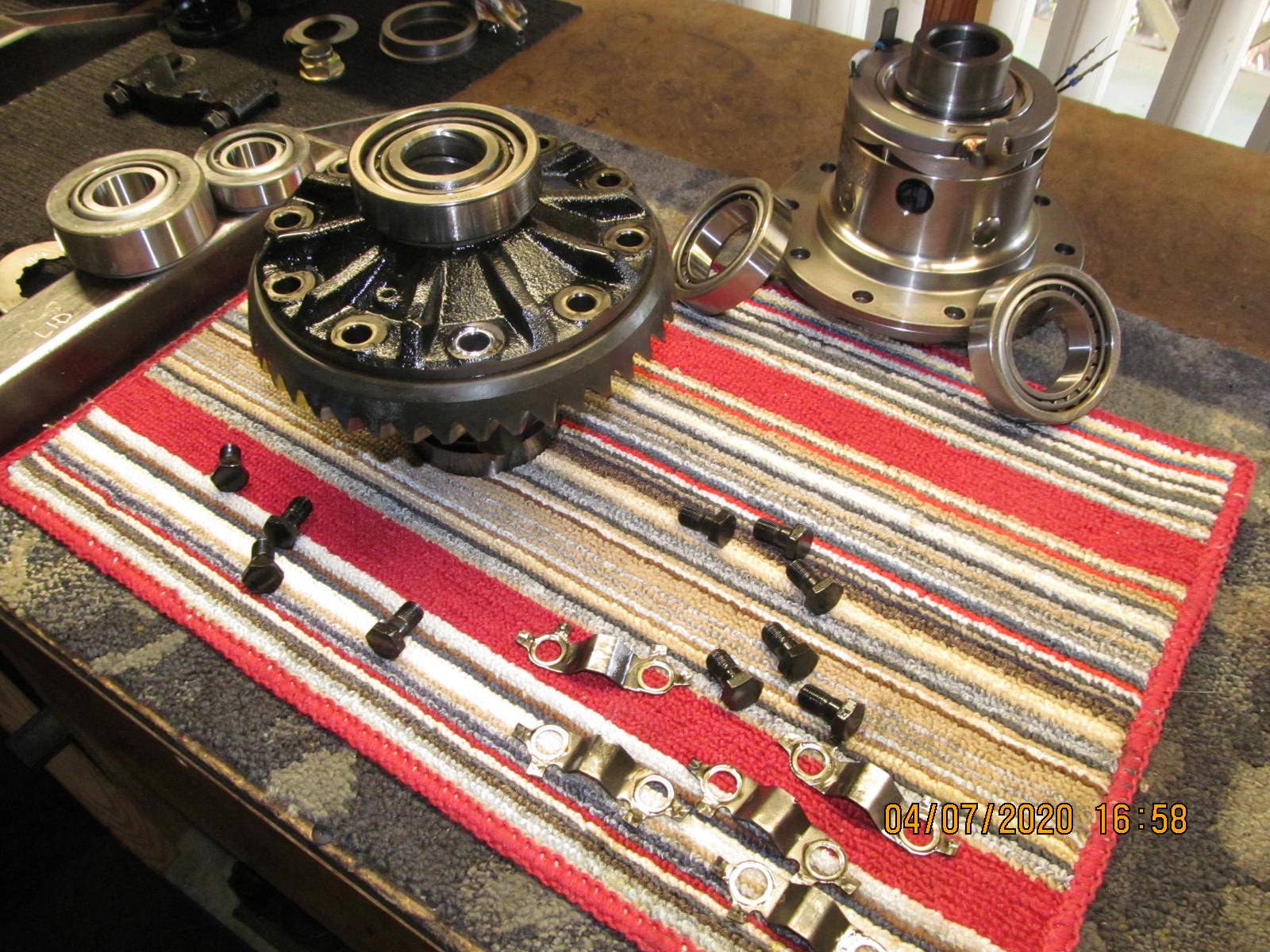 430 ring is tapped out of open center carrier....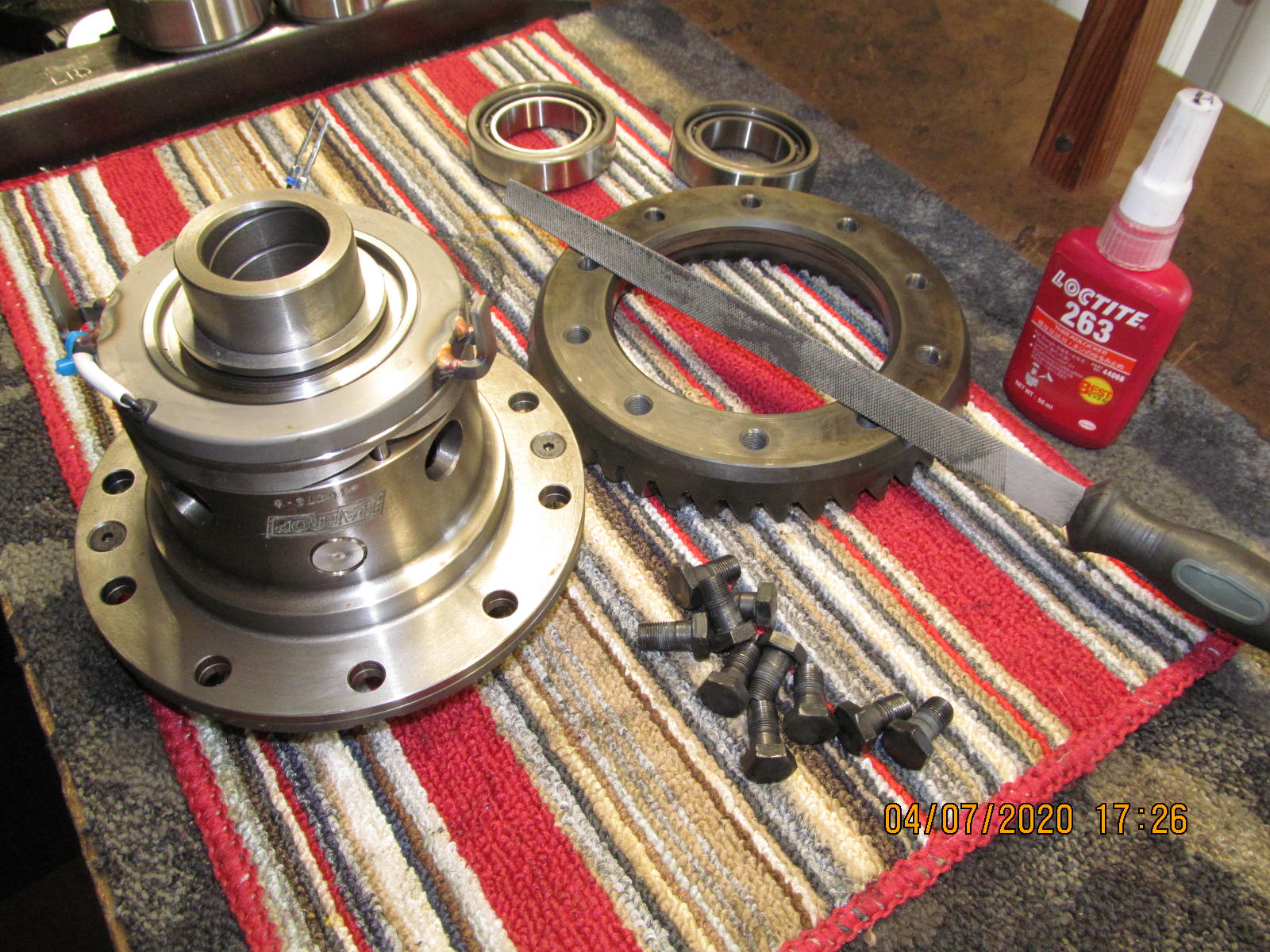 Surface check for burrs....all is good.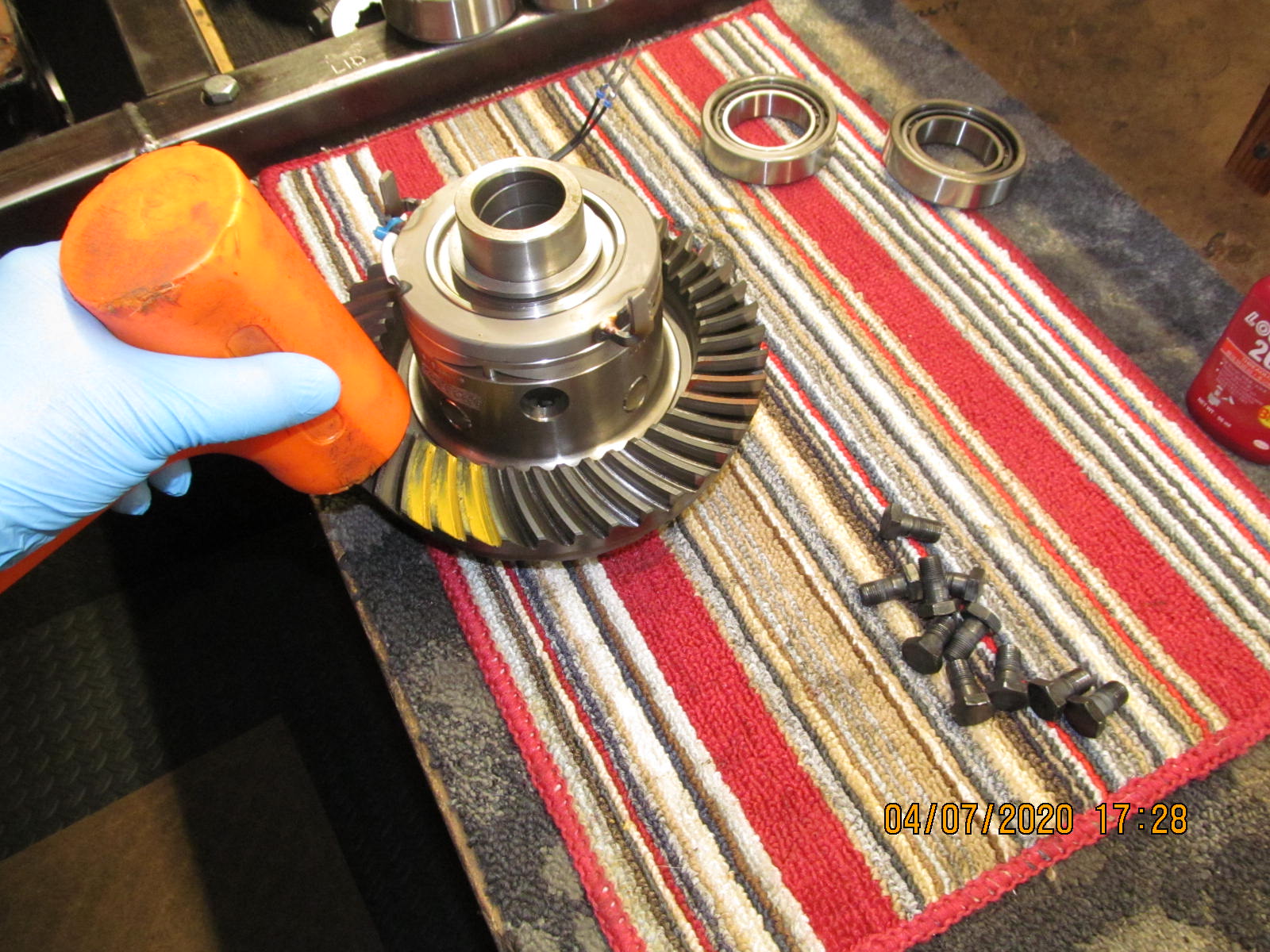 The factory 430 ring slipped on almost perfect....only the lightest of taps to get it to fall in place.
Threads have been cleaned with starting fluid to remove all oil traces.....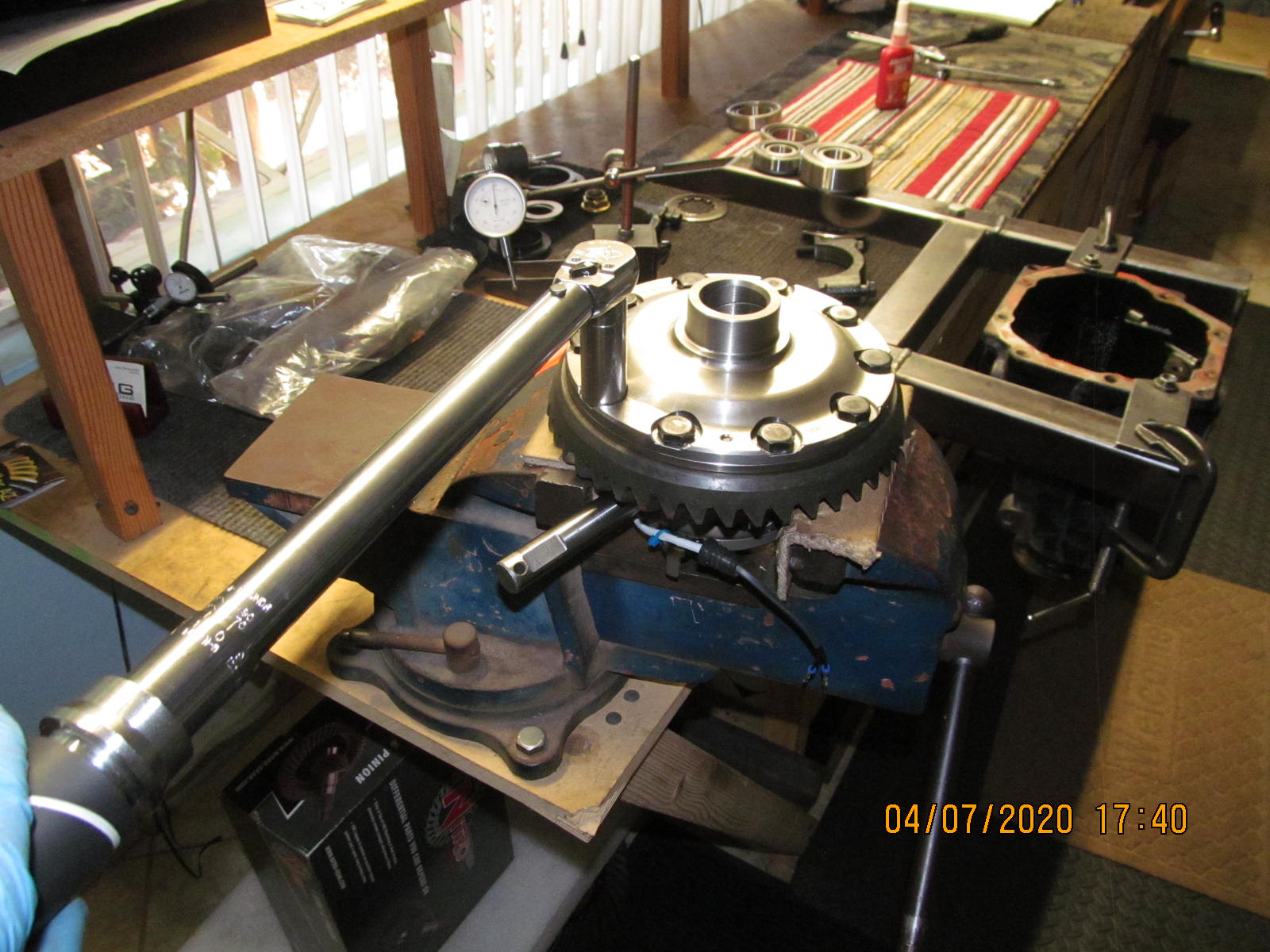 .....Then red loctite and 71 ft/lbs applied to all 10 bolts.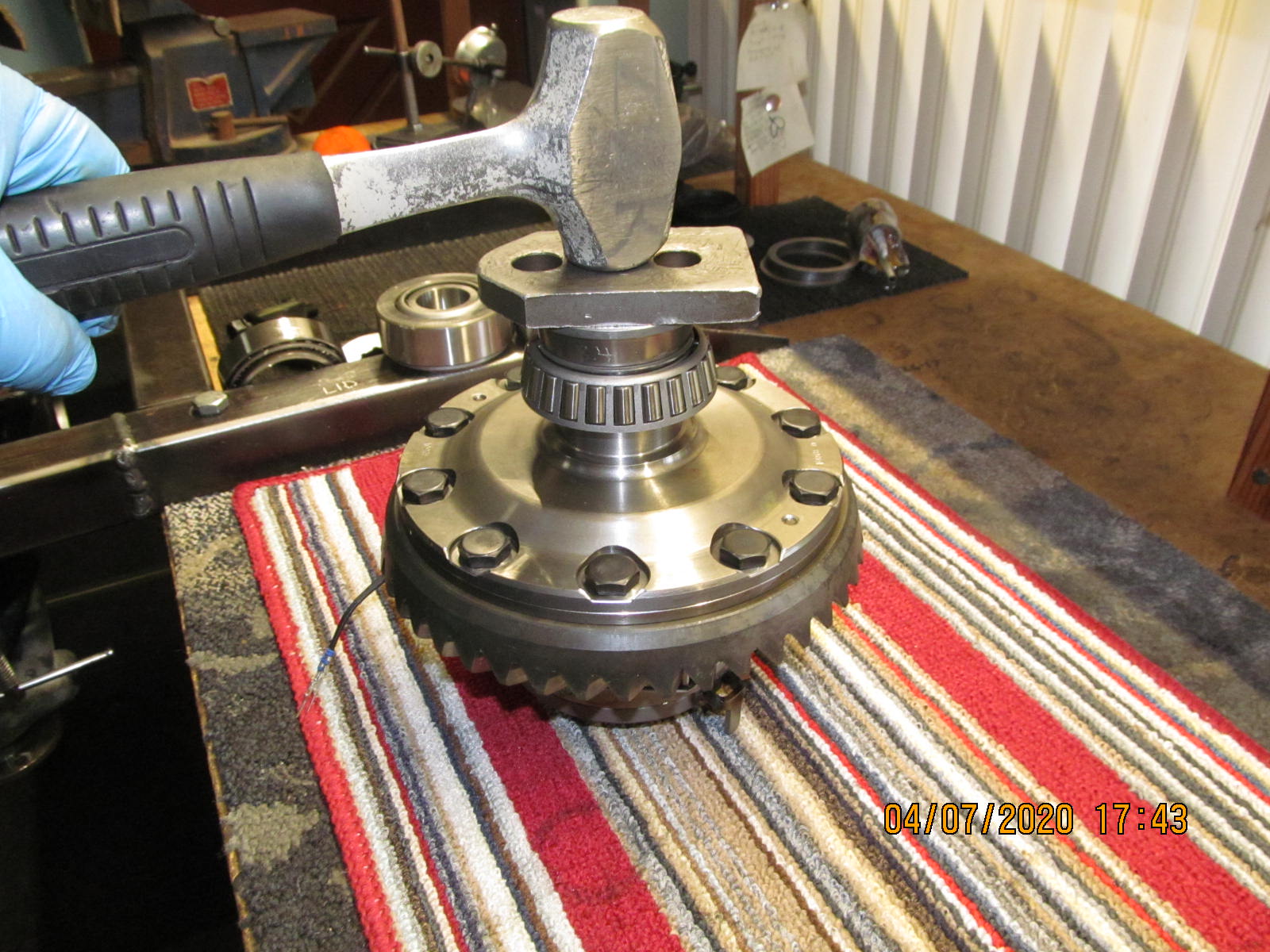 New Koyo bearings tapped on very solidly.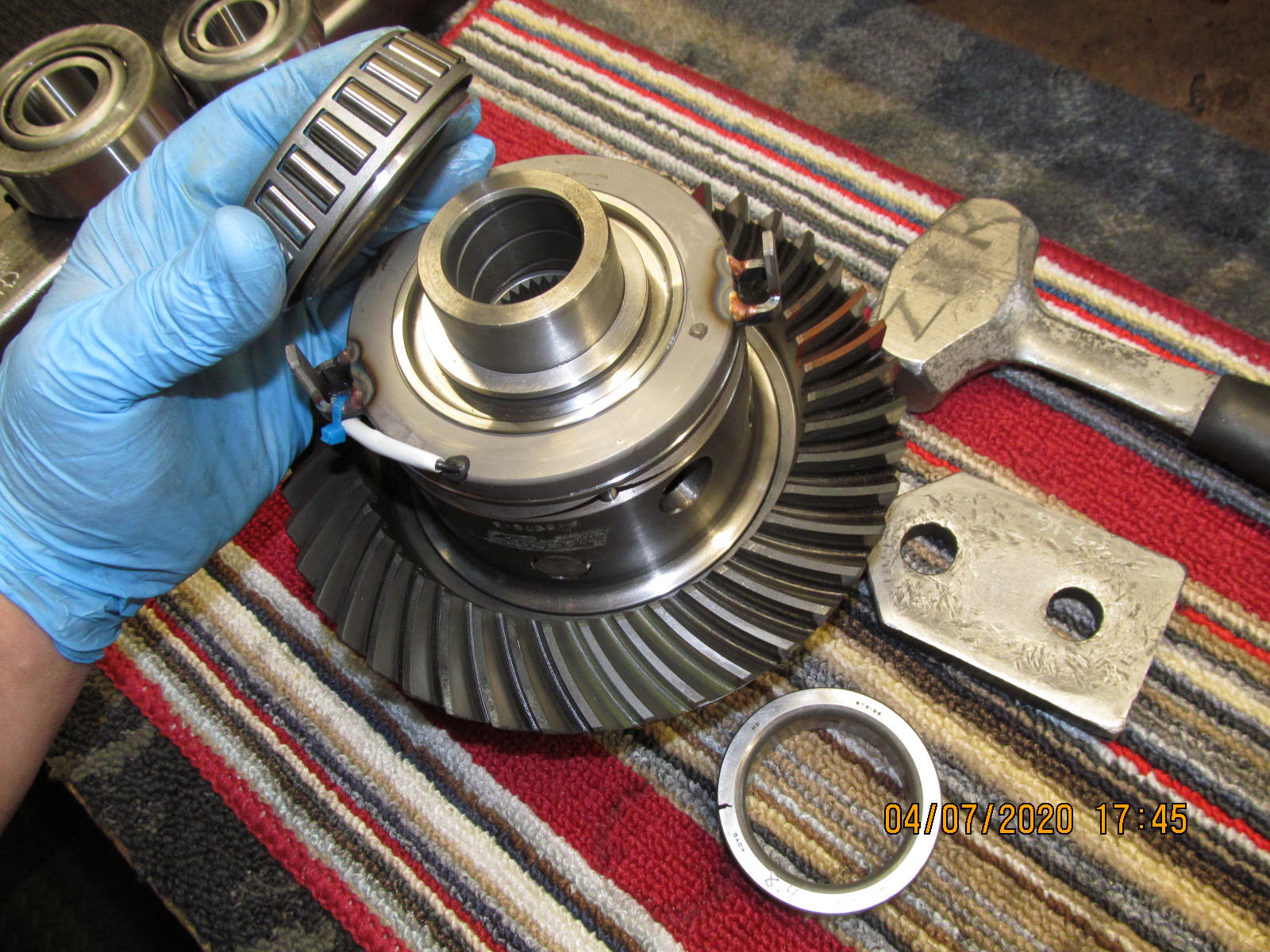 Same on this side.
I see what appears to be a beefed up weld.
The grey Harrop TIG droplet has some brazing reinforcement going on to the left of it.
I'm happy to see that.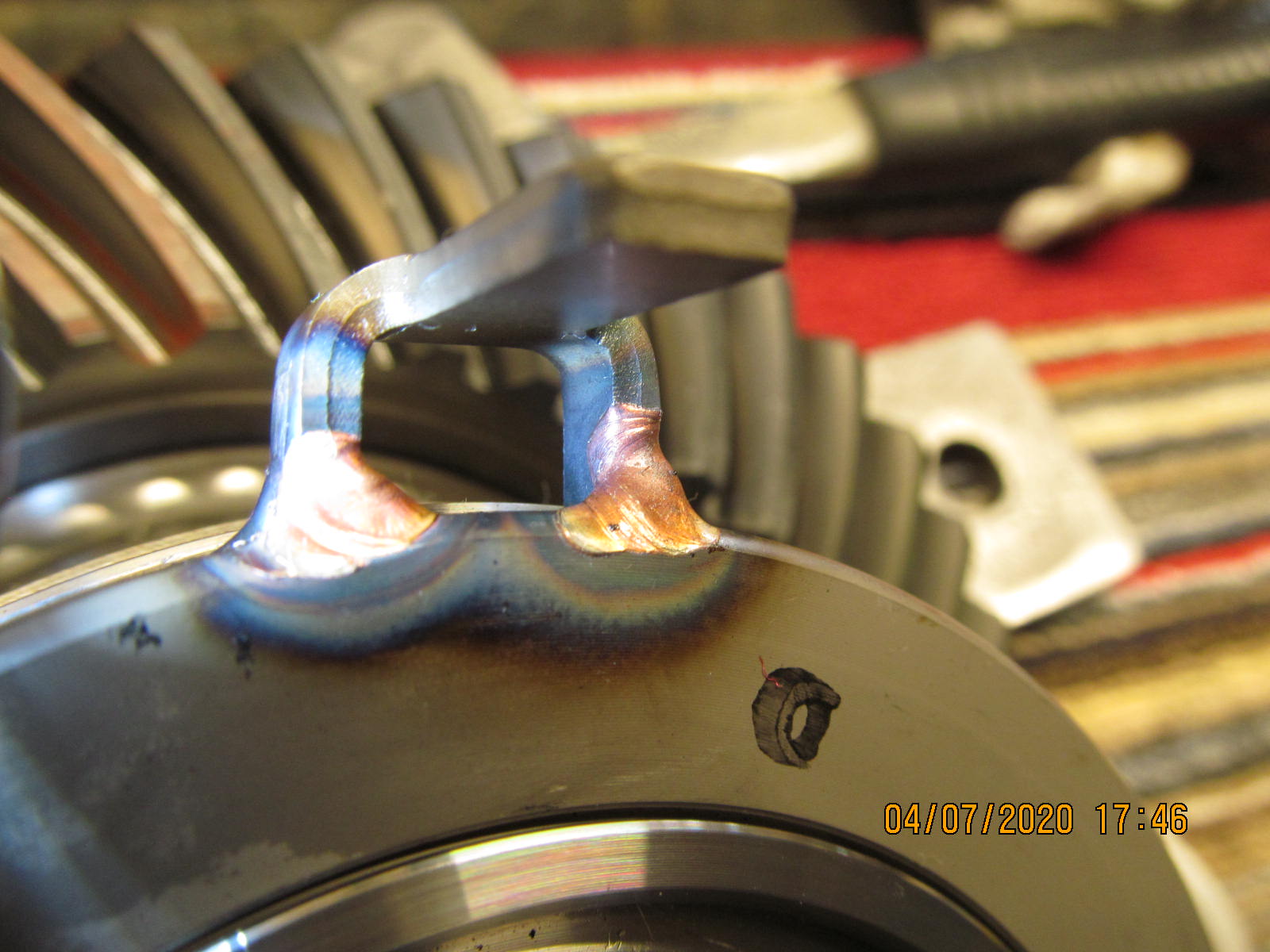 ;;;;;;;;;;;;;;;;;;;;;;;;;;;;;;;;;;;;;;;;;;;;;;;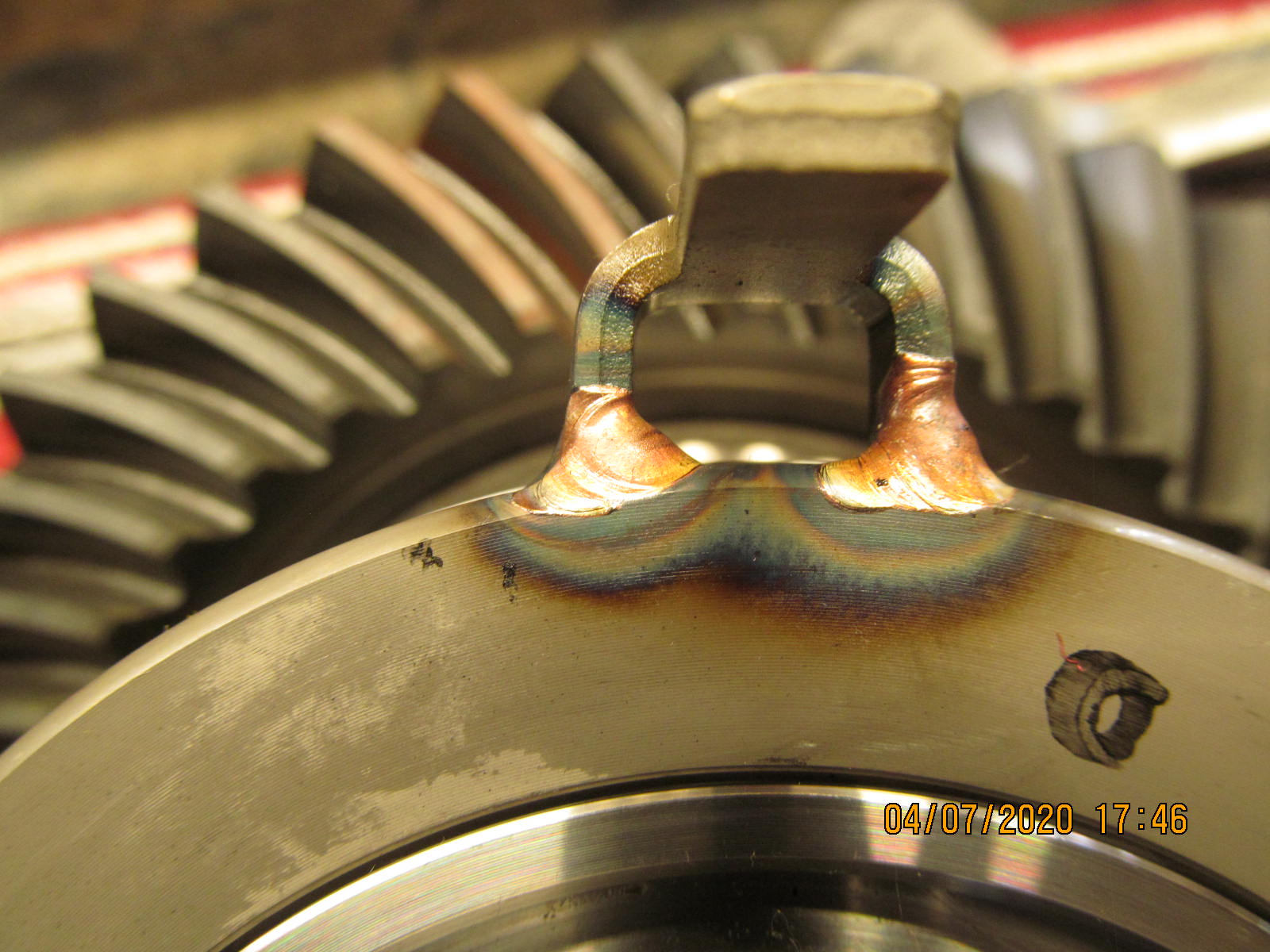 ////////////////////////////////////////////////////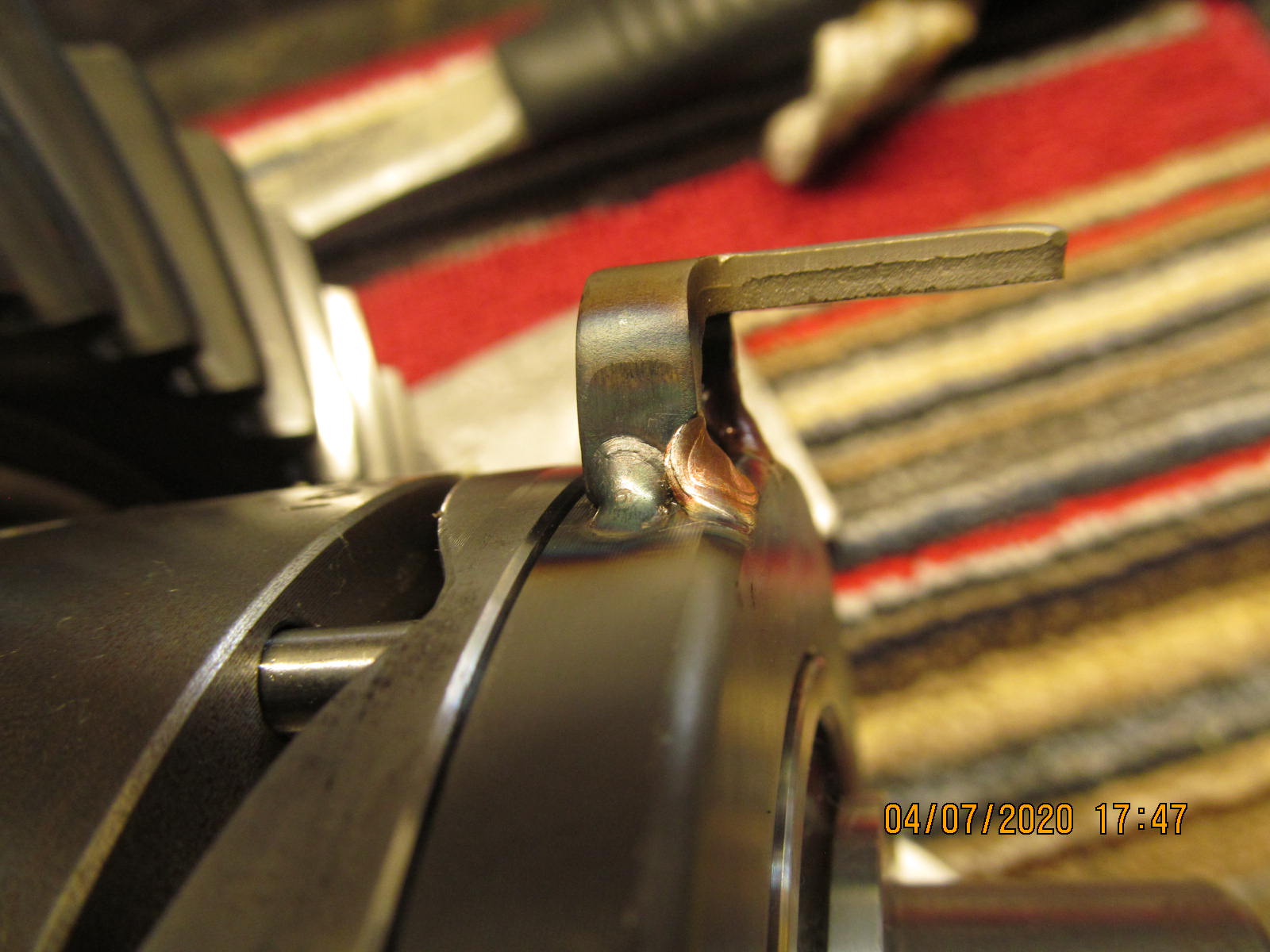 [[[[[[[[[[[[[[[[[[[[[[[[[[[[[[[[[[[[[[[[[[[[[[[[[[[[[[[[[[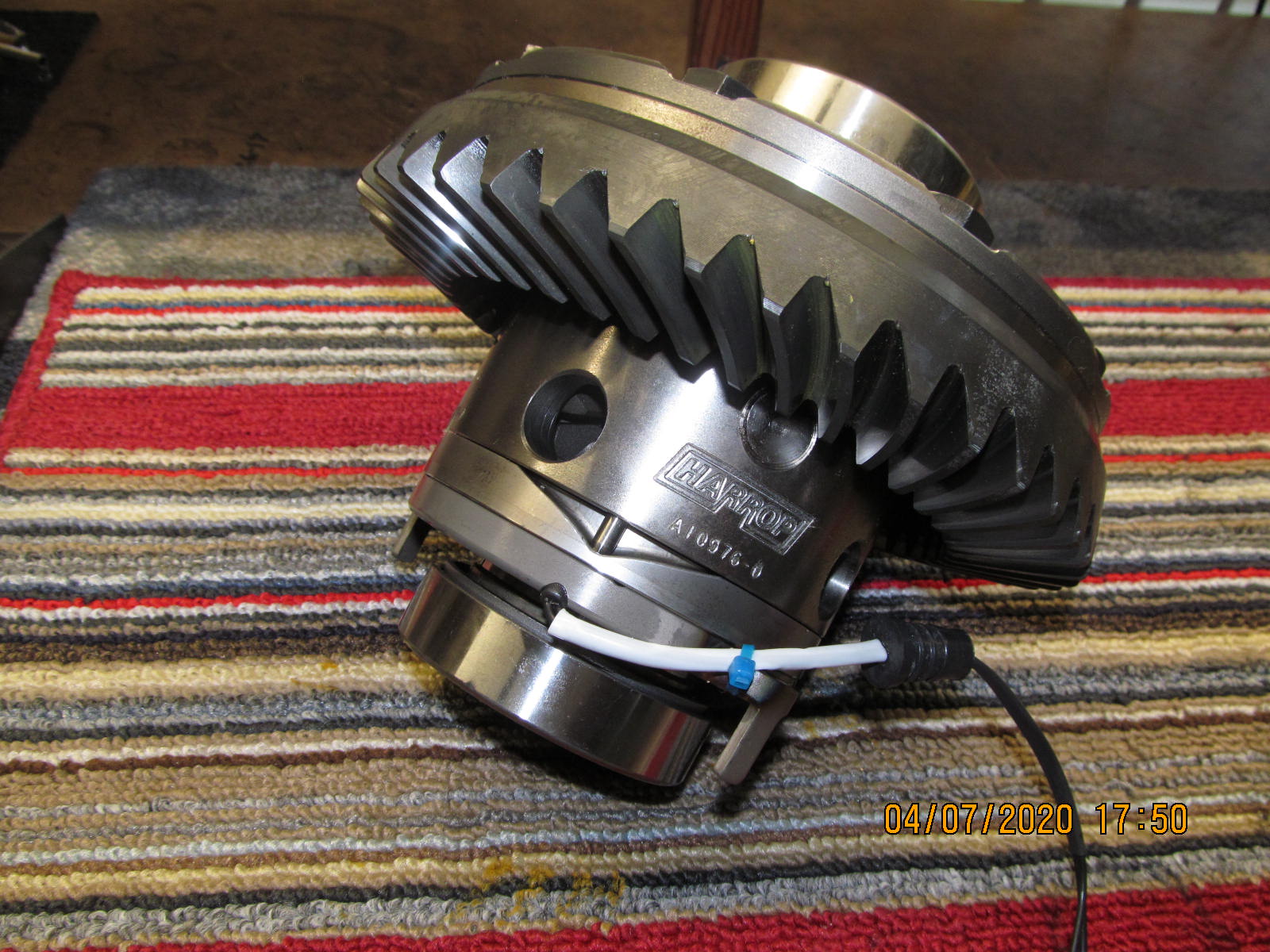 With ring and carrier bearings on, this piece is done.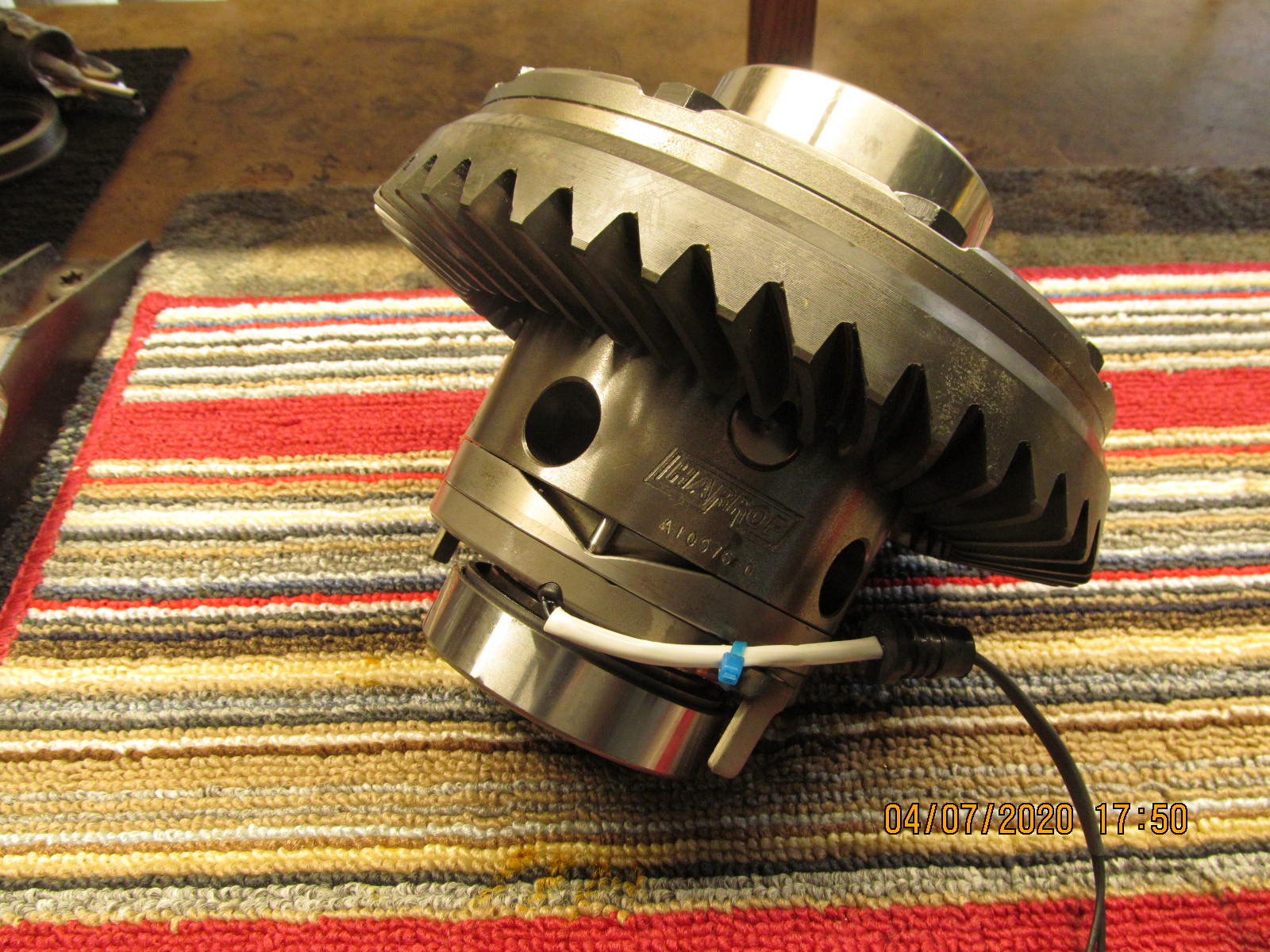 \\\\\\\\\\\\\\\\\\\\\\\\\\\\\\\\\\\\\\\\\\\\\\\\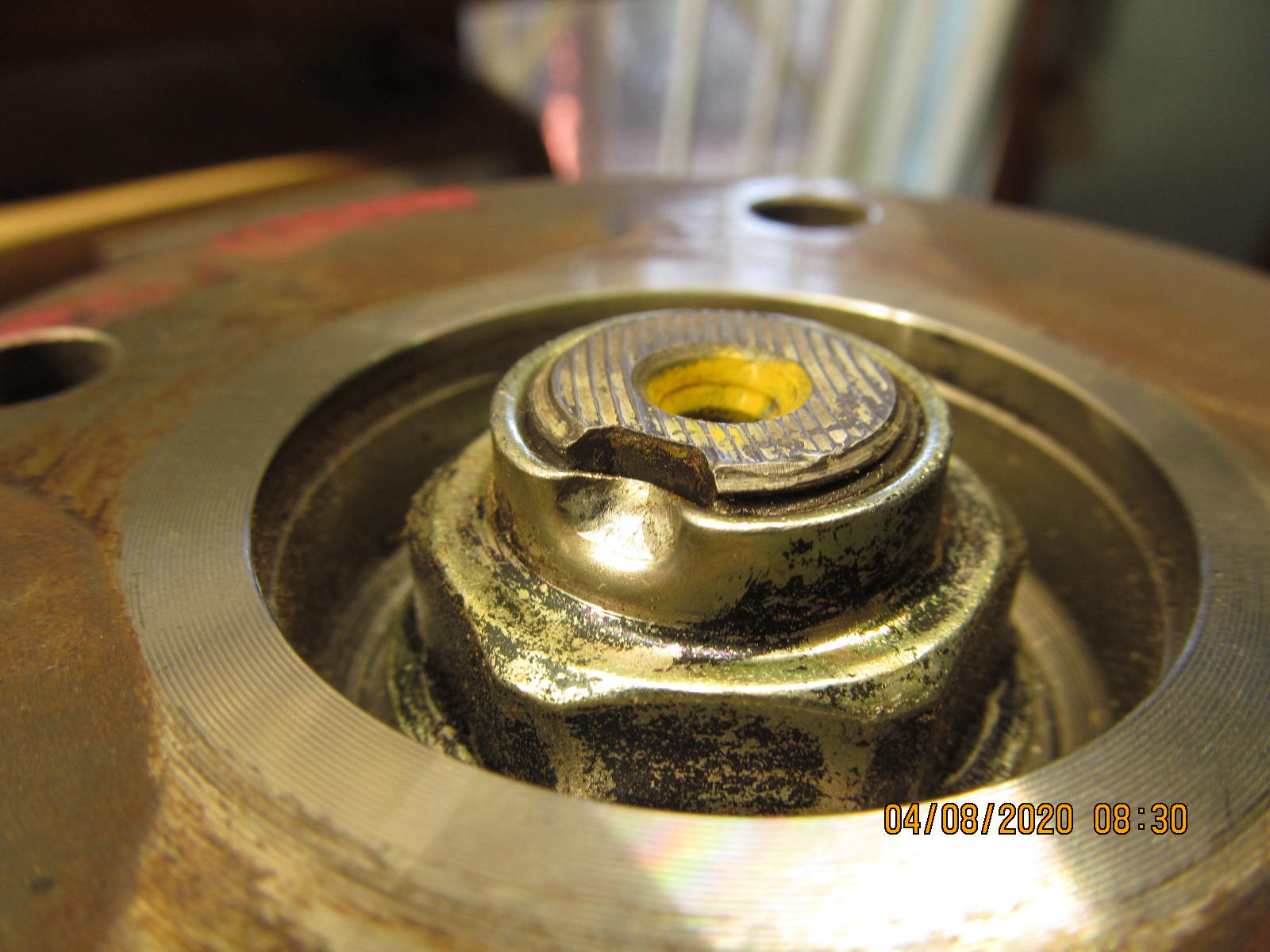 I don't think this pinion nut has been disturbed since 1999.
Still has the factory seal....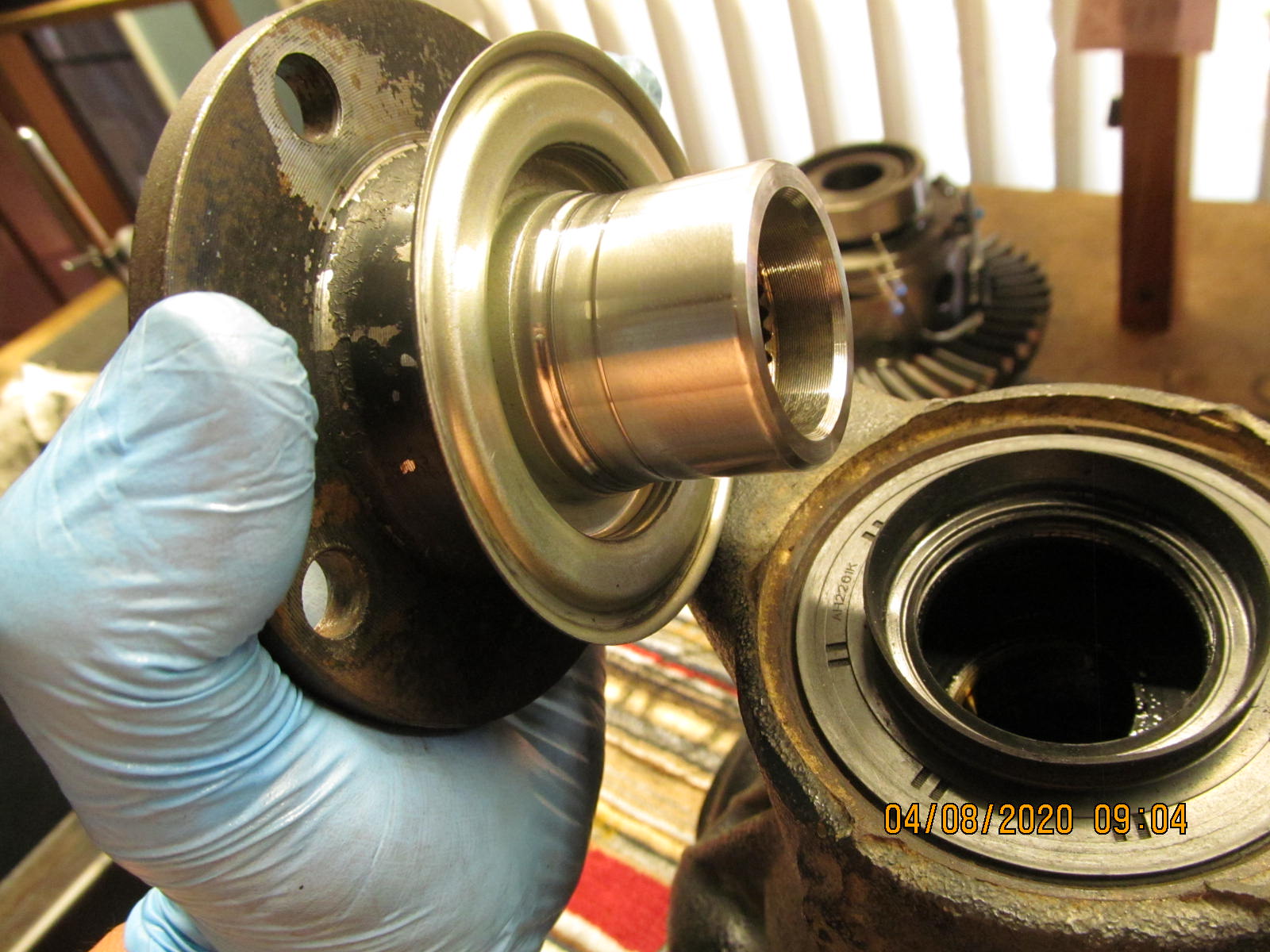 A little rubbing alcohol and the flange cleans up nicely. Seal surface looks really good.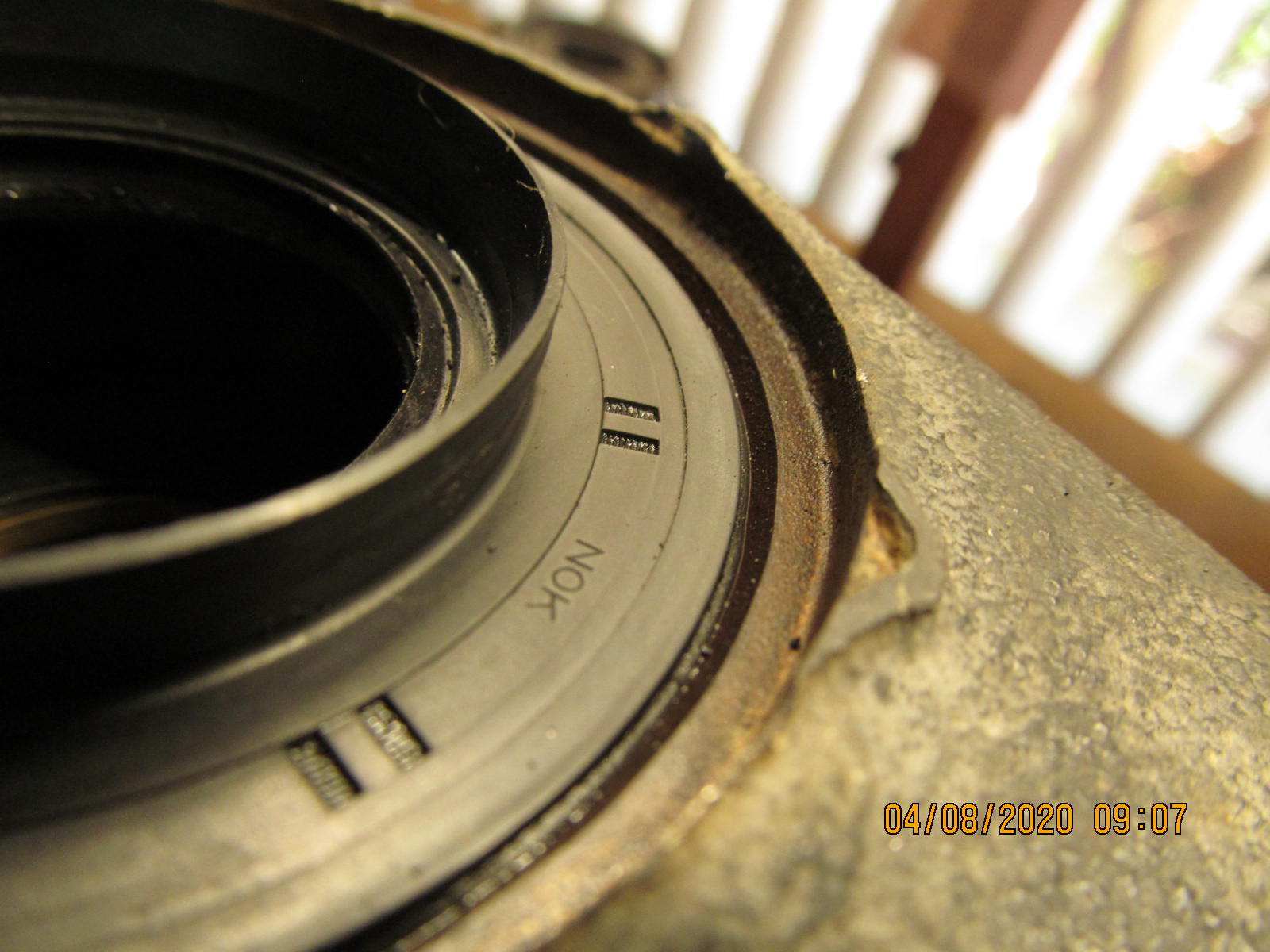 NOK seal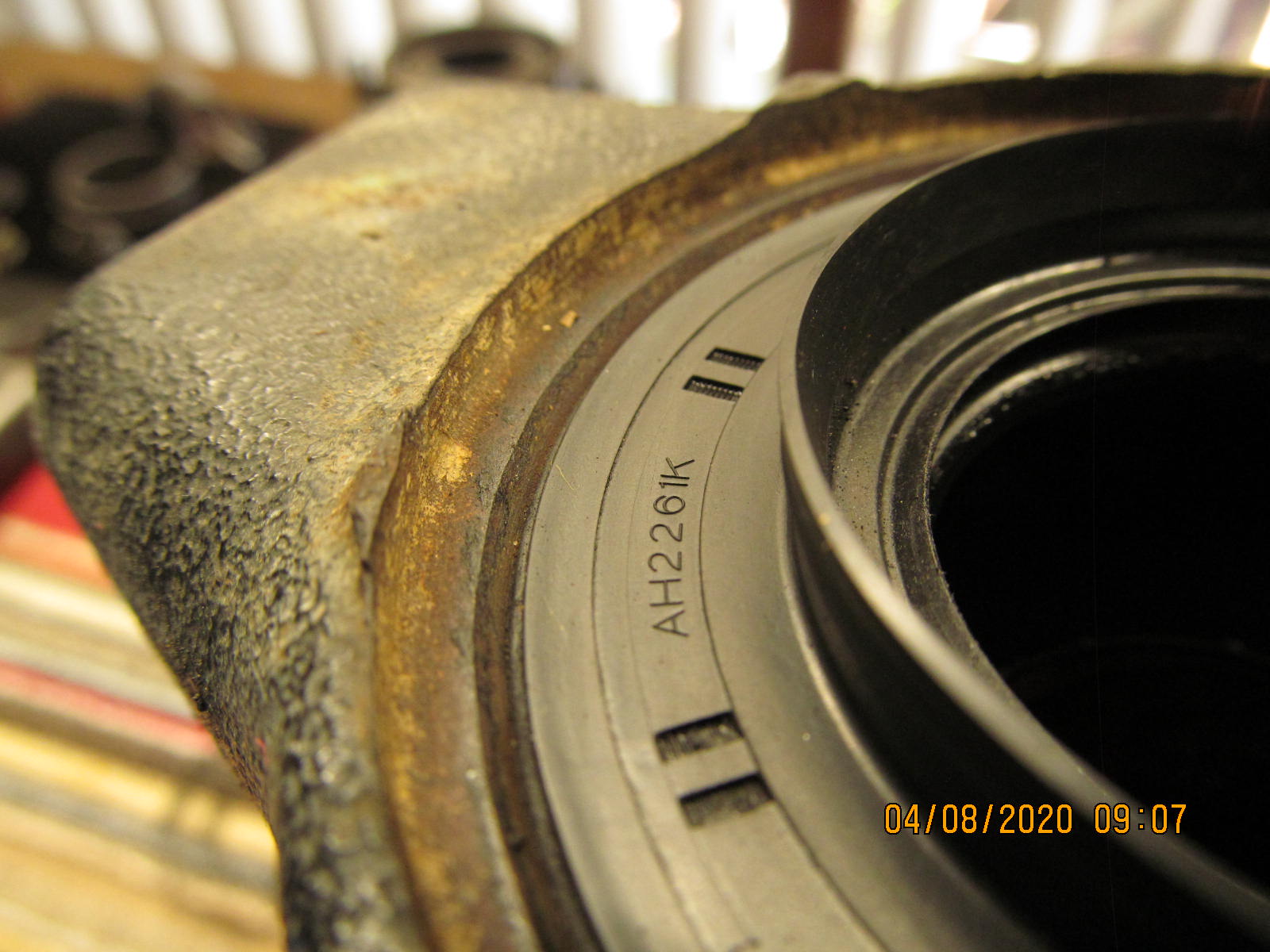 Still has the stock 2261 seal in it.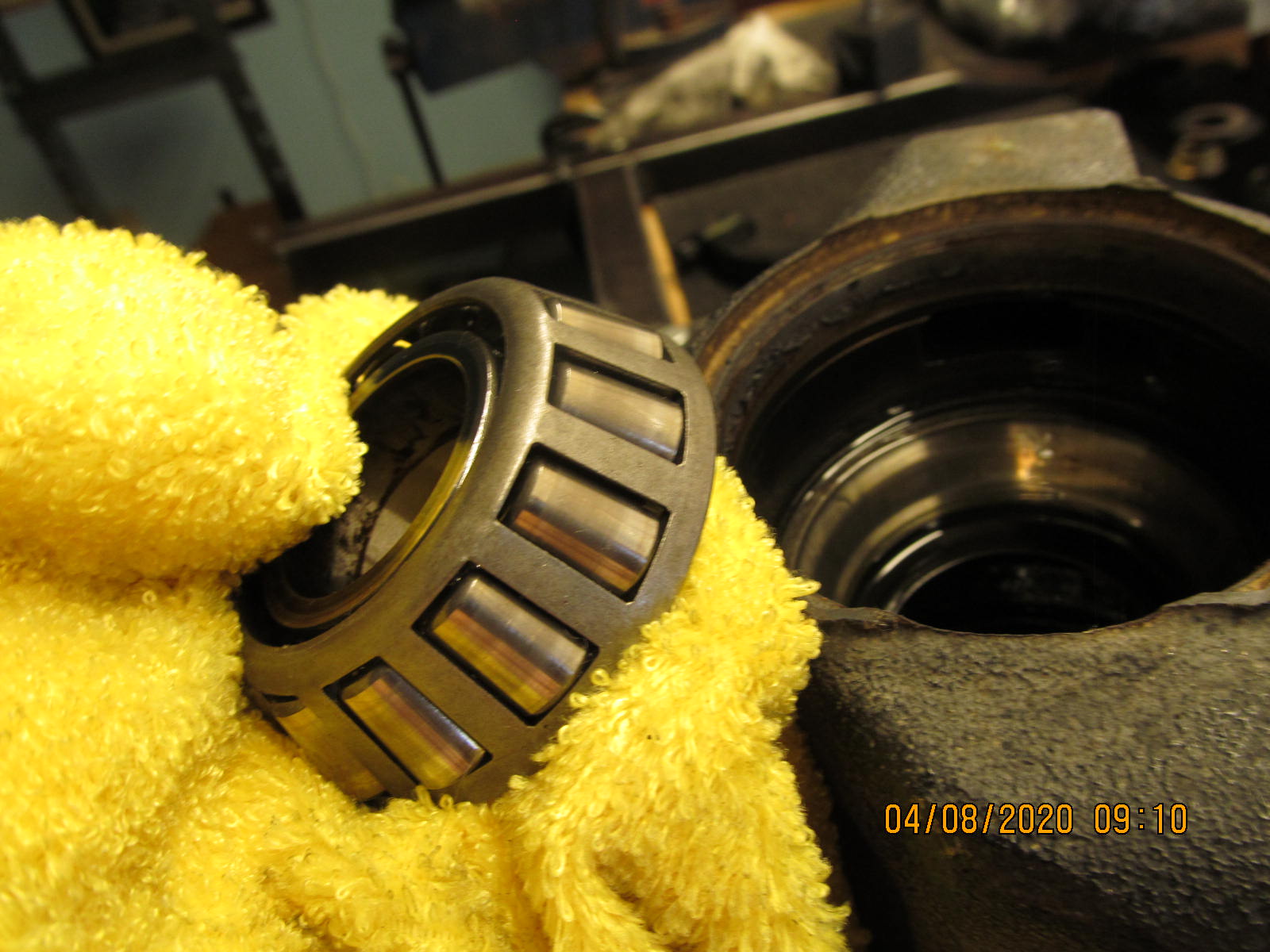 Small outer pinion bearing still looks ok. Somebody kept up on the oil changes.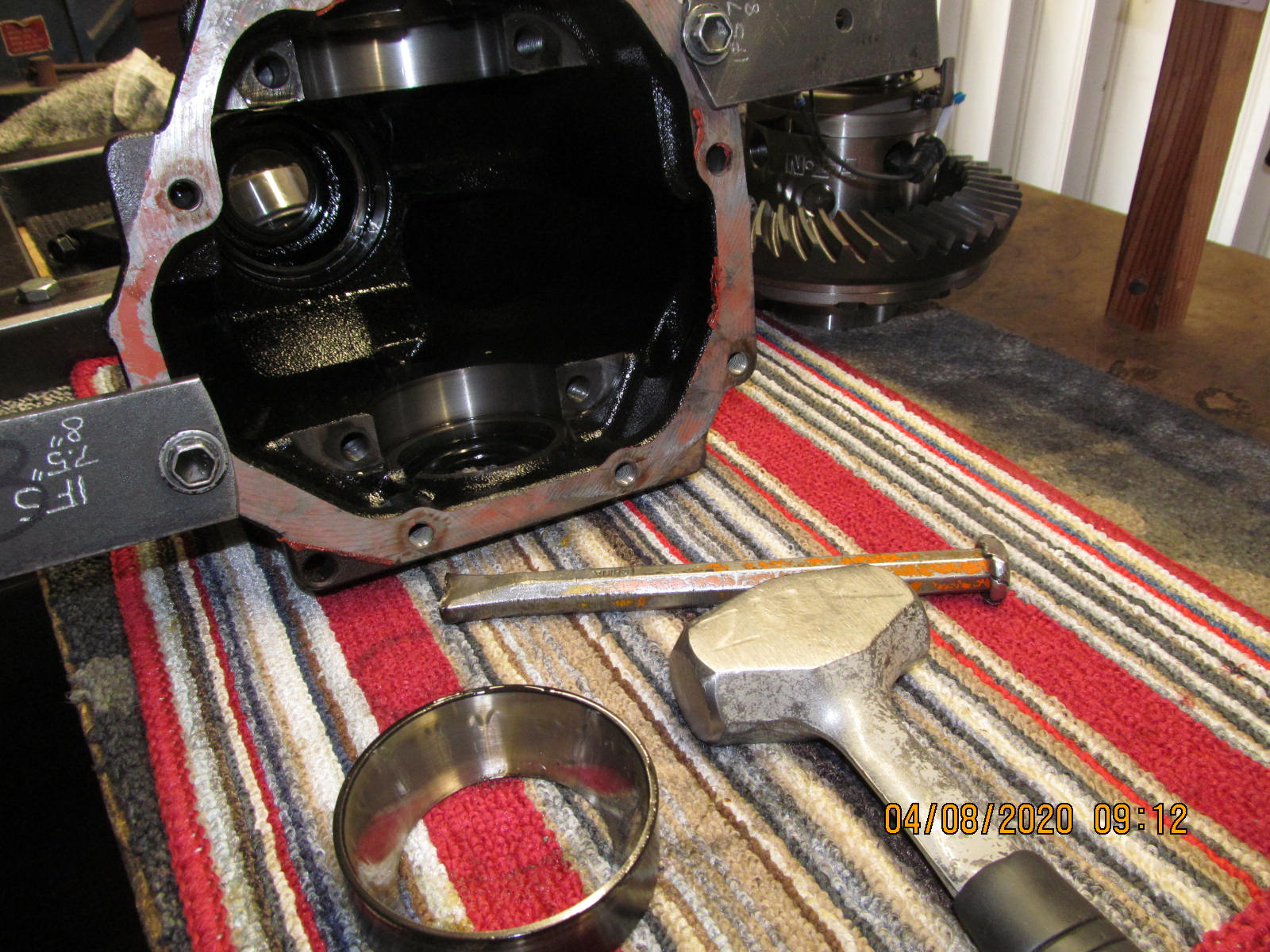 Tapping the races out.....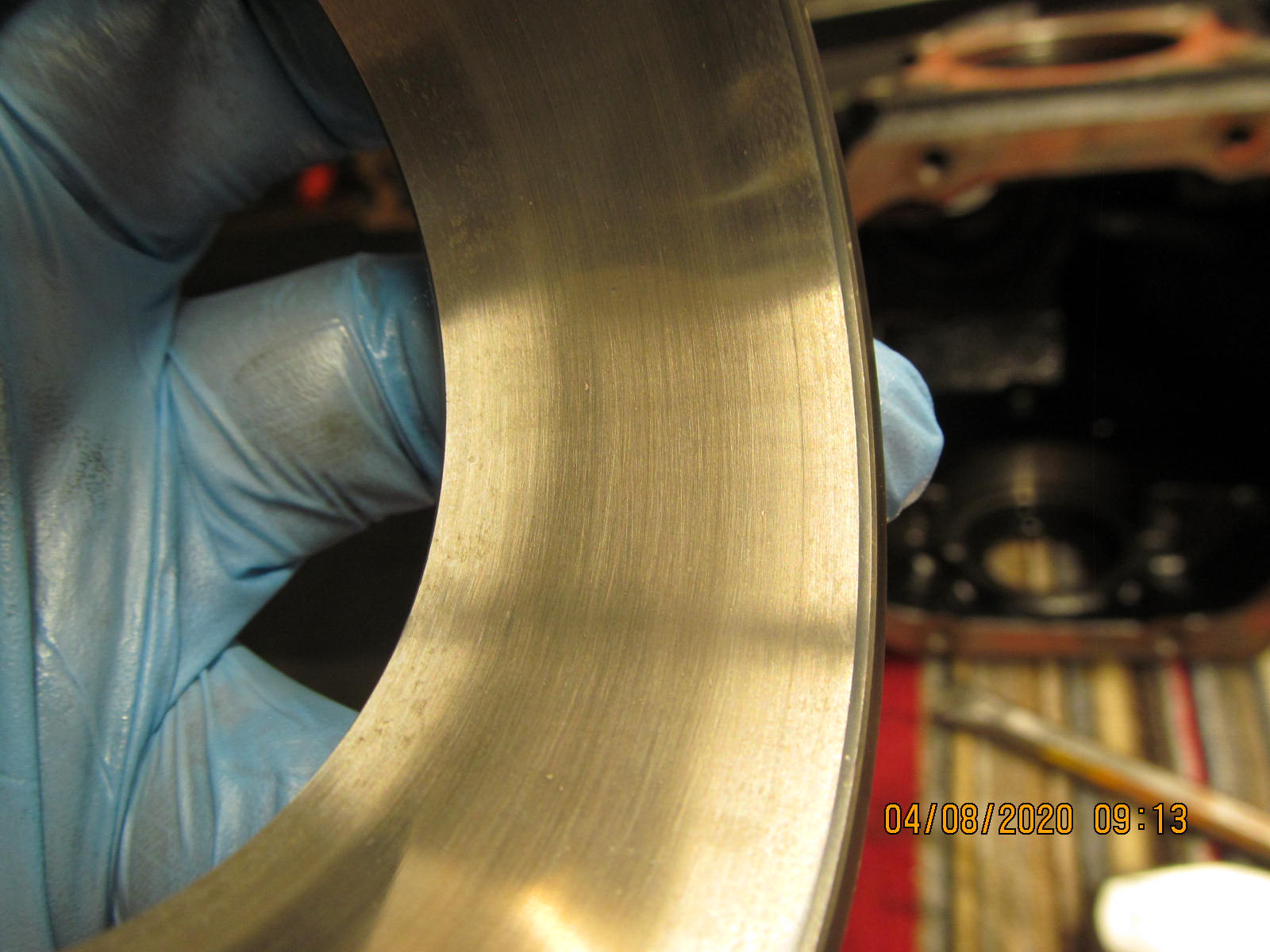 Look remarkably good for 21 years old. No pitting here.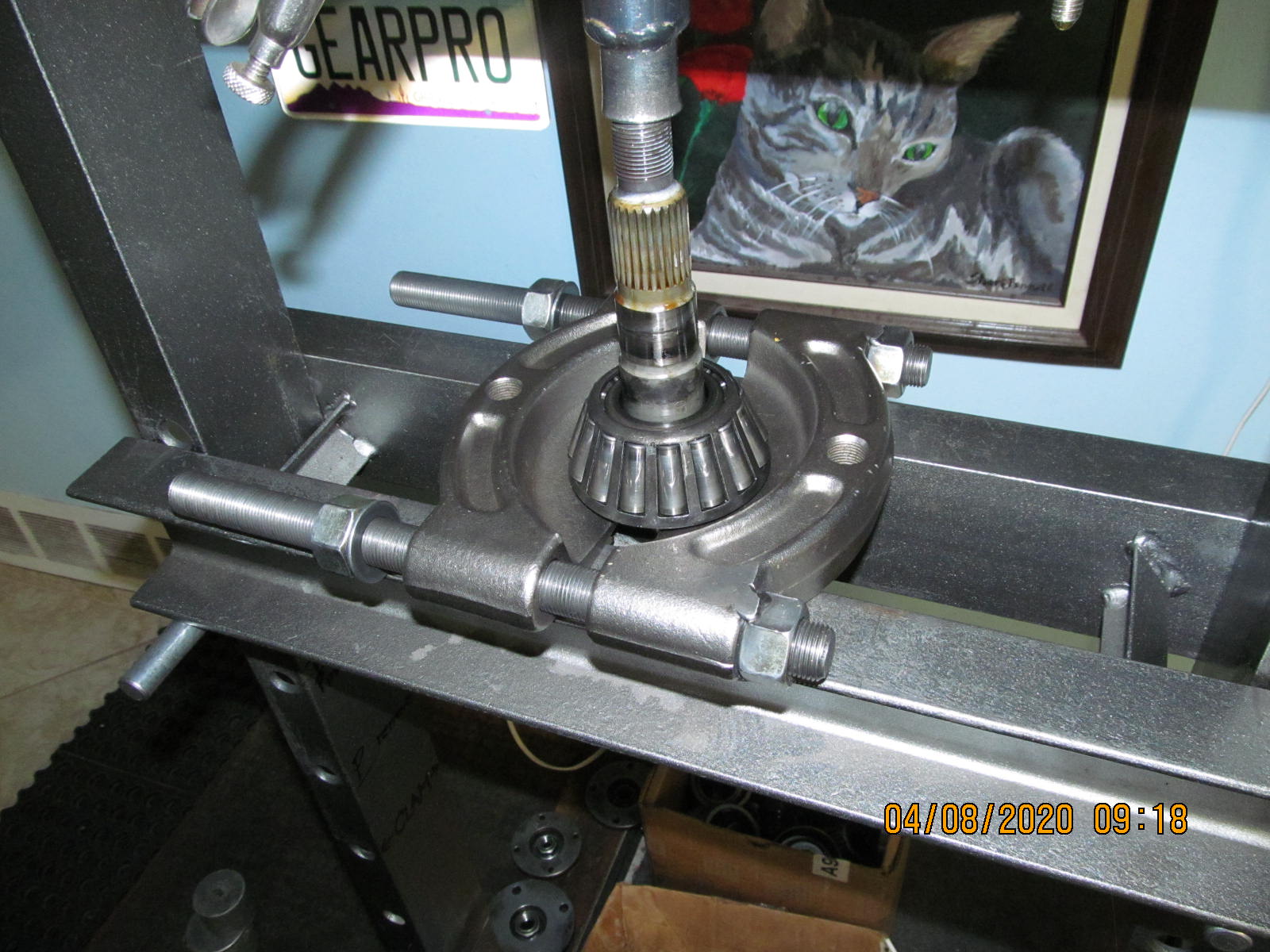 Using the big bearing splitter to push the pinion out.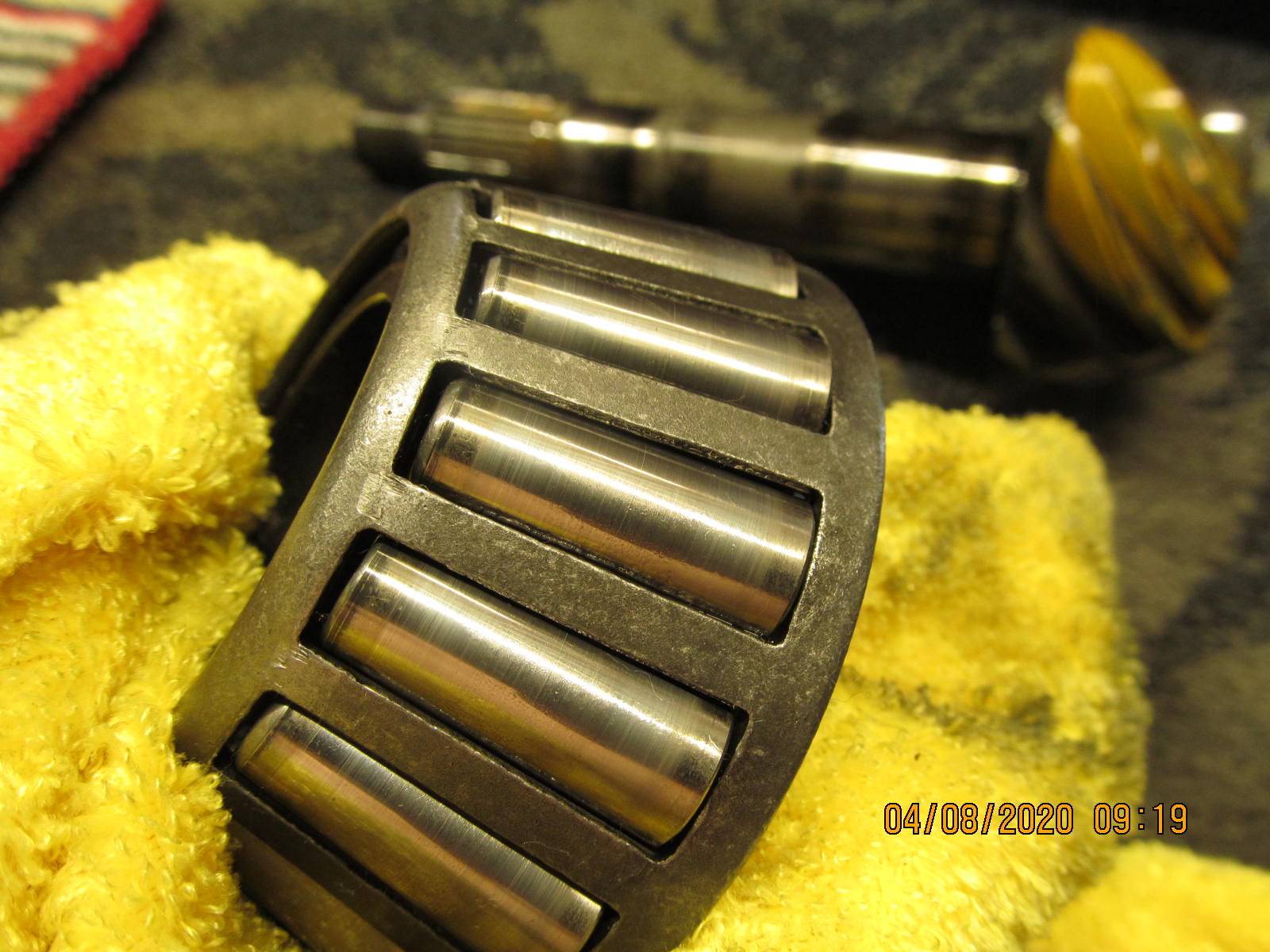 These bearings still had some life left in them.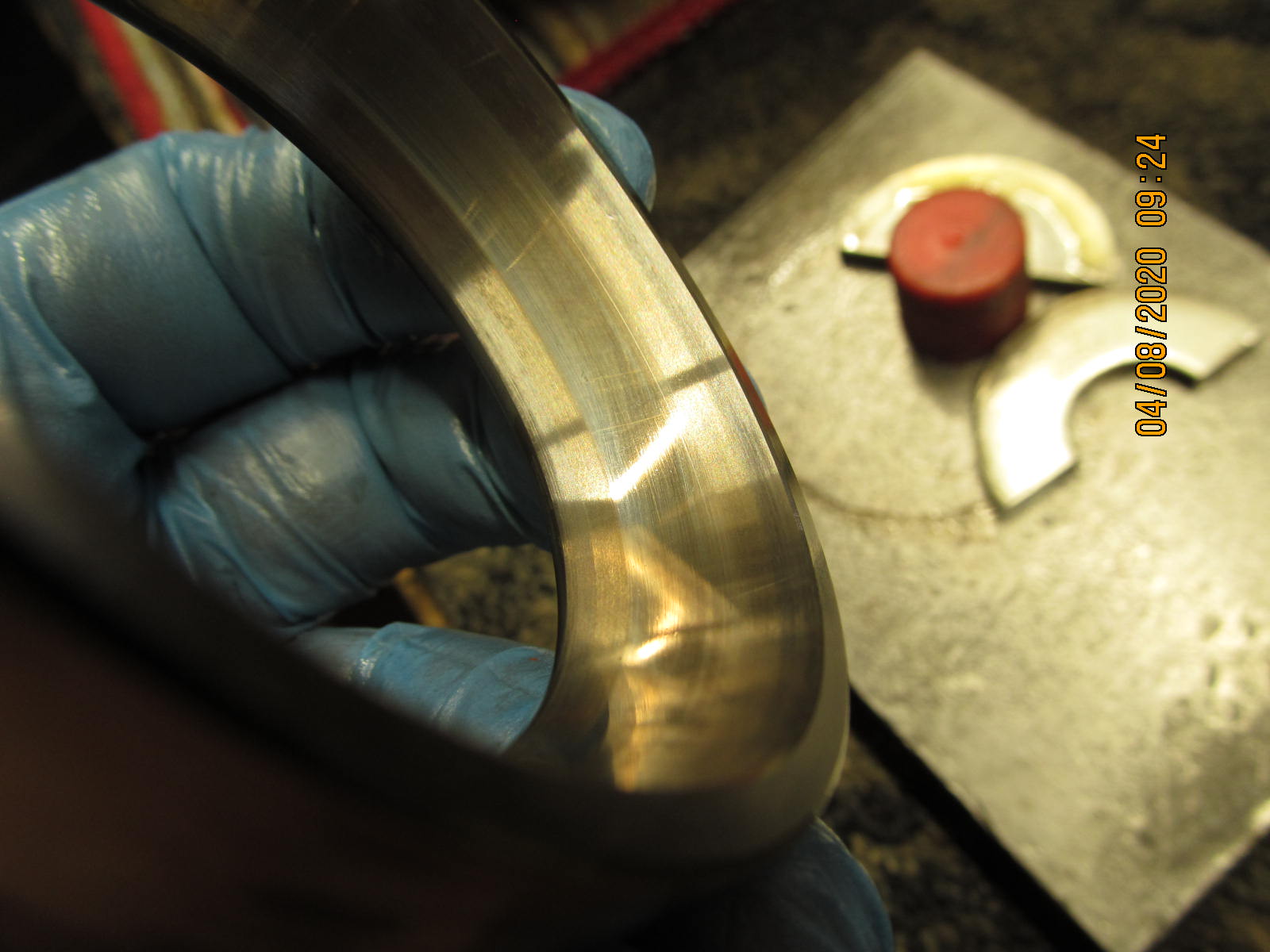 The smaller outer race.......AOK.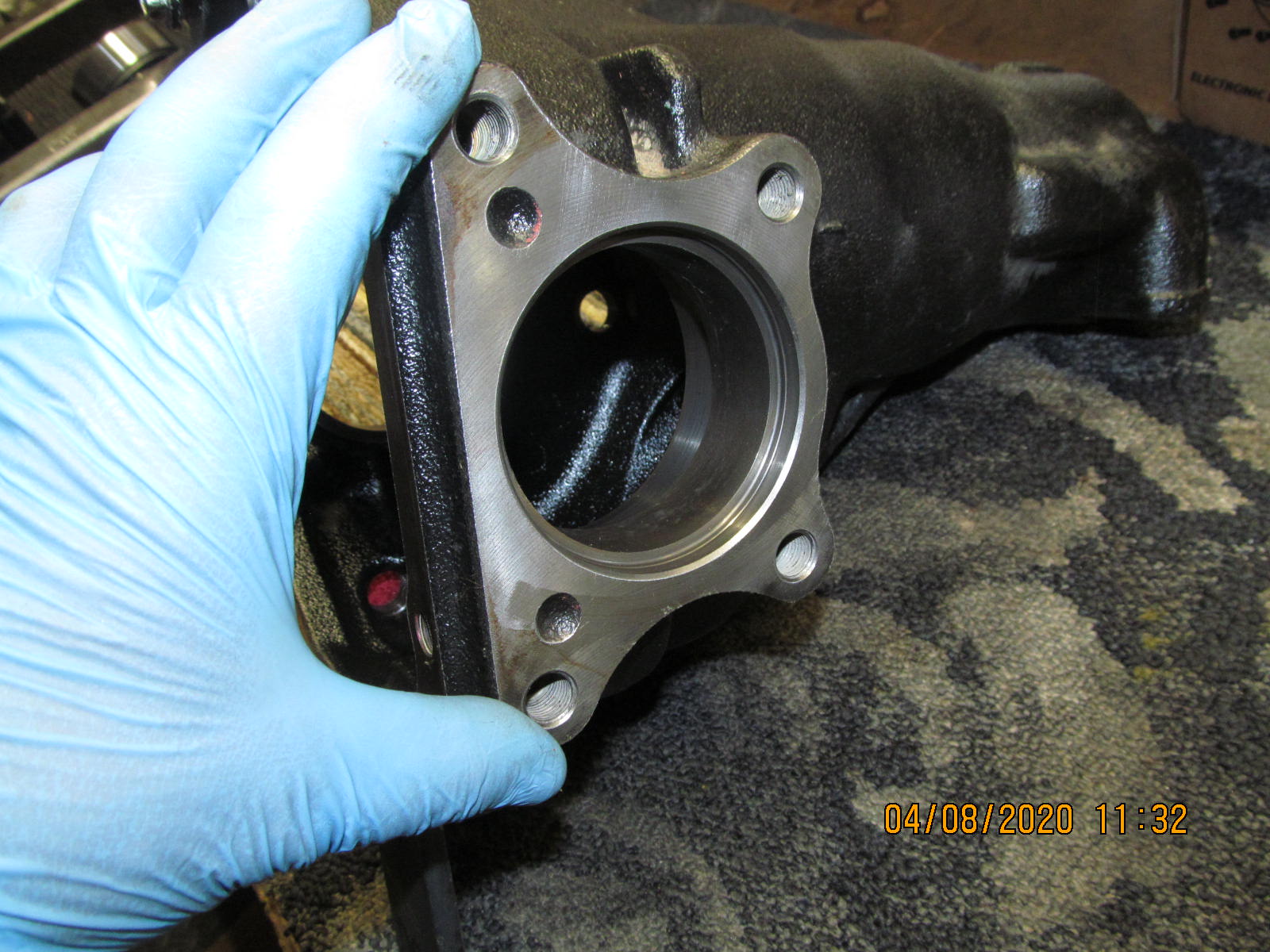 High speed grinder with wire wheel attached cleans up surfaces like new......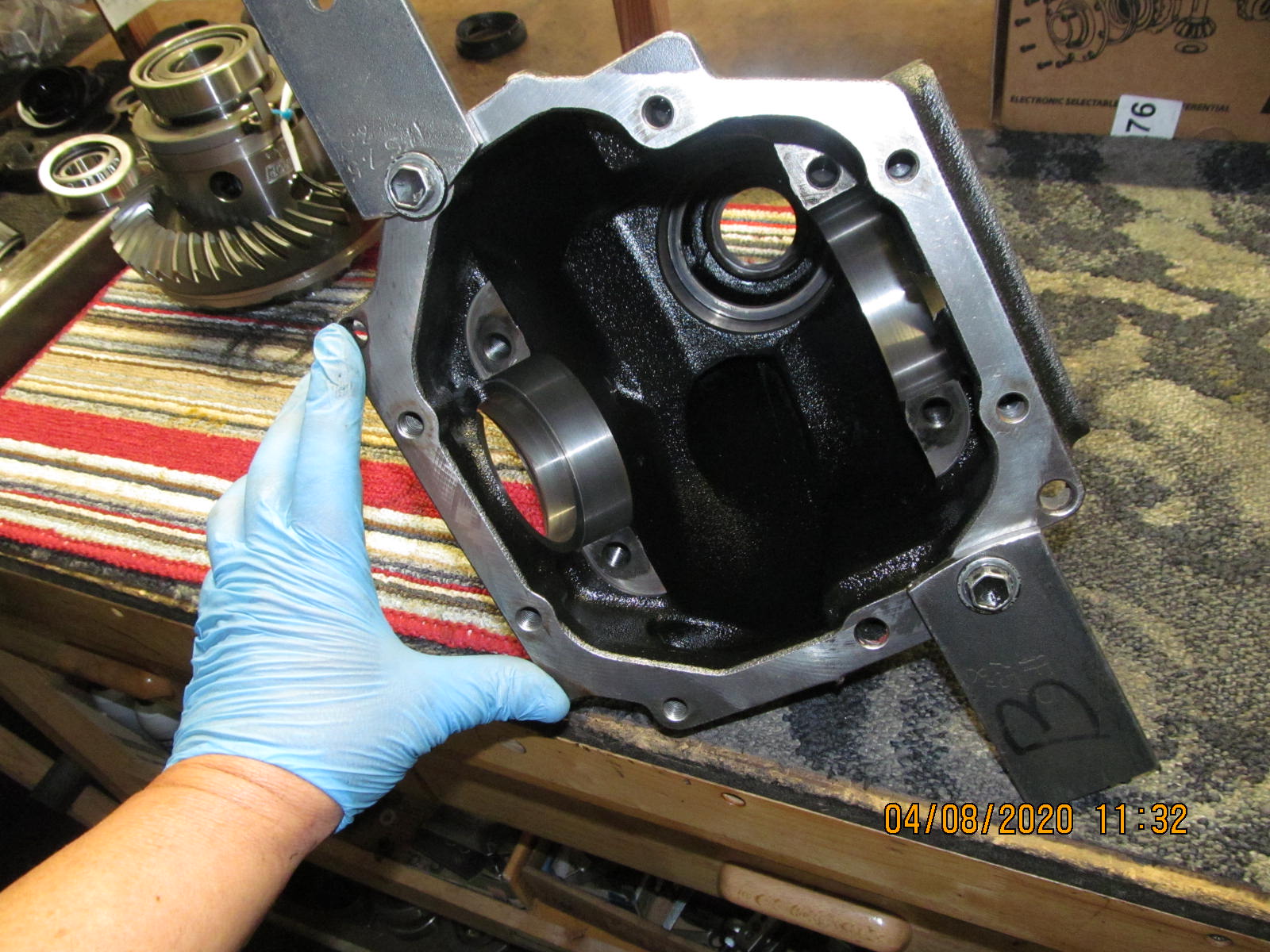 ......Even this paper gasket surface.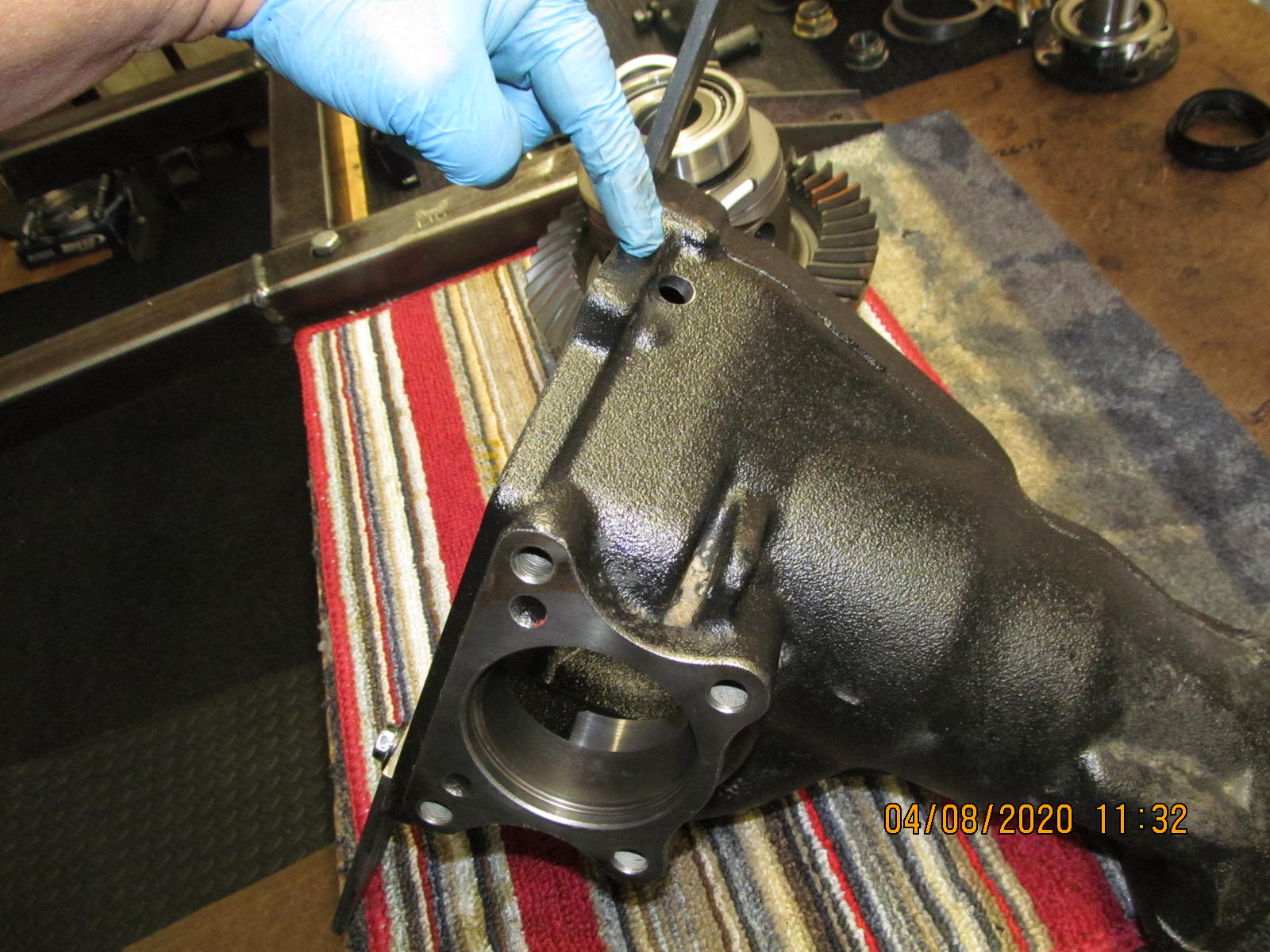 Drilling the 29/64th hole here for the Harrop rubber grommet pass-thru.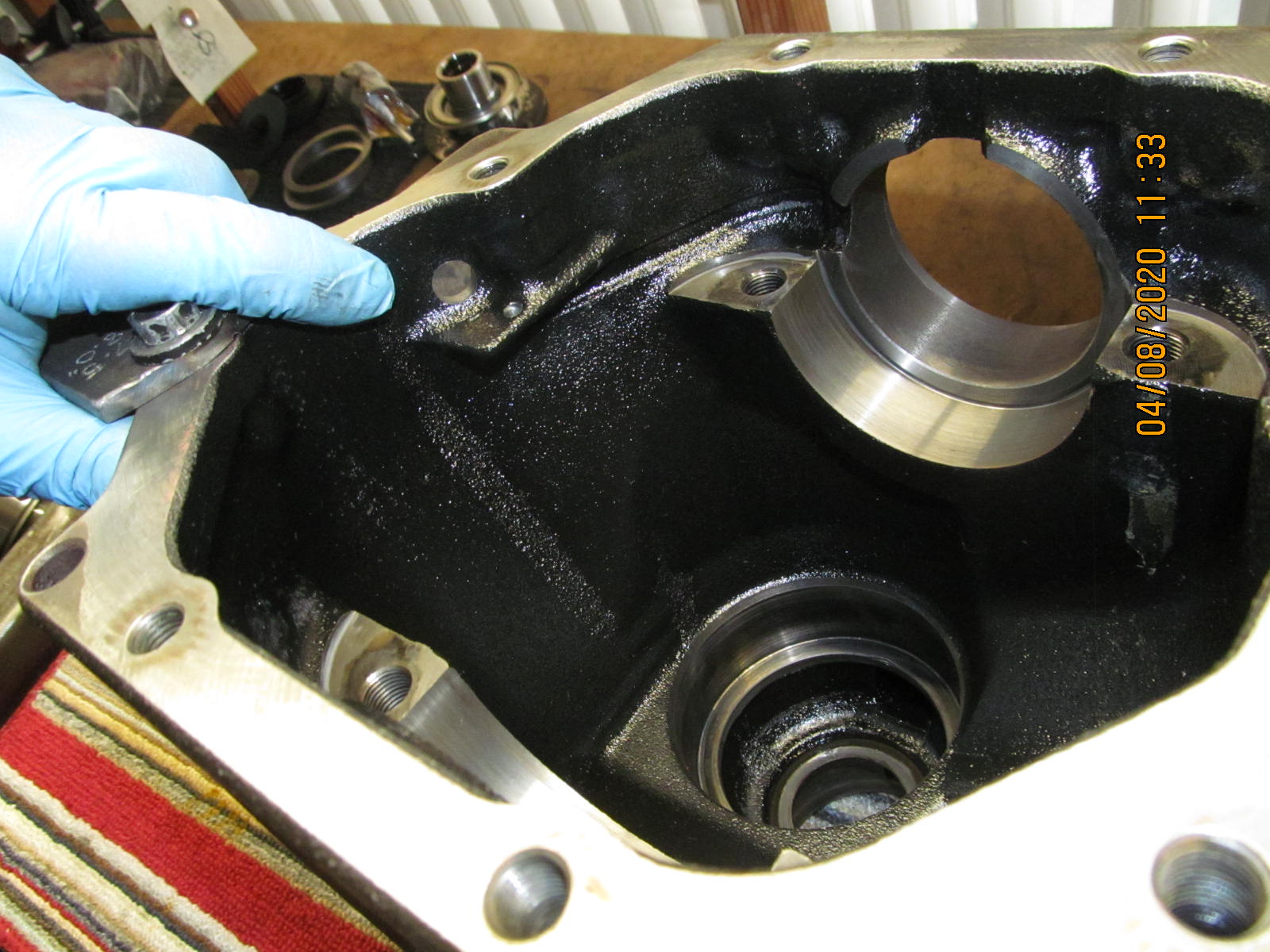 ,,,,,,,,,,,,,,,,,,,,,,,,,,,,,,,,,,,,,,,,,,,,,,,,,,,,,,,
Starting fluid will remove quickly any cosmoline that somehow got stuck or sprayed in the bearings.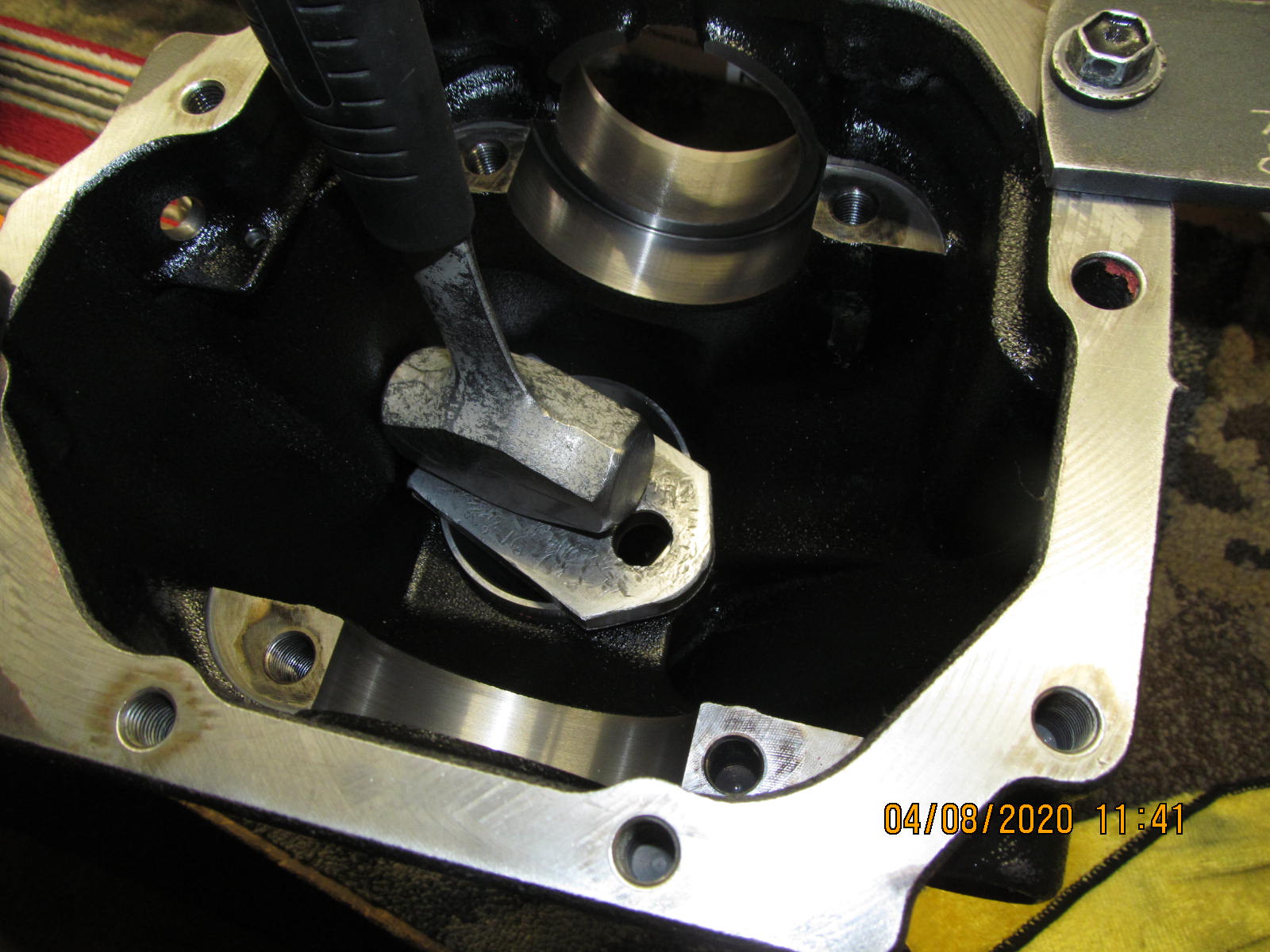 Tap tap tap new races.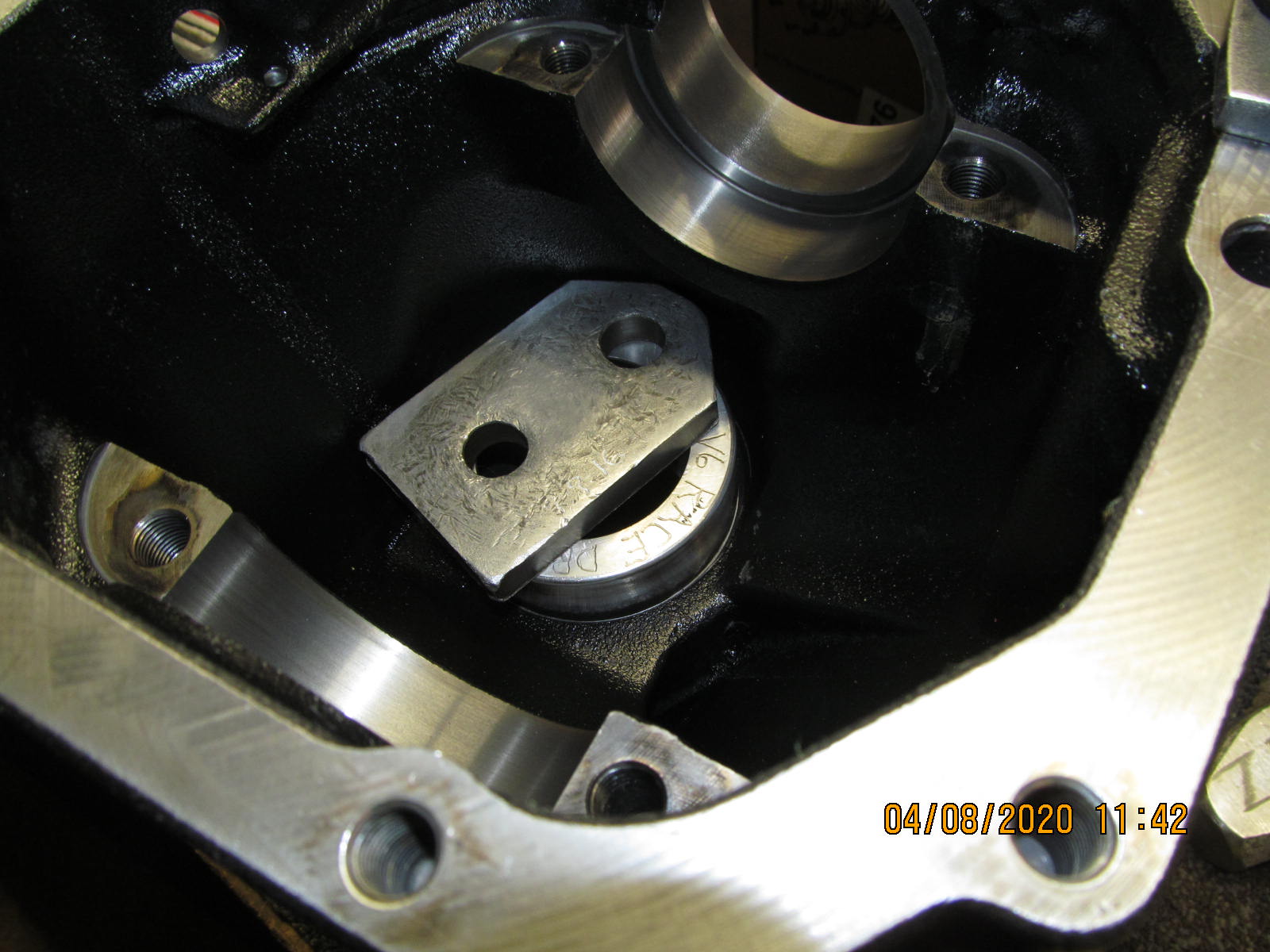 /////////////////////////////////////////////////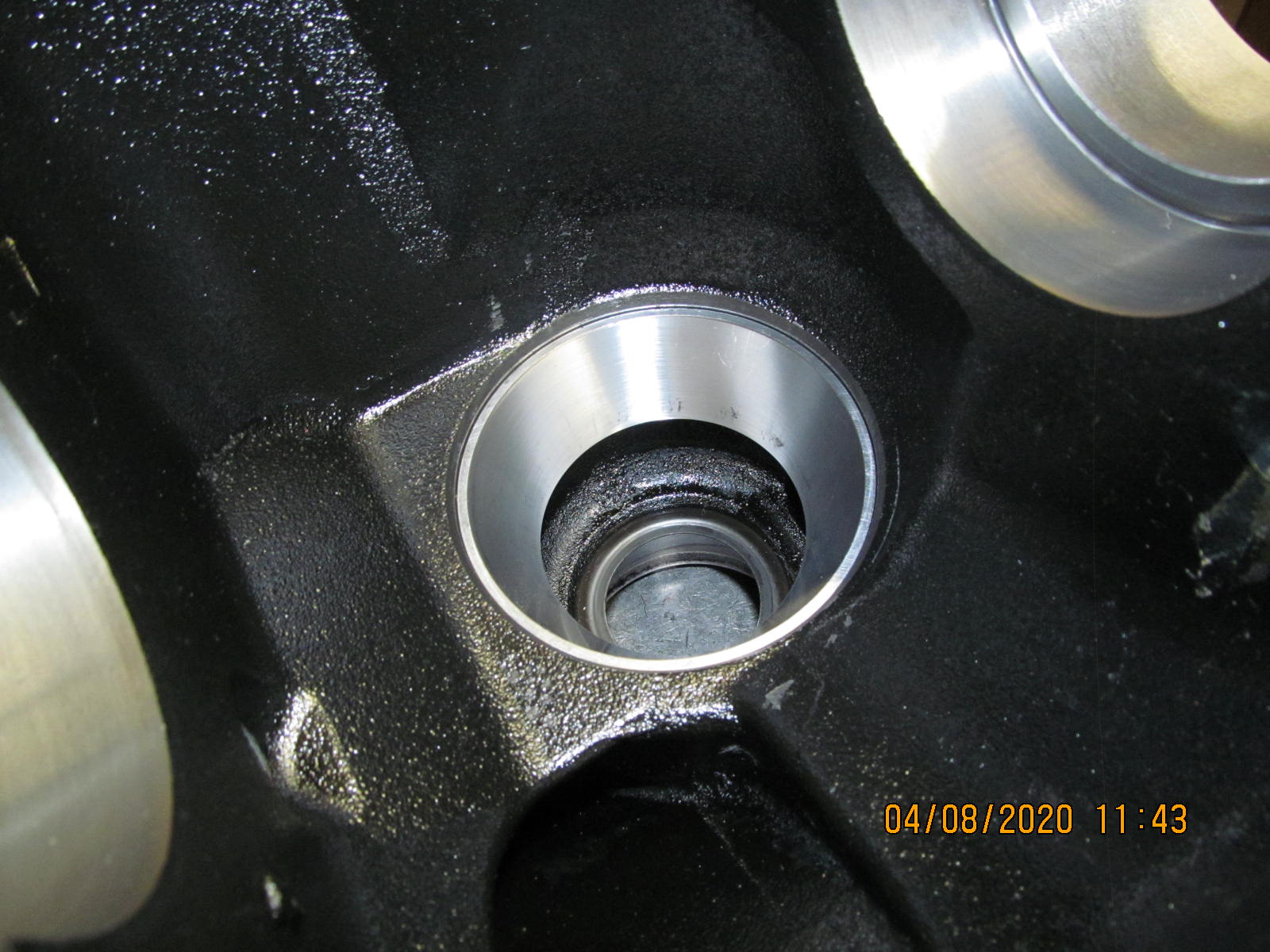 100% down verified.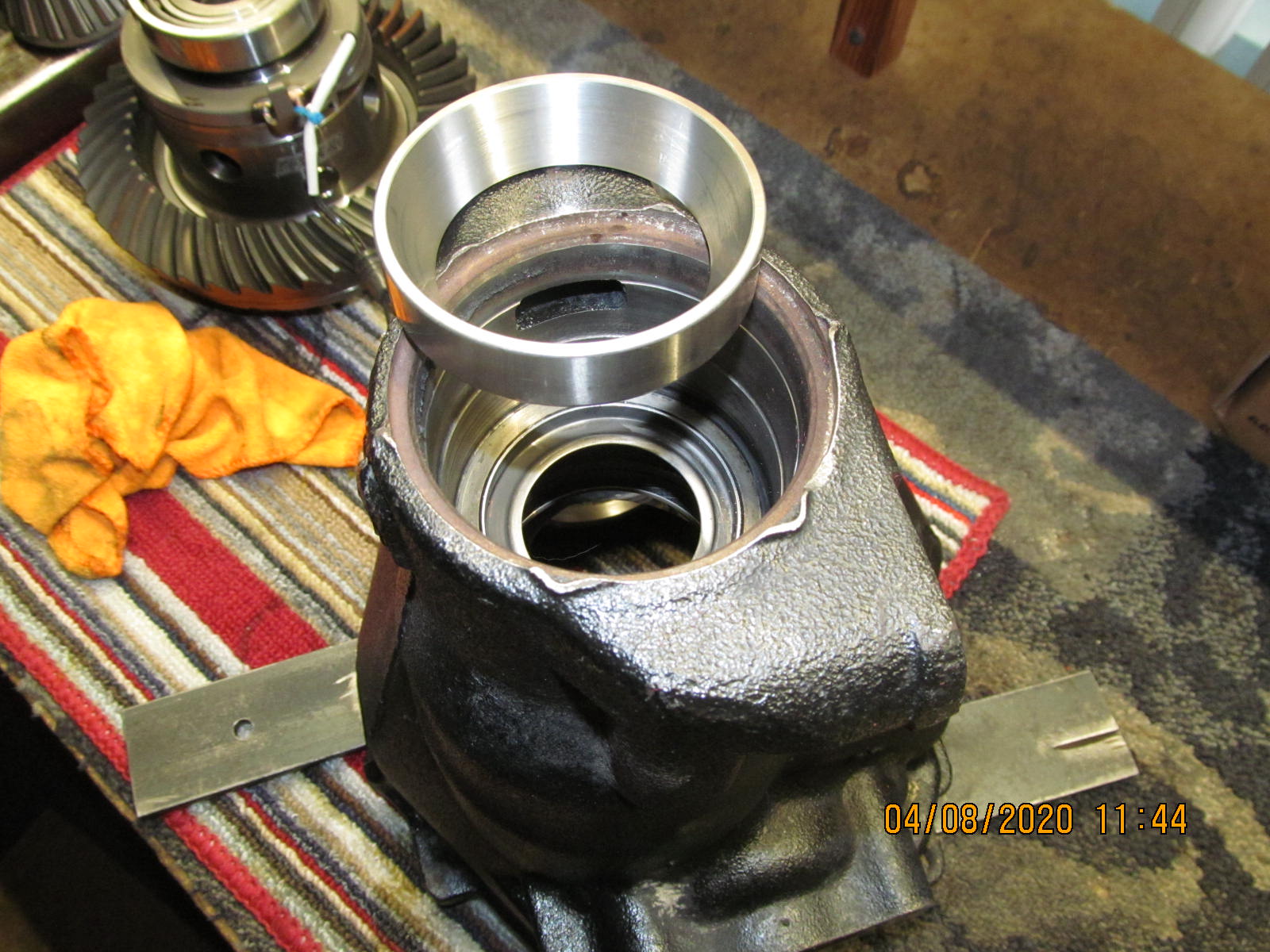 Notice the oil retainer under the race is 100% undamaged. Thank you Scott from the Tucson/Marana area.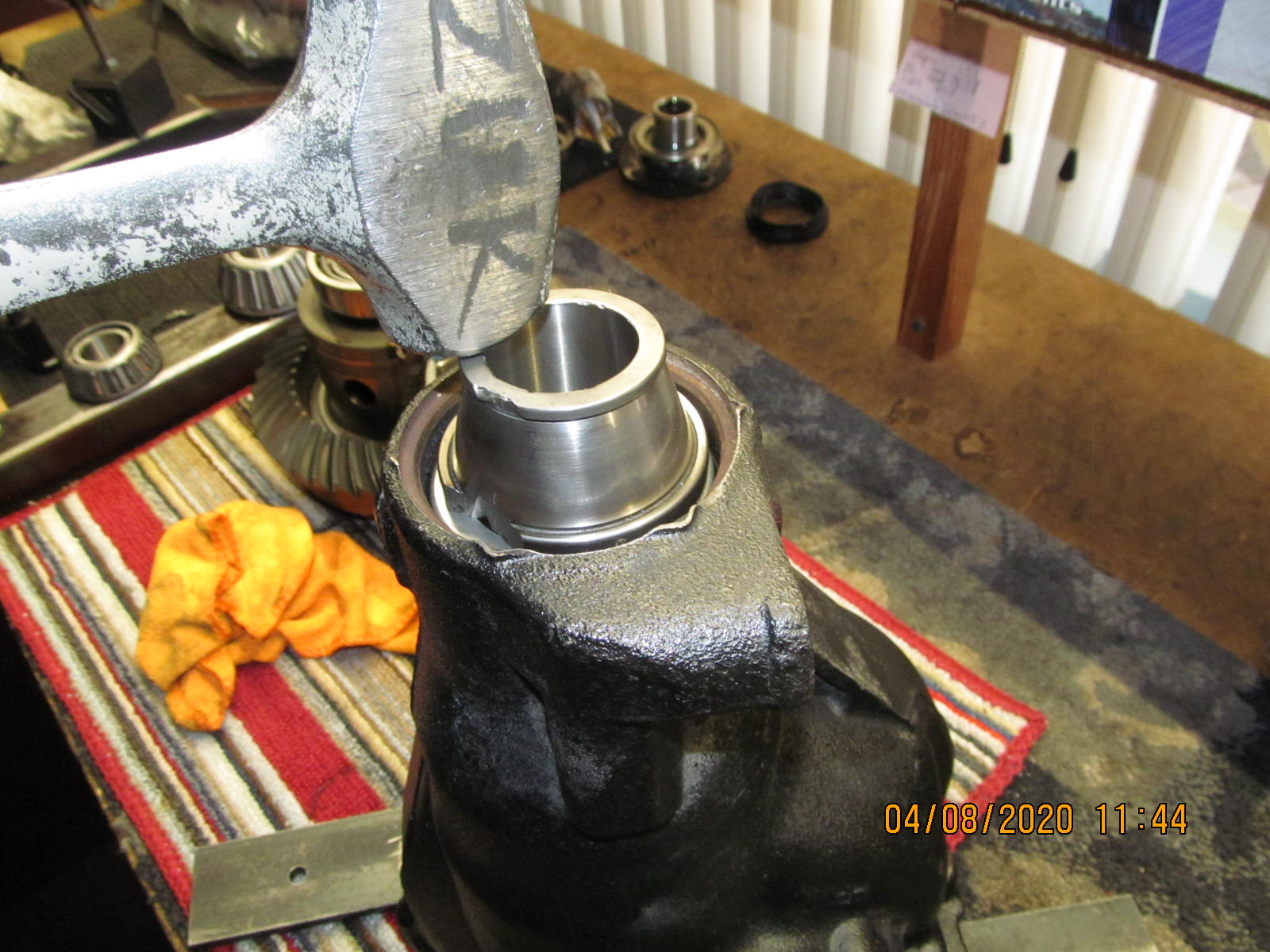 Tap tap tap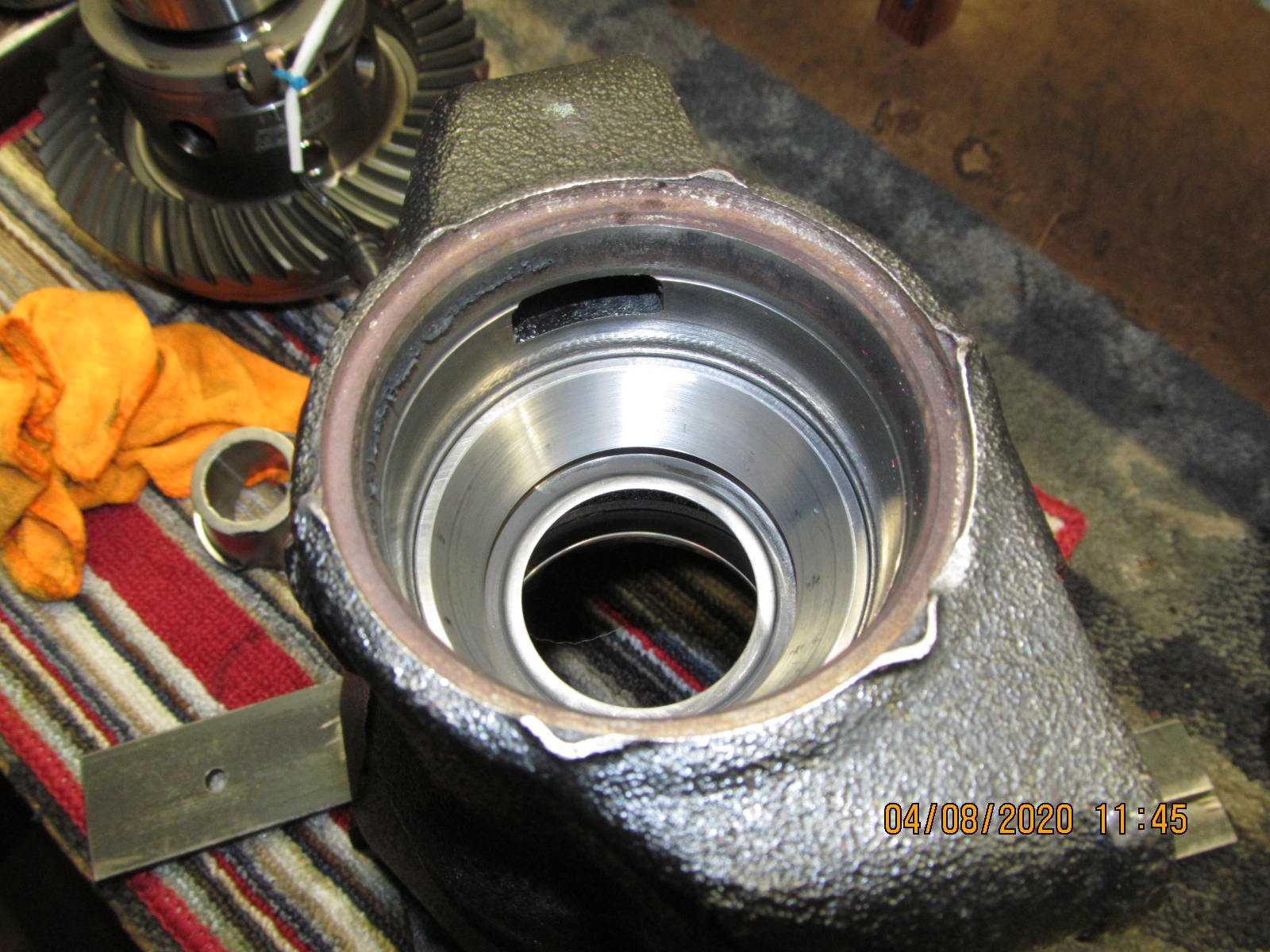 Down 100% with an untouched oil retainer under the race.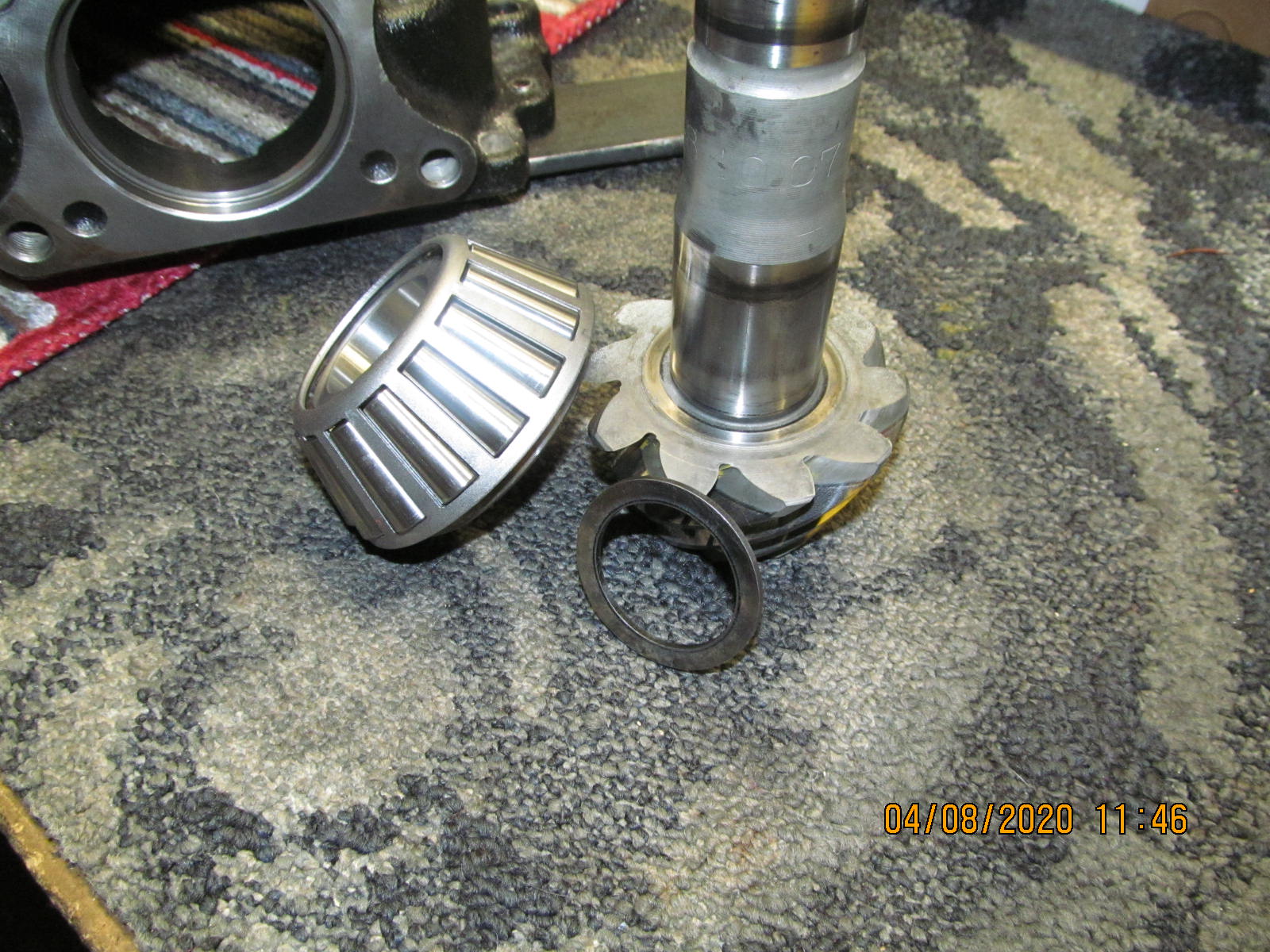 The same 076 factory pinion shim is used with the new bearing.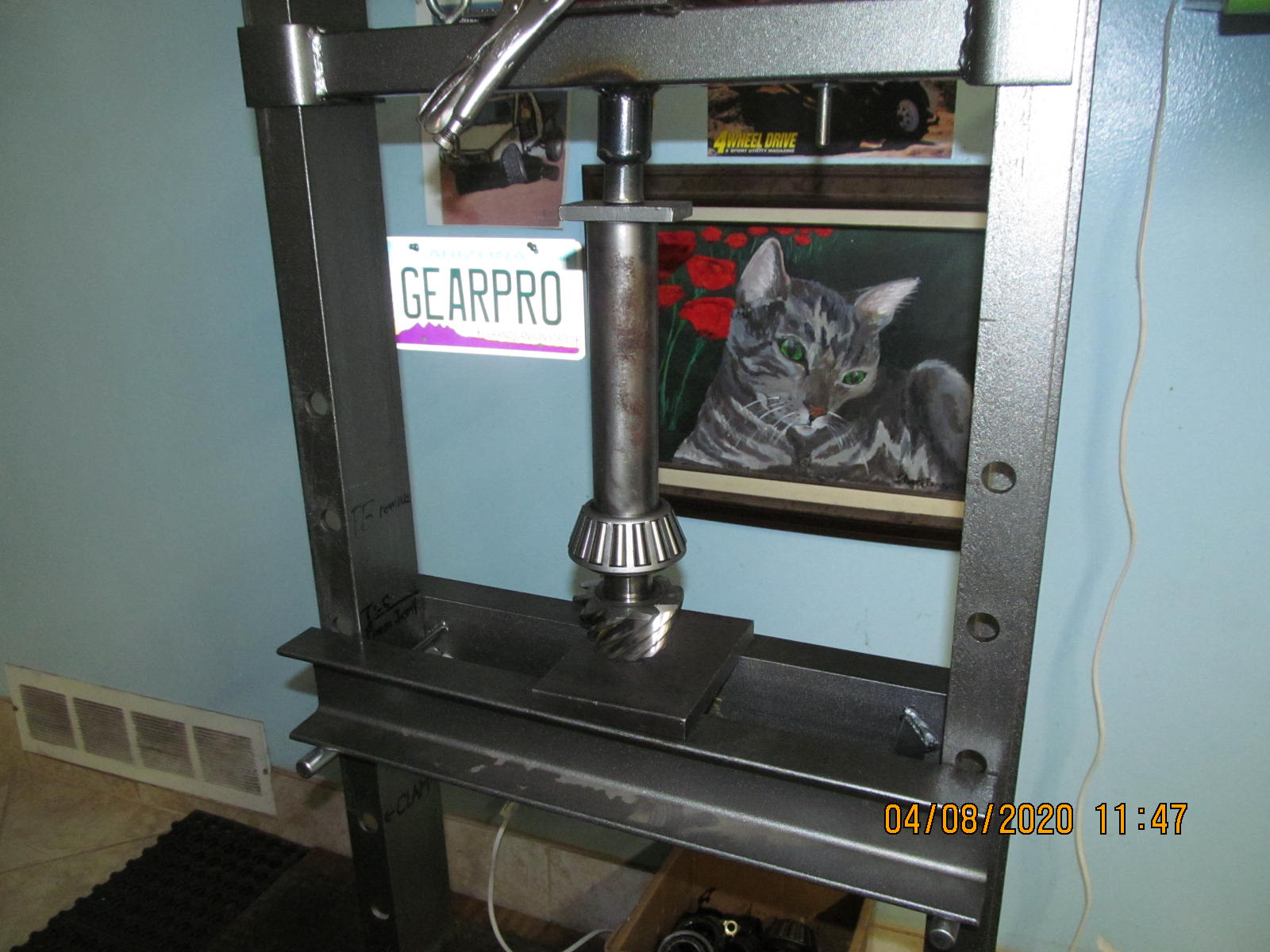 12 ton press makes easy work of it.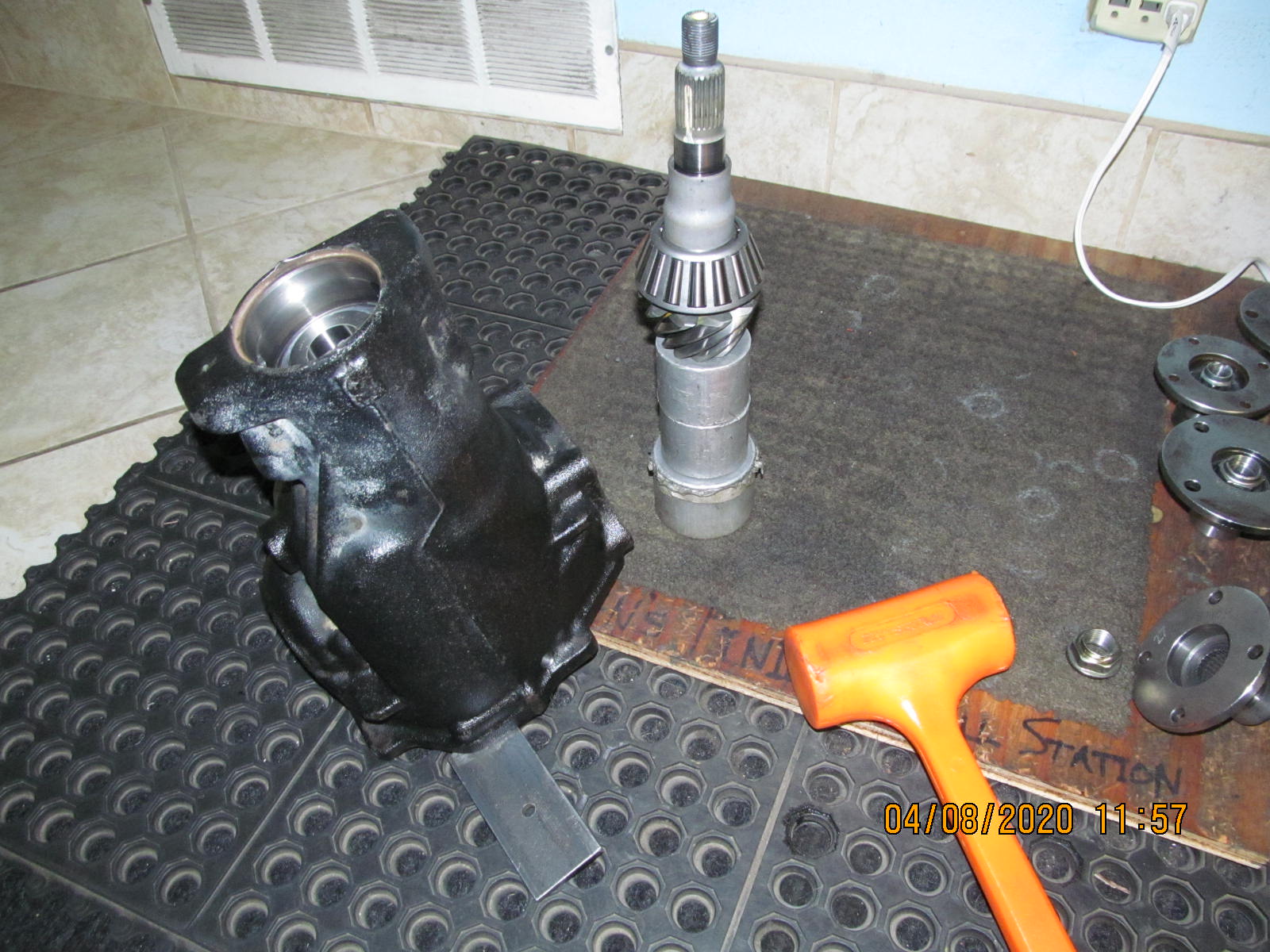 New crush is mounted and the main diff carrier can be mounted now.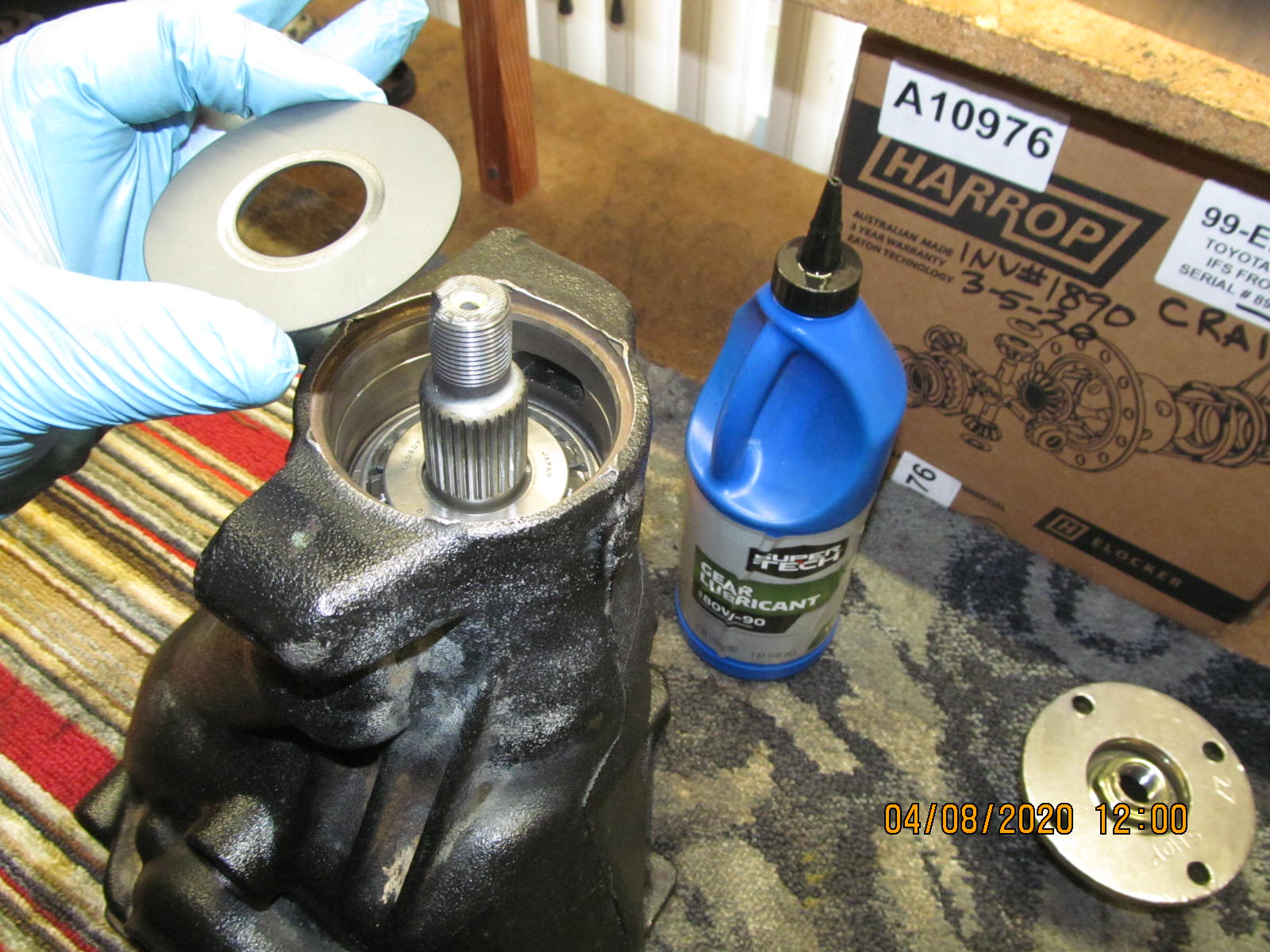 Slinger.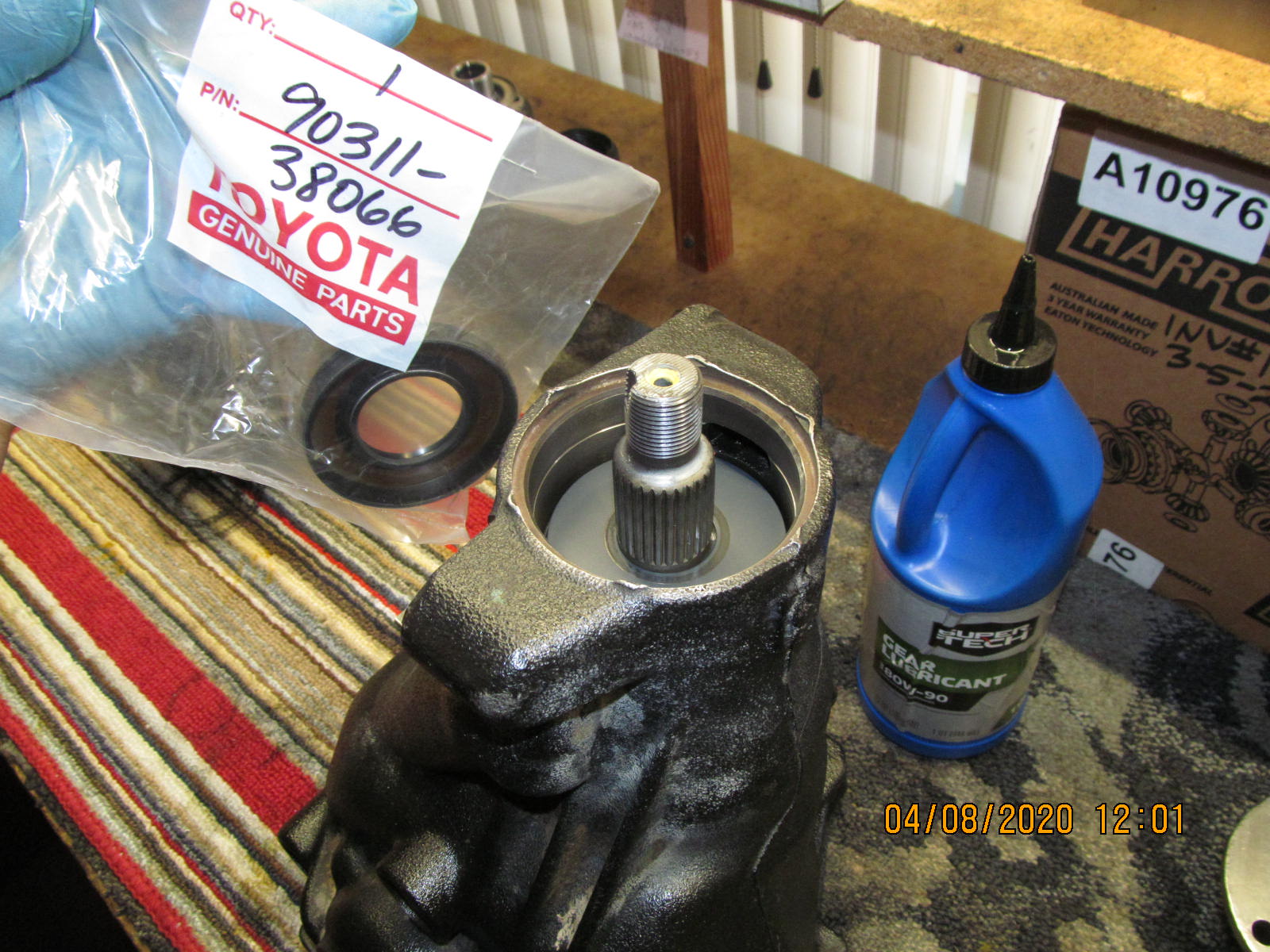 Only the best.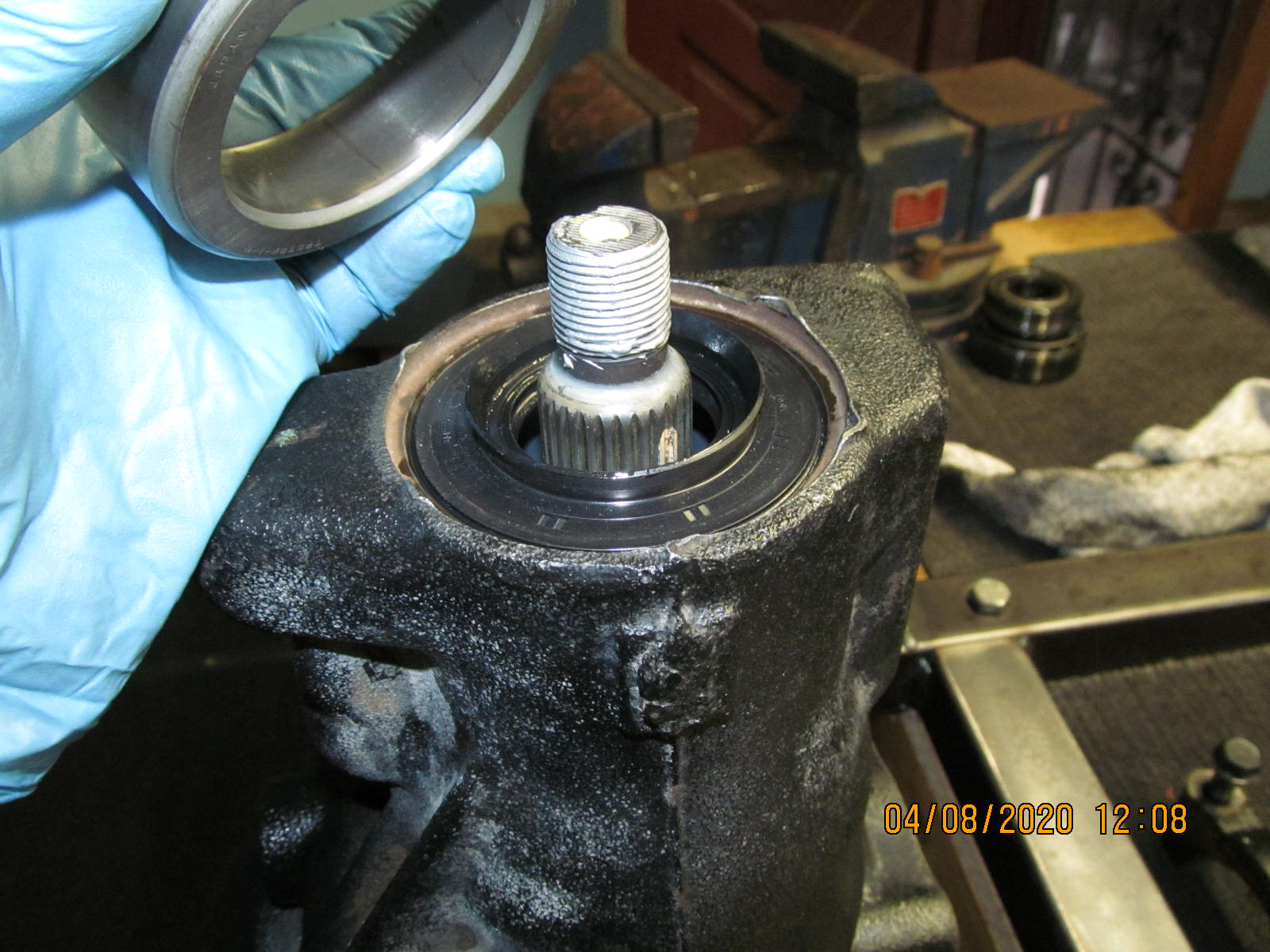 New seal tapped down level.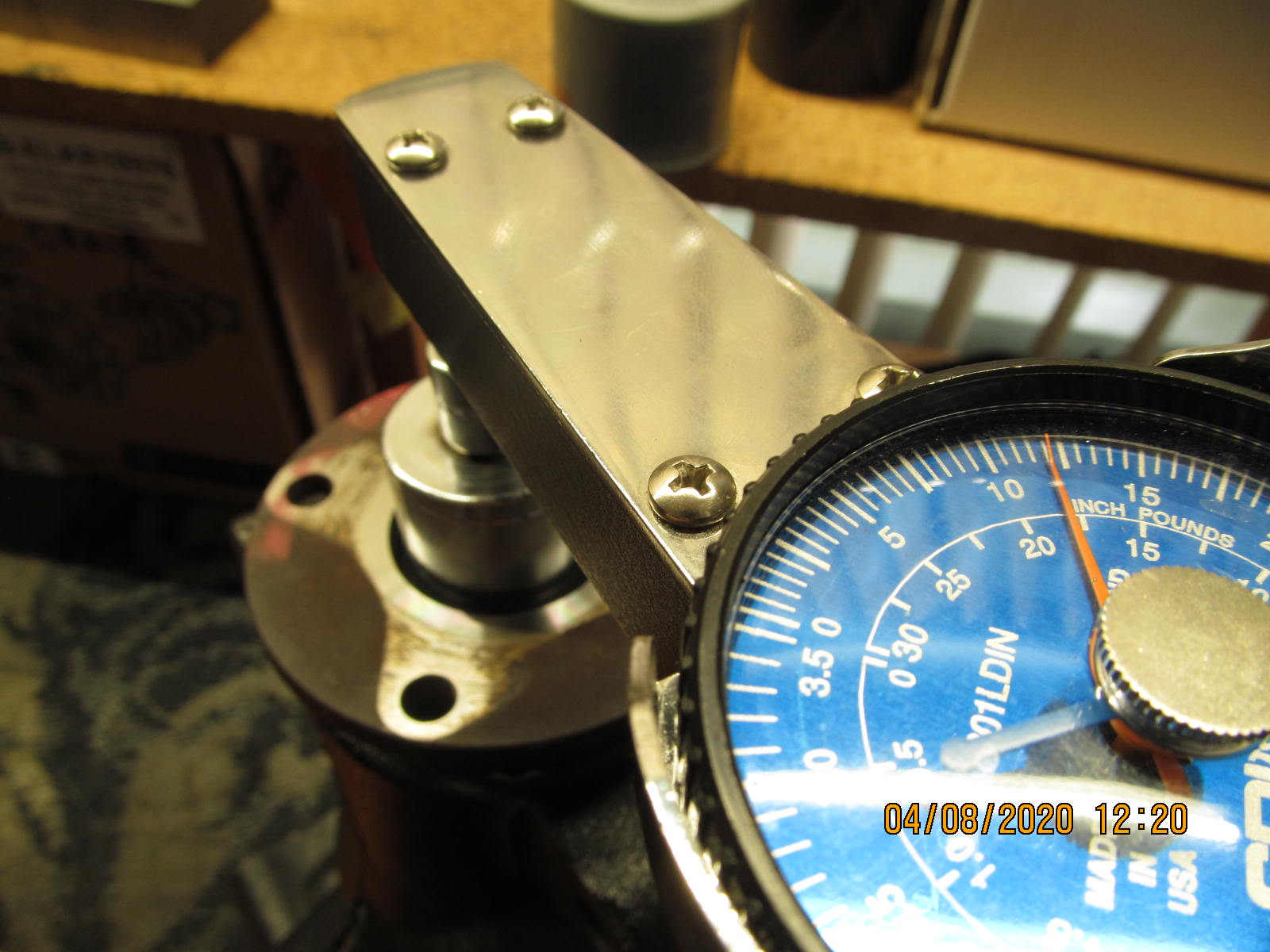 A smooth 12 inch/pounds preload.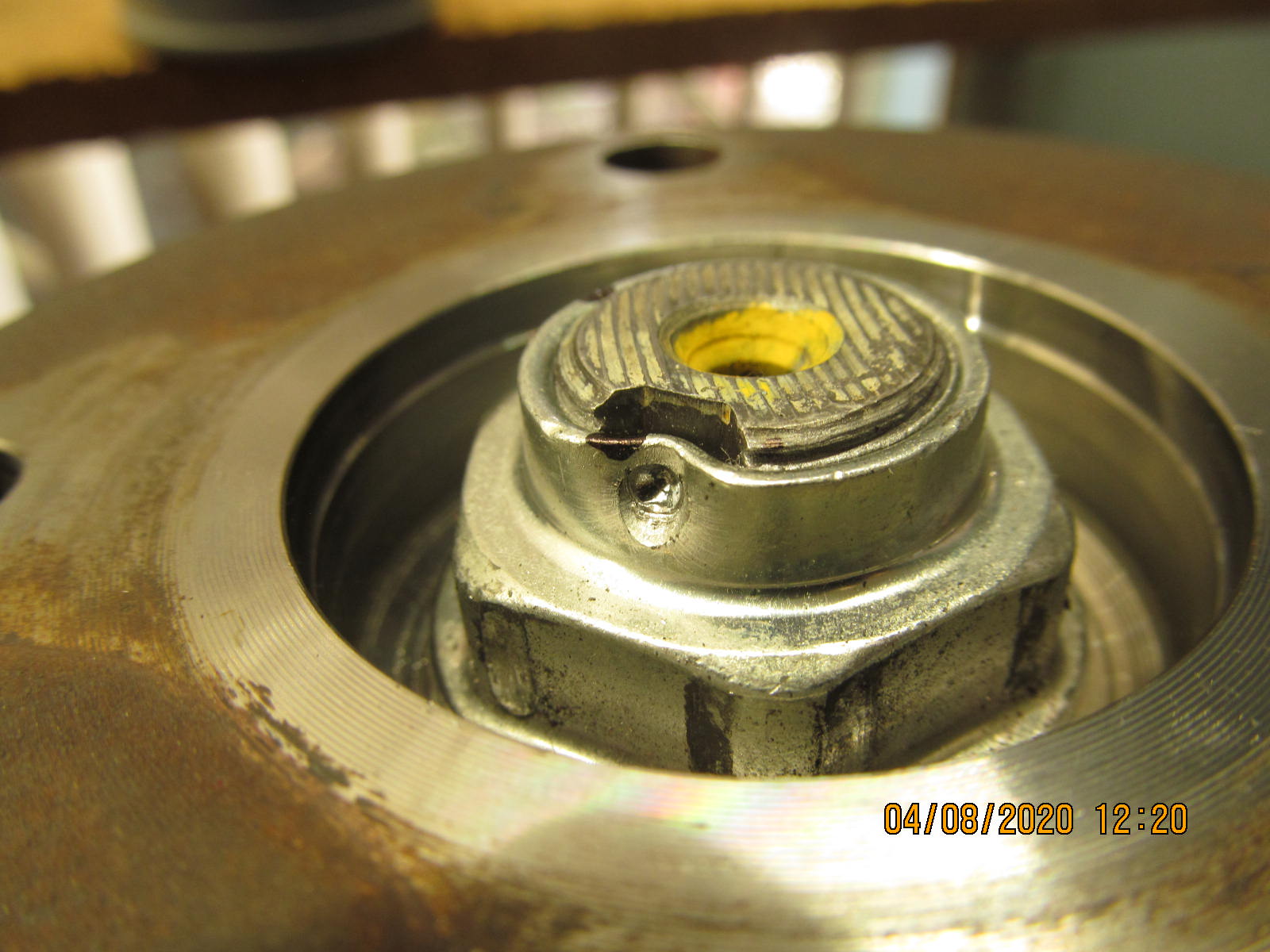 New nut gets dinged.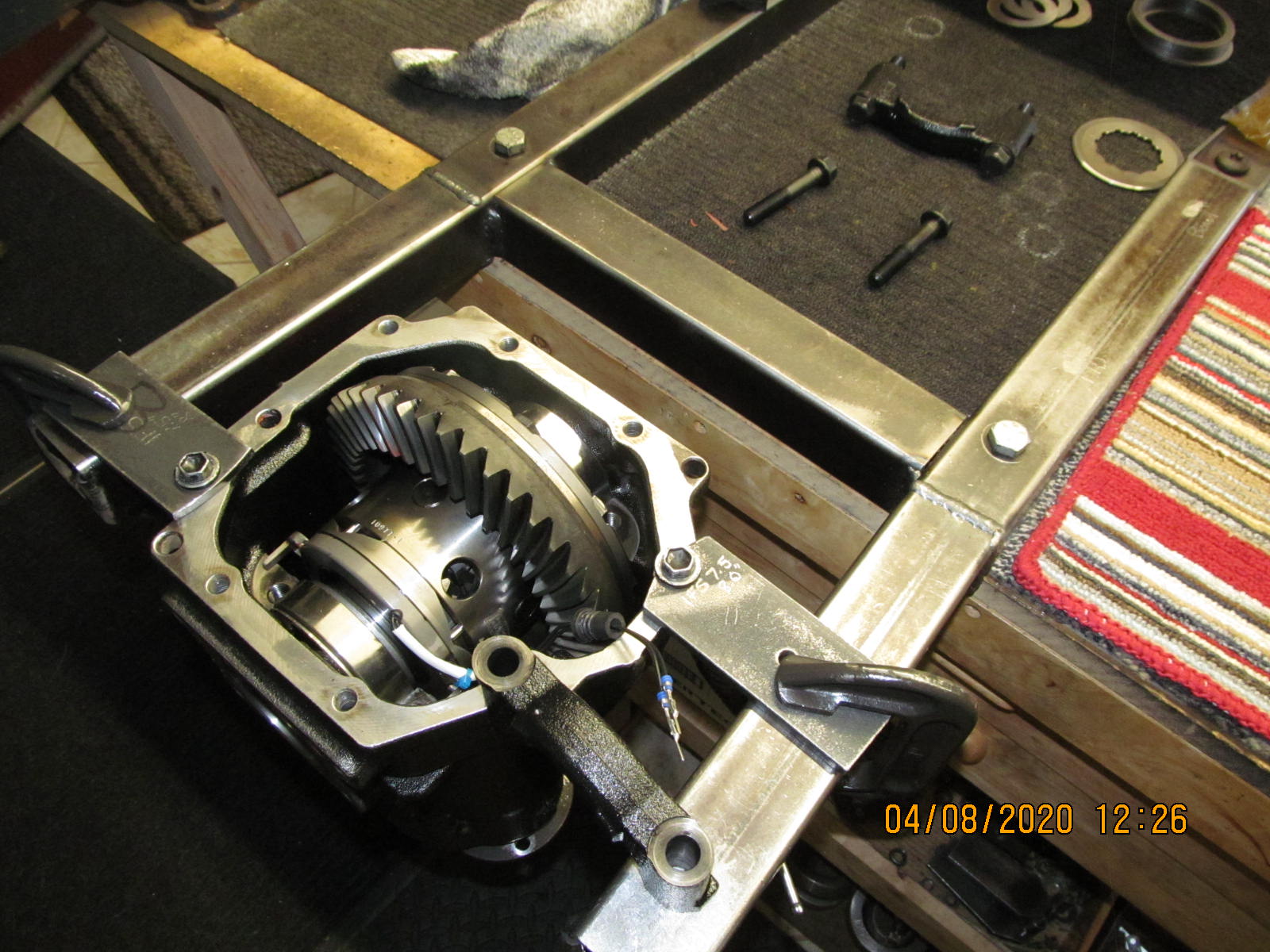 Harrop goes in now.....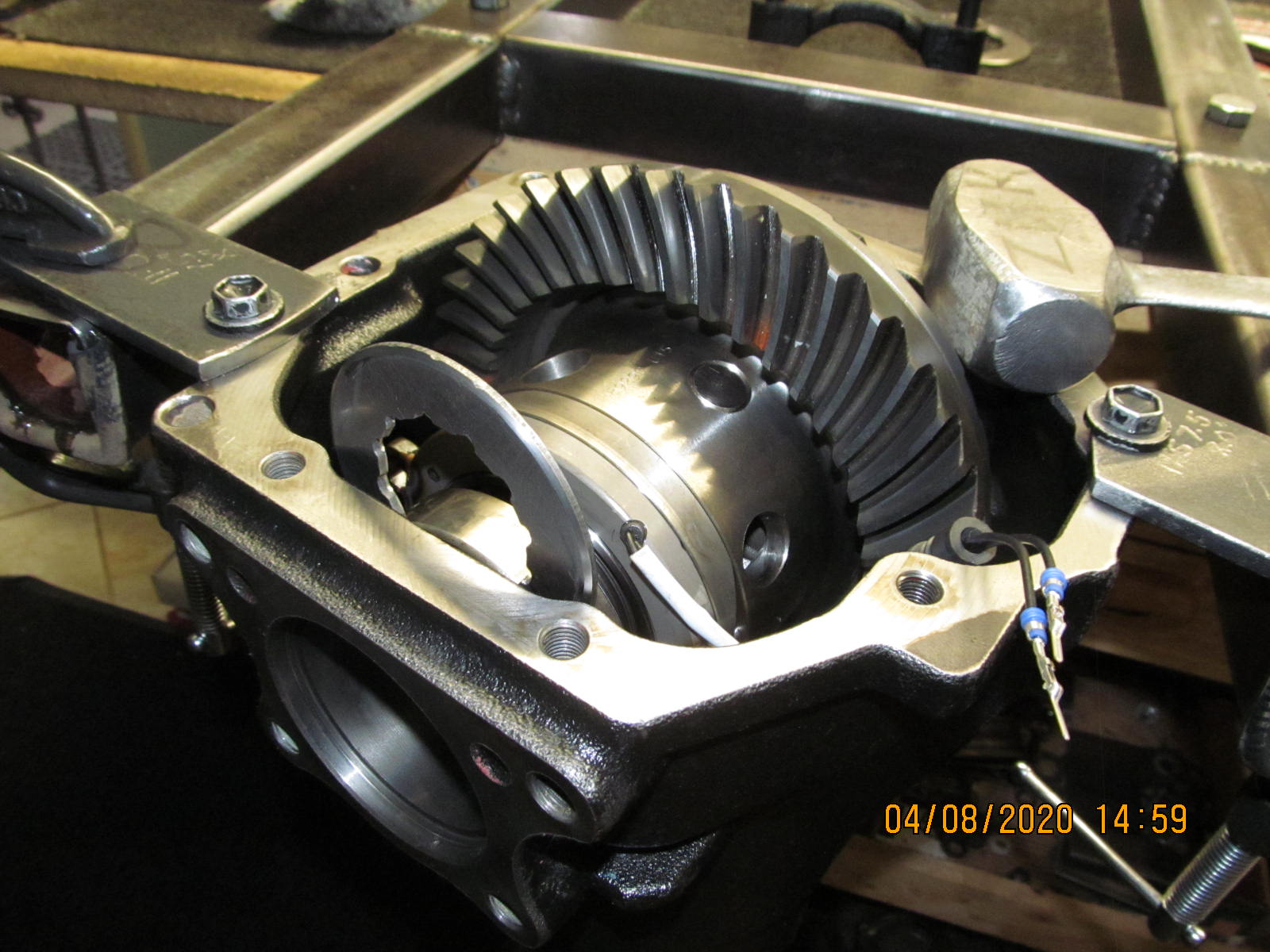 And now some washer plate adjustments are made. Backlash and carrier bearing preloads are affected.
Clearancing the bearing caps.....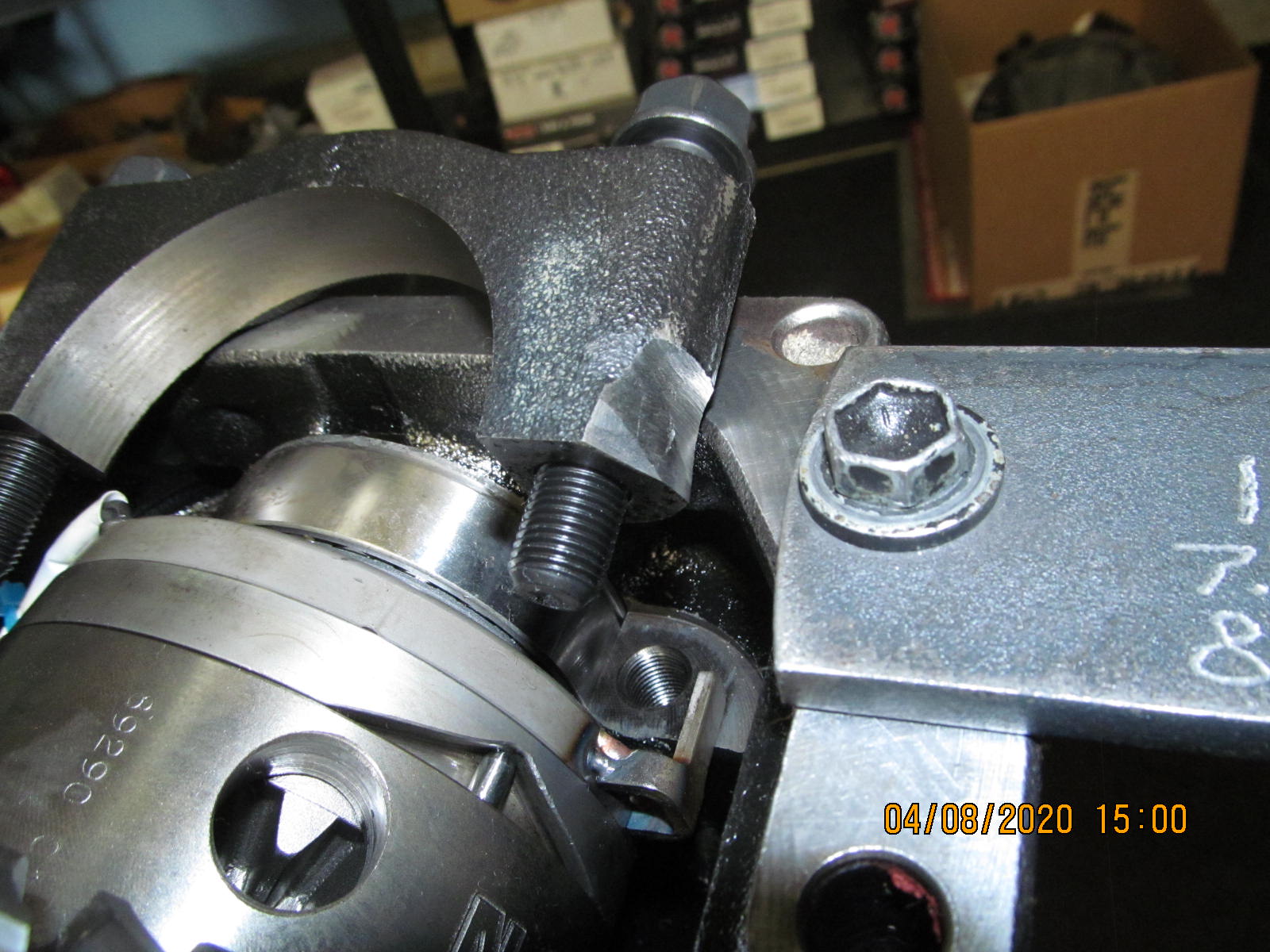 Minor tweaking.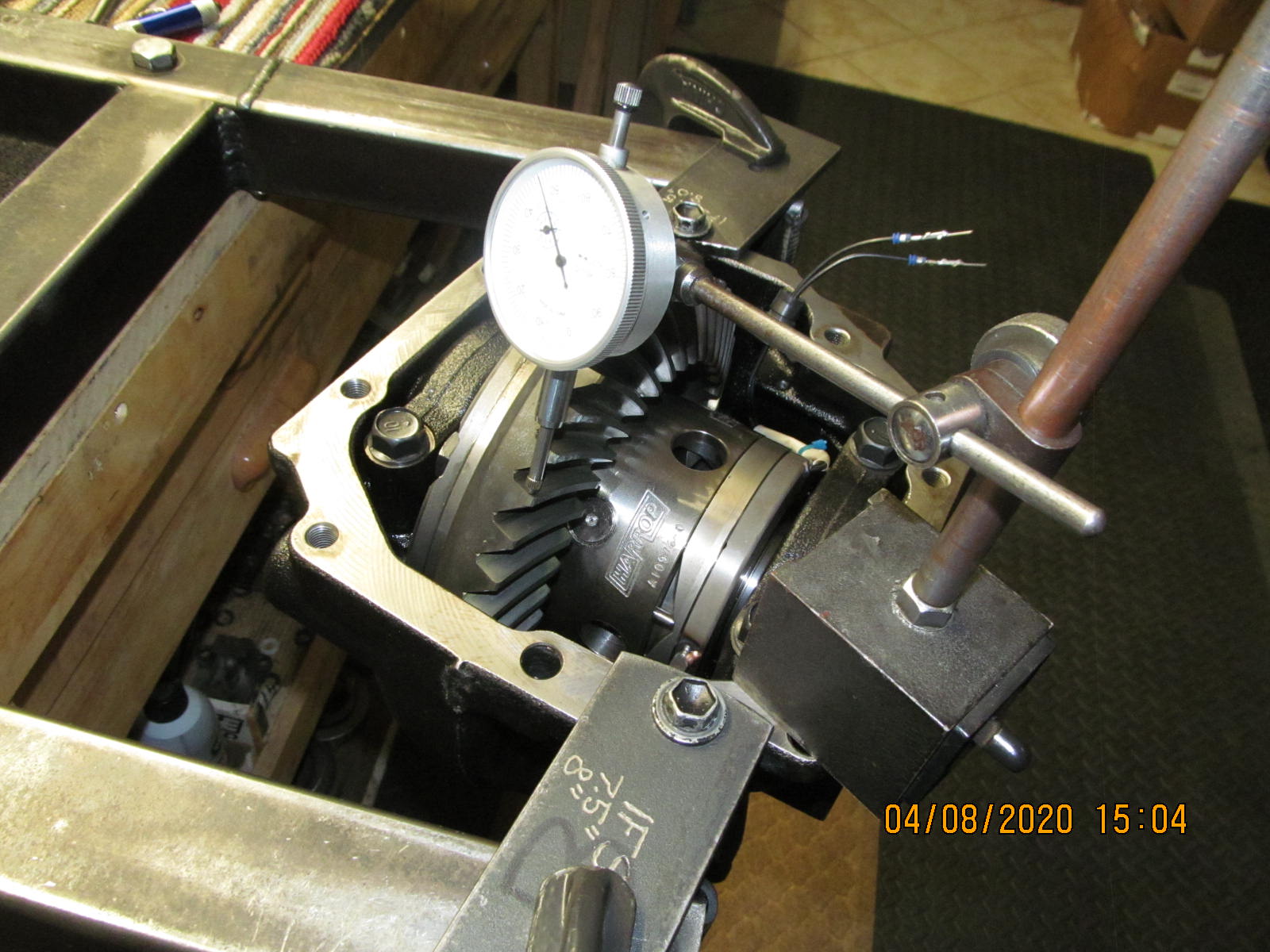 Backlash is good.....preload is good.....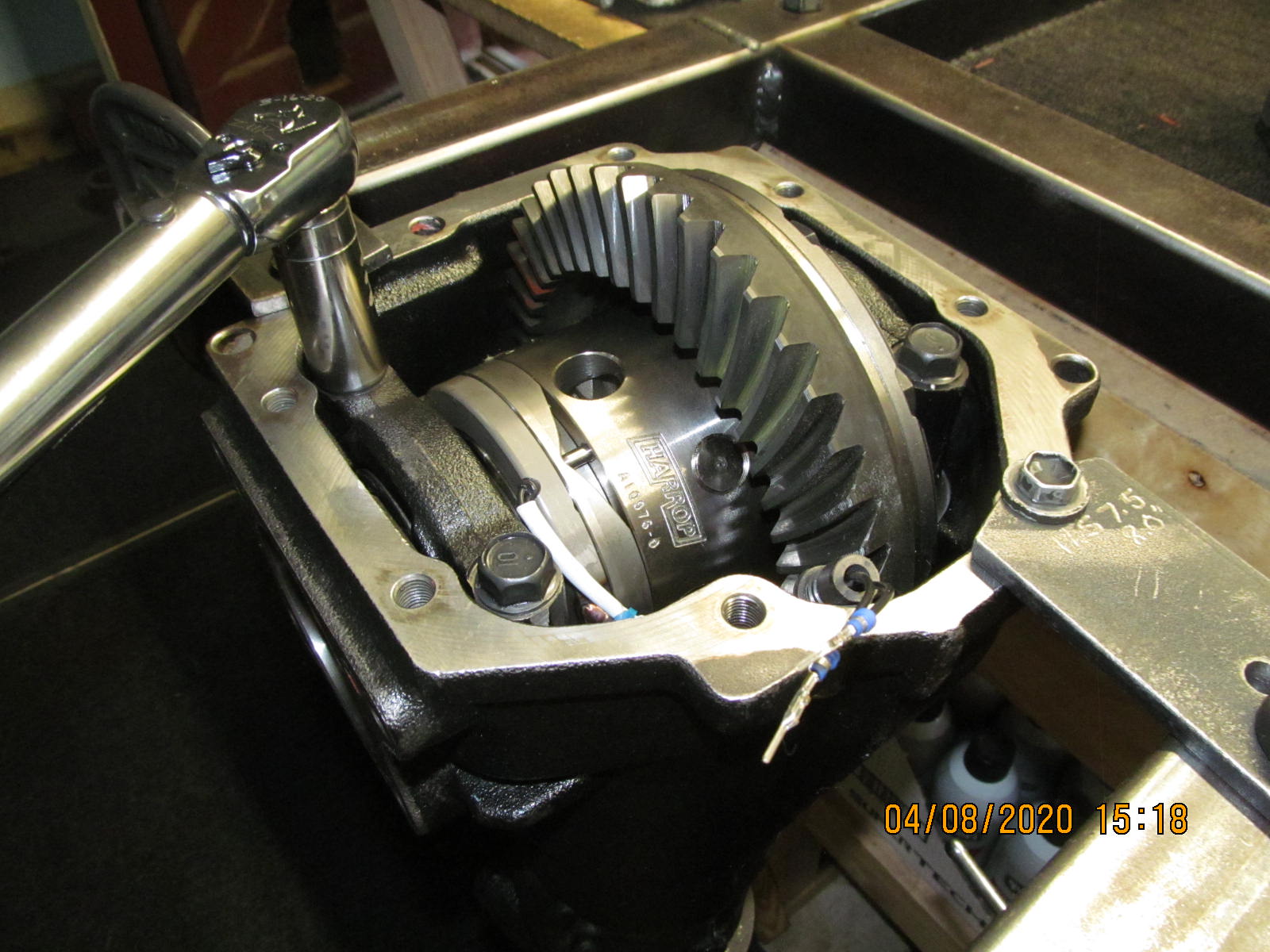 .....bearing caps can be verified now to be 70 ft/lb and they are.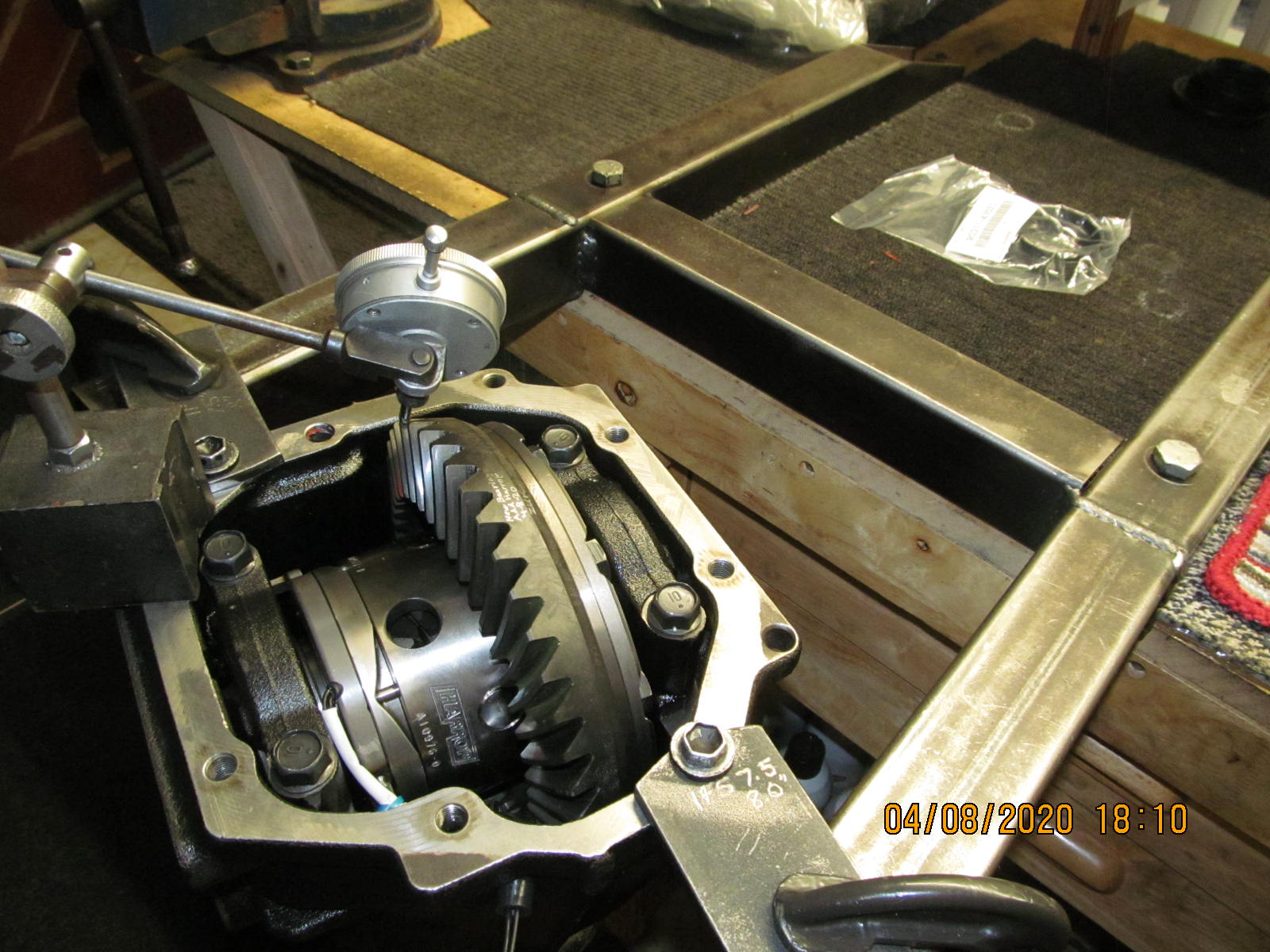 Backlash is recorded on every other tooth for 20 readings total.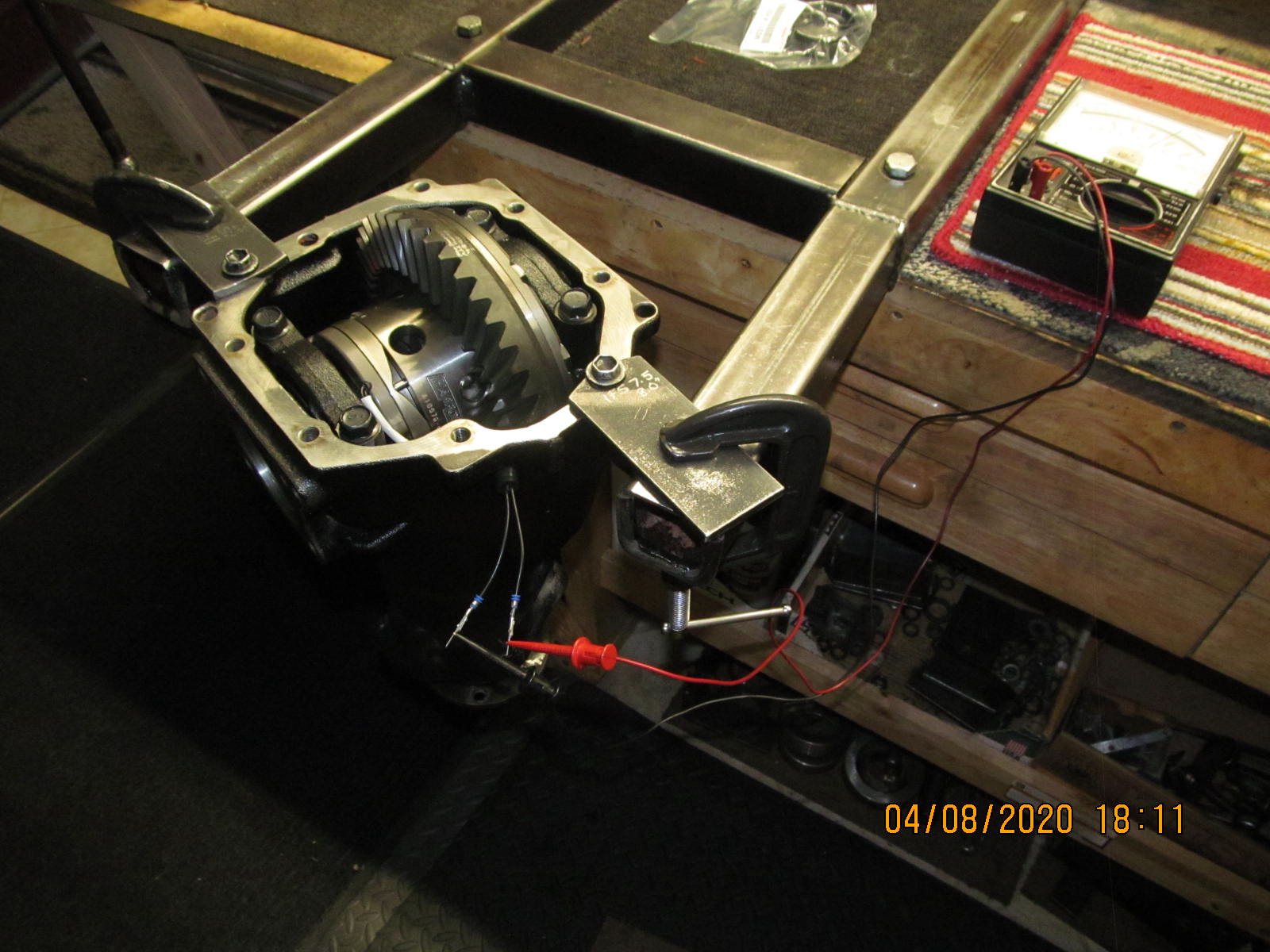 Resistance check of the Harrop magnetic coil.....3.8 ohms is typical.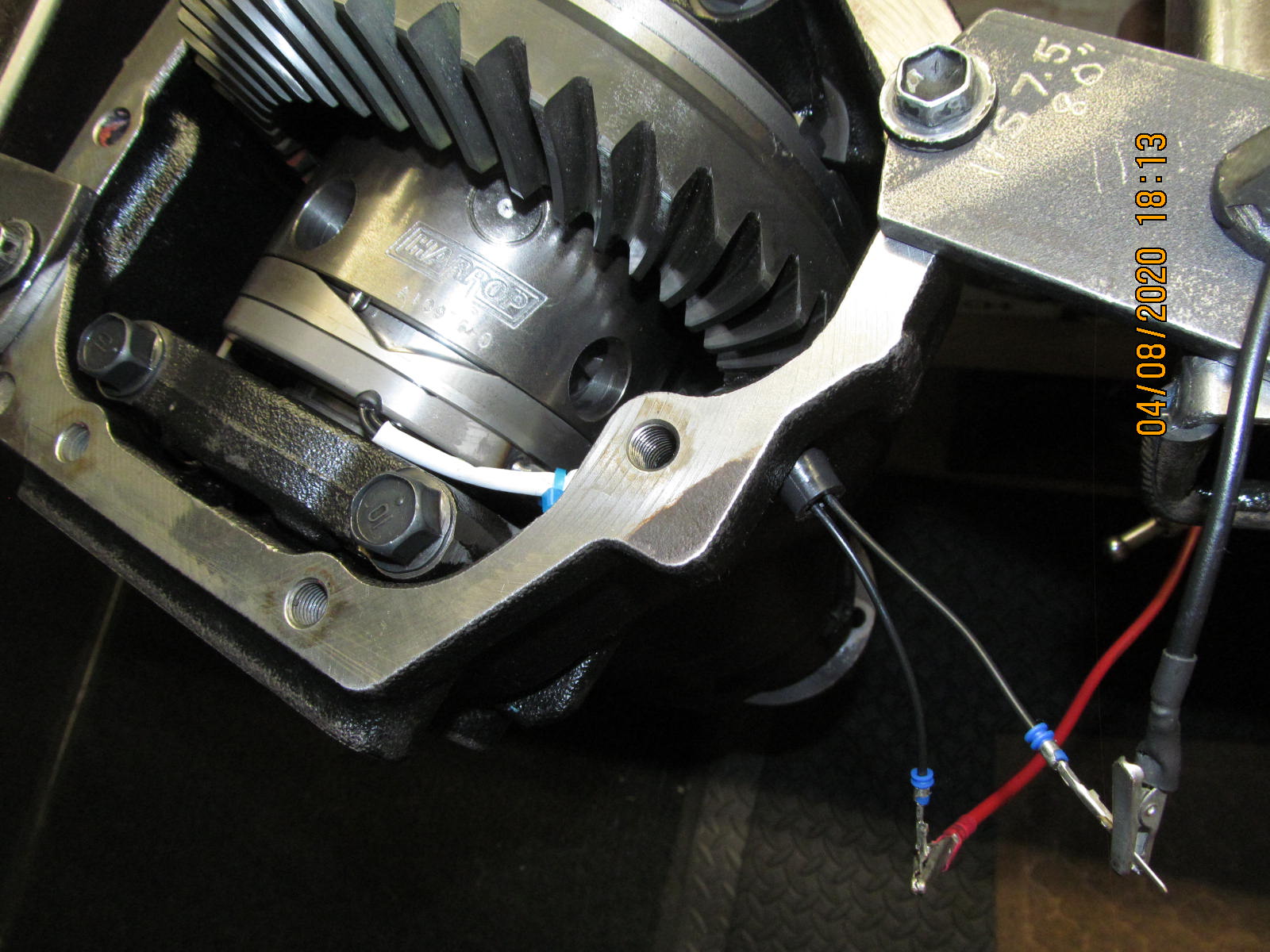 12 volts is applied and ring gear turned a tooth or 2.....
you can see one of the 3 pins that ramps into the case.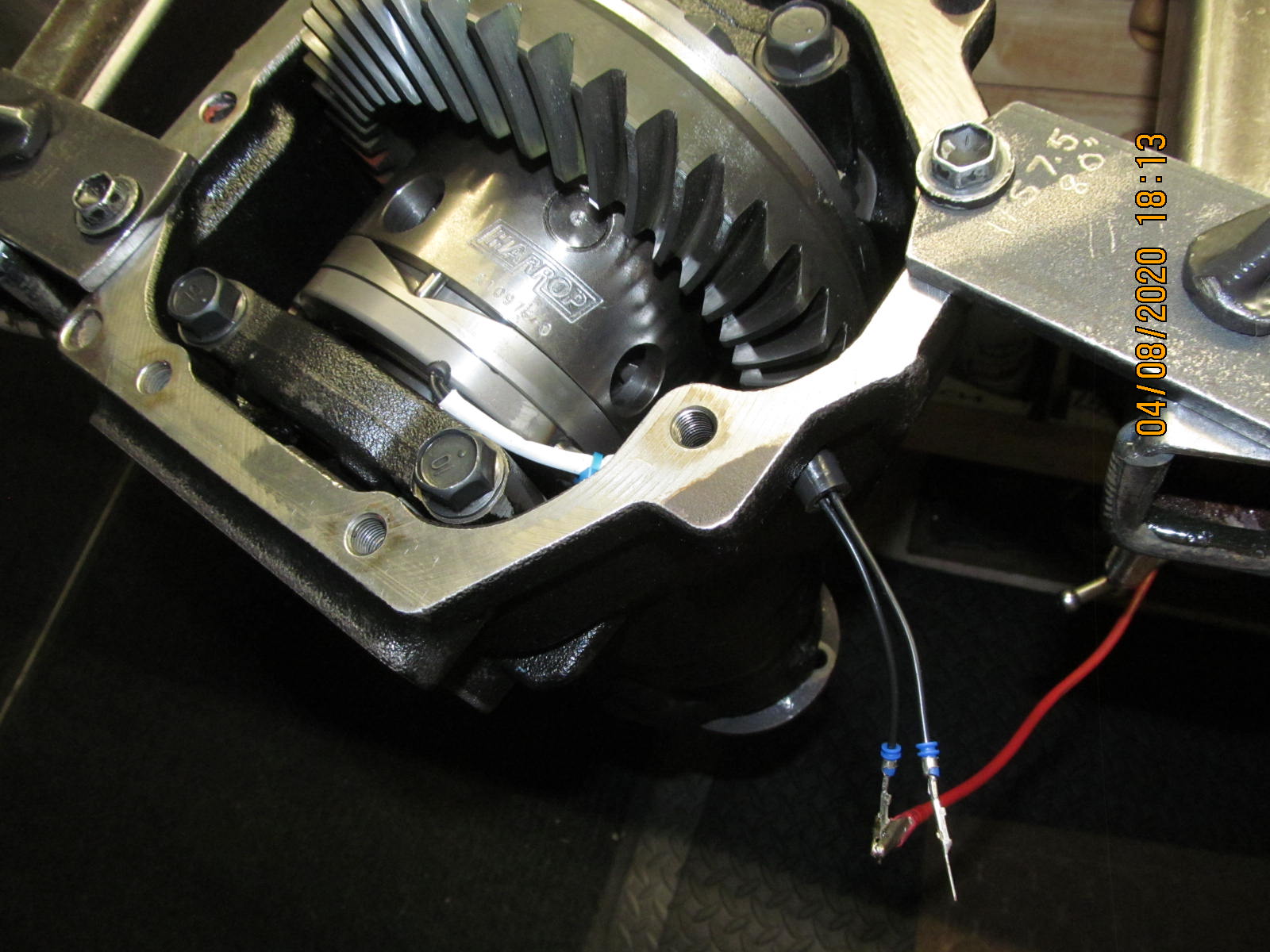 Remove the 12 volts and the pins snap back out(unlocked mode).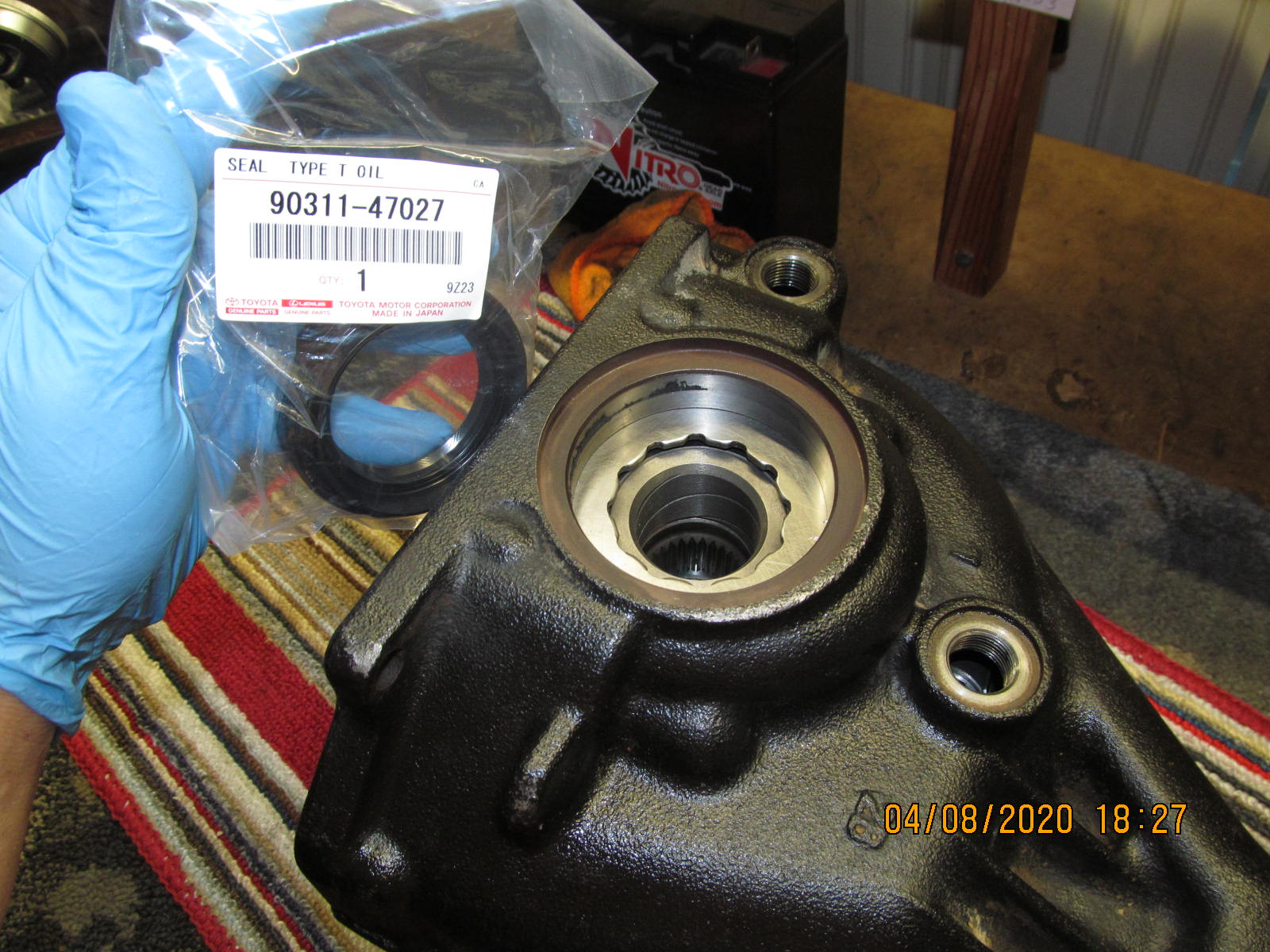 Genuine factory axle seal.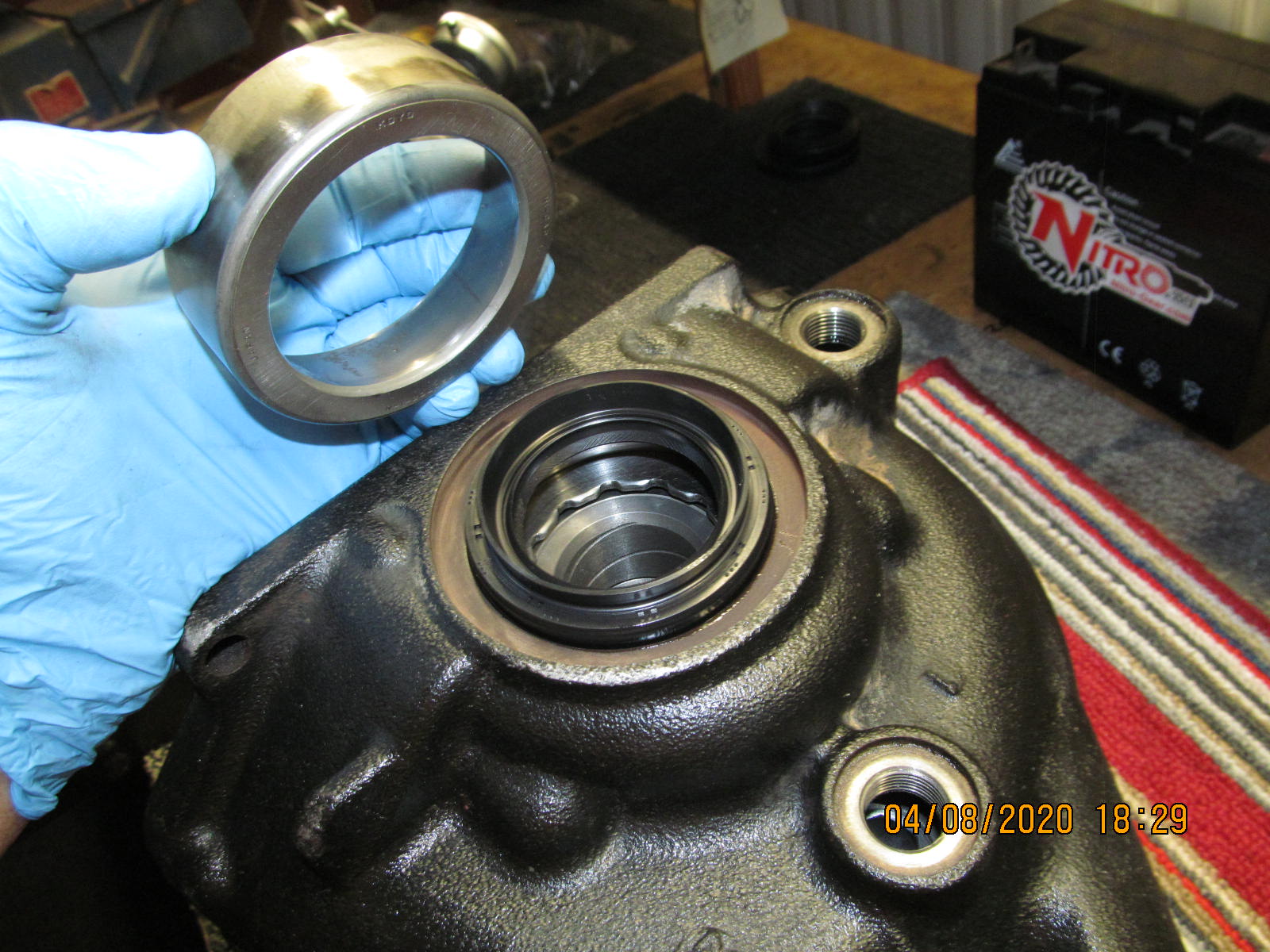 Find that "just right" race to support the seal while tapping it......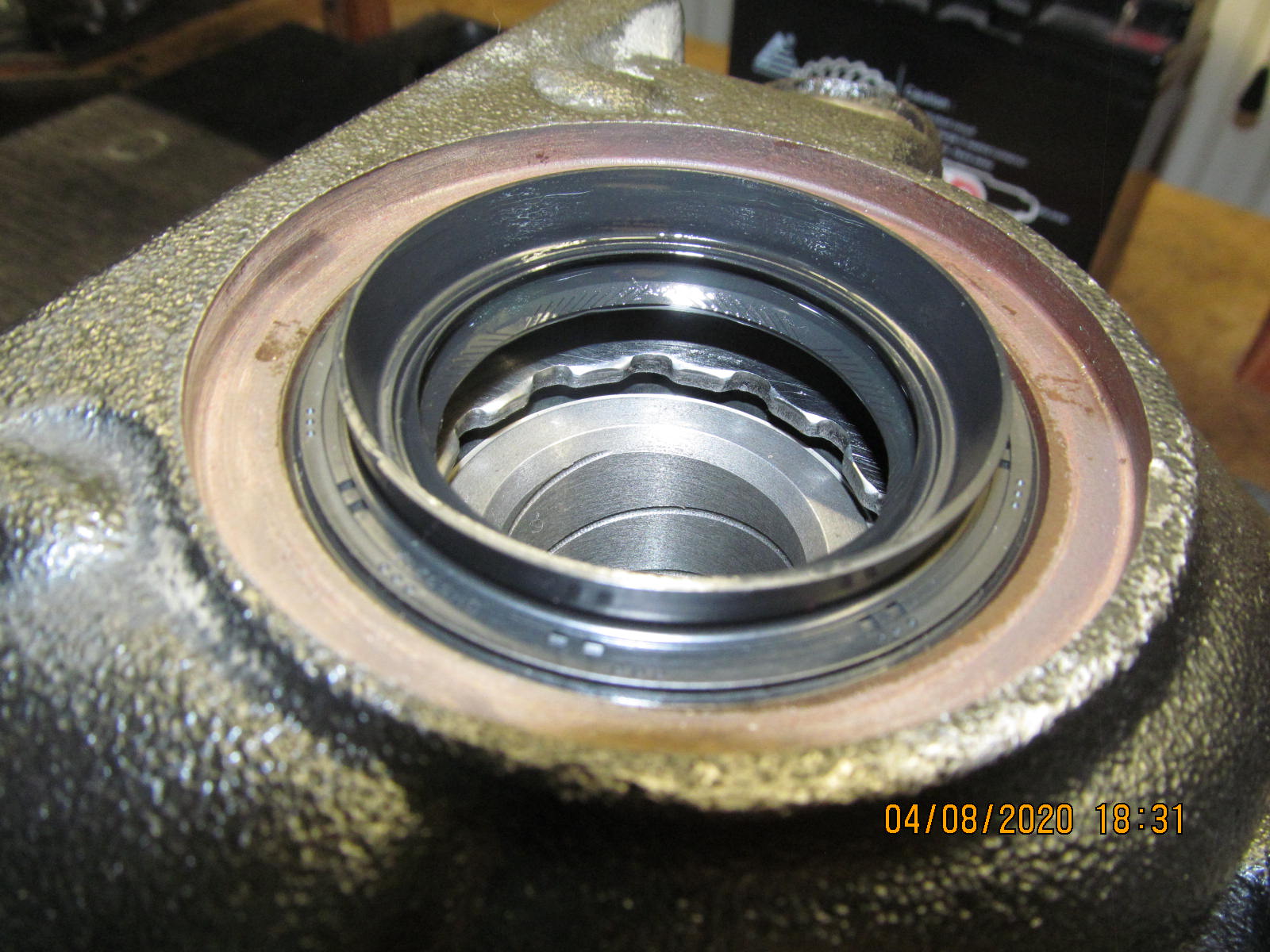 ....and seal is shown properly installed.
I like to use an inflatable foam bags and double boxes.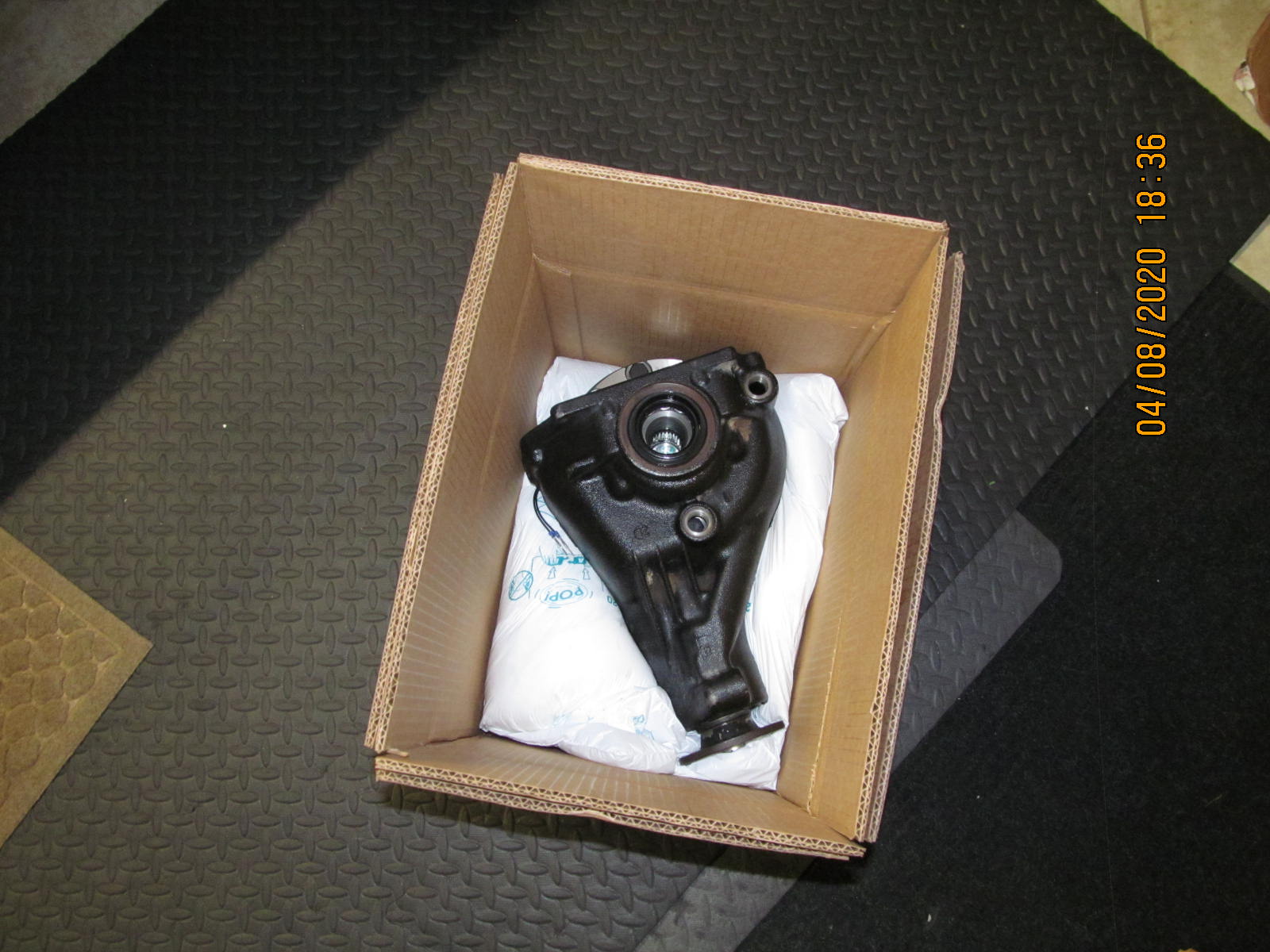 ==============================================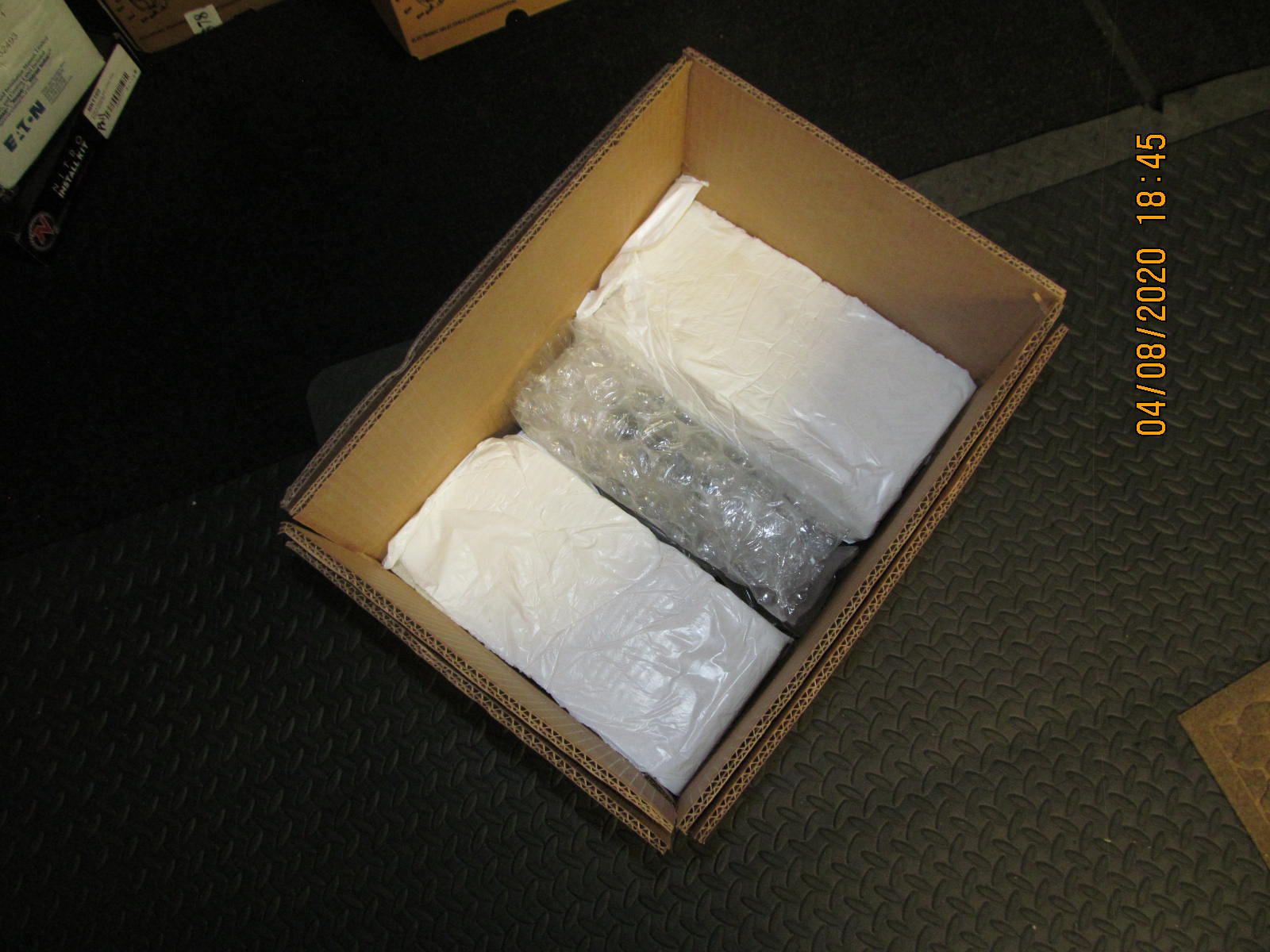 More packing materials on top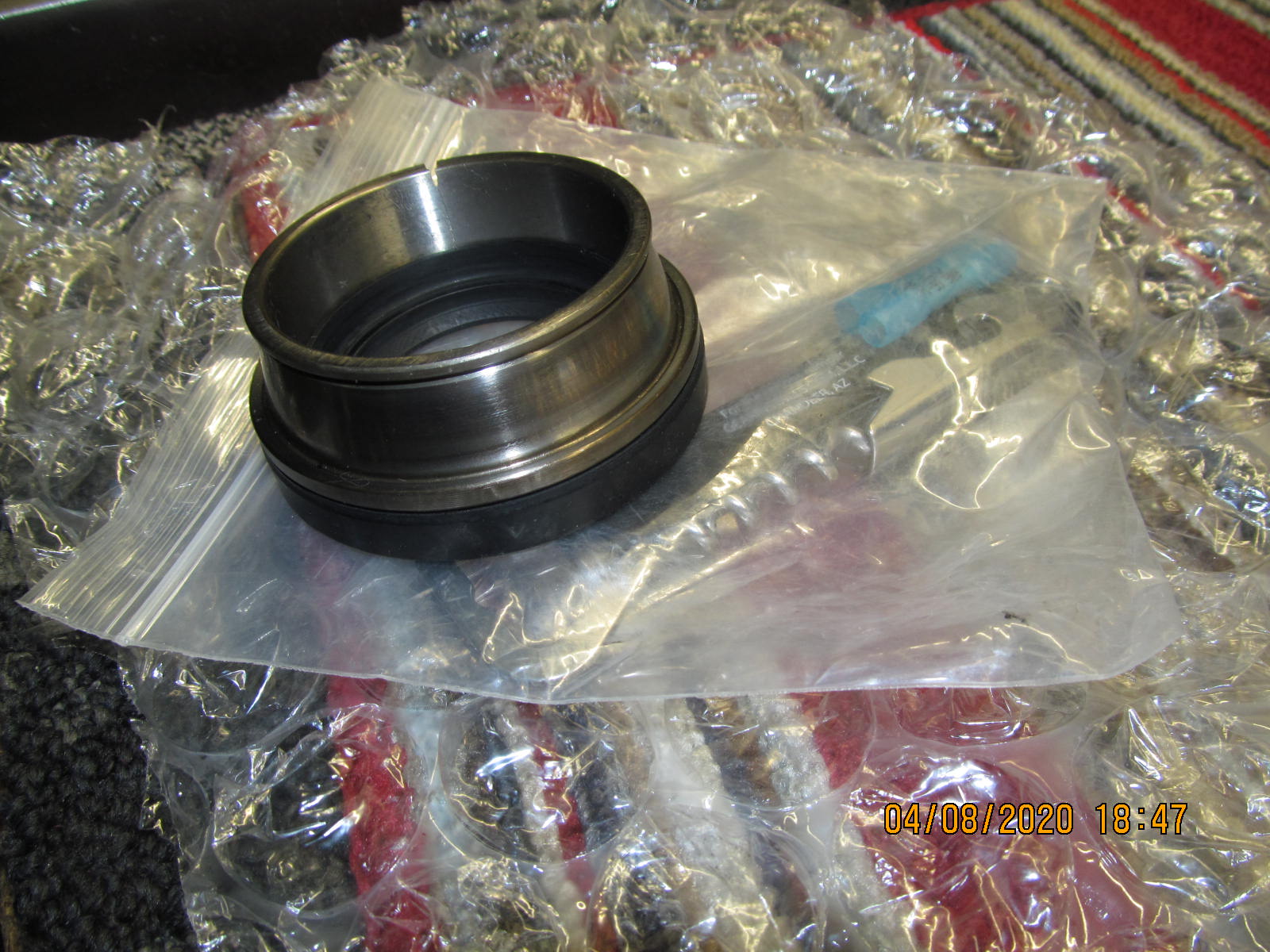 ....and sending Craig the driverside axle seal for the end of the steel tube.
Ready to drop it off at Fedex.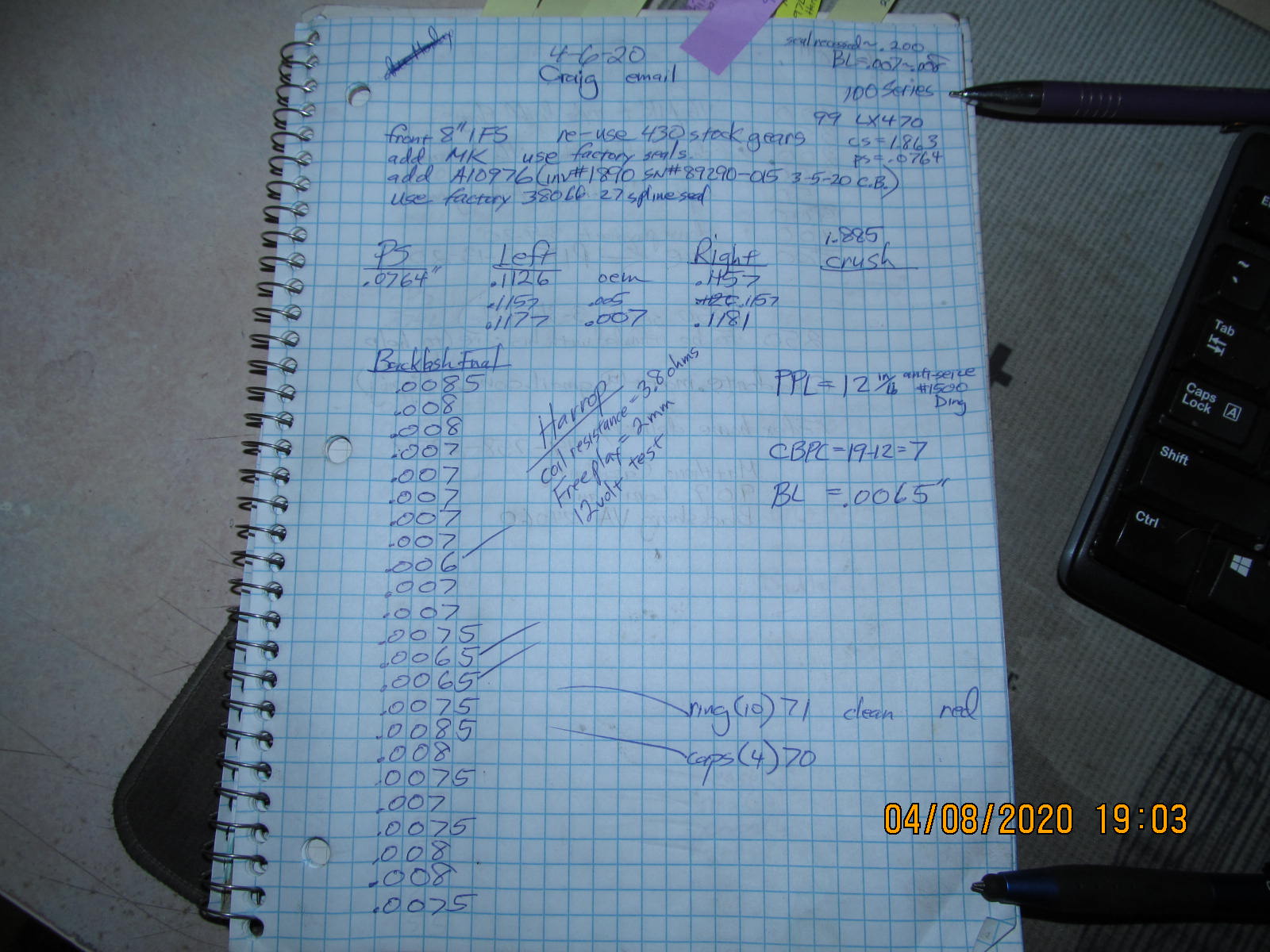 Notes of the front Harrop install.