REM processed NITRO 4.10 Gears for Dave's Lemons car
(54 BIG pics loading)
JULY 5 2020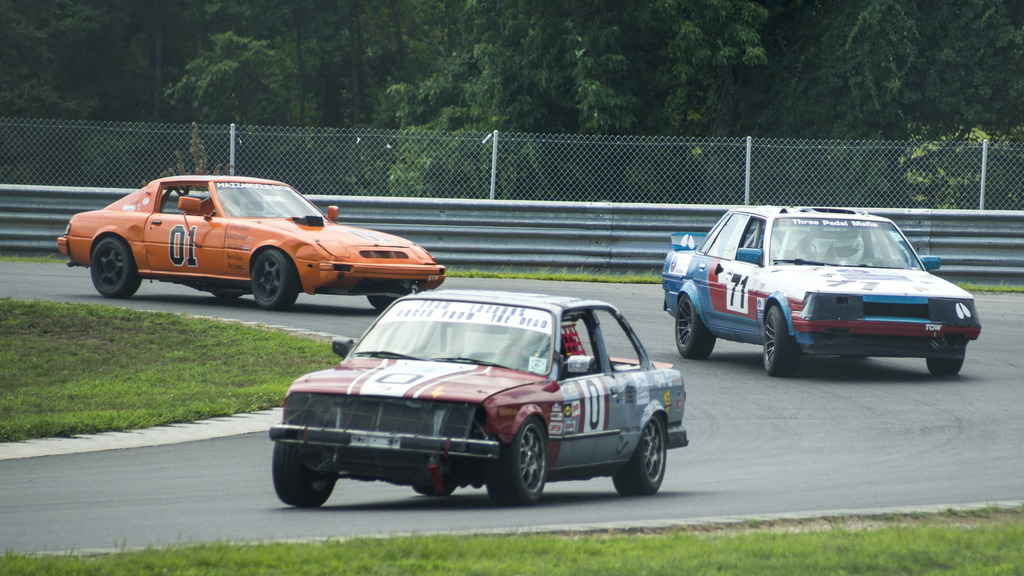 Dave has a MX73 Cressida (#71) and has it set up for 24 hours of Lemons style racing.
The above photo is 2017.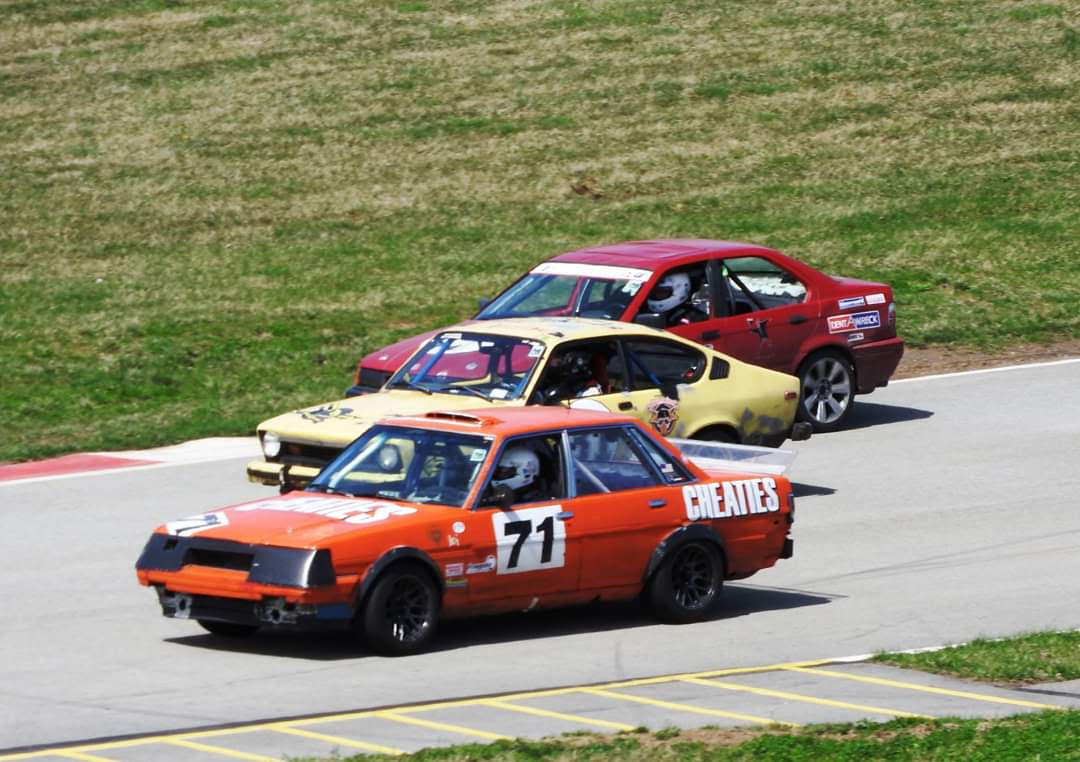 Fast forward.....this is now 2019....#71 gets new paint.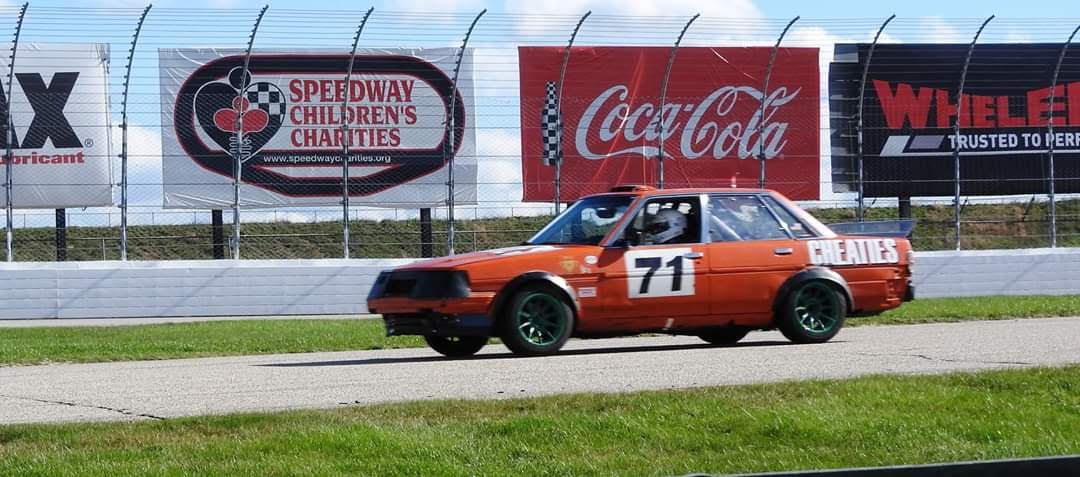 These ralleys are endurance events and vary from 8 to 24 hours.
His last rear diff overheated severely so off to me it goes.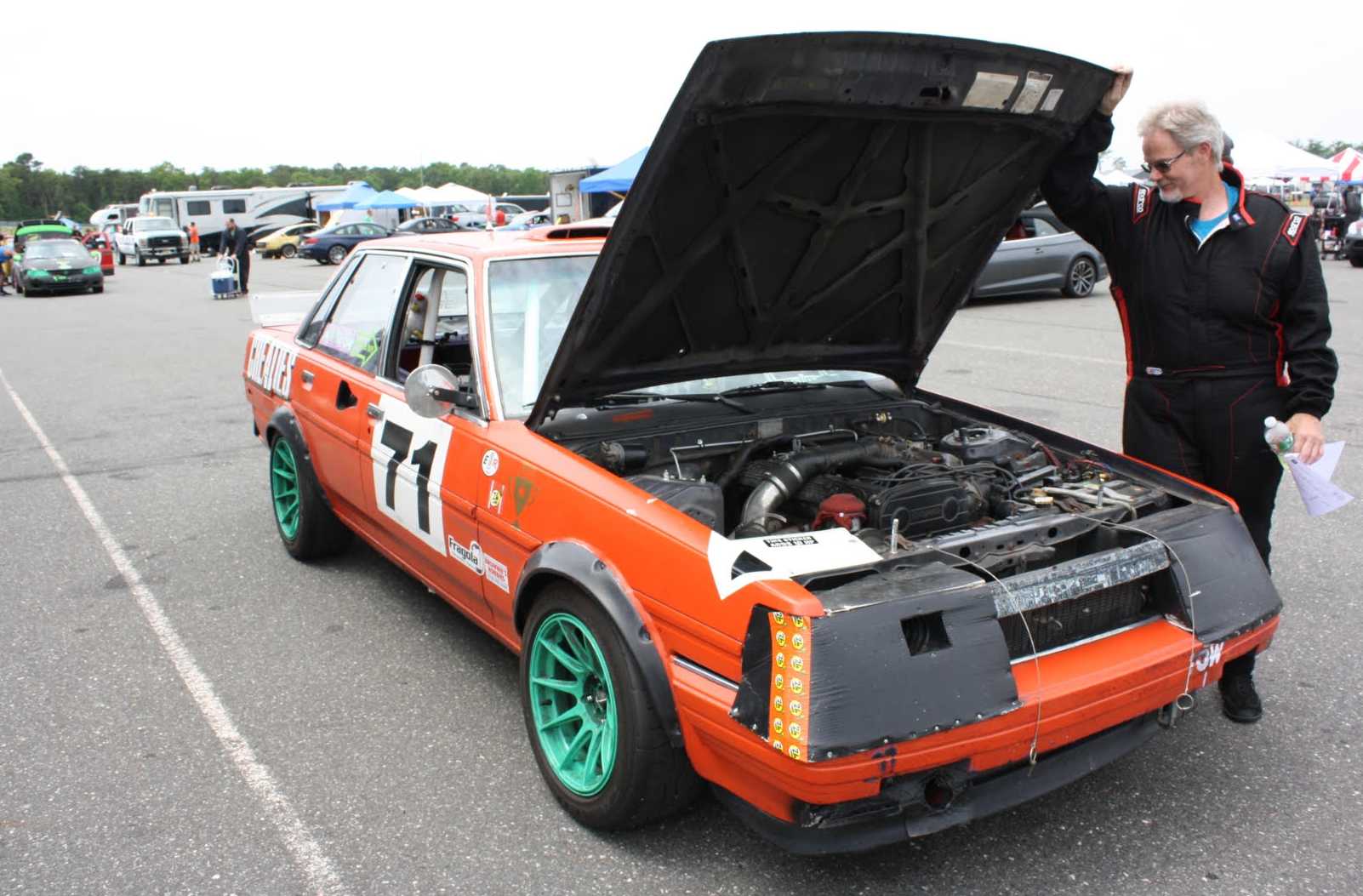 Dave showing off his pride and joy.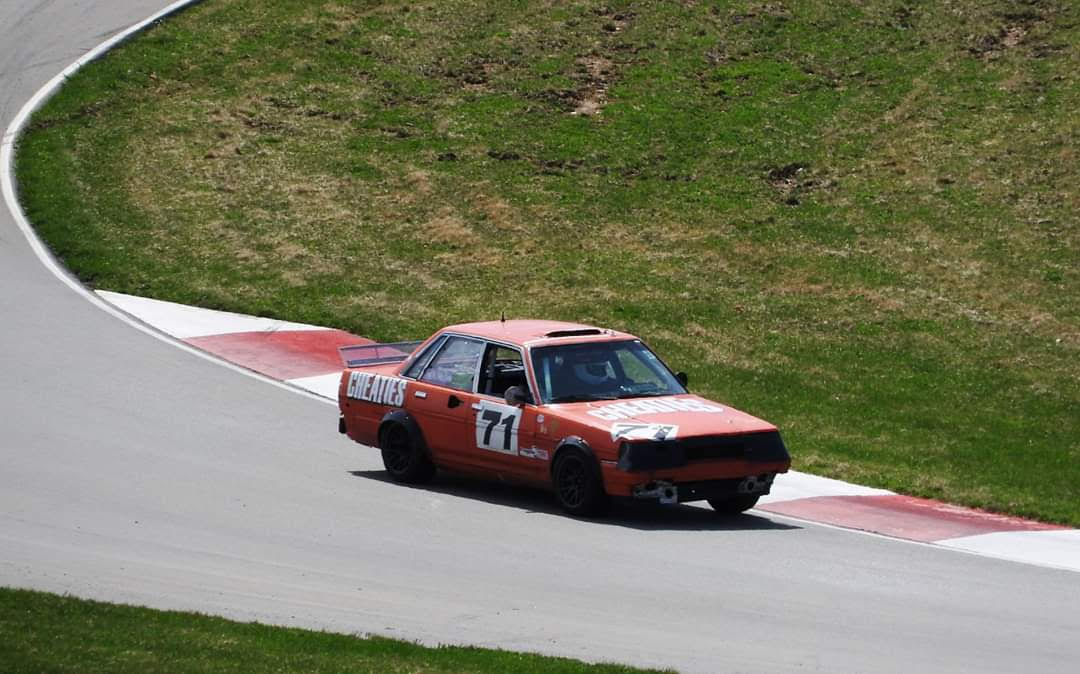 I started thinking about how his and some of the others are having to deal with overheating.
I know what happens....they change the gear ratio and the new gears have no opportunity to
break in properly. REM processing is in Dave's future :)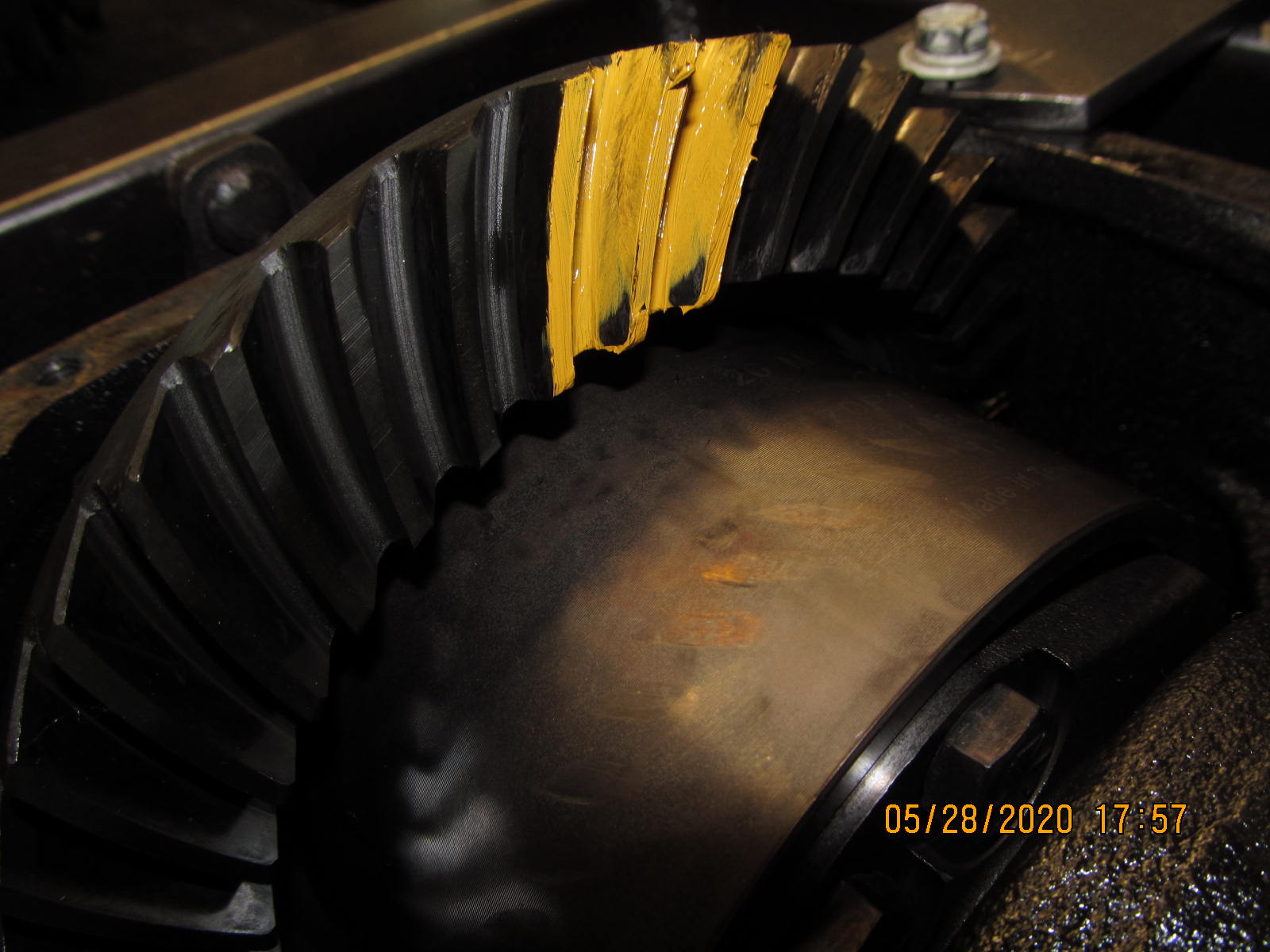 Fast forward a little. Dave also sent a different gear pair to try out. I did install them shown here
but the drive and coast pattern show that the gear health is poor.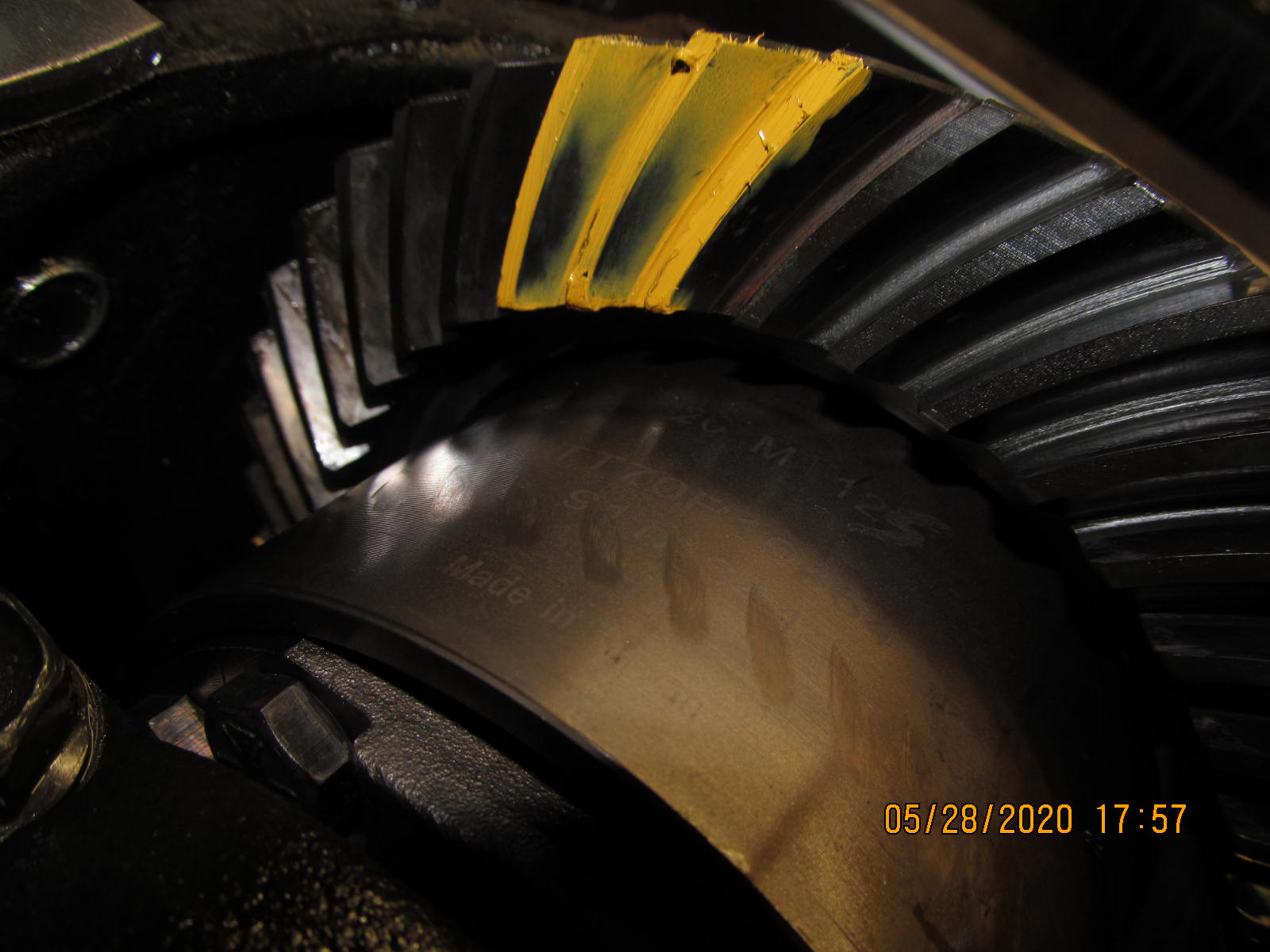 Coast is marginal.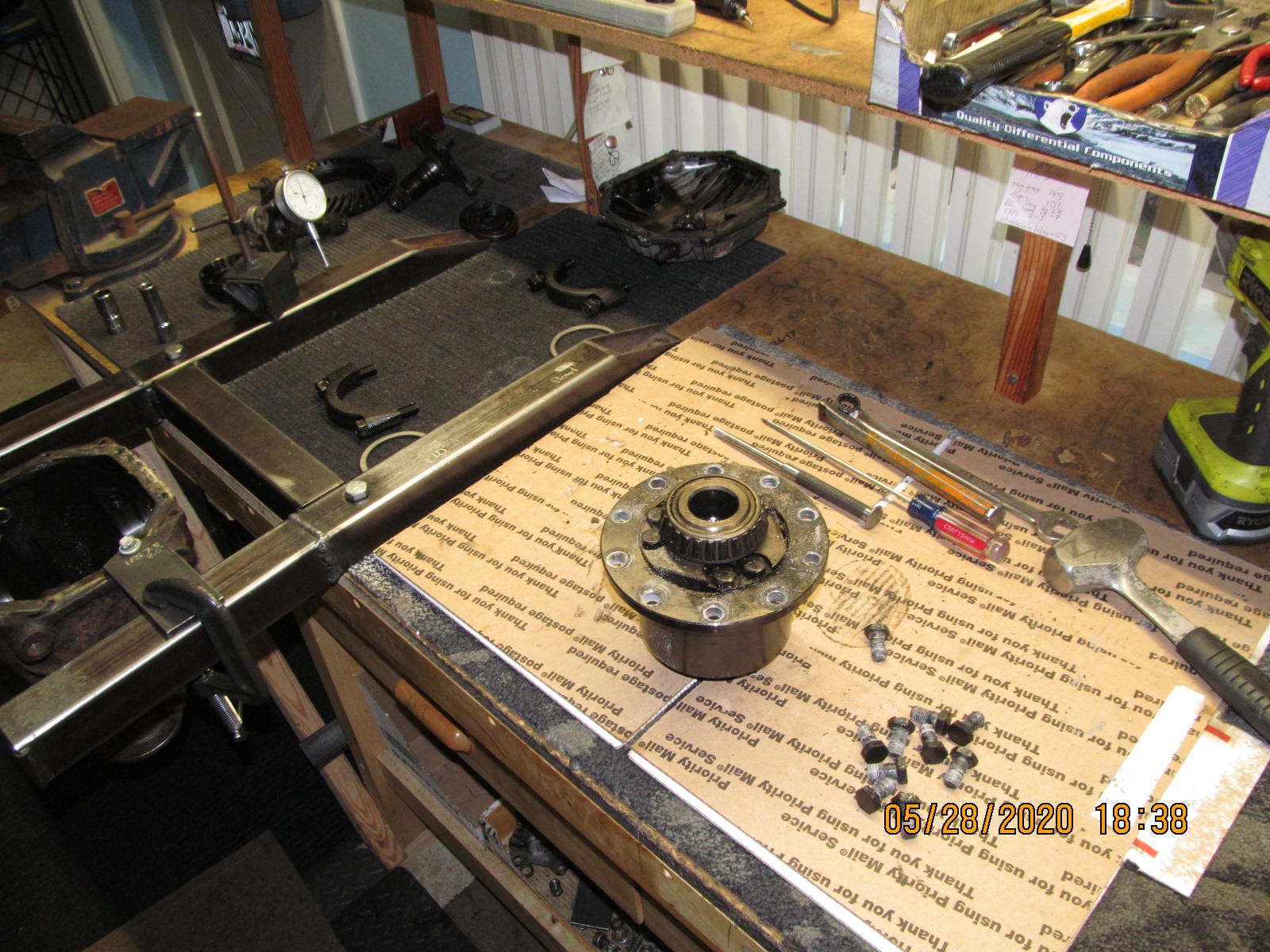 Nitro 410 gears are on order. Now is a good time to inspect the Trutrac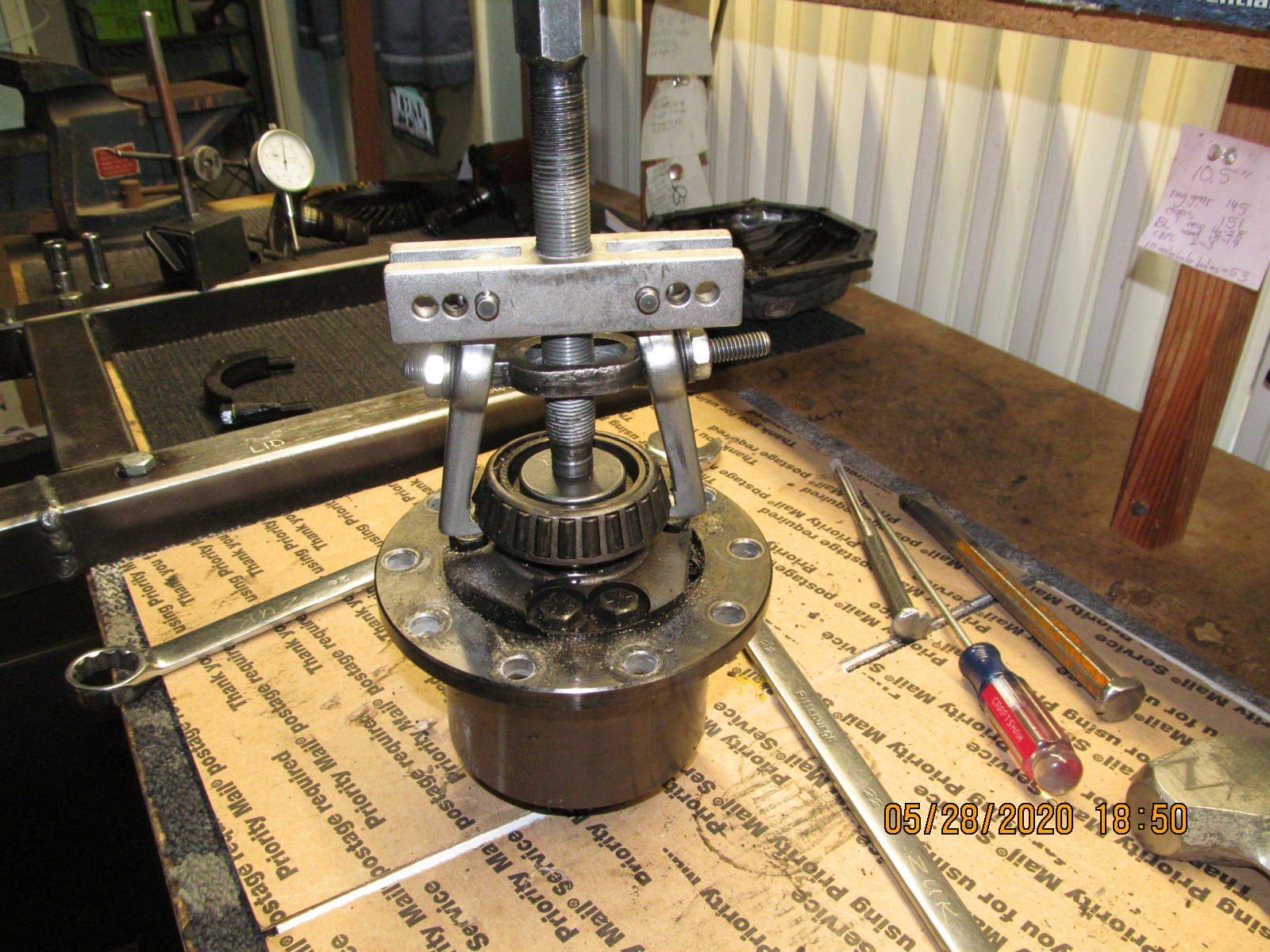 Overheated carrier bearings are removed.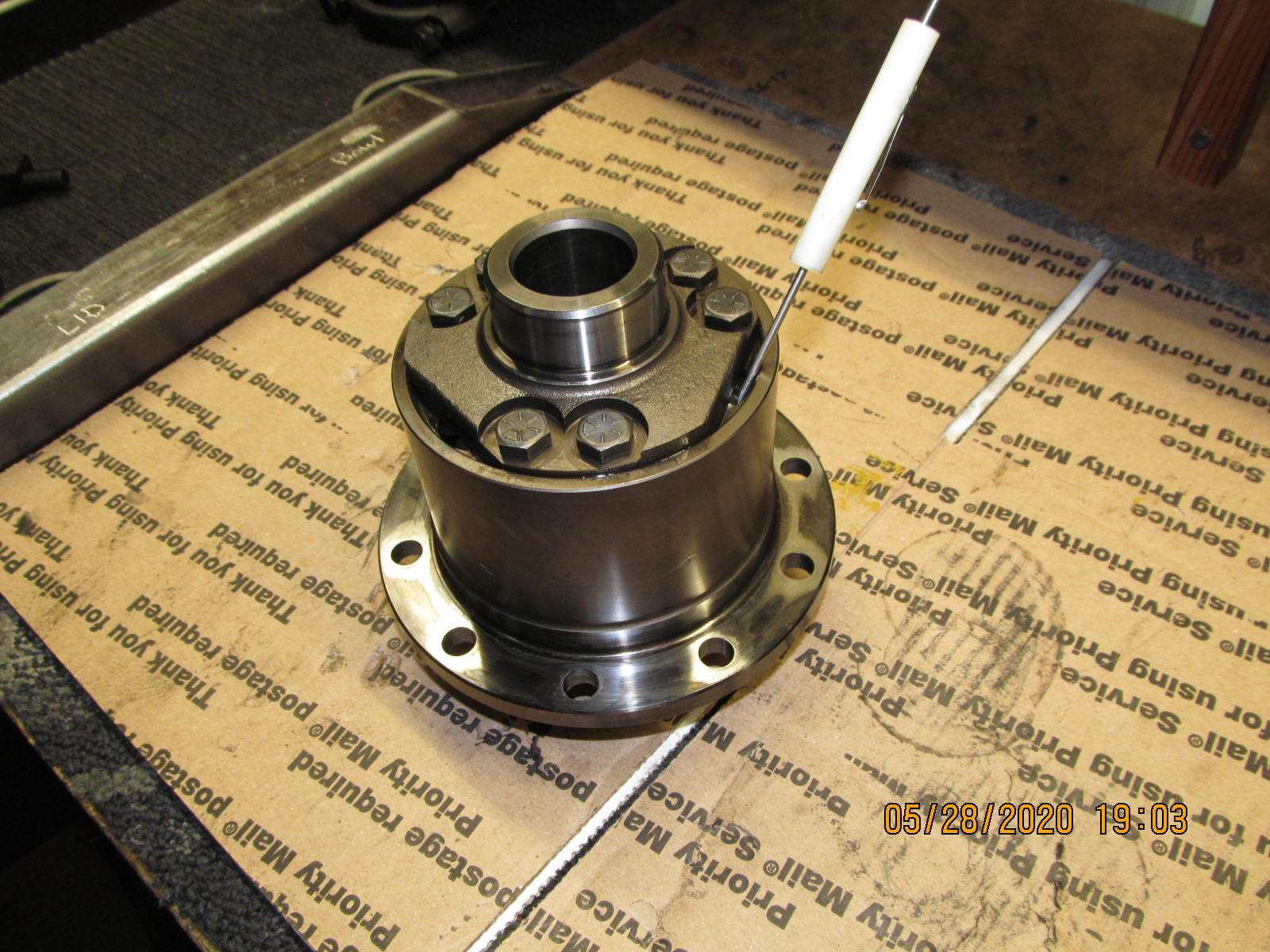 The 3 outside satelite gears are swirling CCW so this has been flipped for rear wheel operation.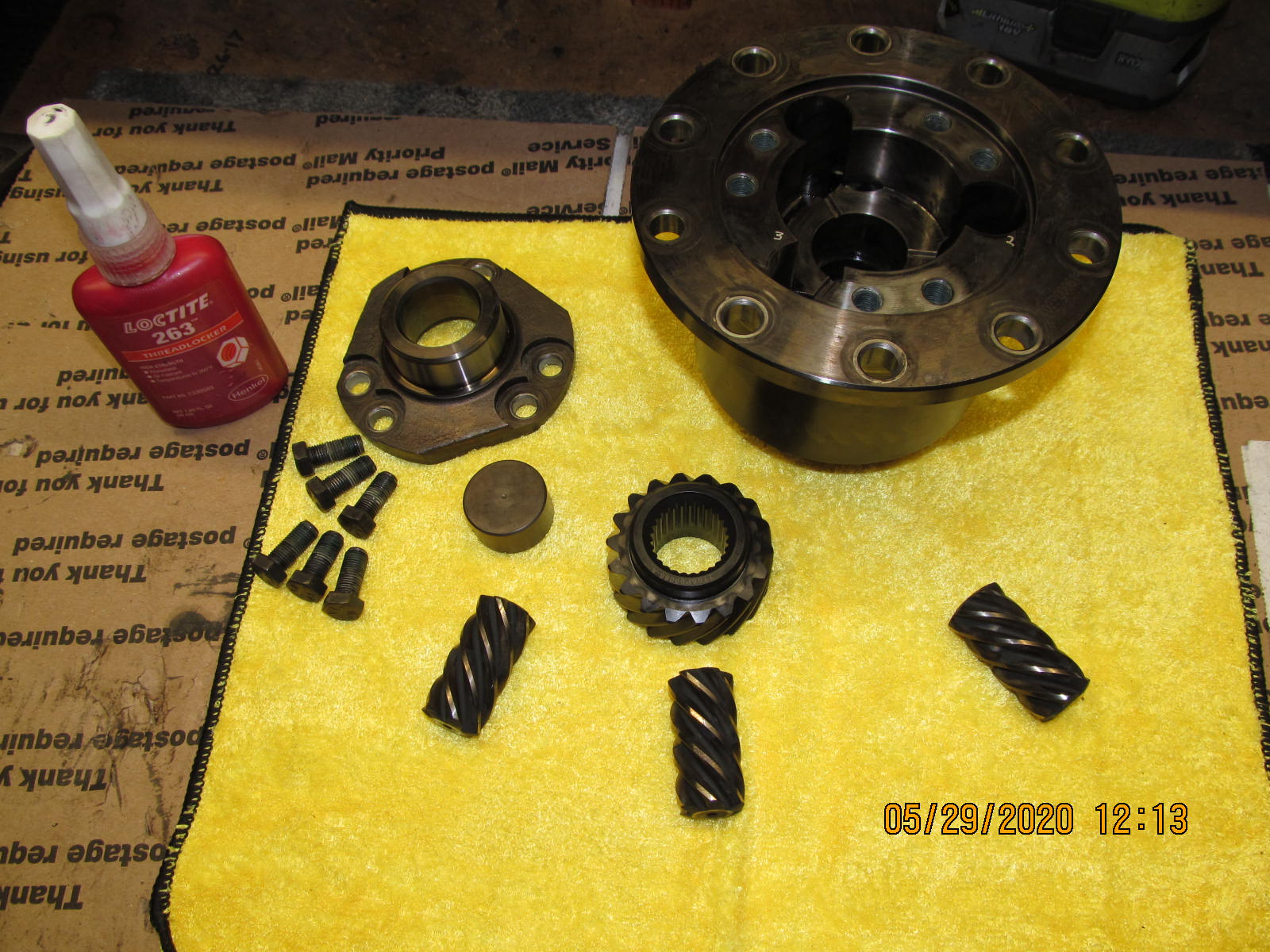 Only the side closest to the super hot ring gear needs to be inspected....
Looks like some of the gear oil baked unto the cut gears.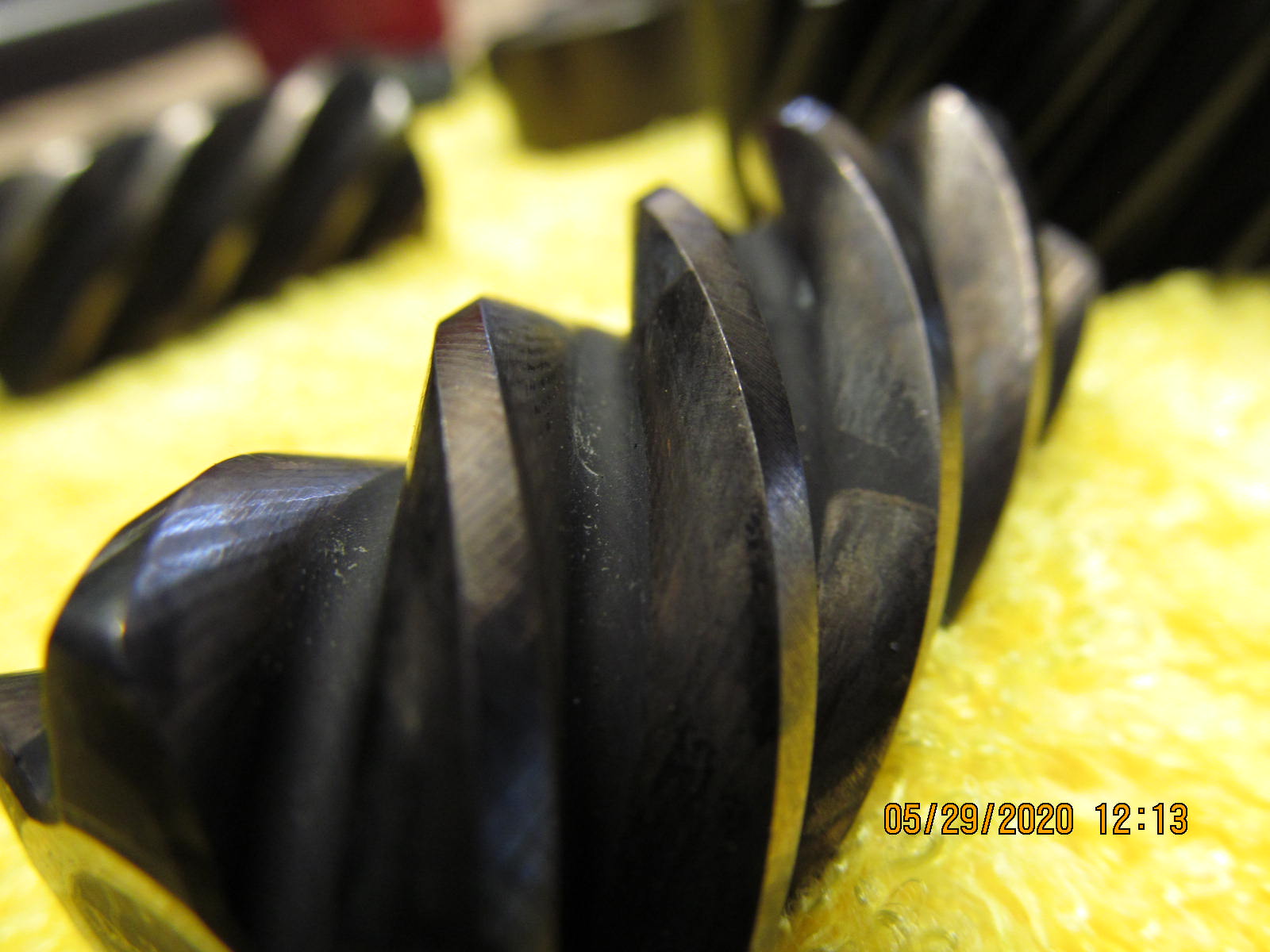 Some discolorization and baking effect.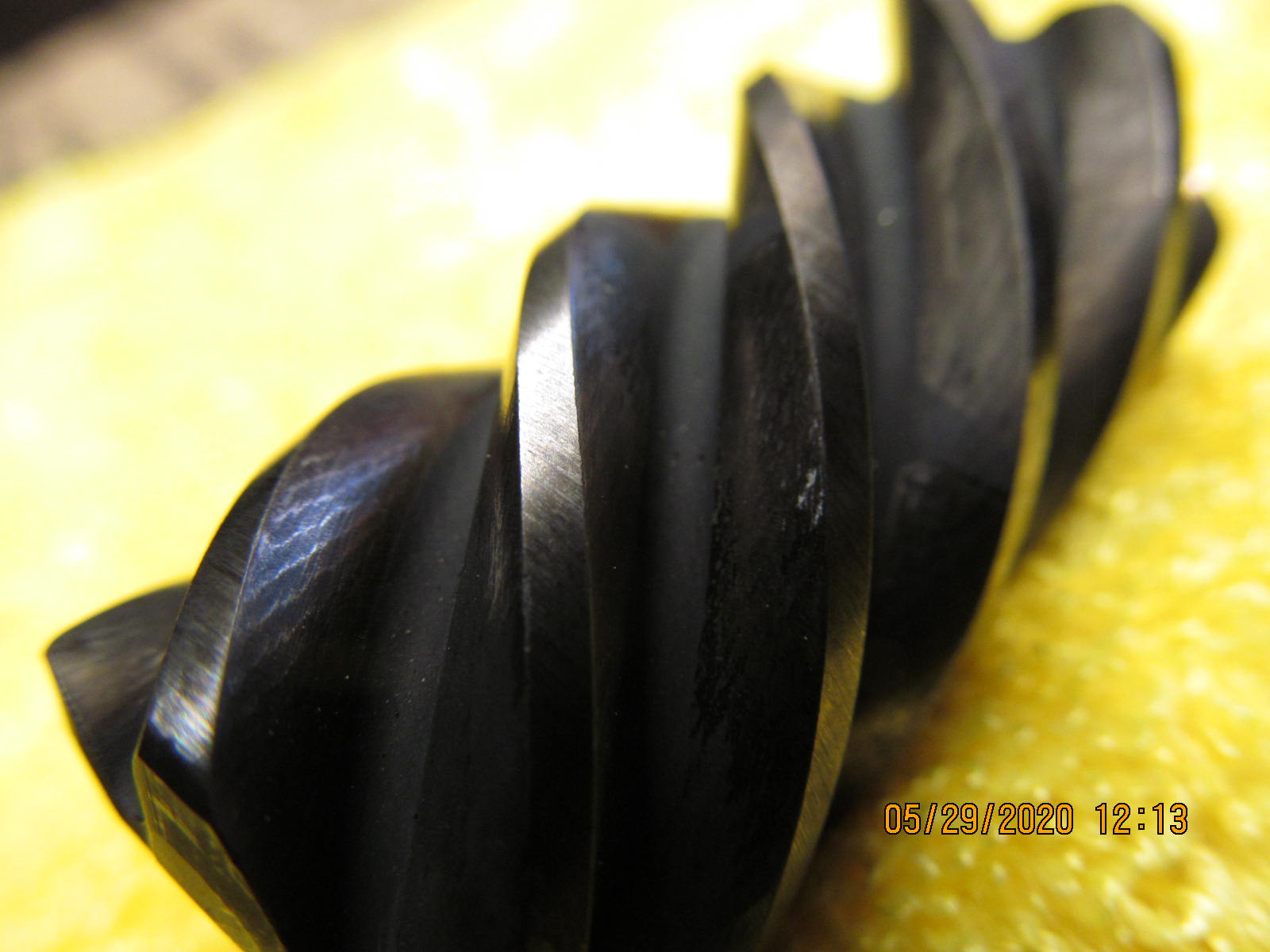 ,,,,,,,,,,,,,,,,,,,,,,,,,,,,,,,,,,,,,,,,,,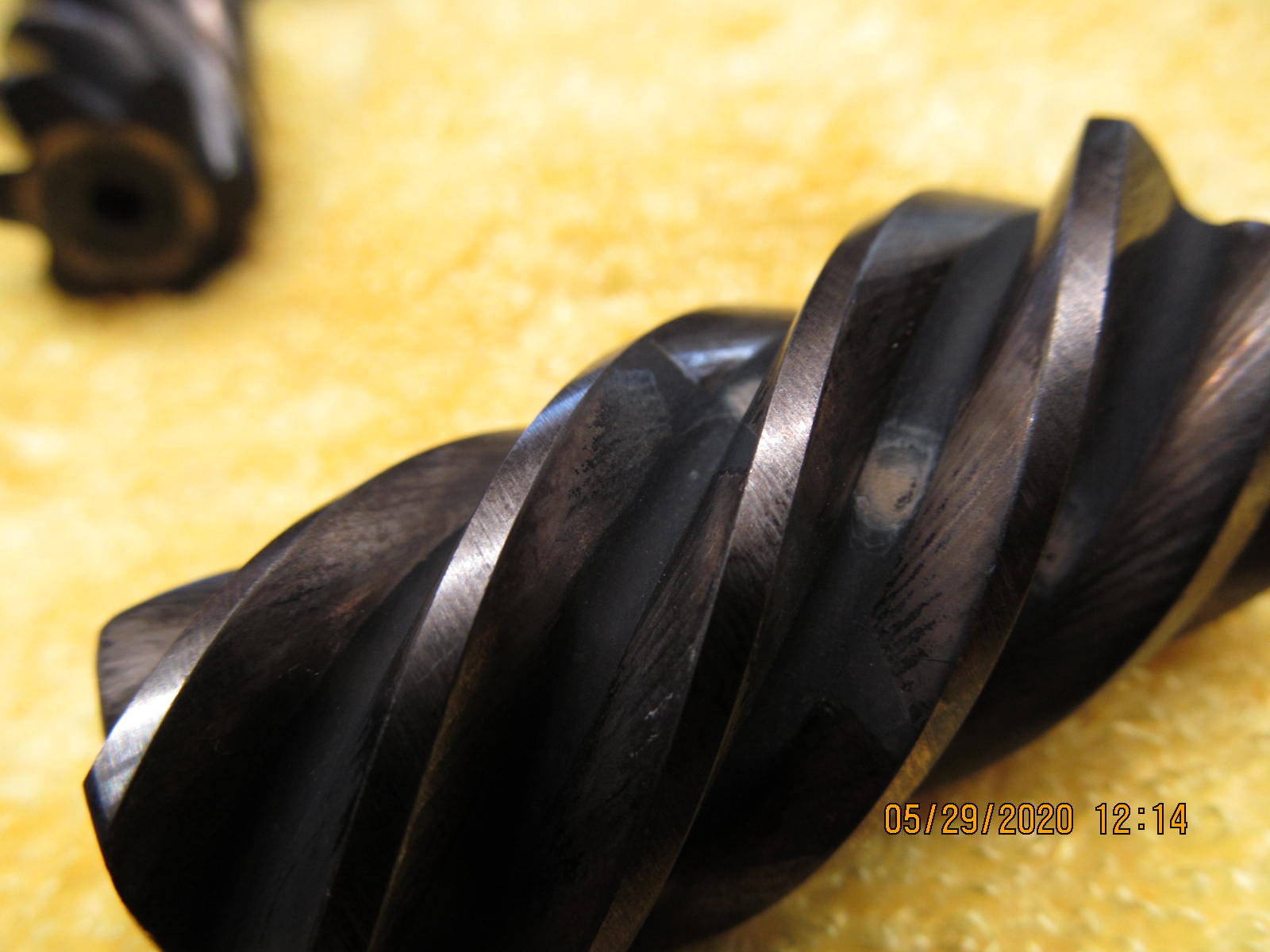 These Trutracs can take more.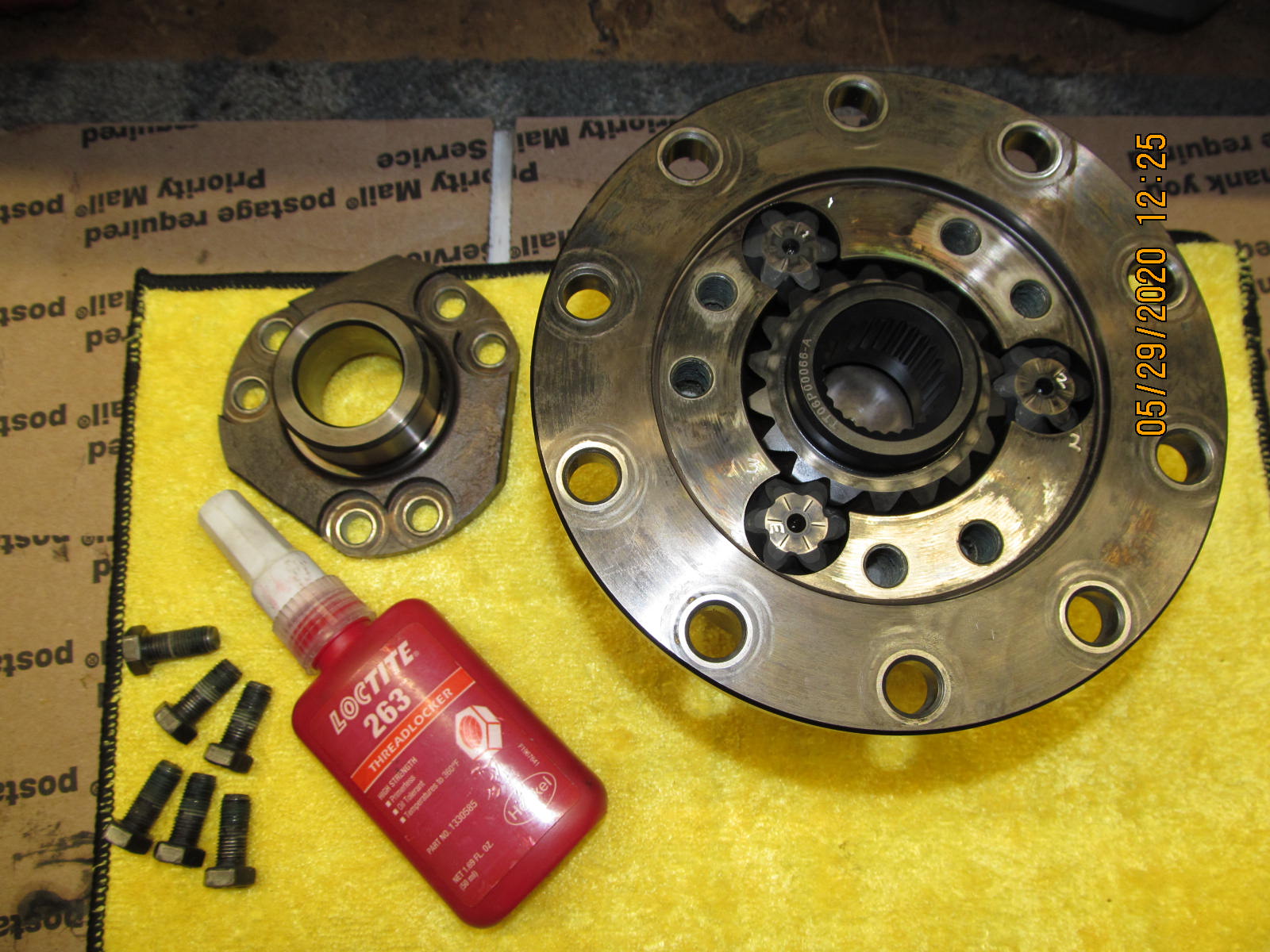 Now to re-assemble....using high strength red loctite. 40 ft/lb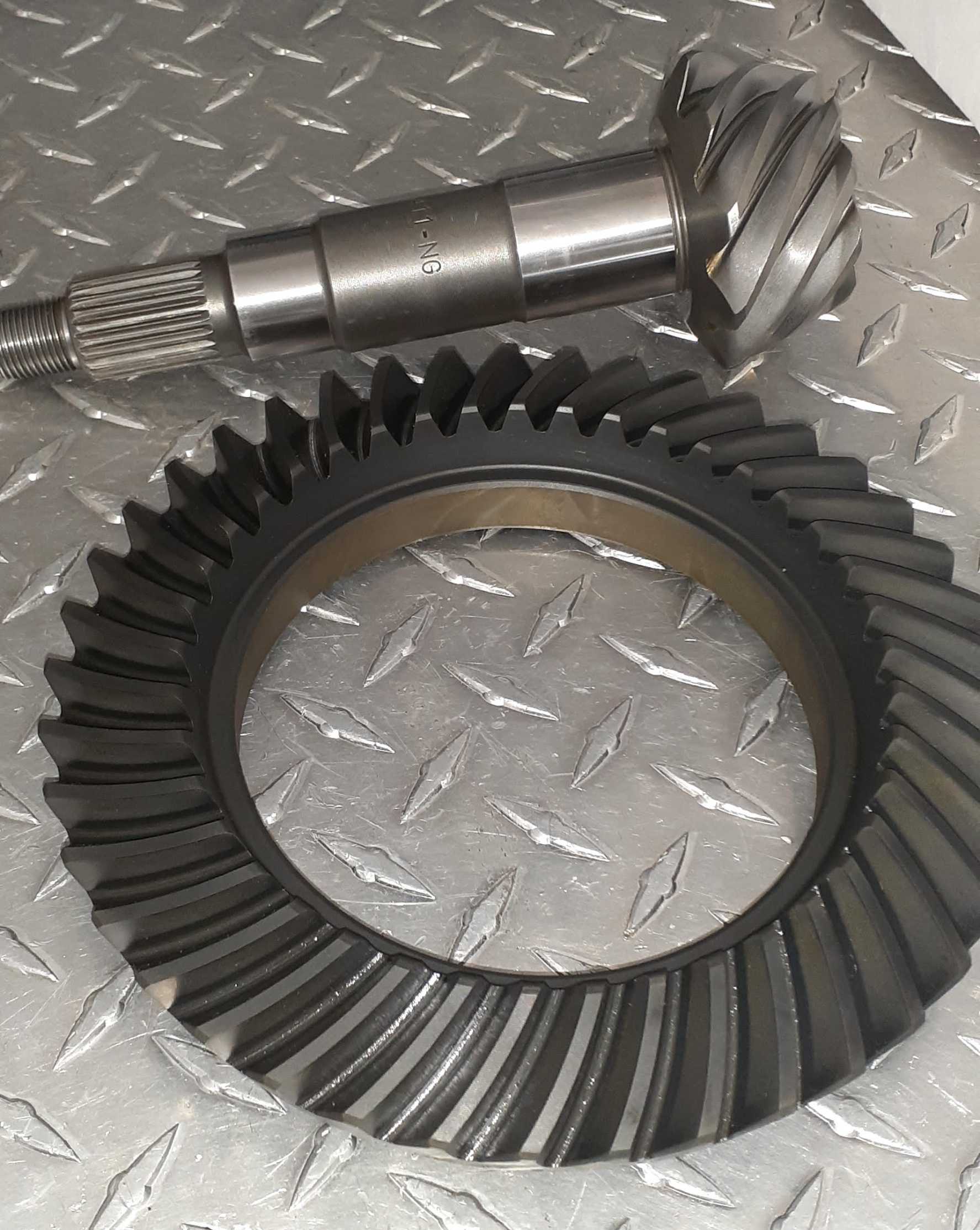 The only shot of the new Nitro 410 gears before they go into REM.....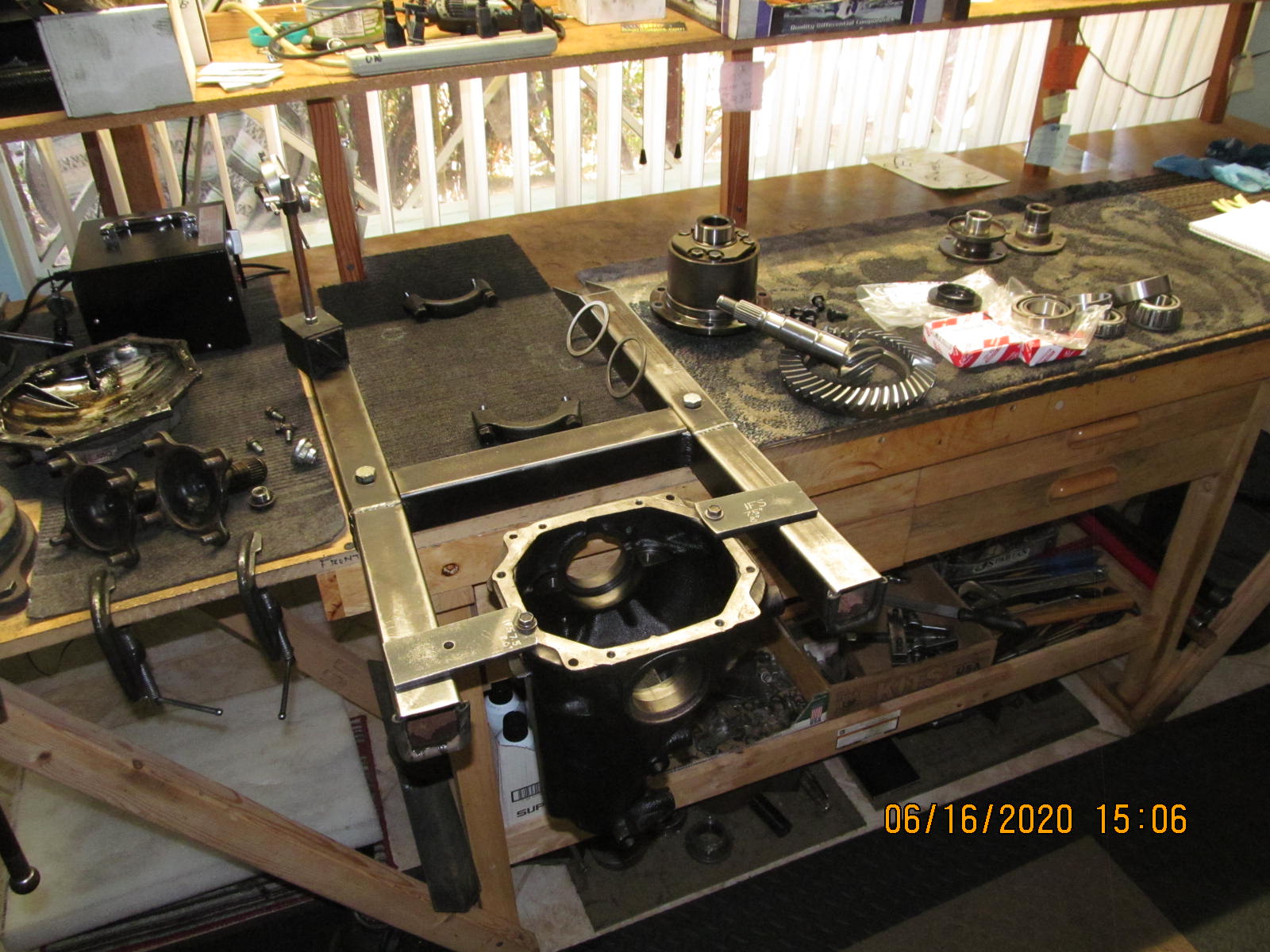 The Nitro gears are back from REM.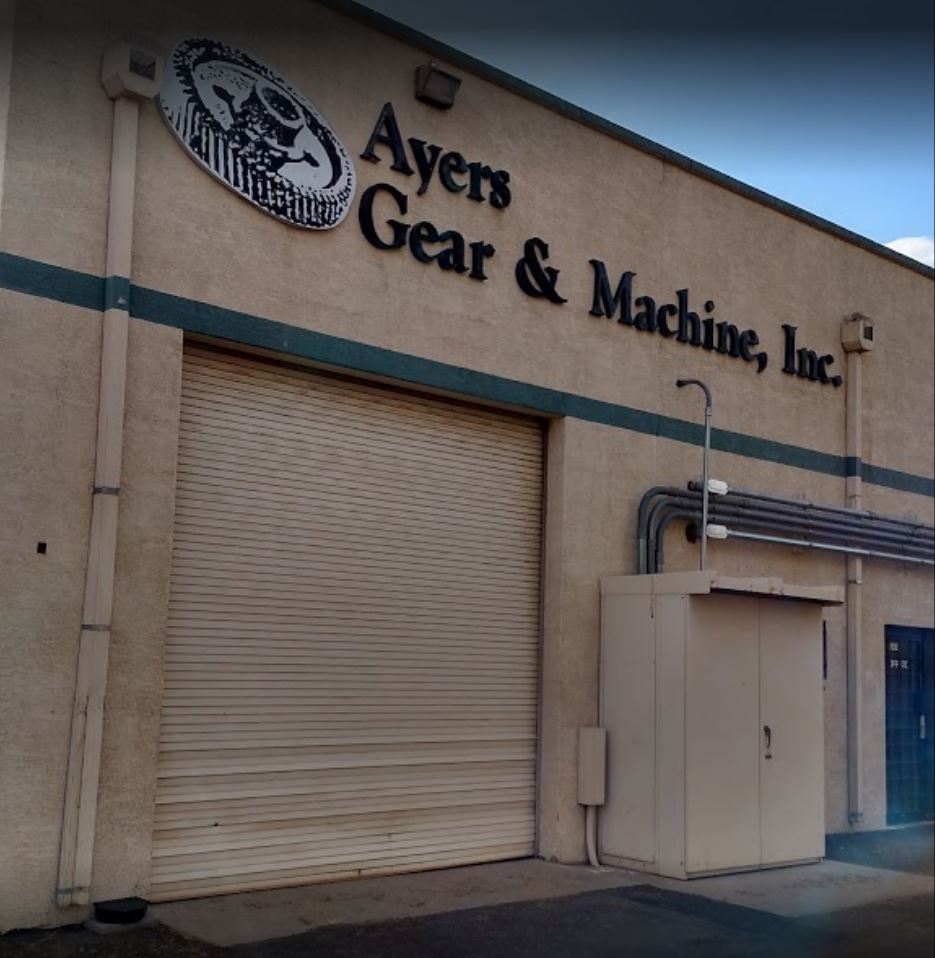 This is where the gears spent some time at....
REM Isotropic Superfinishing of Gears
Ayers Gear and Machine is a family owned business started way back in the 60's.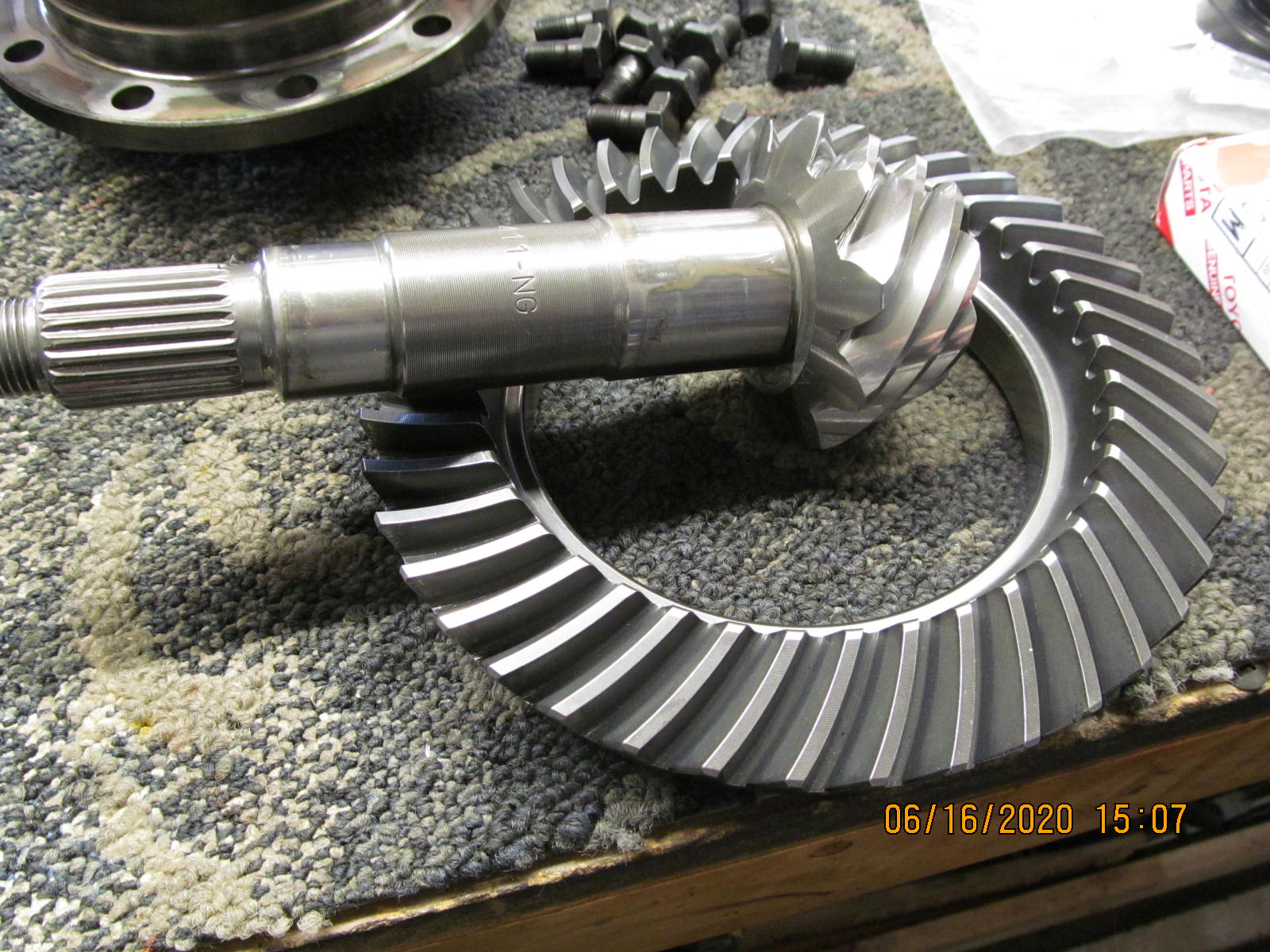 The guys from "REM"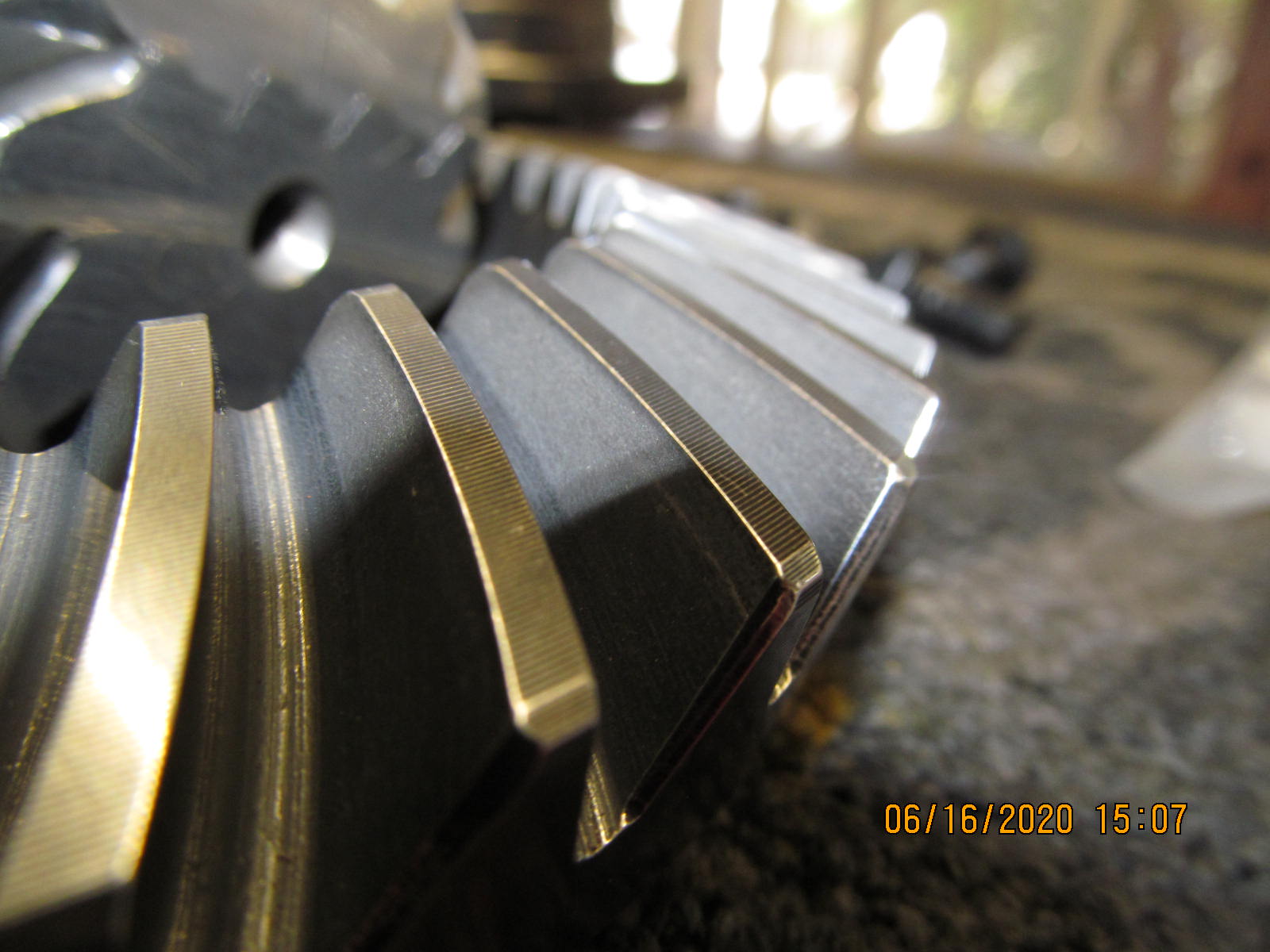 The gears feel so much smoother right from the start. Parker is one of the technicians there
and we discussed how much is just right and how much is too much.The REM processed gears at the SEMA shows
are full blown 100% chromey look....they have had an excessive amount of surface material removed and that helps nobody.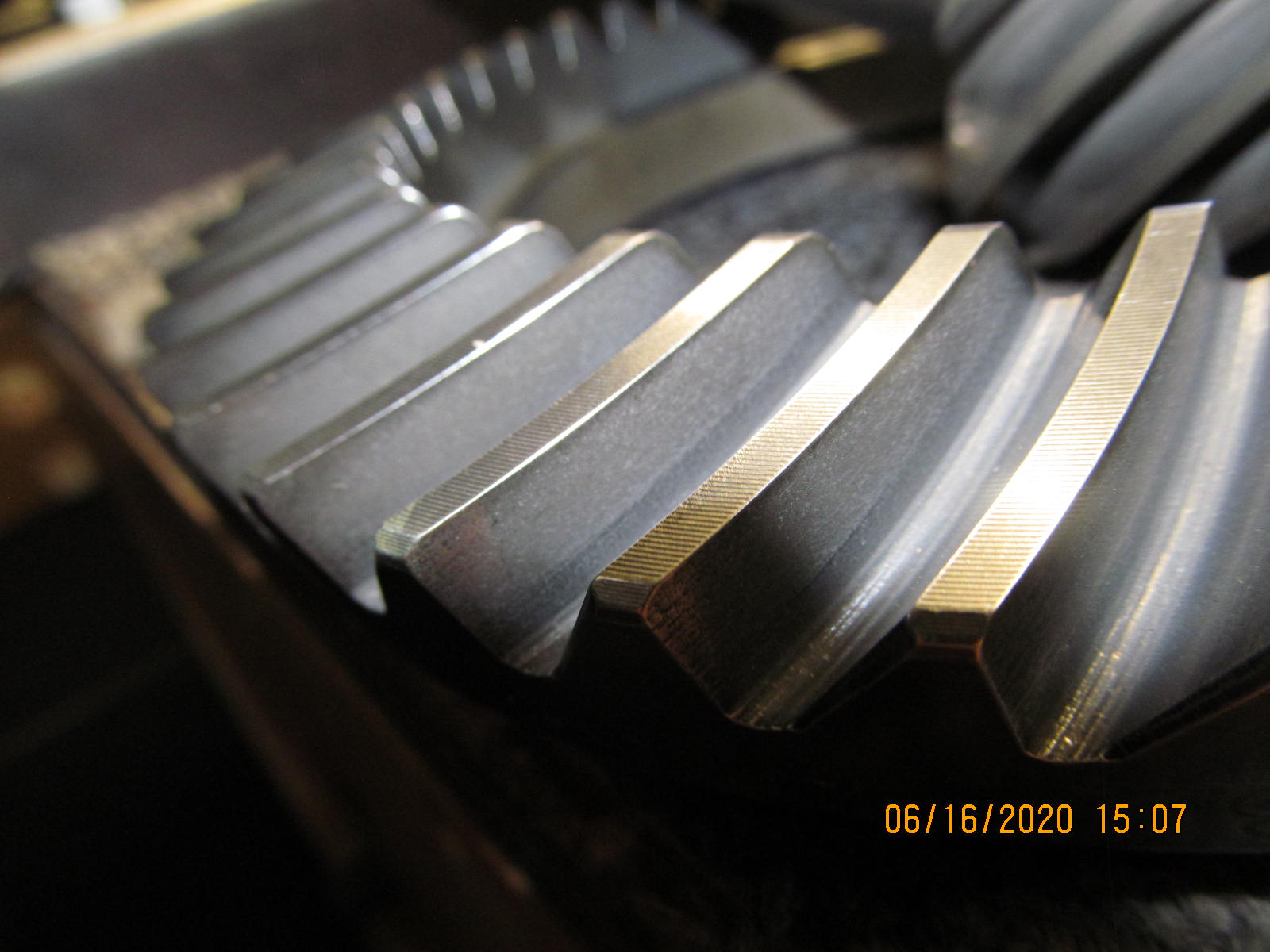 Key to a proper REM is not to remove too much and Parker has acheived that.
Probably only removed 3 or 4 microns of material.
The high spots are gone.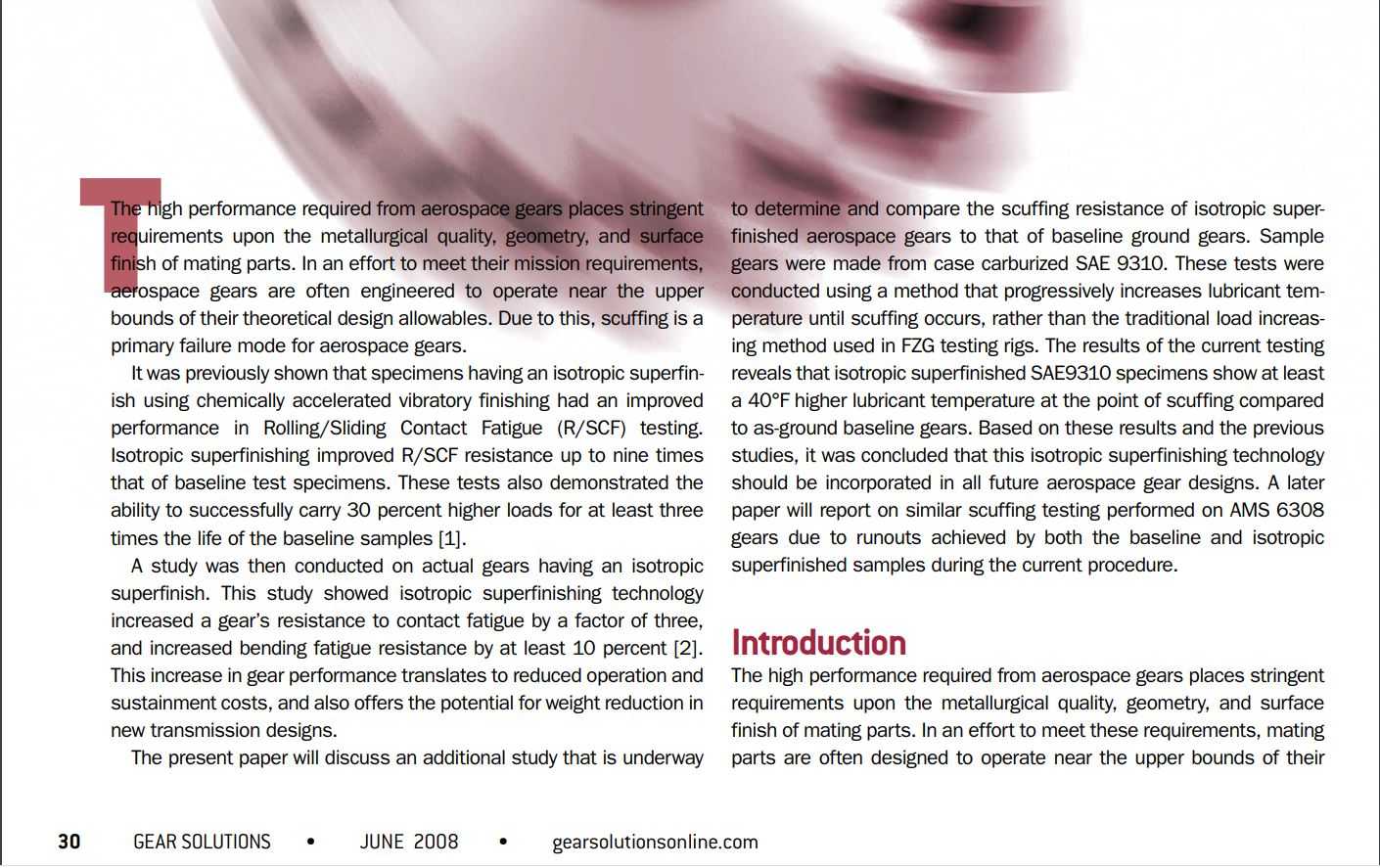 REM does not just lower the temps.....it improves the life of the gear!
paragraph #3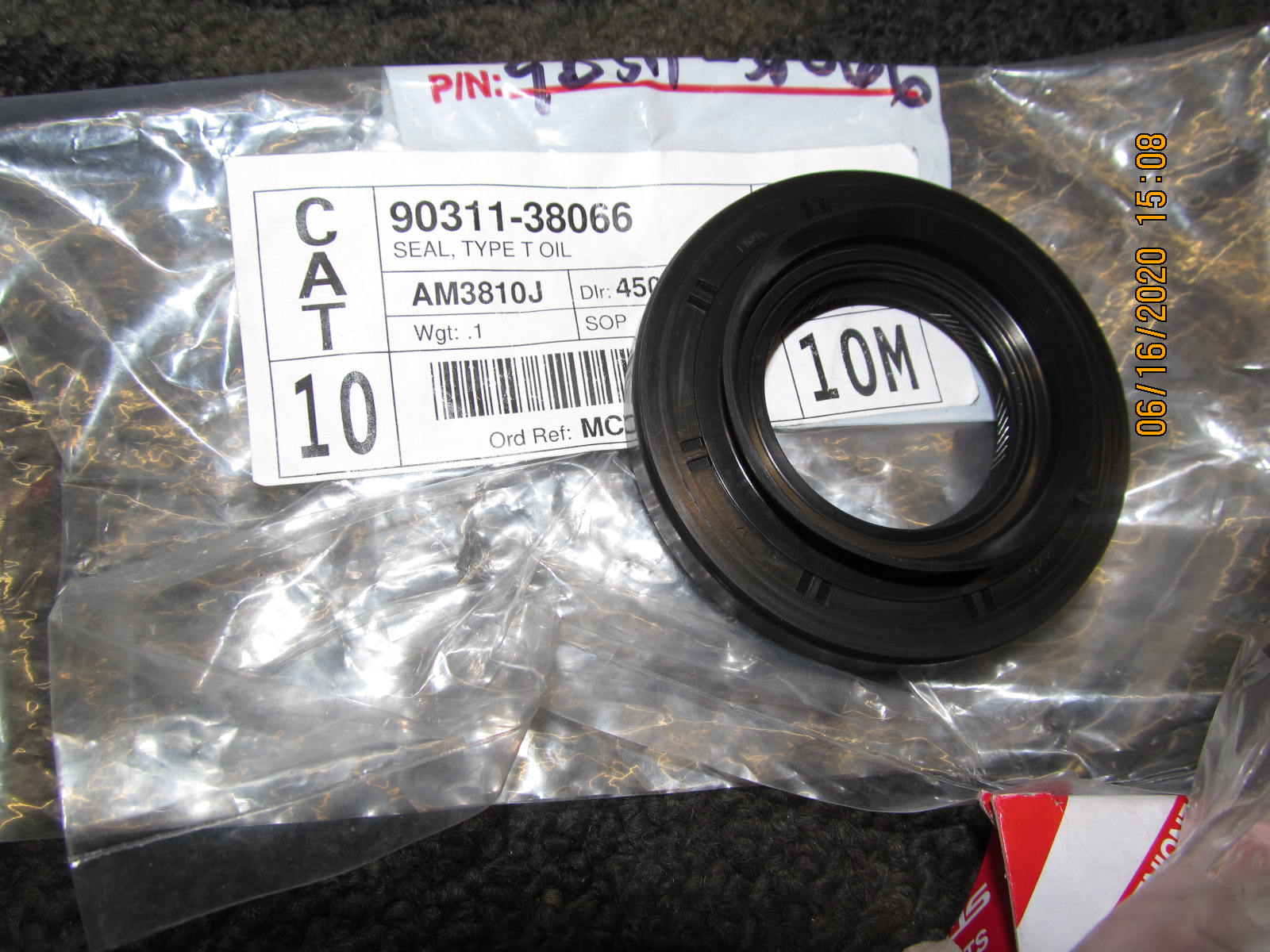 Factory seals are preferred.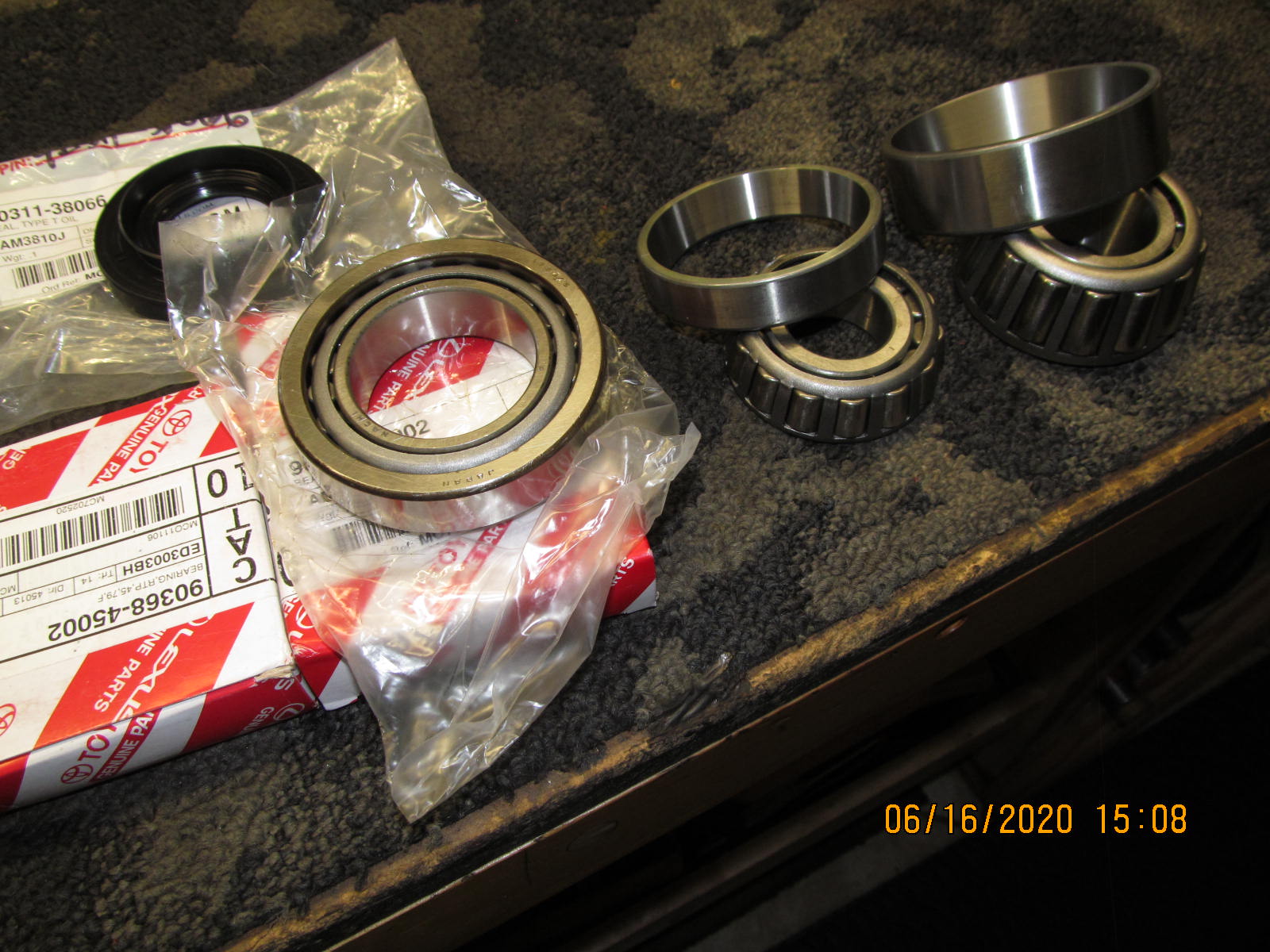 Other parts are organized.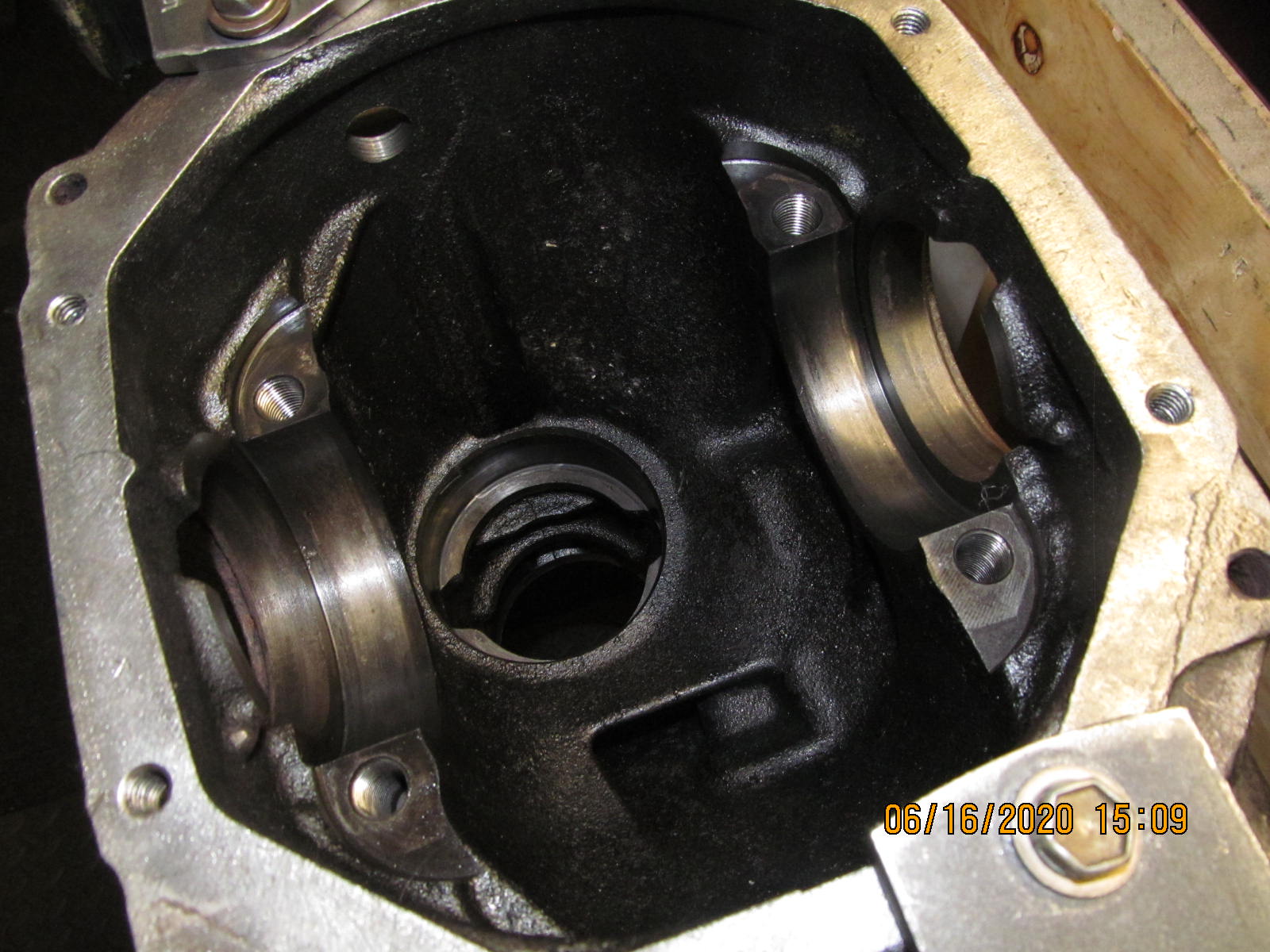 Old races tapped out.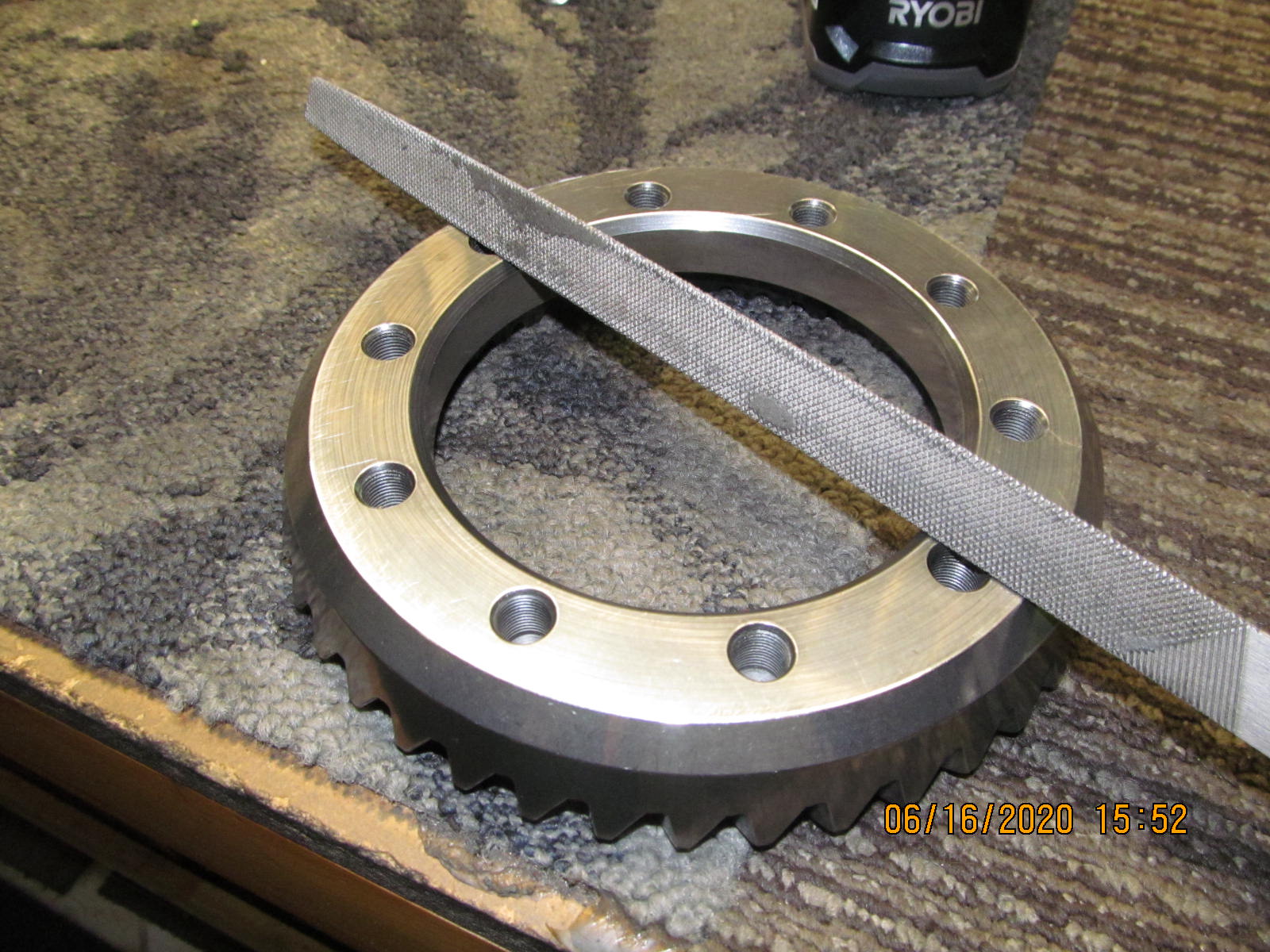 REM surface checked with a file. Without that black oxide on there, the file did not catch or dig in.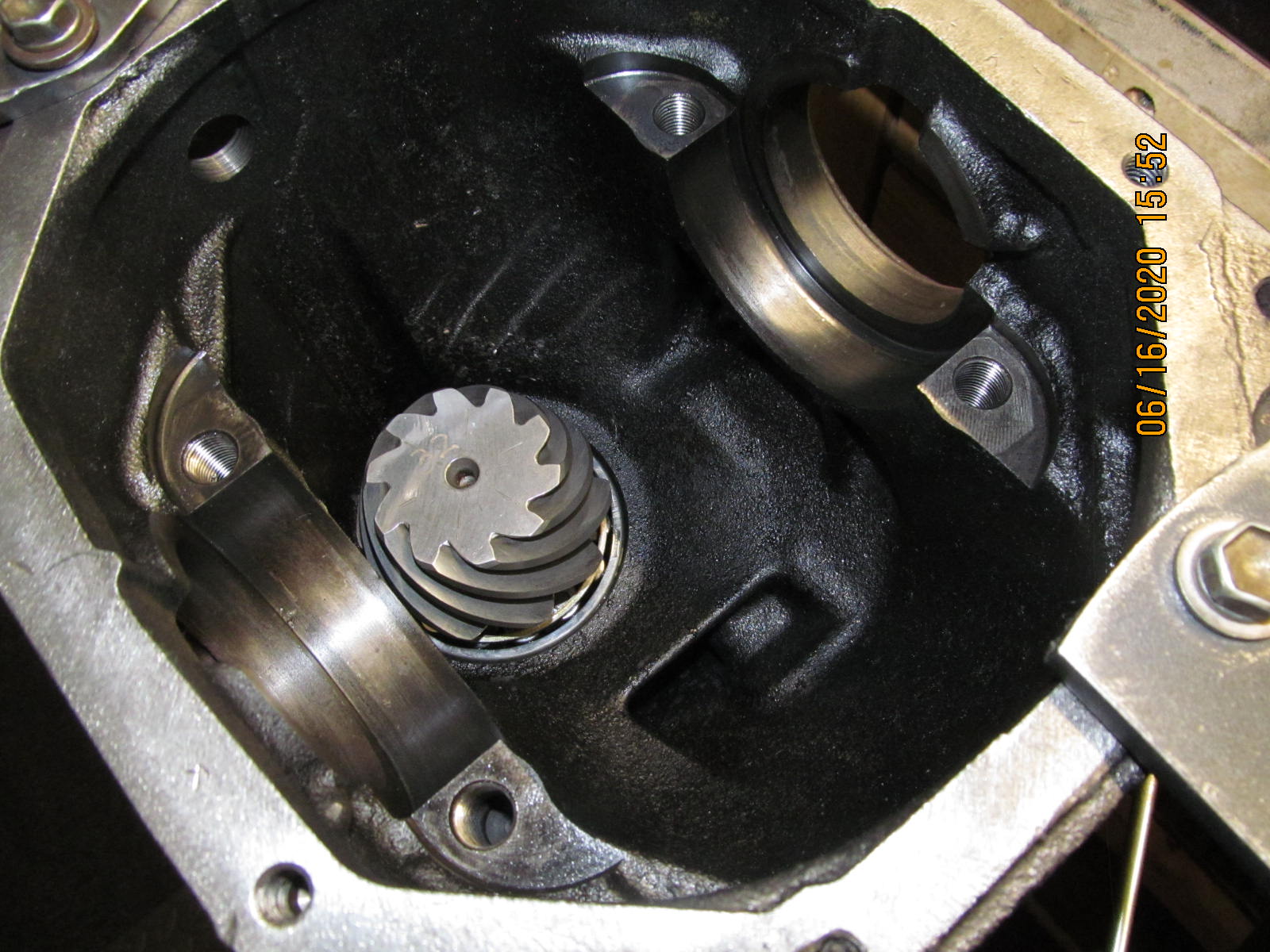 Pinion is loaded up.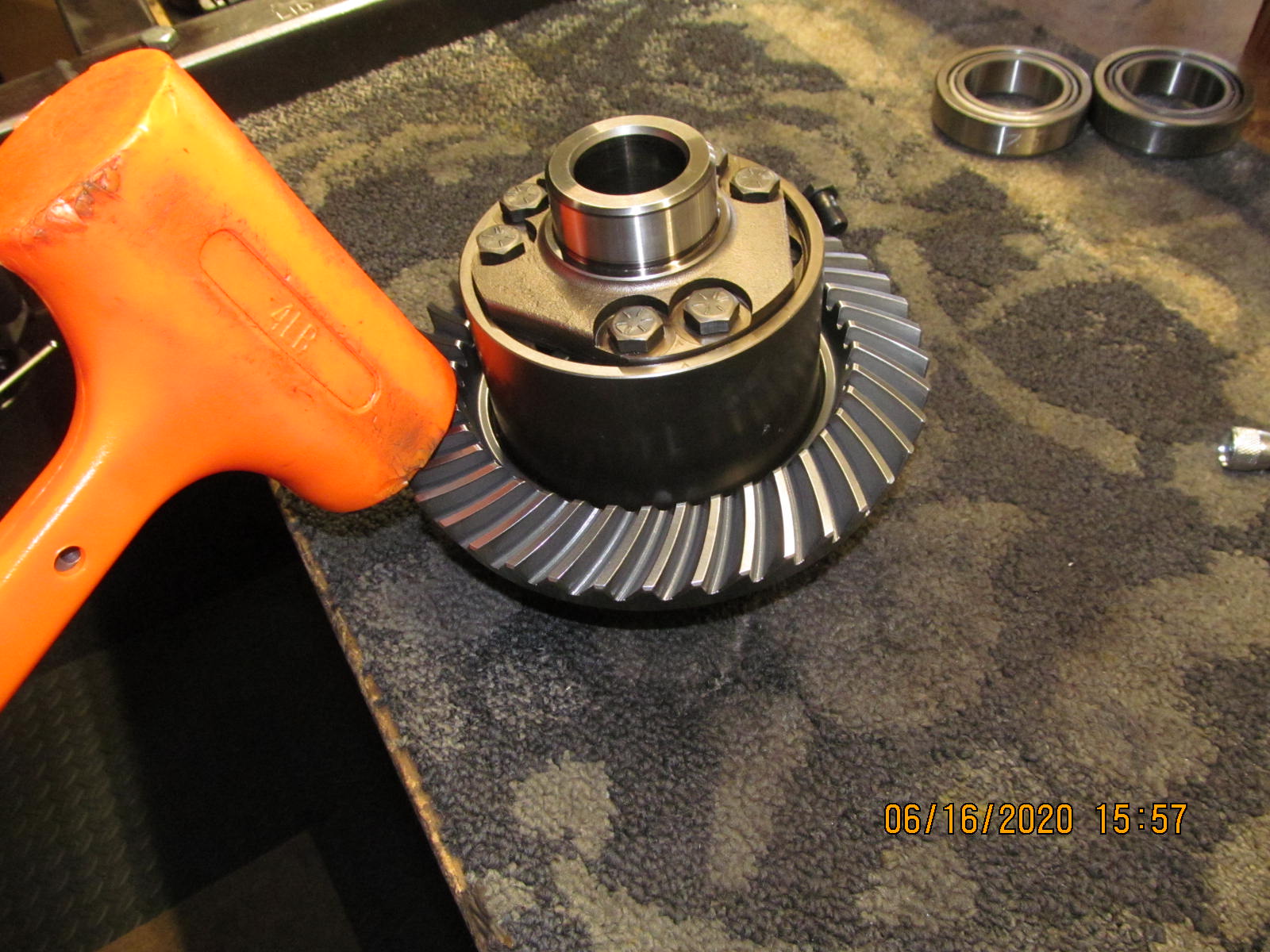 No material loss because the ring gear still was a tight fit.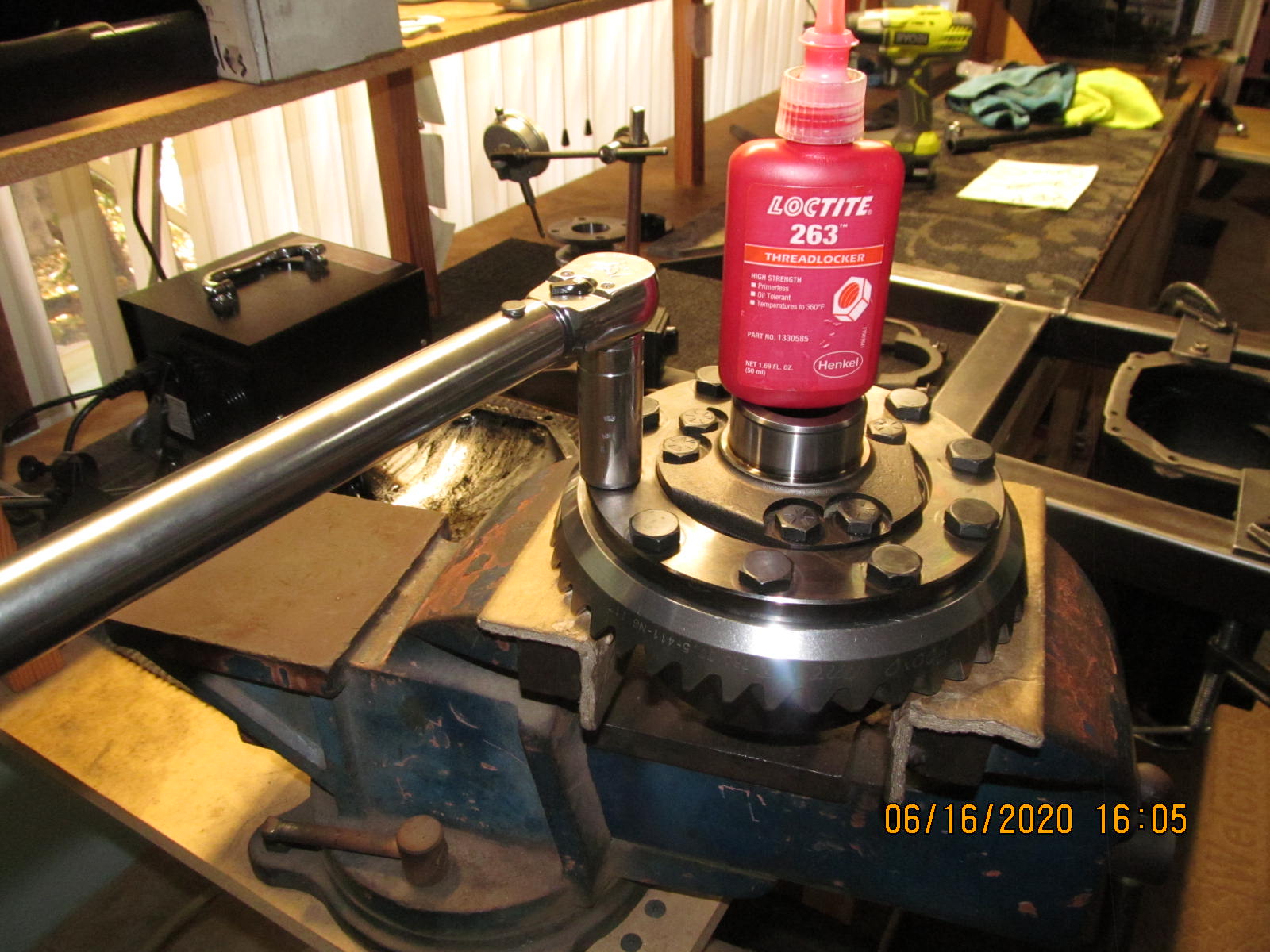 70 ft/lb with red Loctite on clean threads.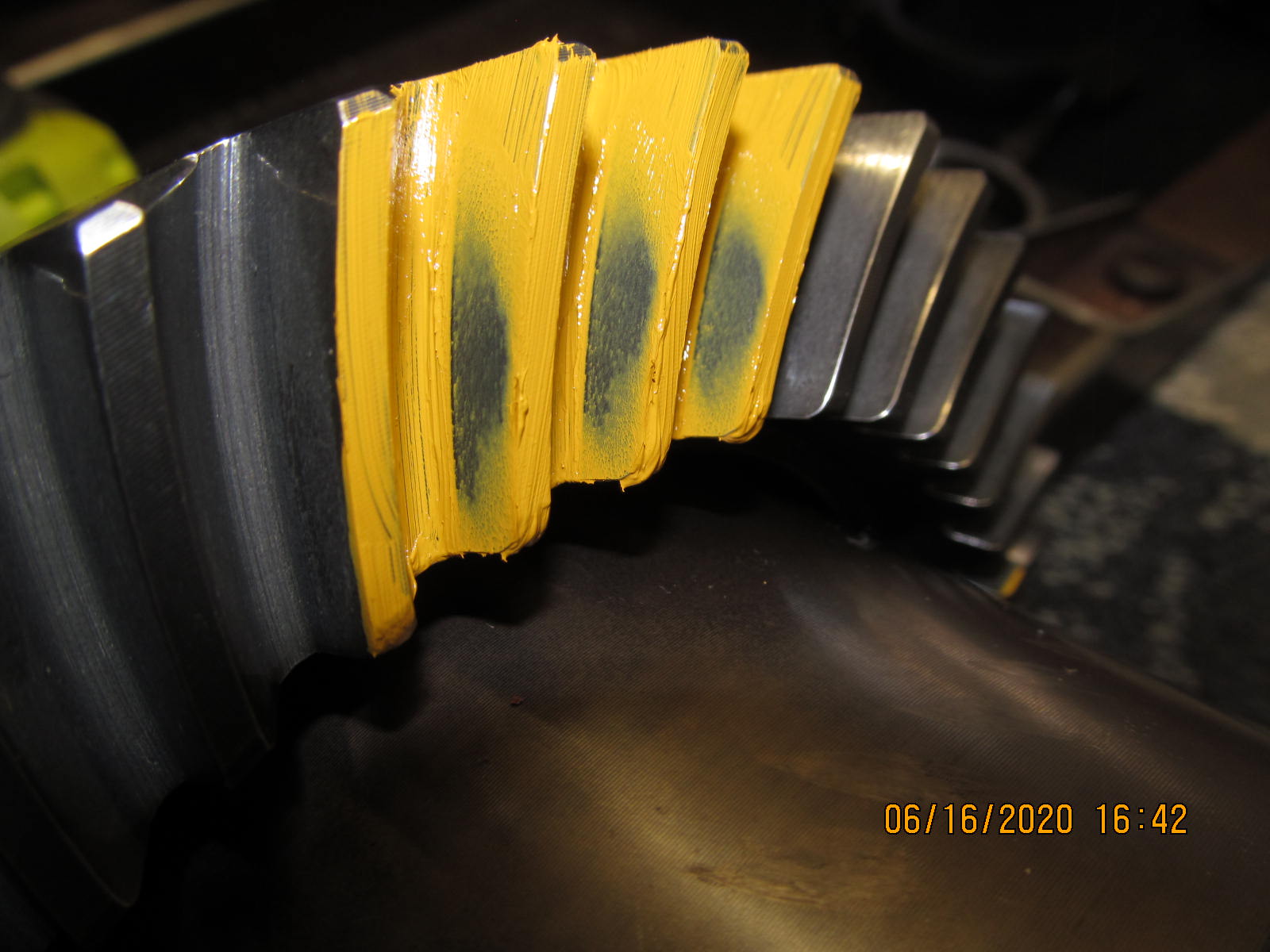 DRIVE .0965".....a touch too deep.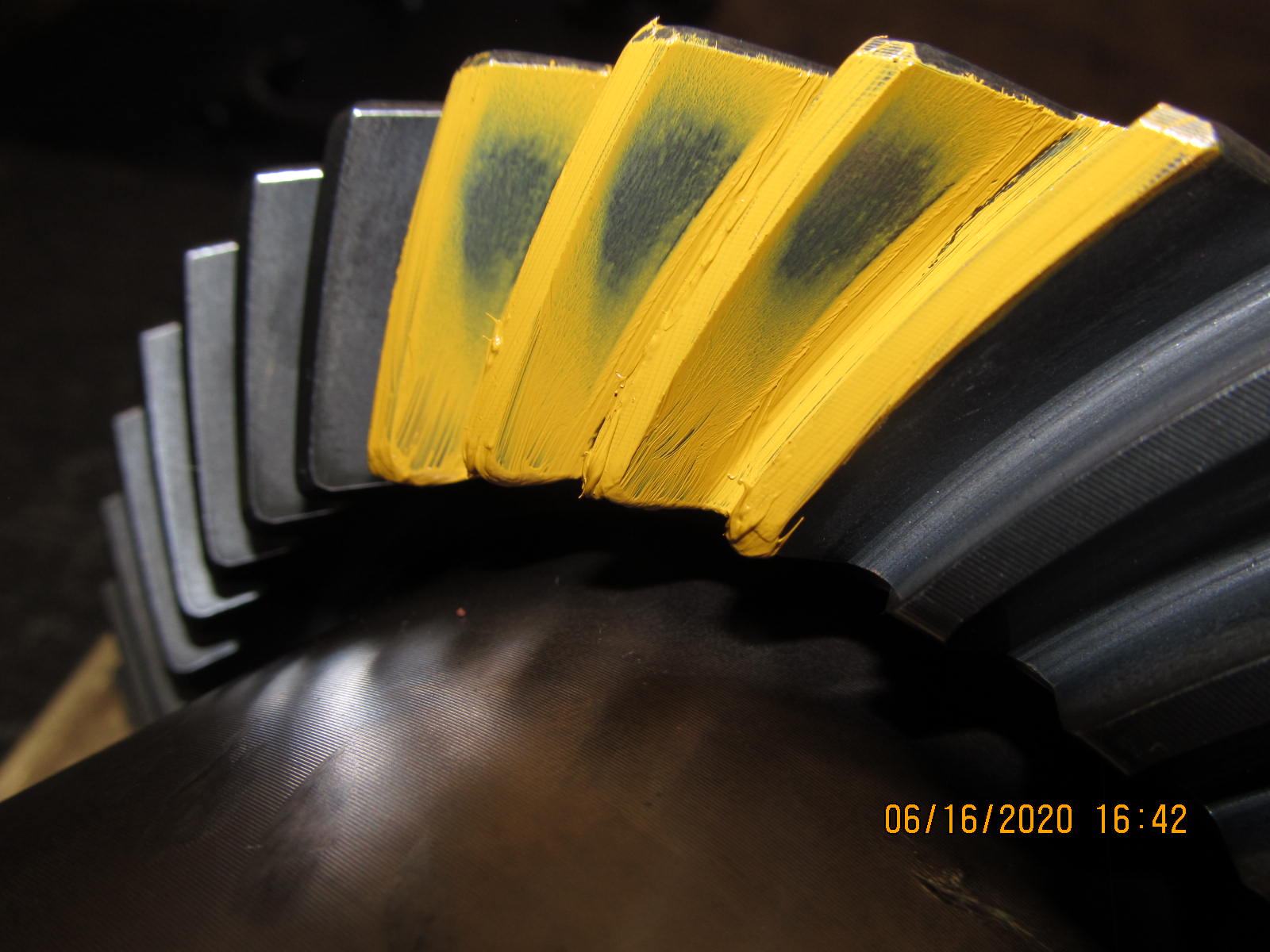 COAST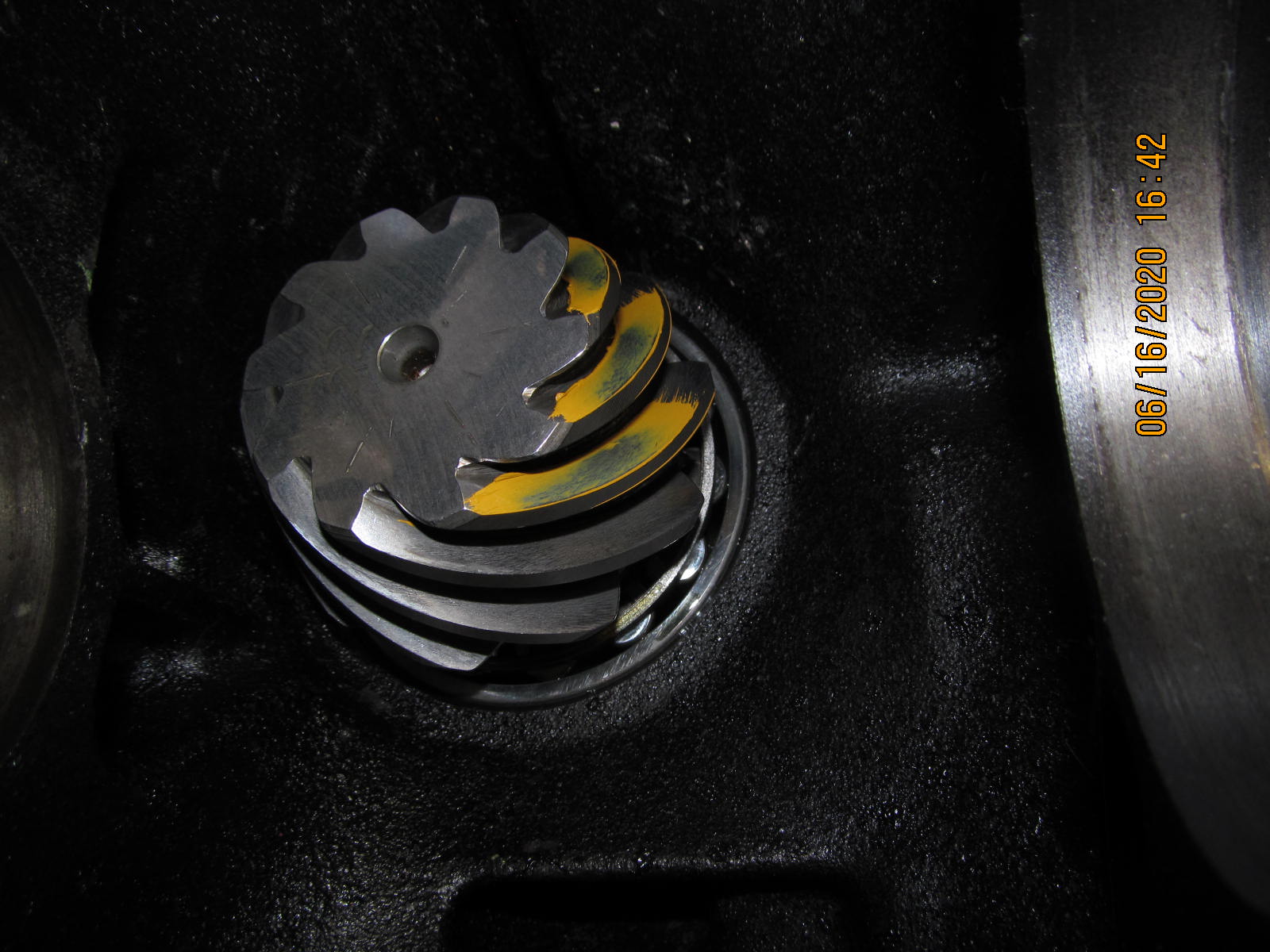 Comet tail.....swirling into the center so agrees on too deep.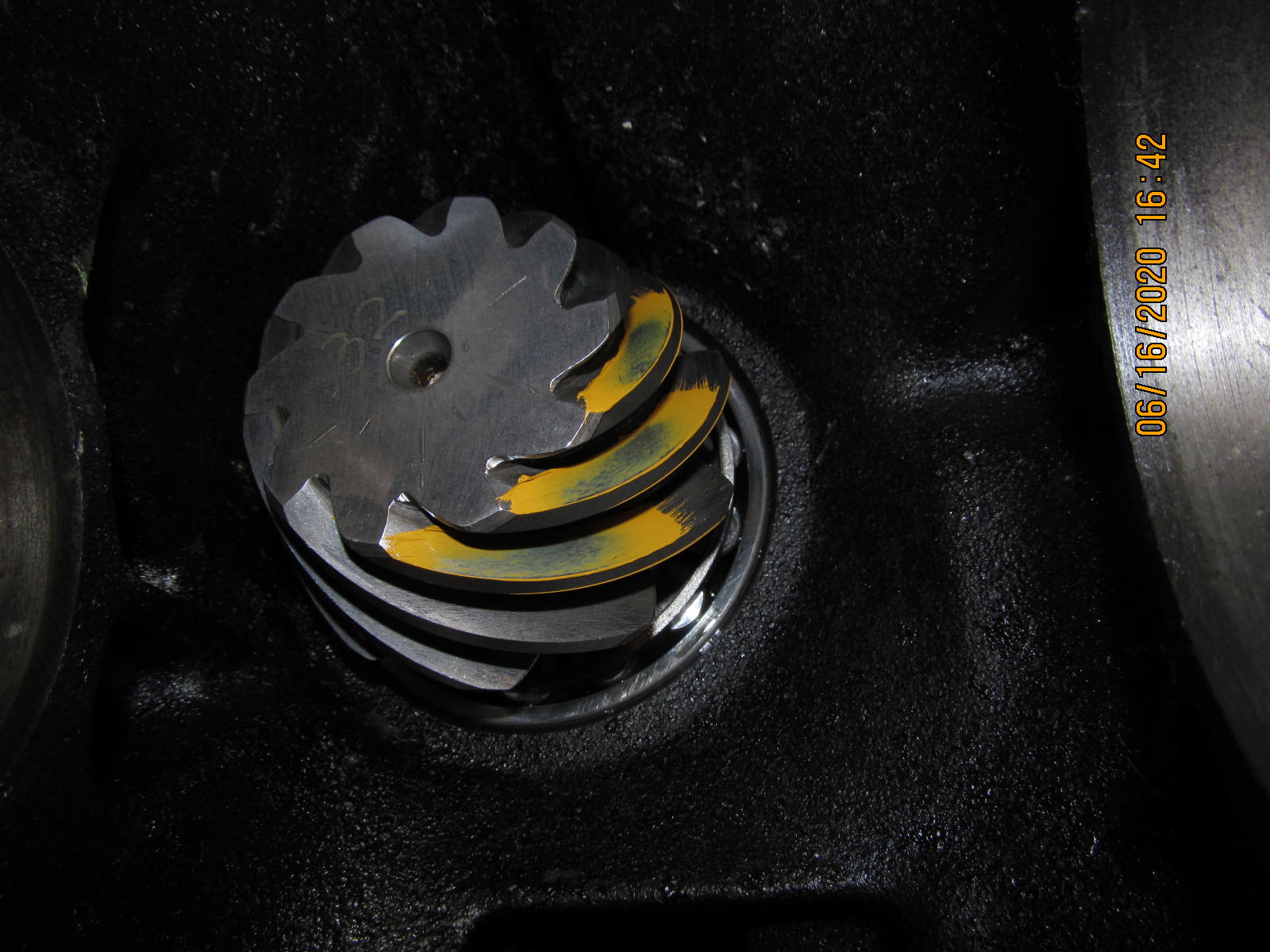 ...............................
...................................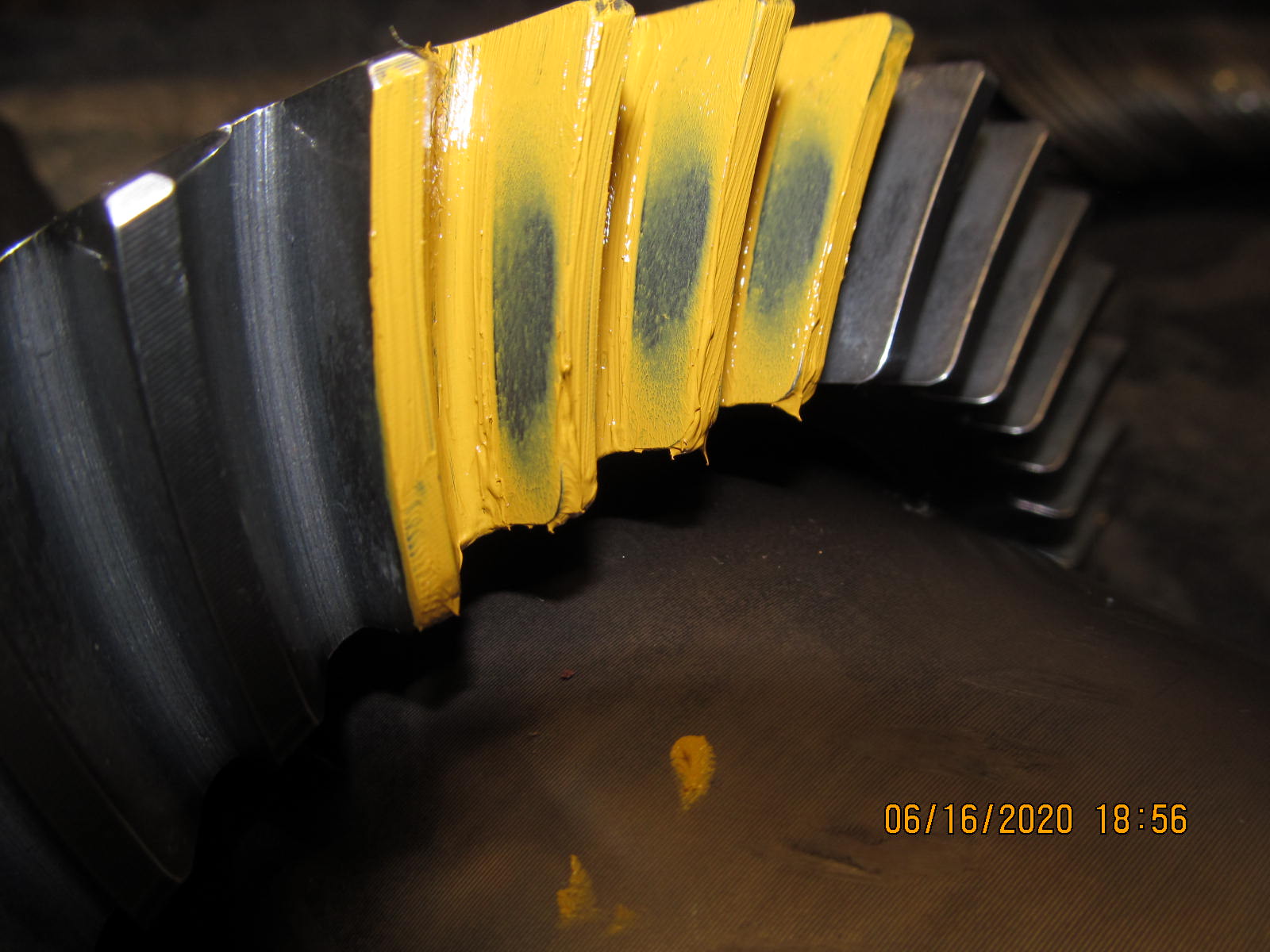 Teardown and remove .0035" for a net .093"
DRIVE......Nice depth and nicely centered now.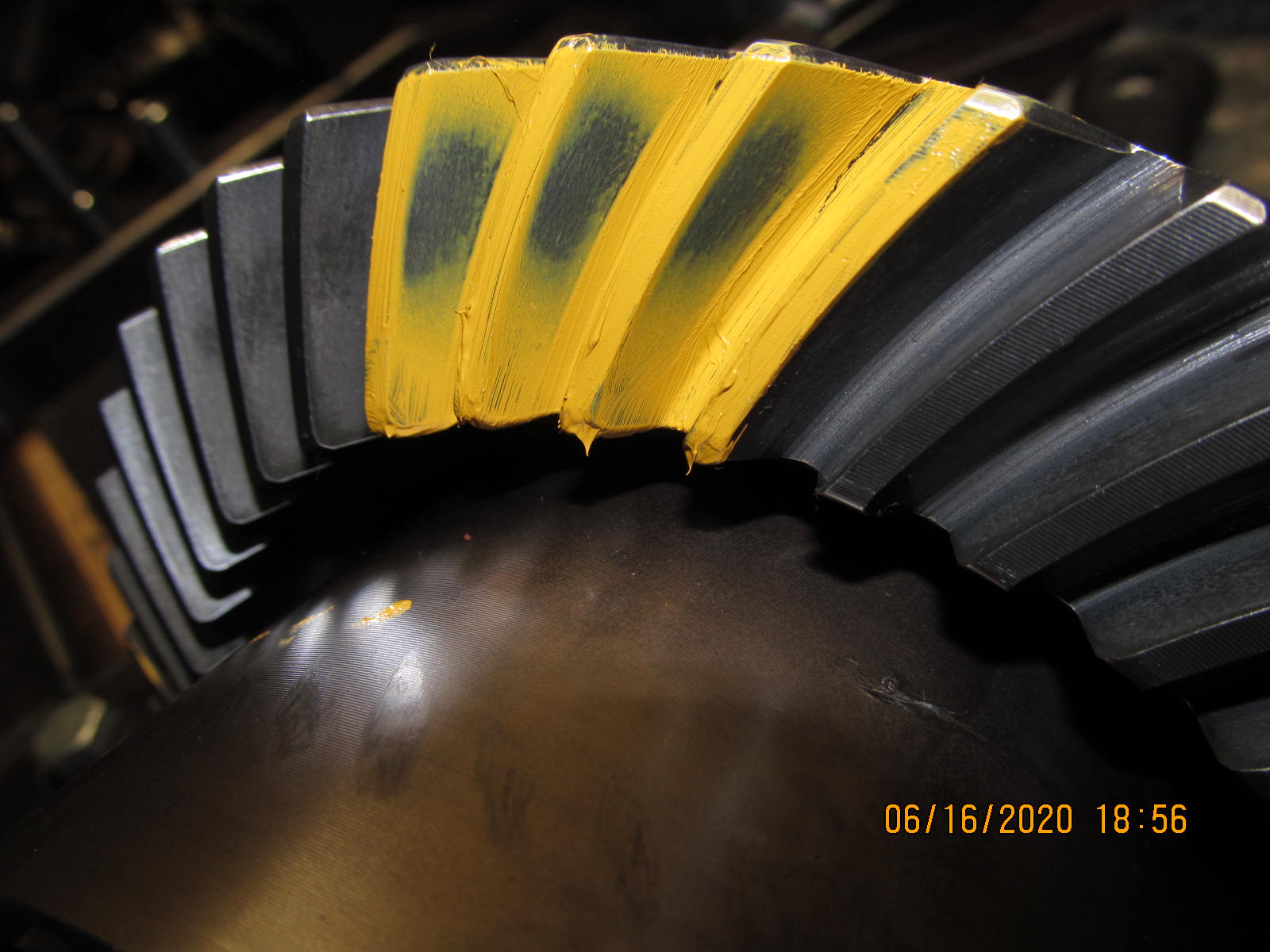 COAST is the proper depth but did not pull itself closer to center here. Perfect.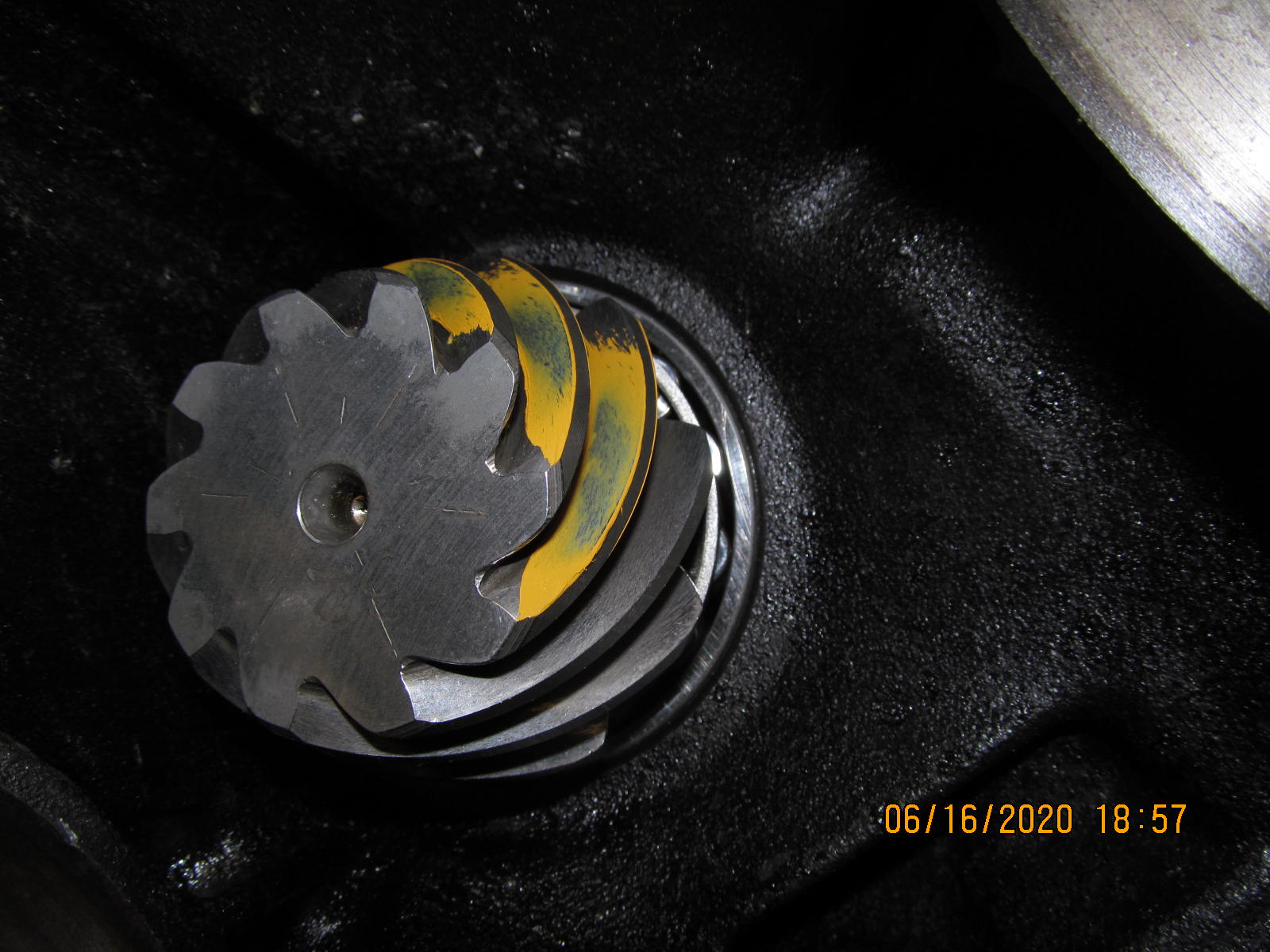 Comet tails are closer to the root but not harshly into it.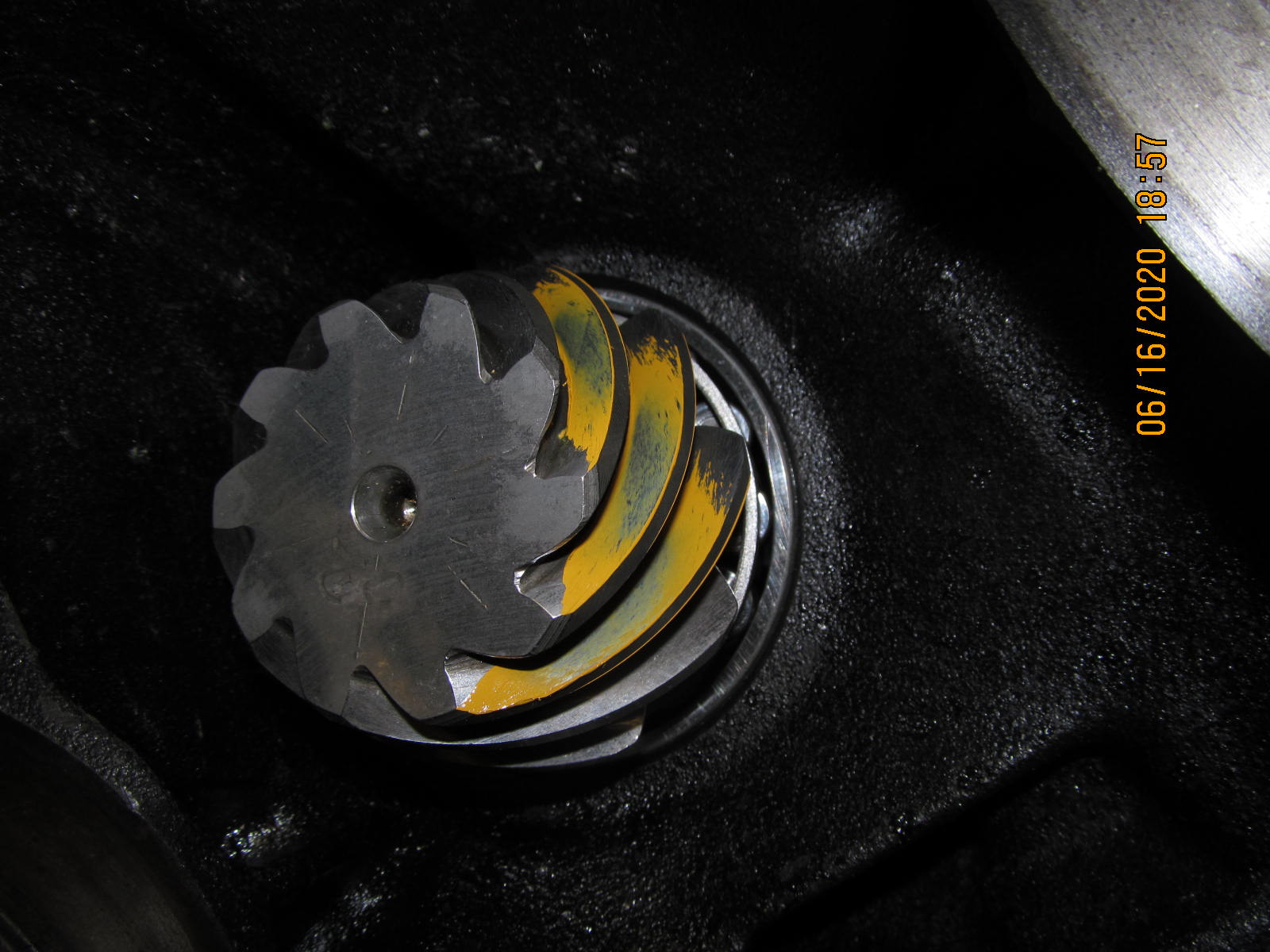 This is a keeper.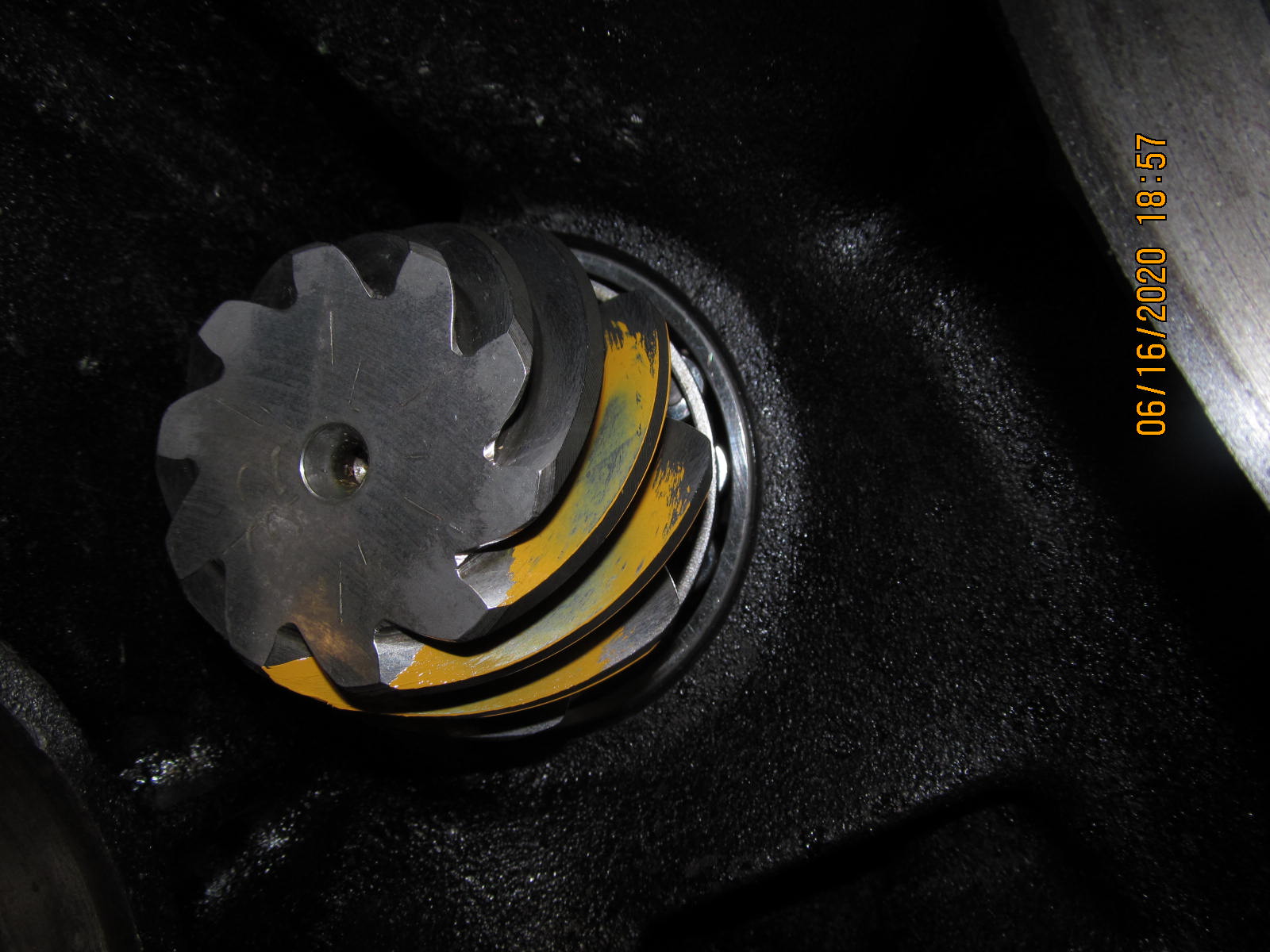 ,,,,,,,,,,,,,,,,,,,,,,,,,,,,,,,,,,,,,,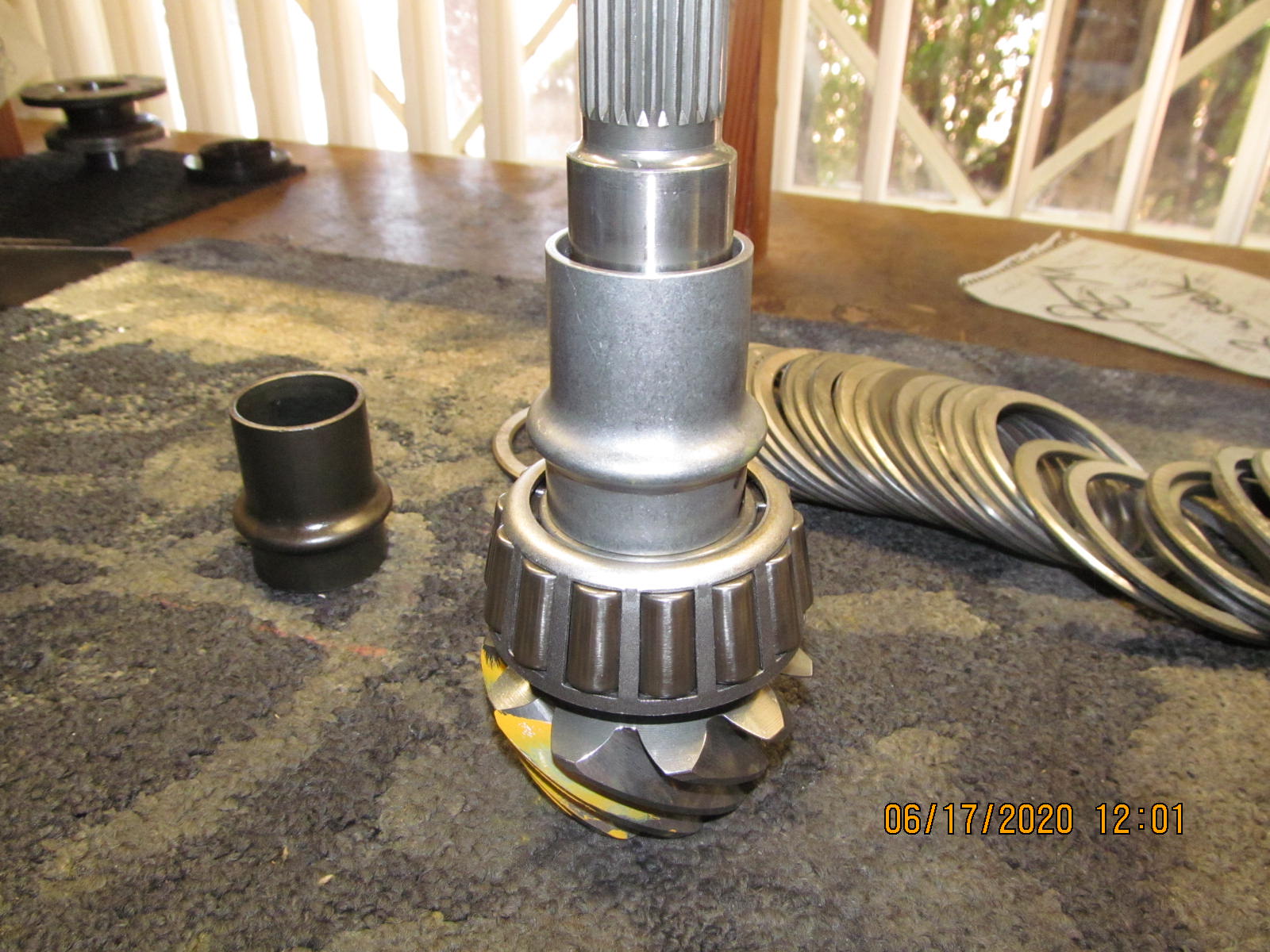 With pinion depth established, now to load up the new crush sleeve.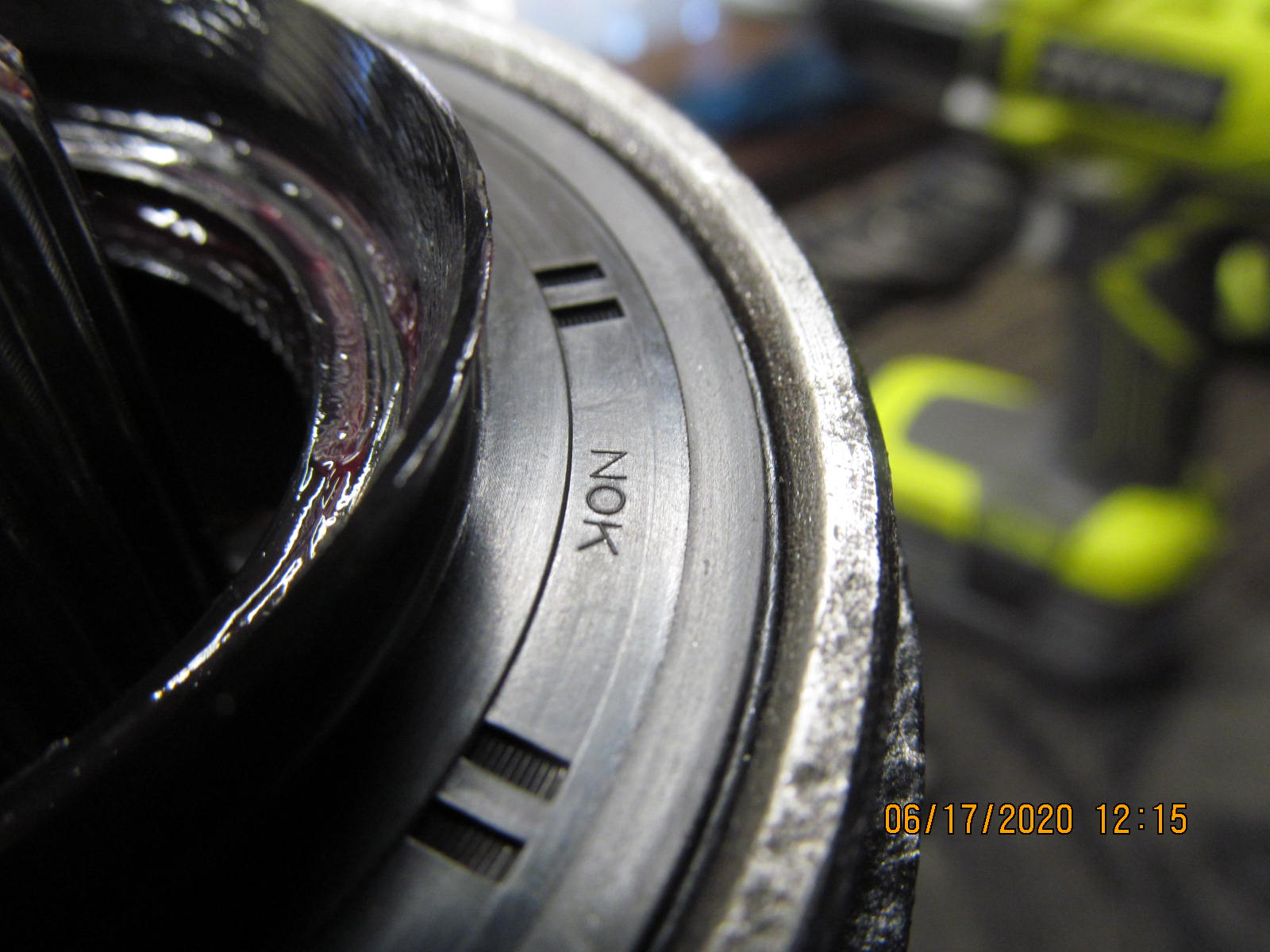 This is the seal the factory uses.....for good reason, too.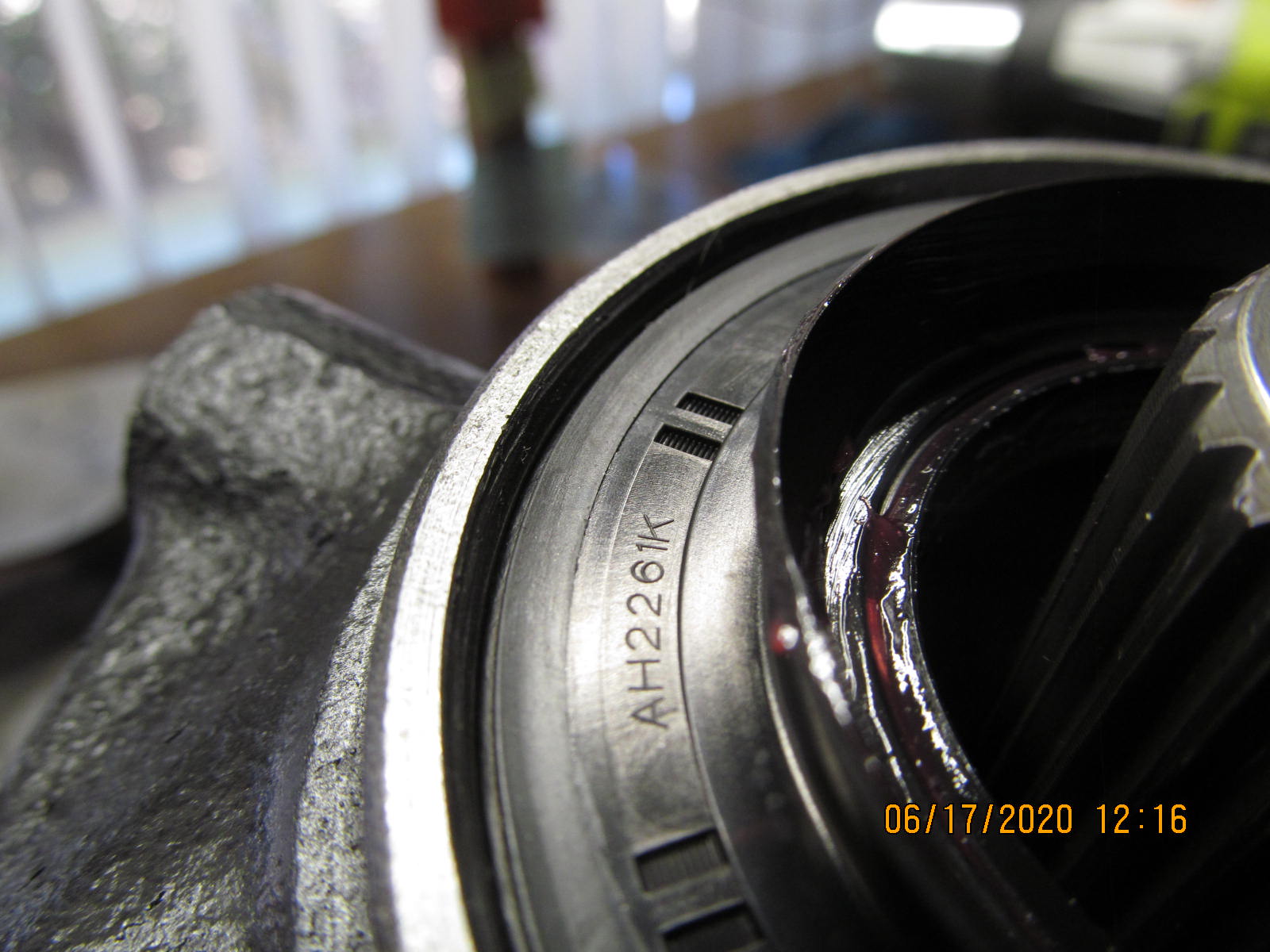 AH2261K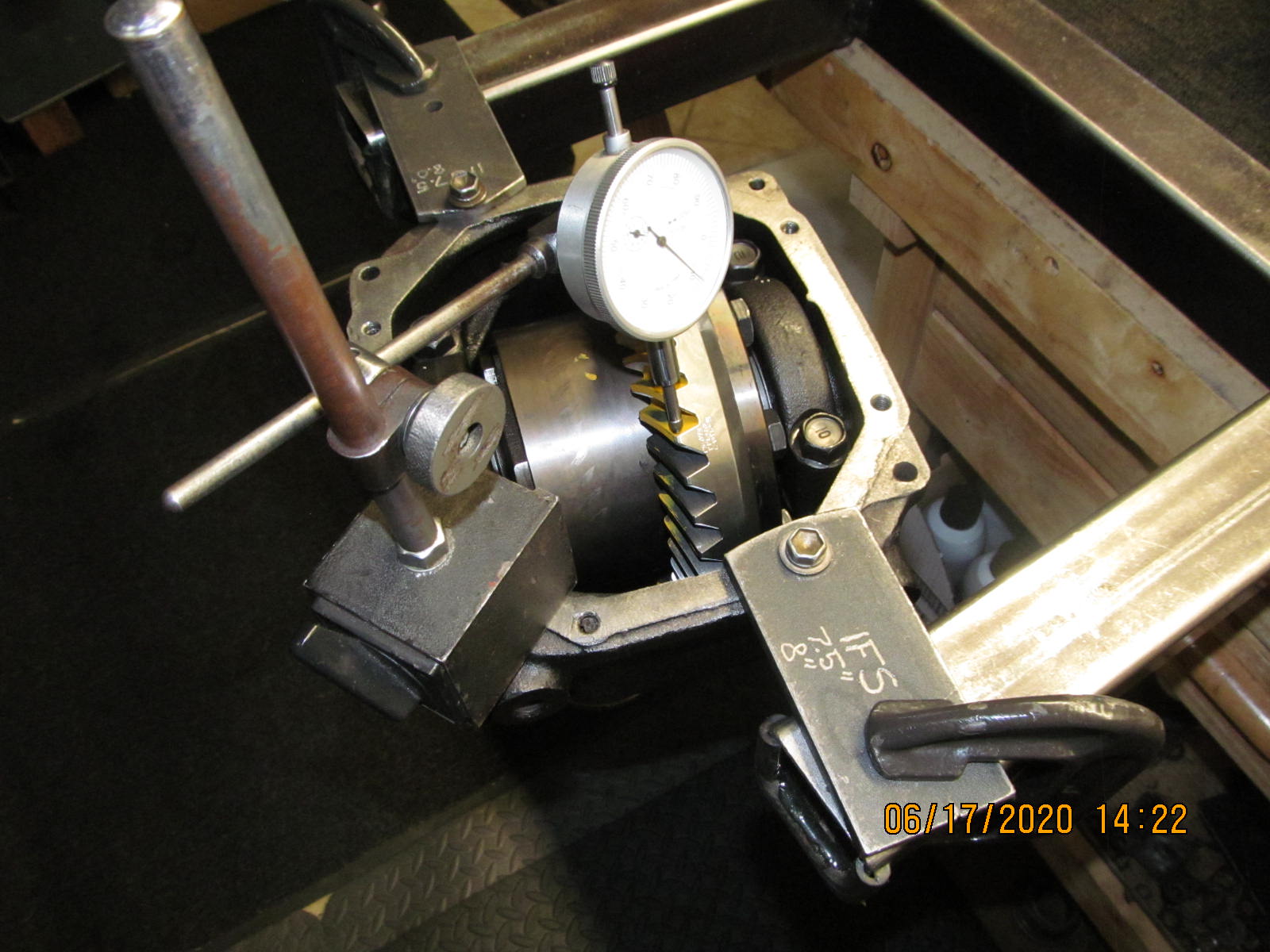 Here's where I play with the washer plates a little bit to get that just right backlash with good solid bearing preload.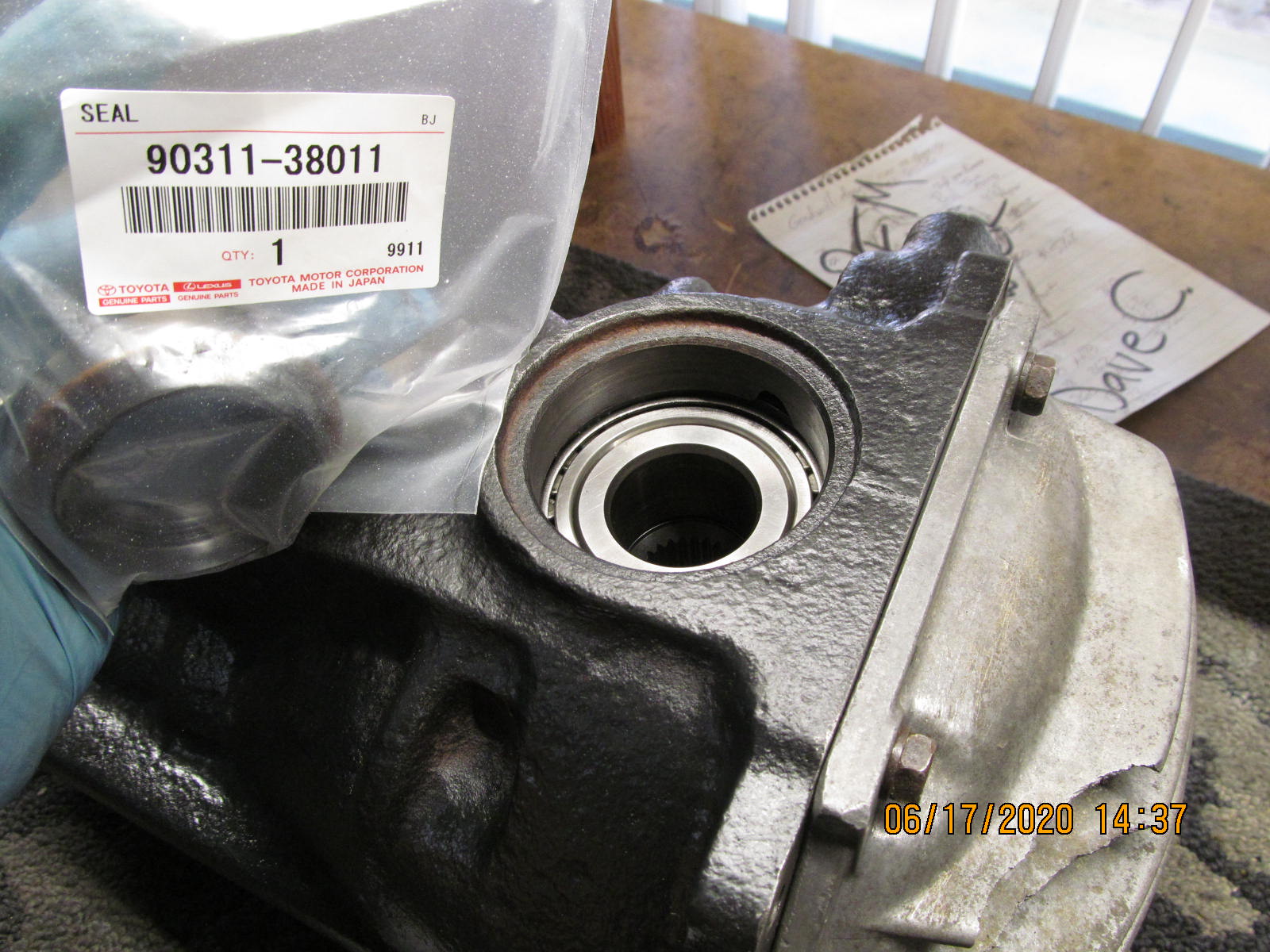 Axle stub seals x2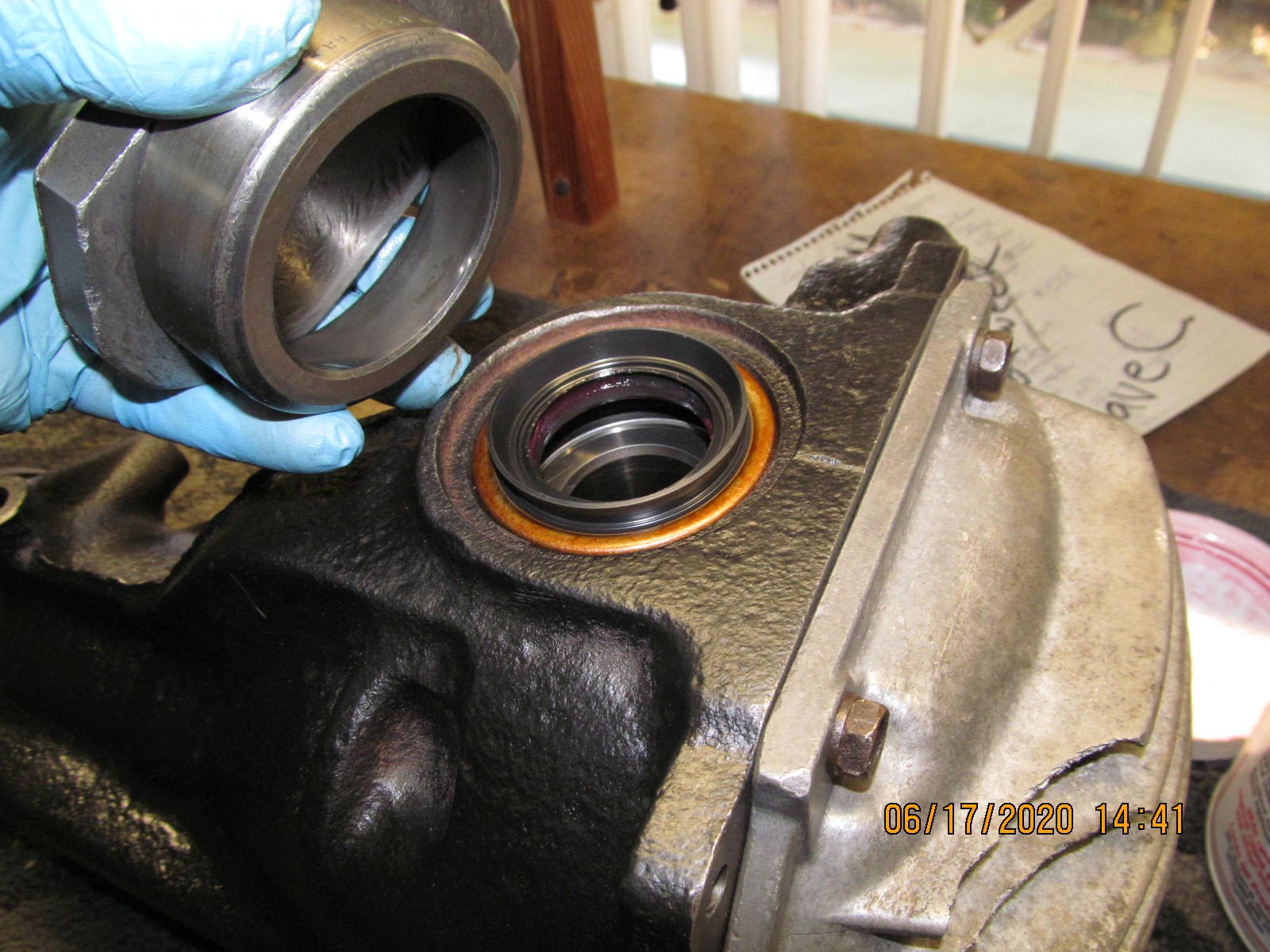 My tool for recessing it perfectly flat.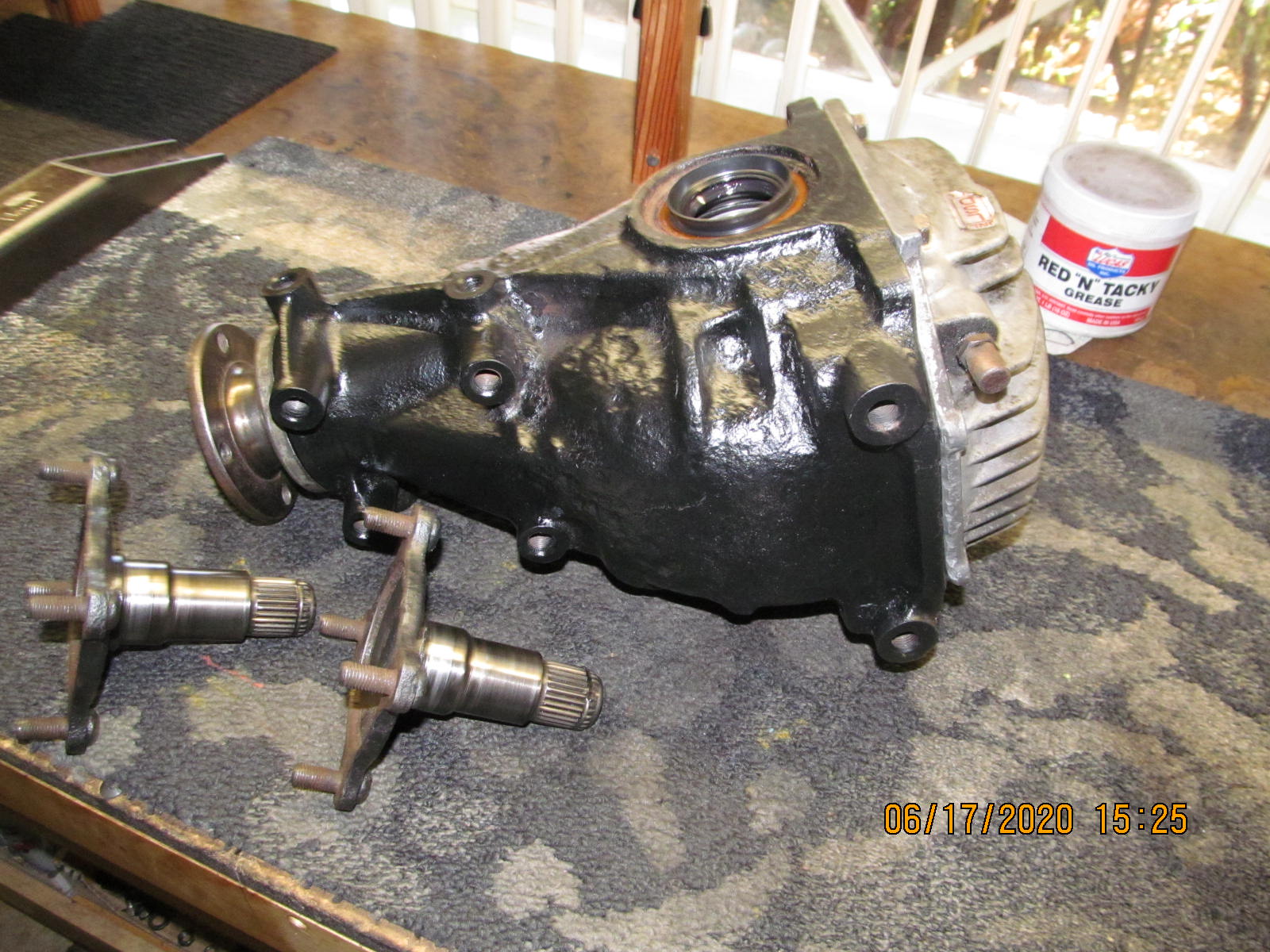 Ready to ship back to NJ.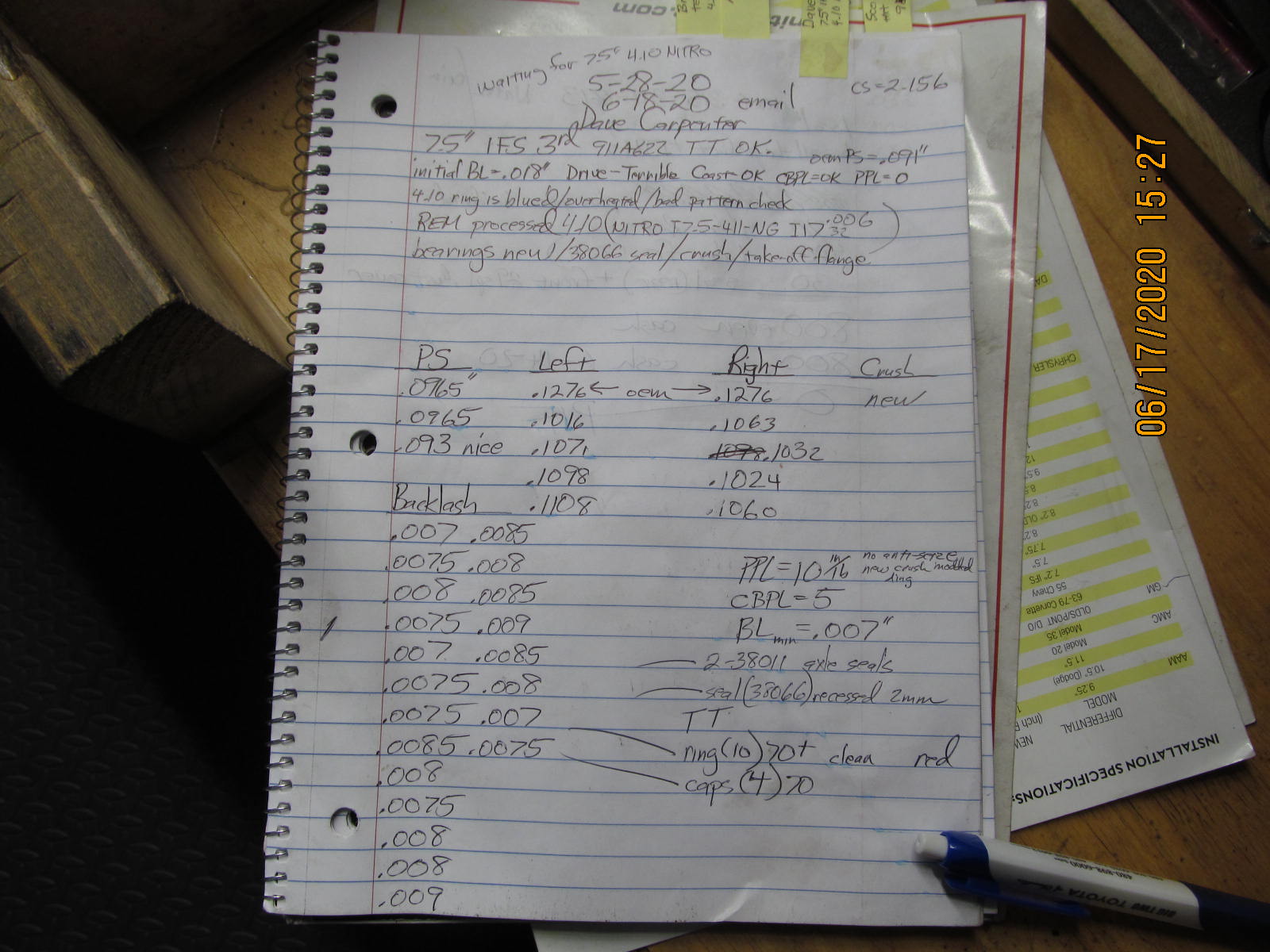 A snapshot of the notes.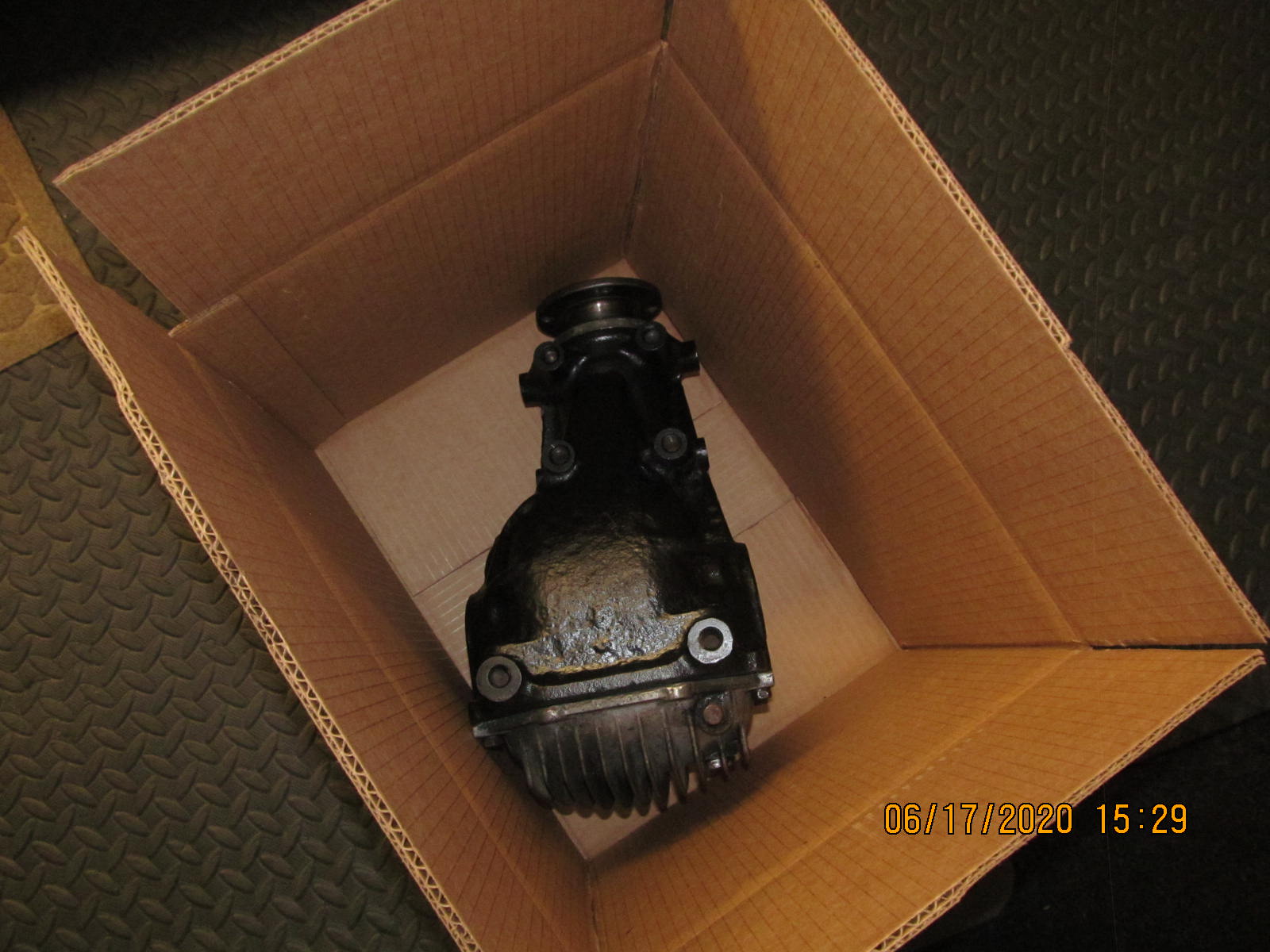 Lowe's HD box.....16x12x12 is just too tight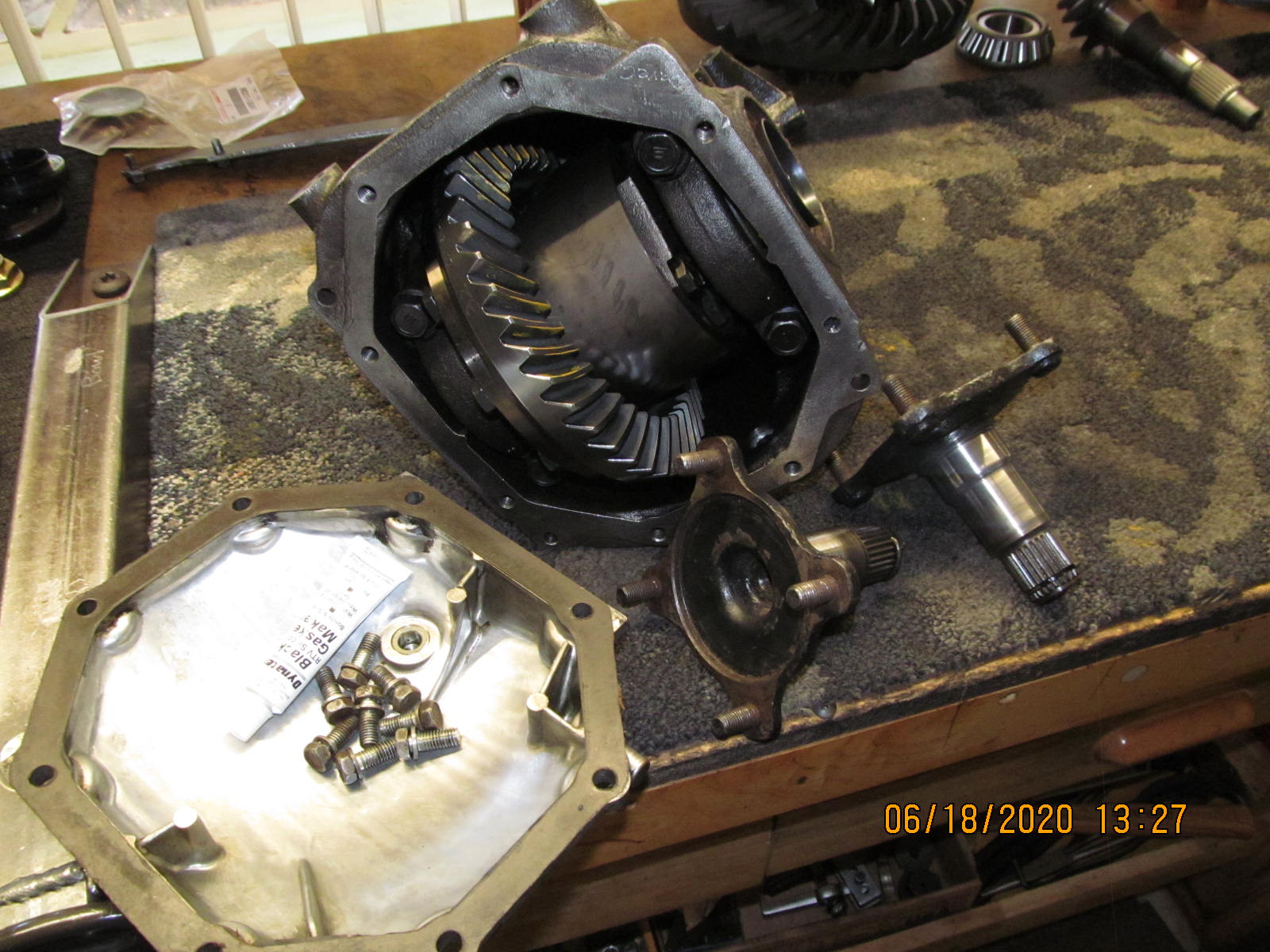 All this stuff has to go in also.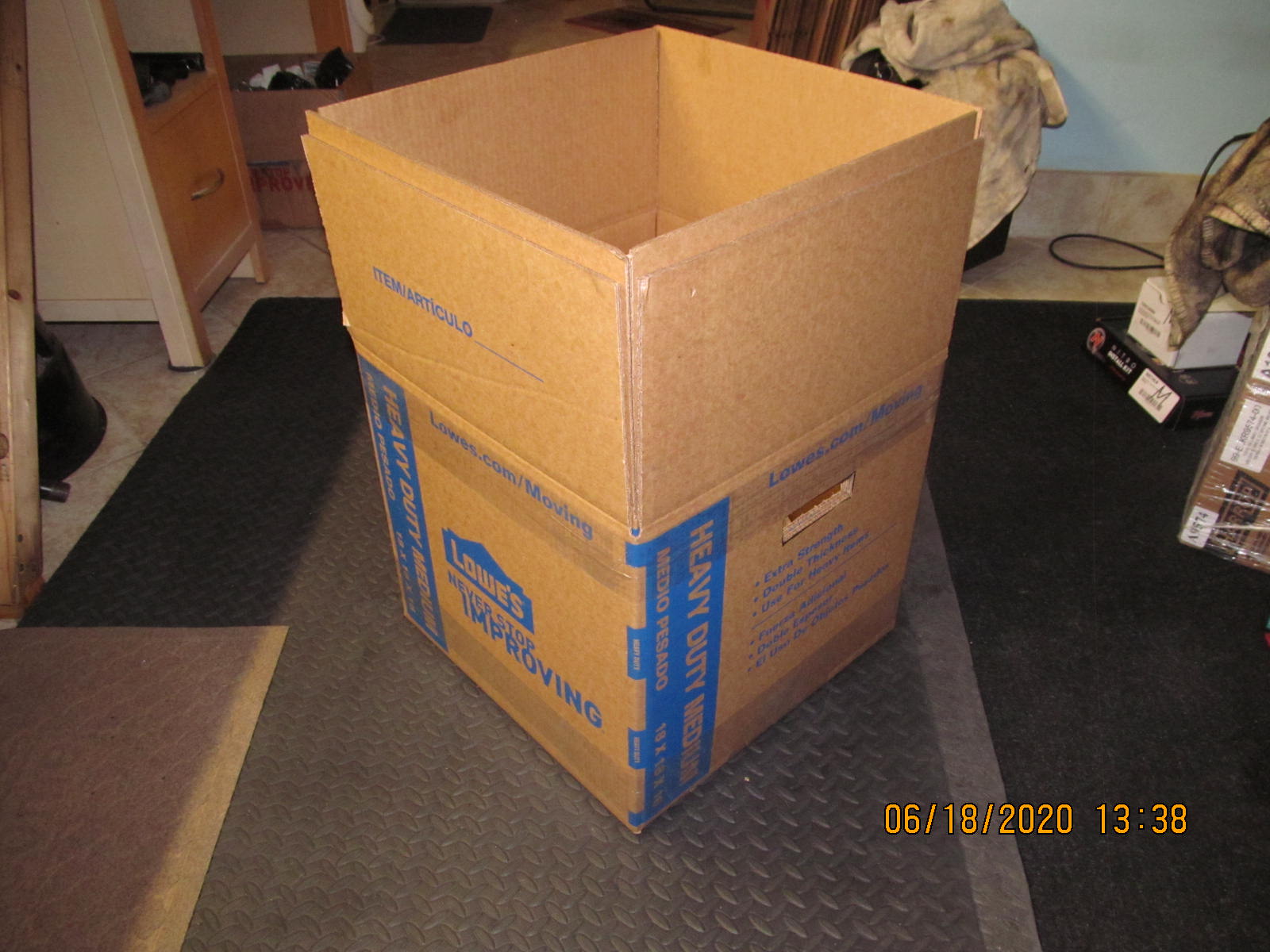 Lowe's 18x18x16 is perfect.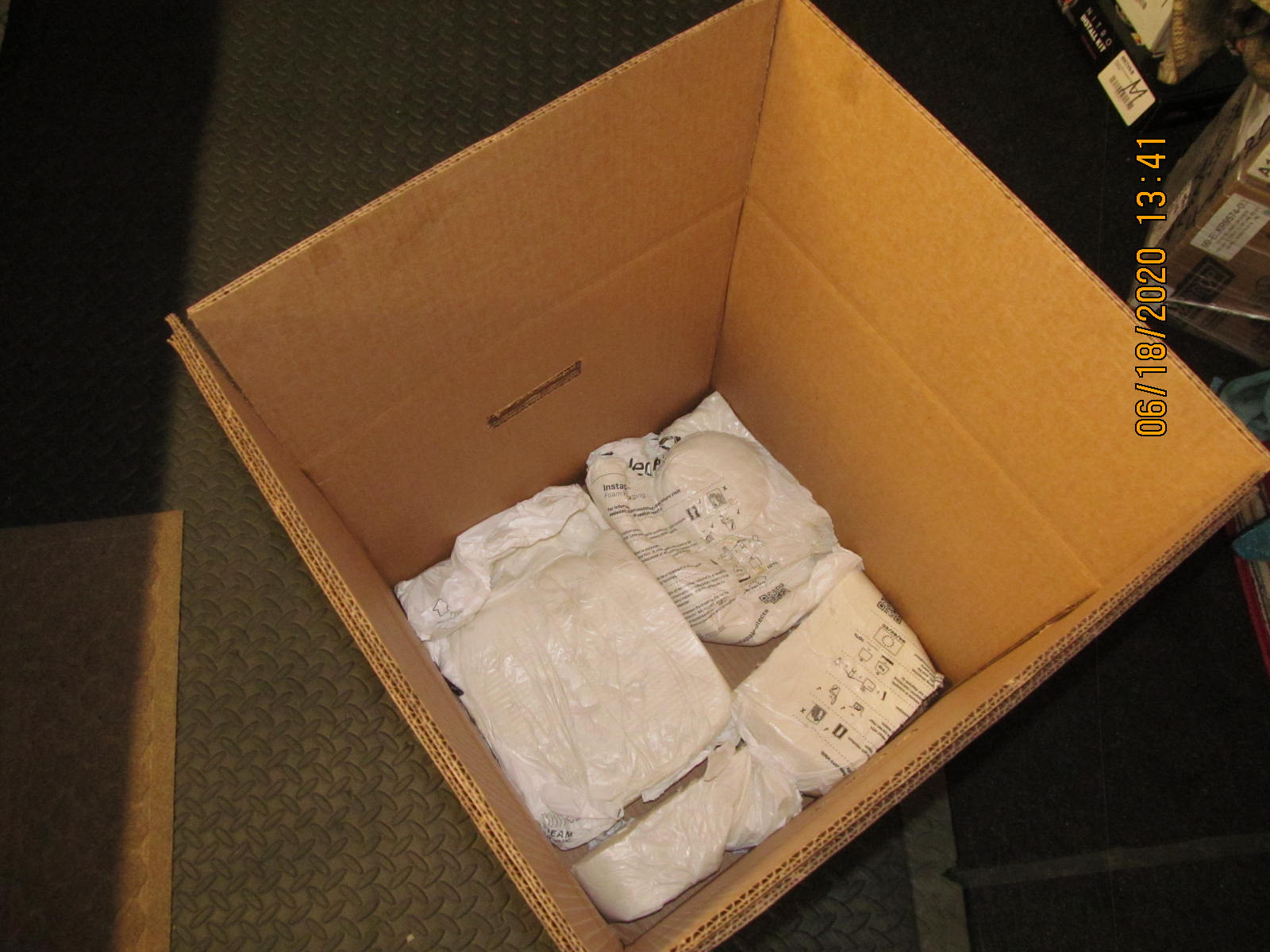 Extra cushion on the bottom.....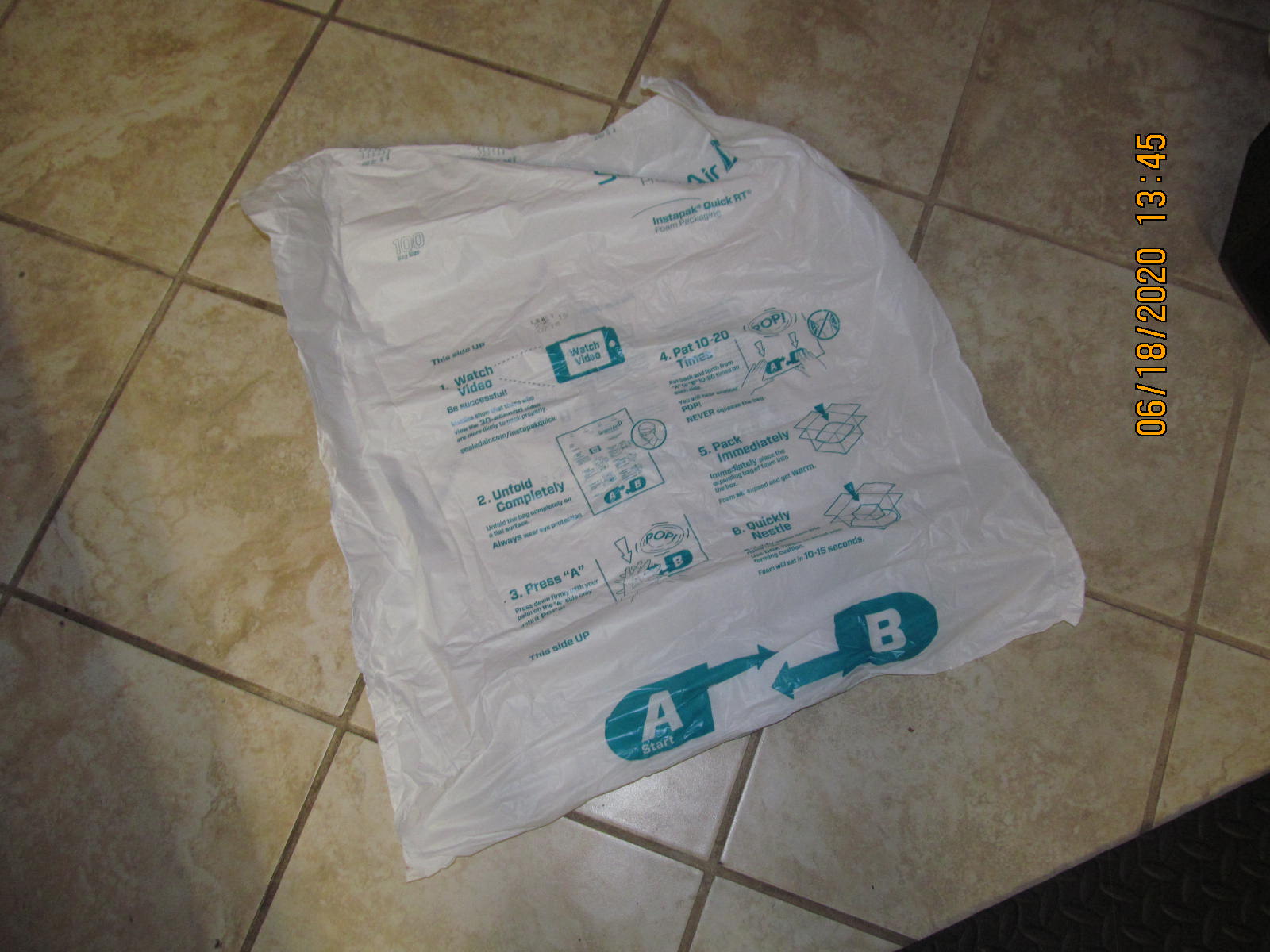 Going to use a #100 insta-pak foam pillow next.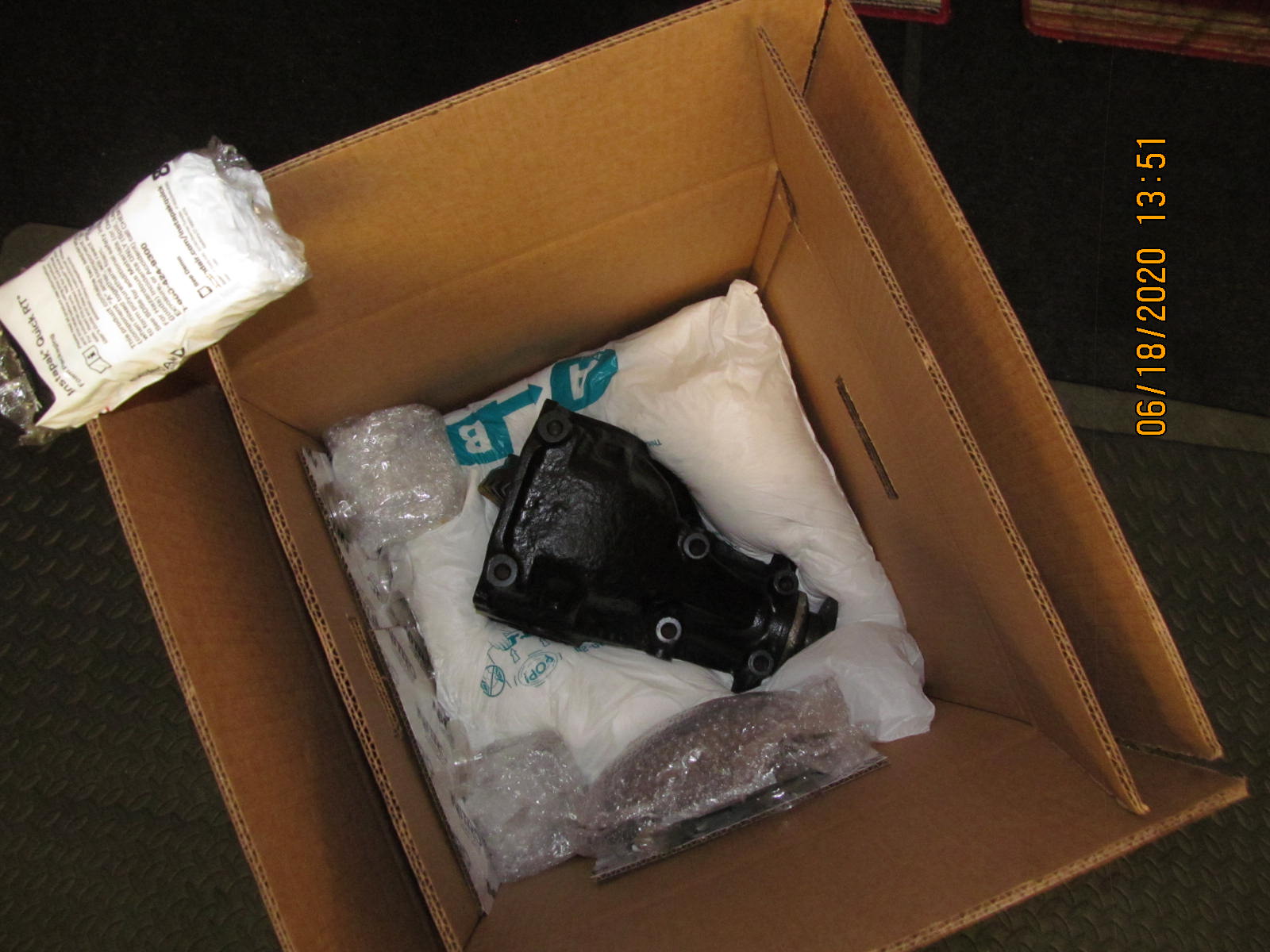 And another on the topside.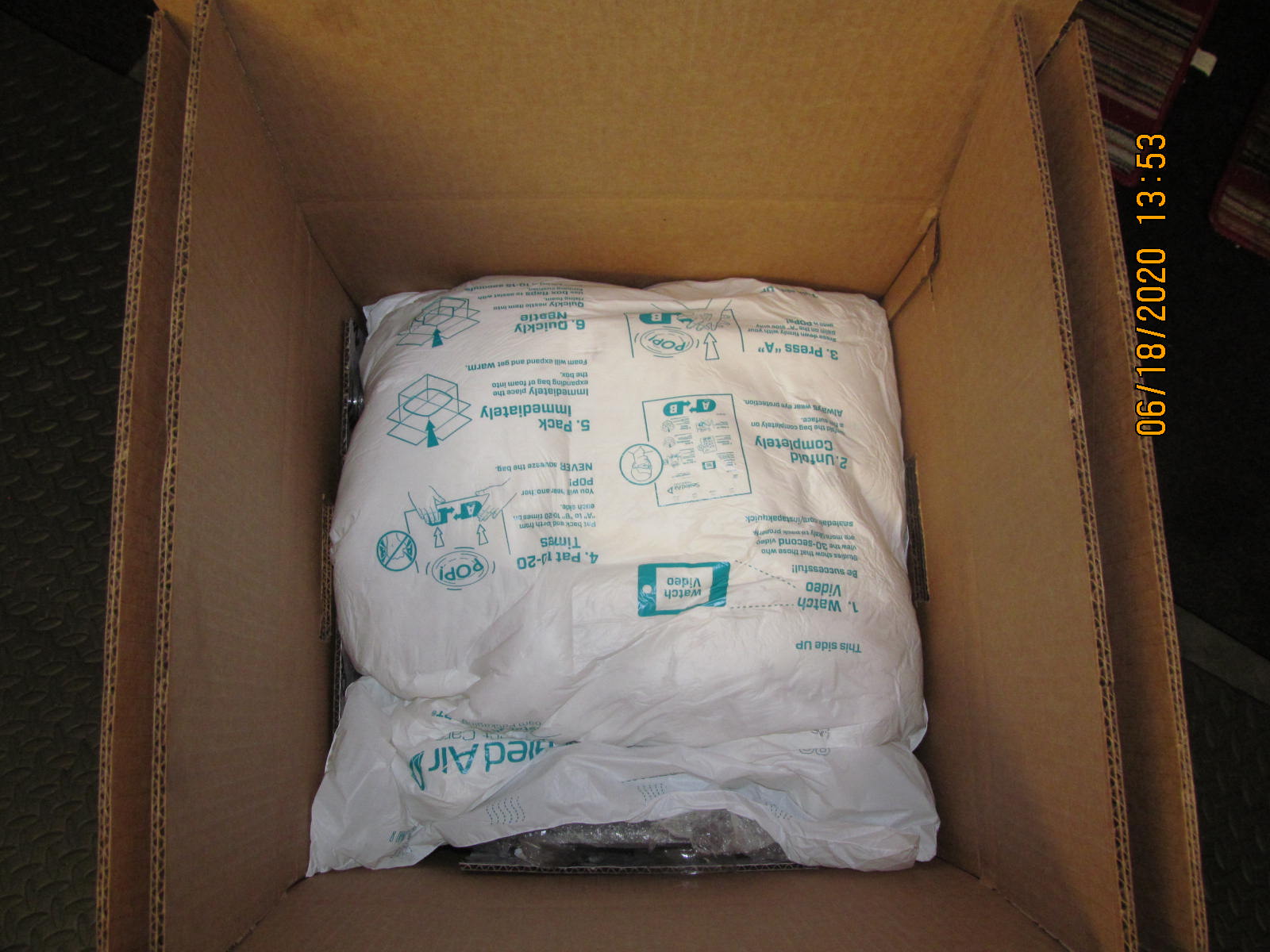 ,,,,,,,,,,,,,,,,,,,,,,,,,,,,,,,,,,,,,,,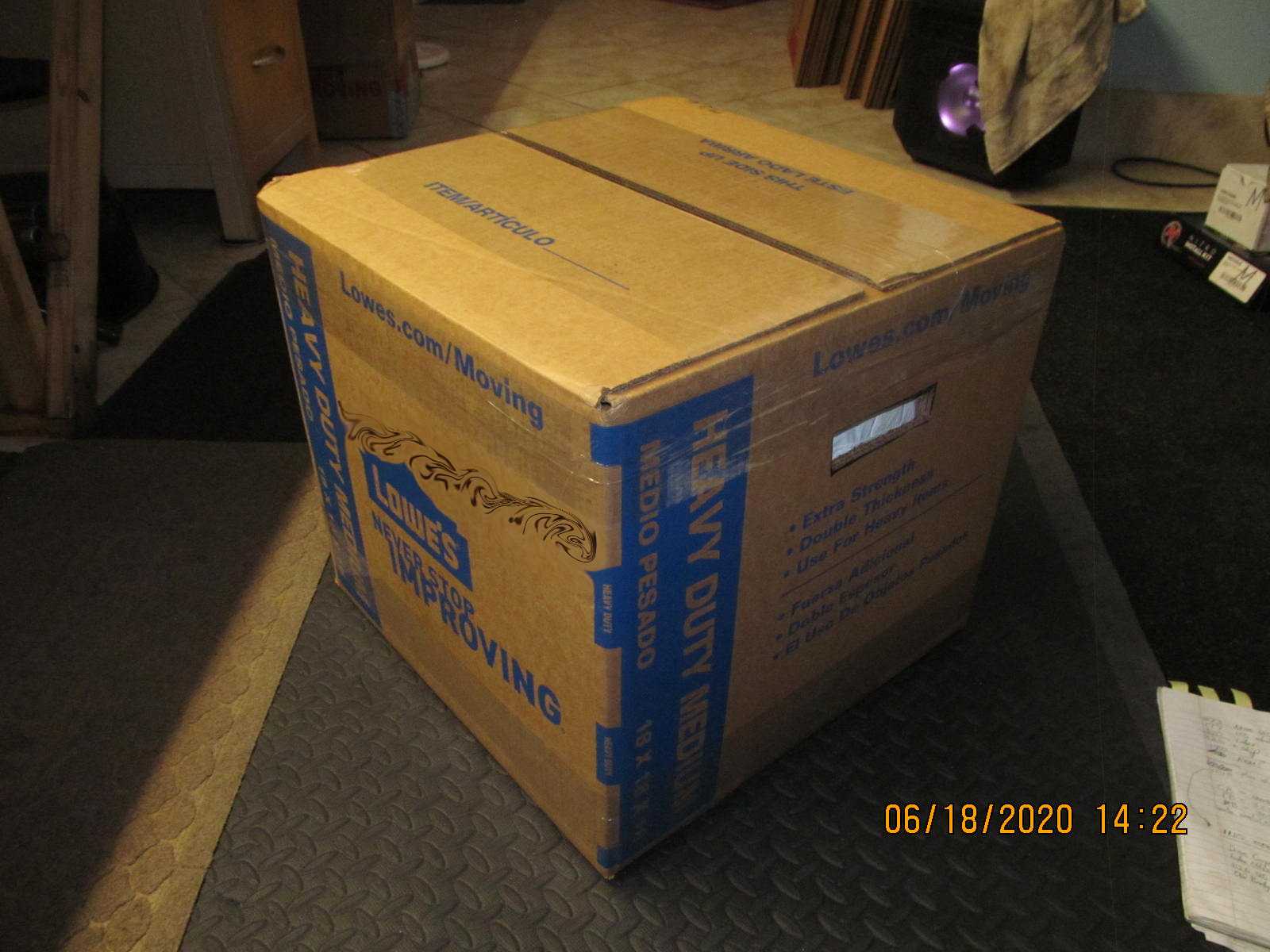 Top closes perfectly.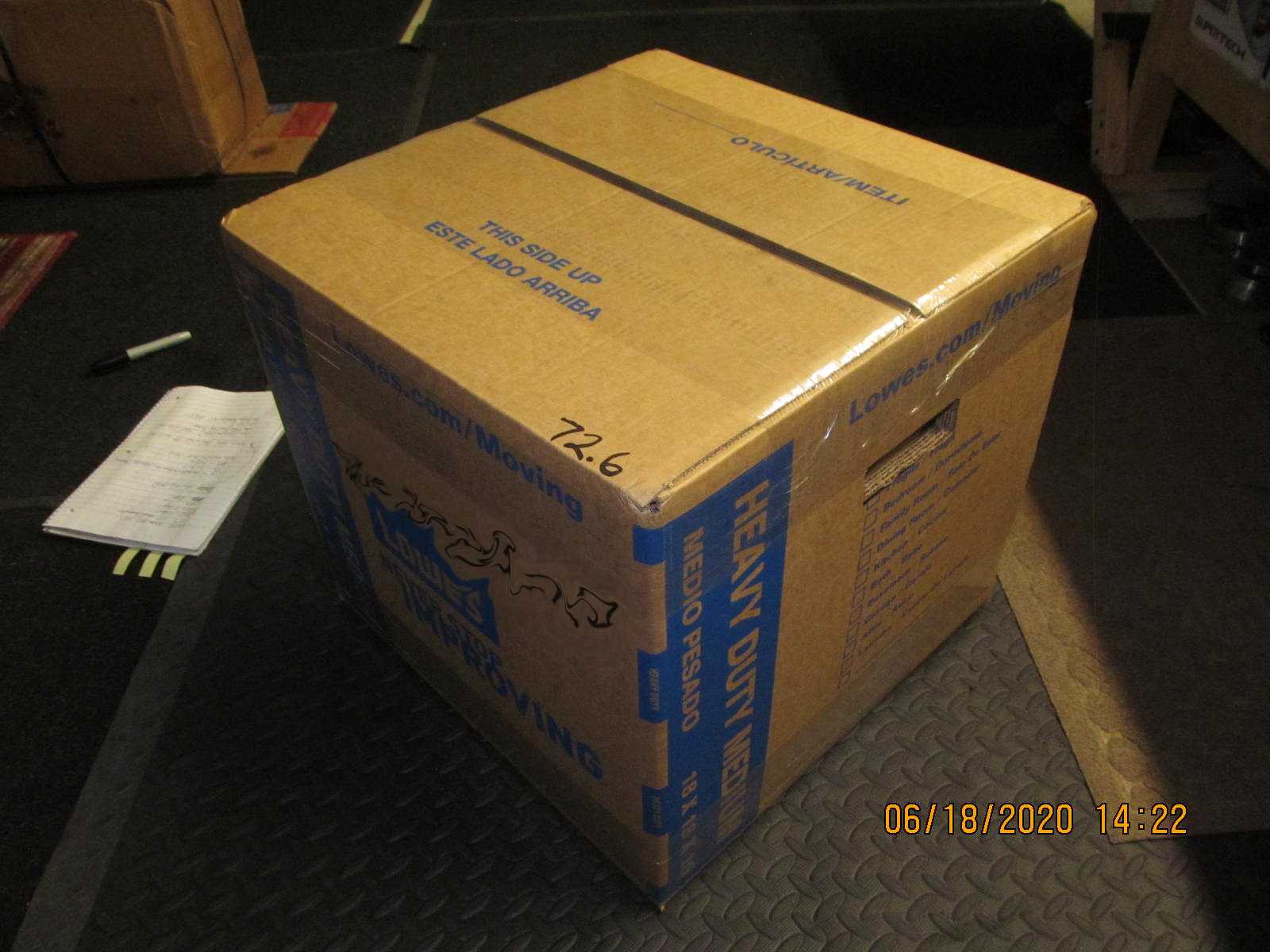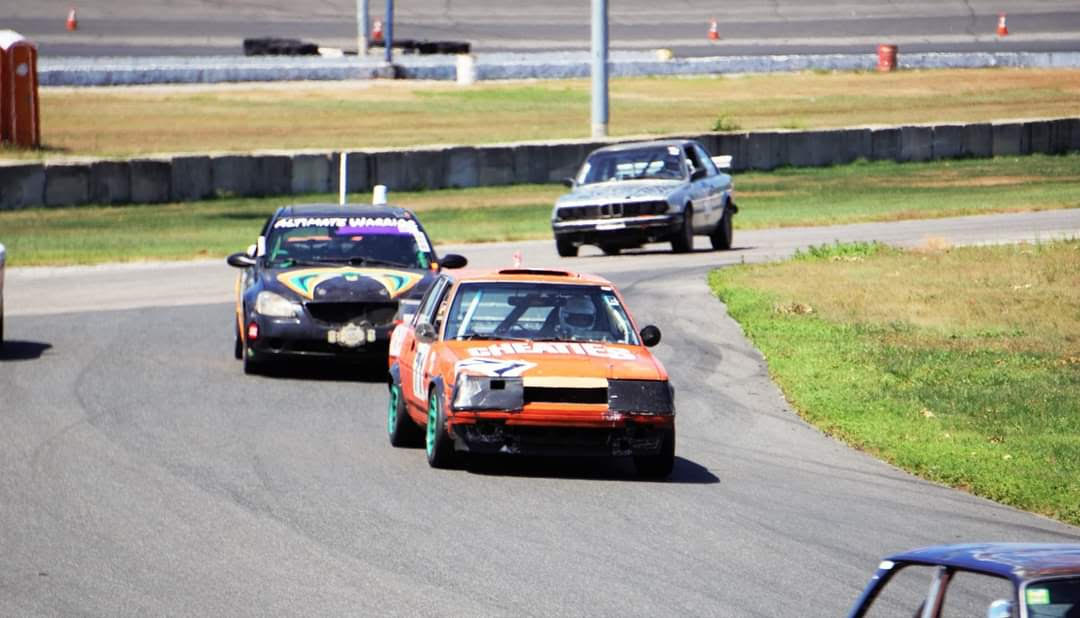 UPDATE 8-14-2020......Dave just got done competing in the 24 hours of Lemons.

From his email......"Ken, Just to give you a quick update, car was flawless all weekend,
the diff cooler did it's job, I installed it in a box fed with a naca duct,
and an inline fan for insurance and installed a diff temp guage so we could monitor it.
Diff never got over 185 degrees and we actually had to turn the fan off at times as even with
the ambient temps in the mid to upper 80s the diff would drop to 160 degrees. We were in
the top 5 all weekend and actually led a lot of laps, but late in sunday we got
a black flag while leading for a "possible fuel leak" which was our cool shirt
box leaking water. But we managed to finish 3rd overall out of 77 cars that started.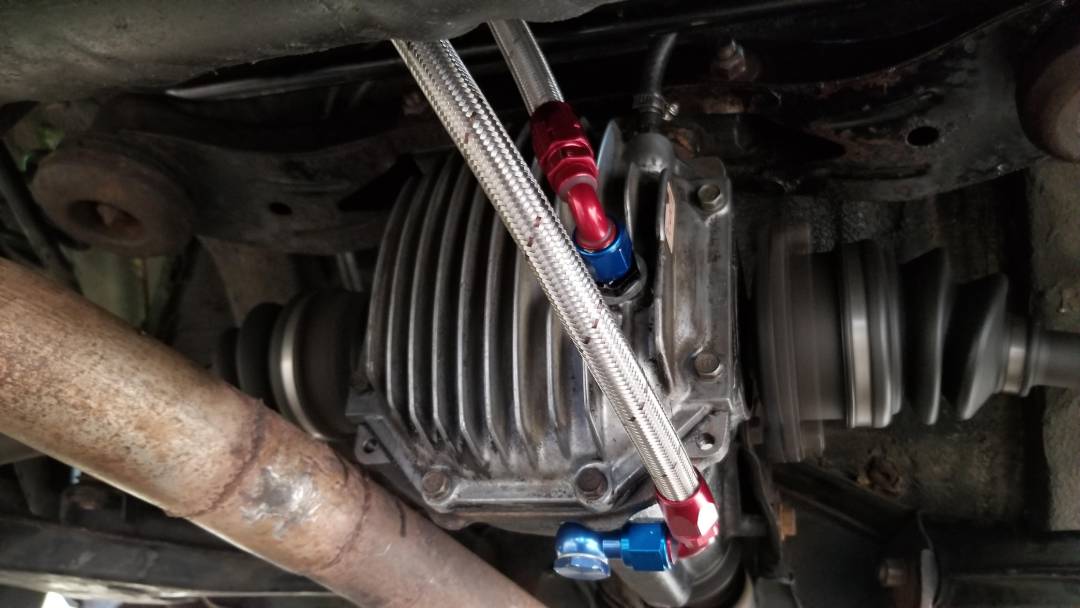 In/out cooling lines.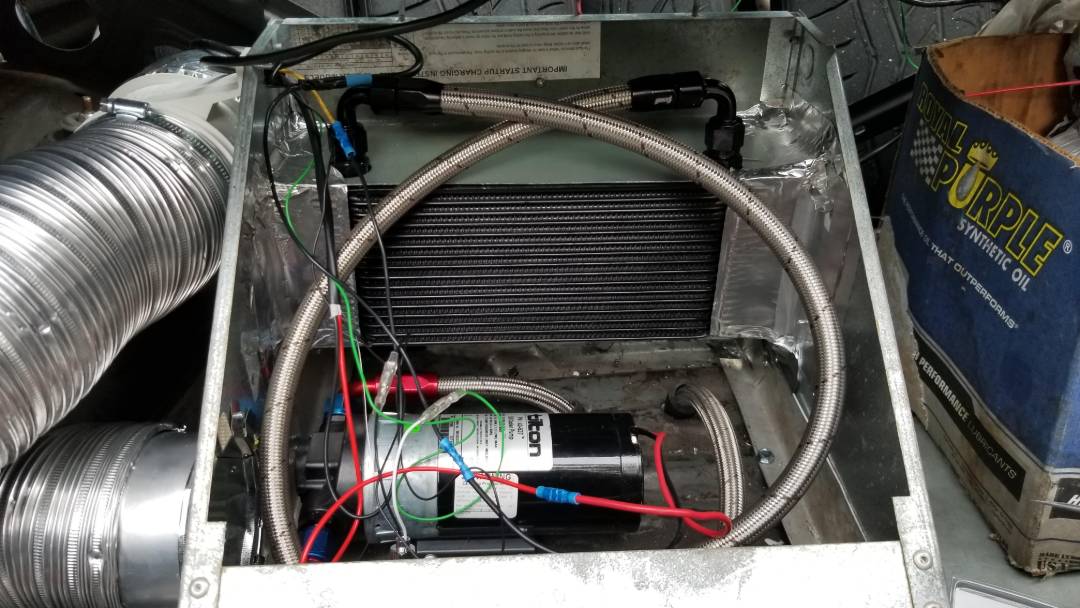 Cooling radiator.