Repair of Mitch's 1997 LX450 front 488 Diff with Nitro Gear
(44 BIG pics loading)
MARCH 5 2016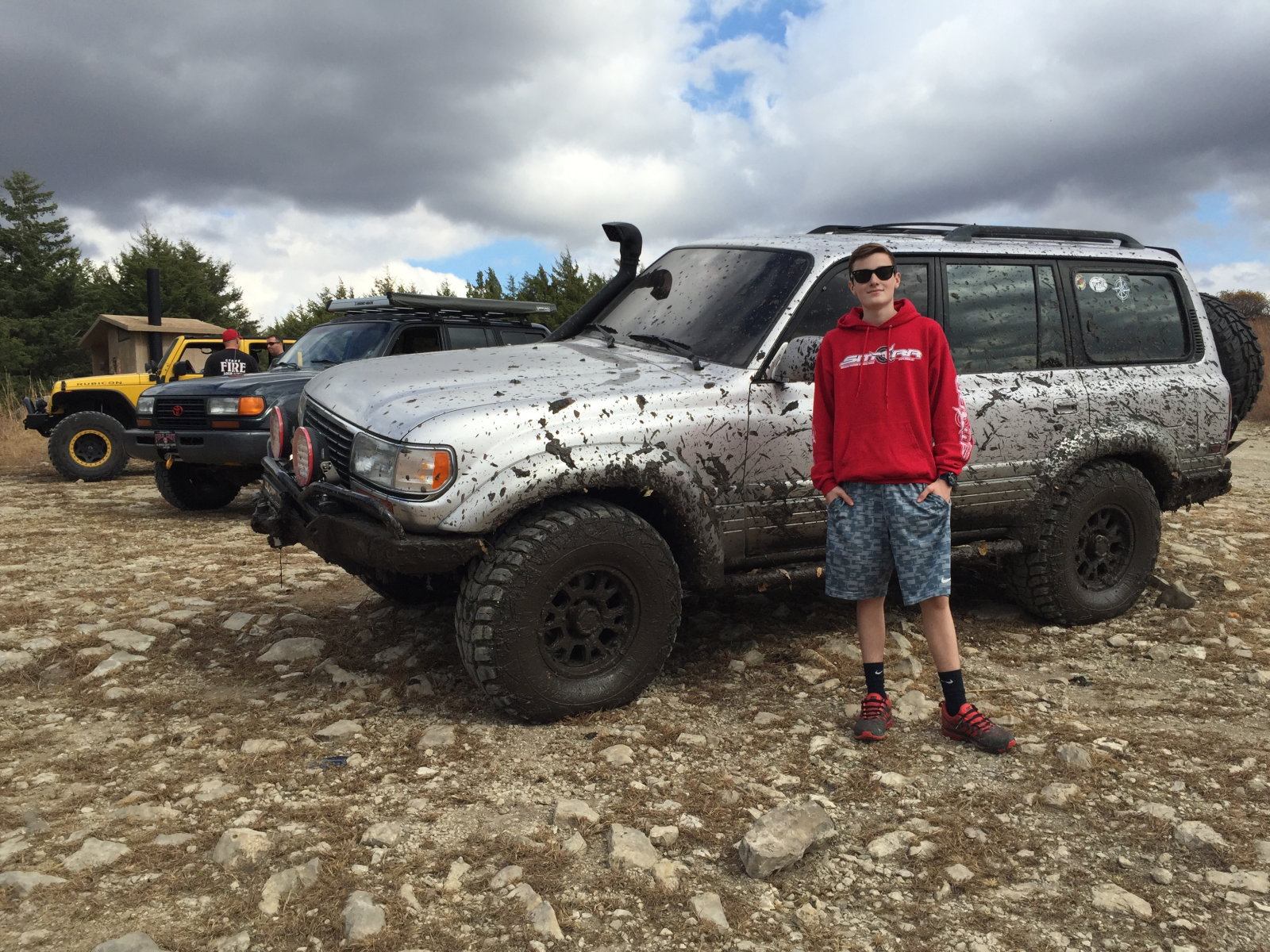 Mitch took his LX450, on the recommendation of the local club, to a shop that had a fantastic
reputation but no Toyota experience. The Nitro gears lasted a couple months before the front
hi-pinion 8" gave up the ghost and broke.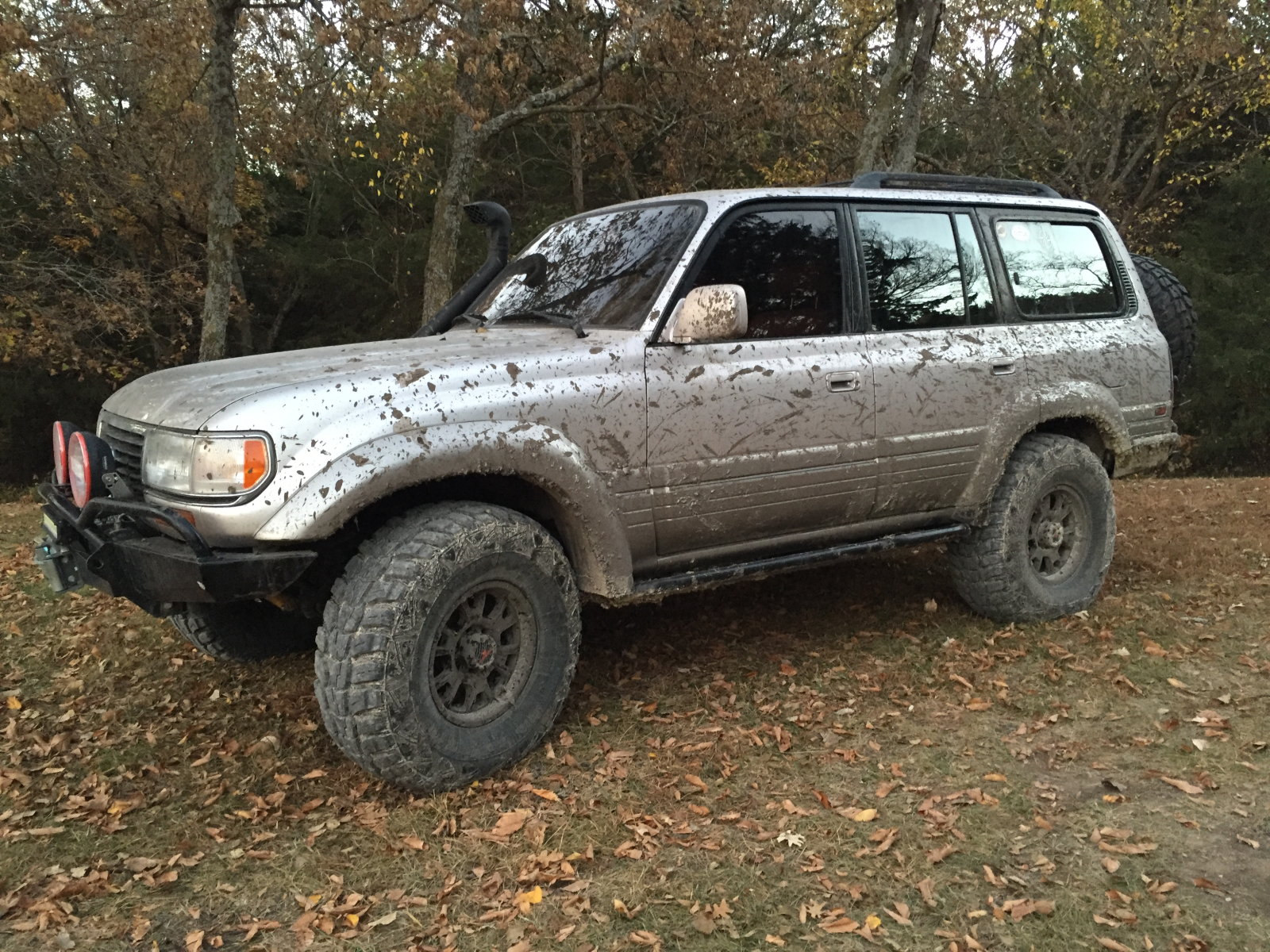 Quote, "Found this triple locked '97 LX450 w/ only 122k being offered by the original owner ridiculously
cheap 3hrs south or us. Complete Lexus Service History, No Rust, clearly loved on...perfect base to build."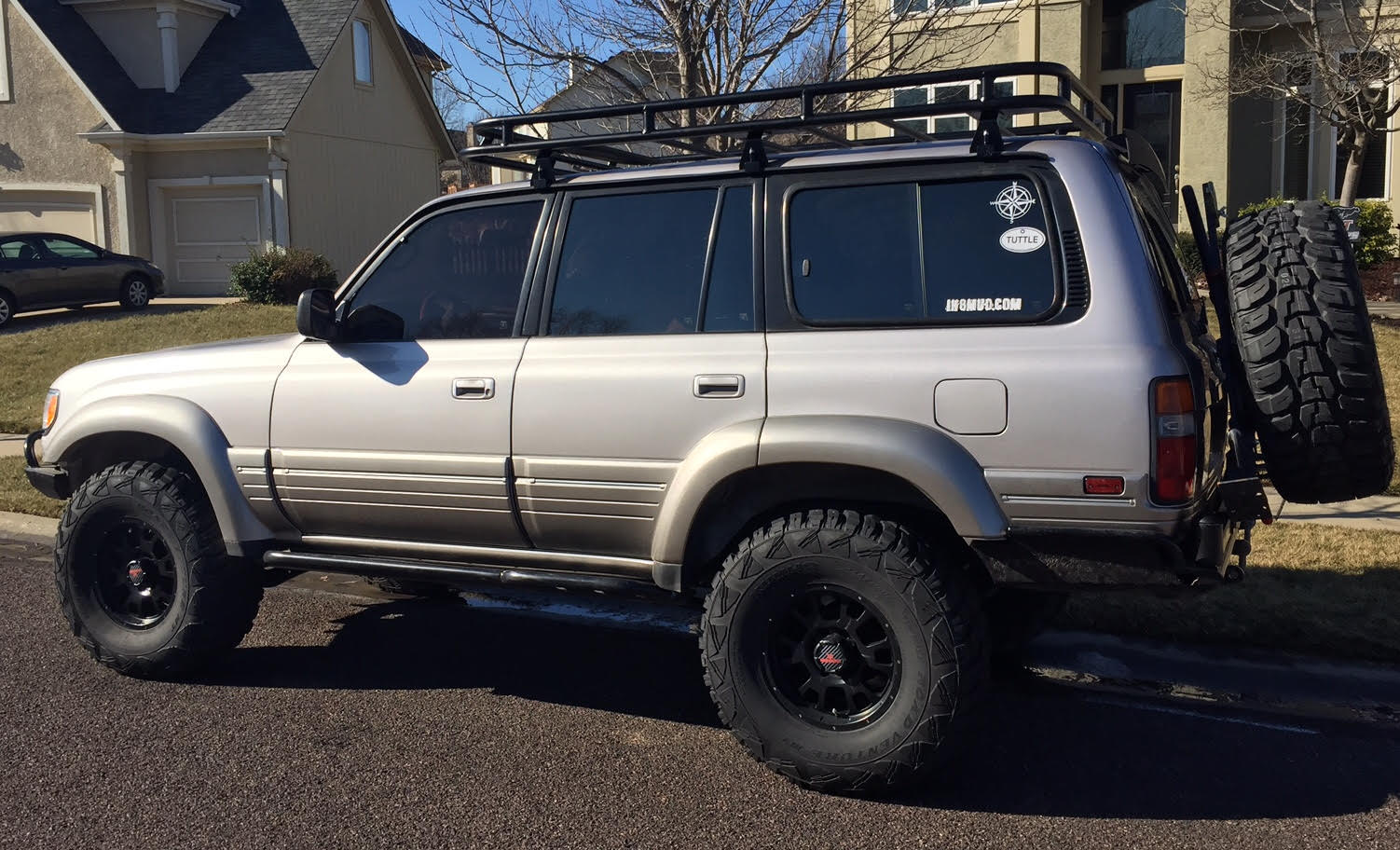 This is a more recent pic......nice roof rack. I asked for info on the mods/changes made to the
LX450 and this is what Mitch has done so far.....
Exterior:
Slee Shortbus w/ 12k HF Winch
4x4 Labs Dbl Swing-Out Rear
Roof Rack-home made
OPOR Sliders
Custom Trans X-Member/Armor

Suspension/Driveline:
Front-OME 860Js w/ L Shocks
Rear-OME 863s w/ Shocks
DOM Sleeved & Filled Rear LCAs
Castor Brackets
Extended Brake Lines
OEM Bushings all around
Rebuilt Knuckles/ Axles F&R
Sway Bar and Bump Stop Drops
Sway Bar Disconnects
4.88 Gears (Zuk & Nitro)
Center Differential Mod
315/75R16 Kumho MT KL71
Level 8 Wheels

Electrical:
Dual Battery w/ Blue Sea 7622 ML ACR
Blue Sea 7725 Safety Hub (house circuits)
1/0 AWG Big 3, Amps & Winch
Front LED Light Bars & Spots
Rear LED Work Lights
Undercarriage LED Rock Lights
Edgestar 63qt Refrigerator
Pioneer Head w/ Backup Cam
Polk Audio Door Spkrs & JL 300/4 Amp
JL 12w7 Sub & JL HD 750/1 Amp
Various USBs and 12v outlets
Trailer Brake Controller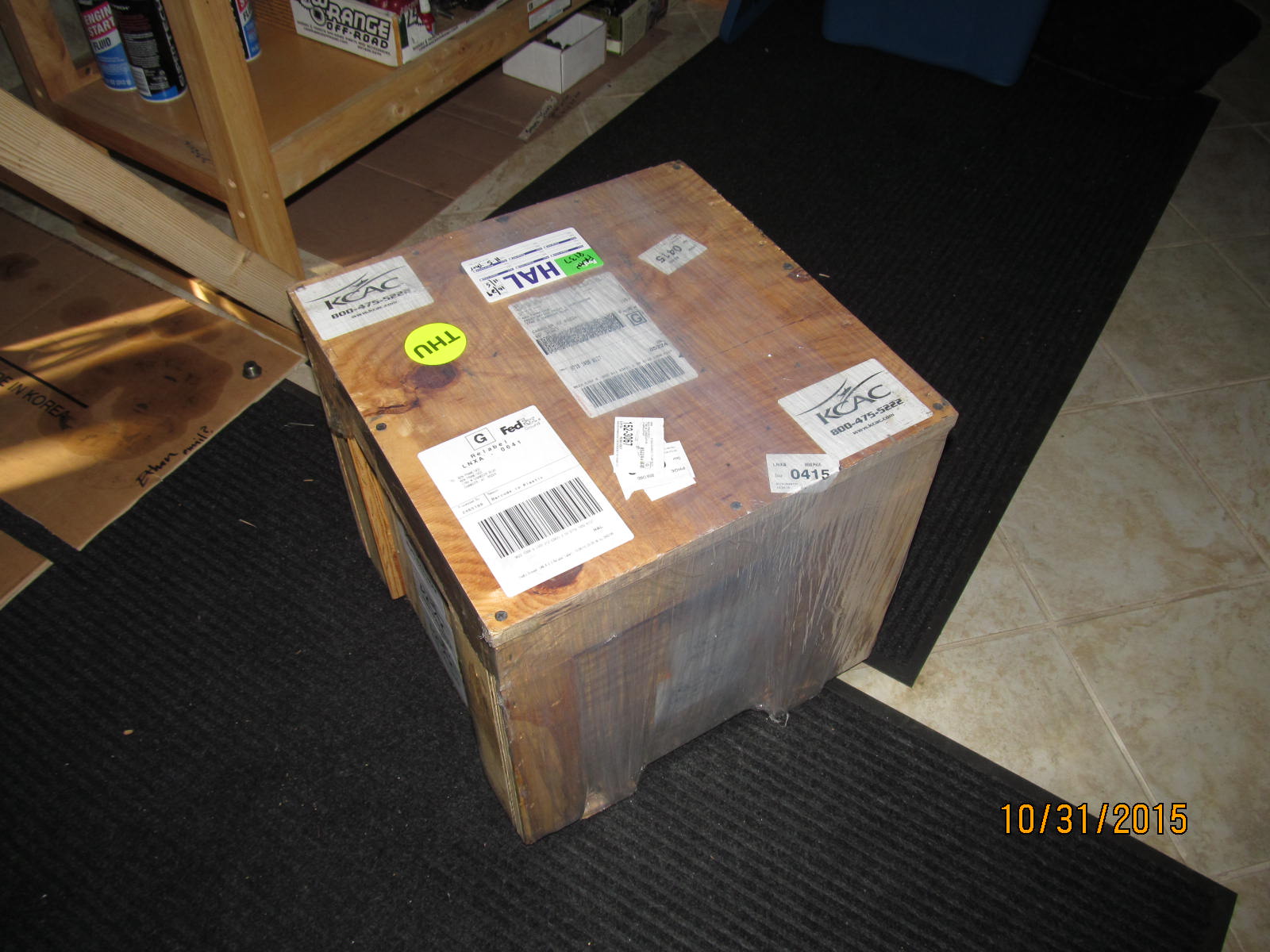 A wooden box arrives....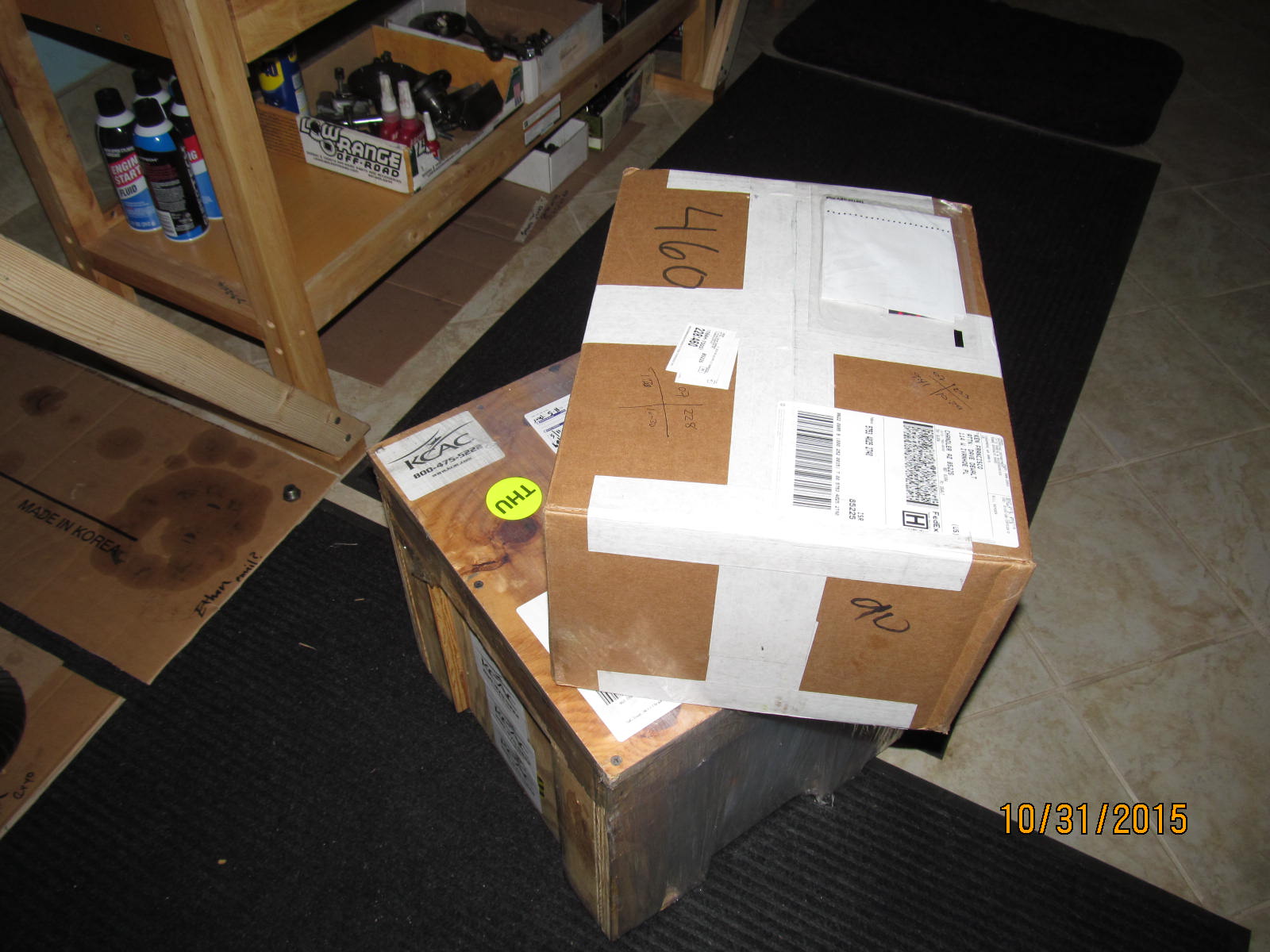 ...followed by some product from JustDifferentials.com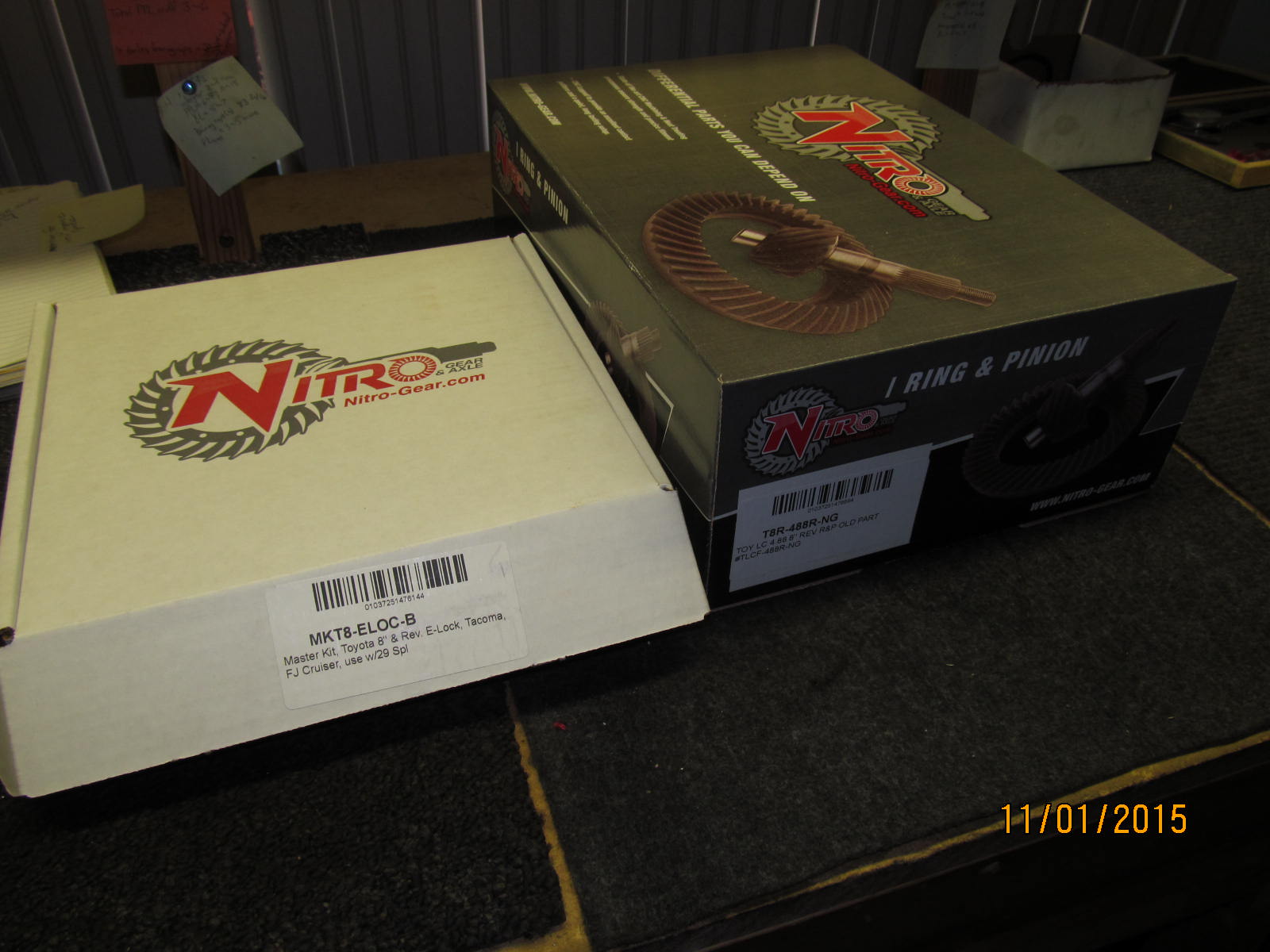 Master install kit and a 29 spline Nitro ring/pinion.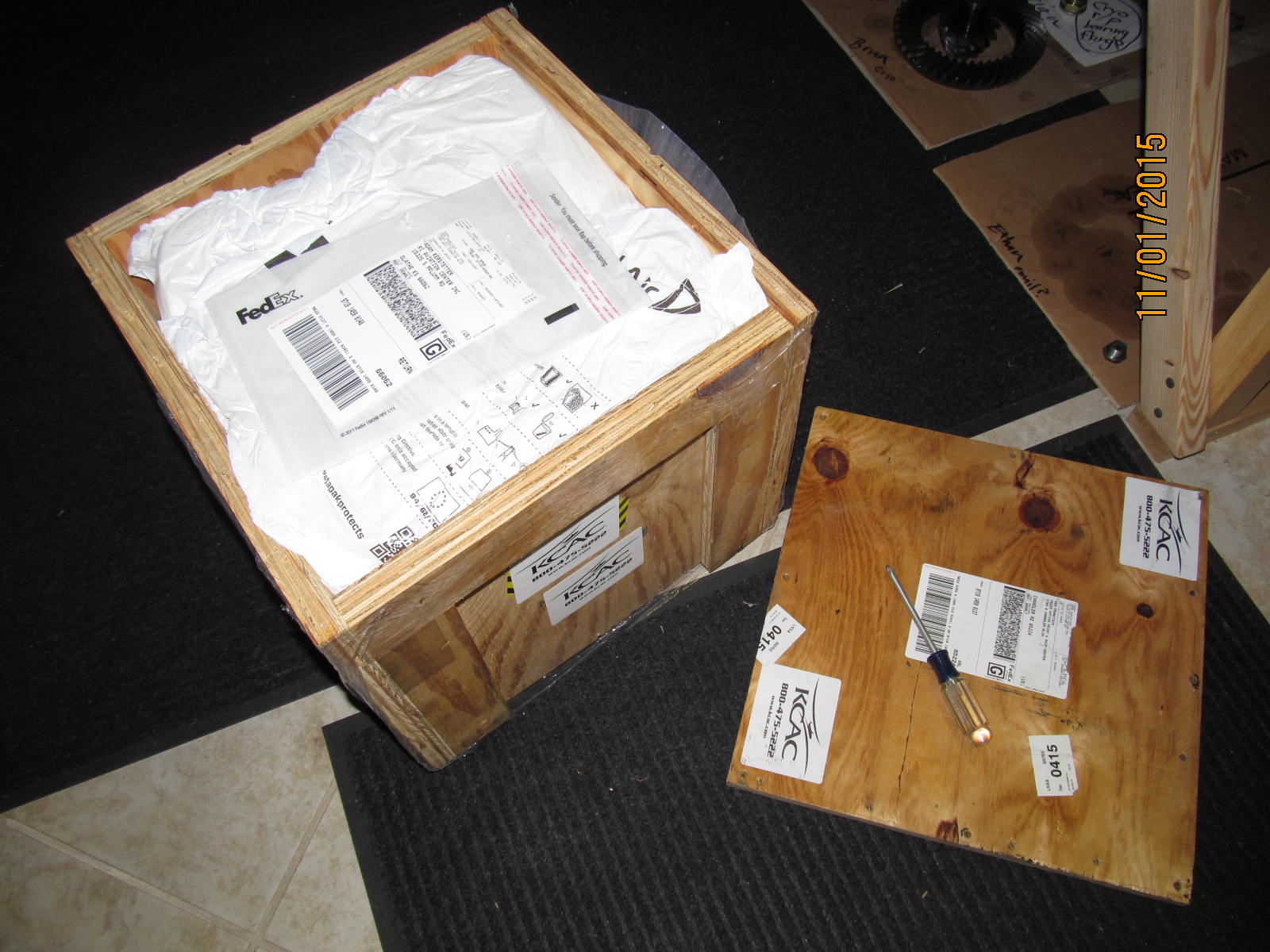 8 wood screws and the lid is off...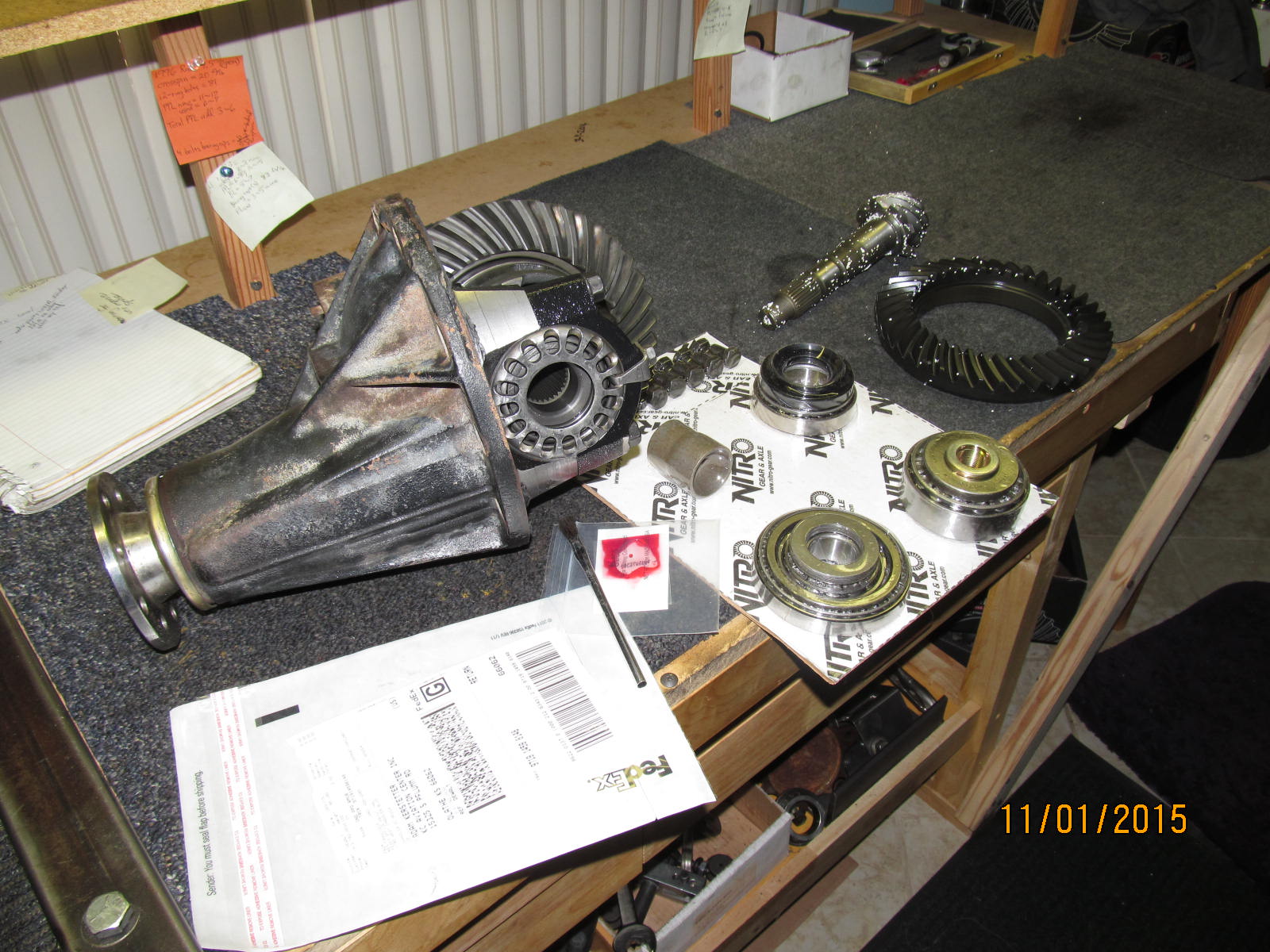 Wish I had taken a couple of pics of the removal of the 3rd from the wooden box.
I observed that both bearing caps were loose and one side actually fell off.
The chunks of tooth missing in the ring gear had nothing to do with Nitro
brand but 100% due to the ring wobbling around.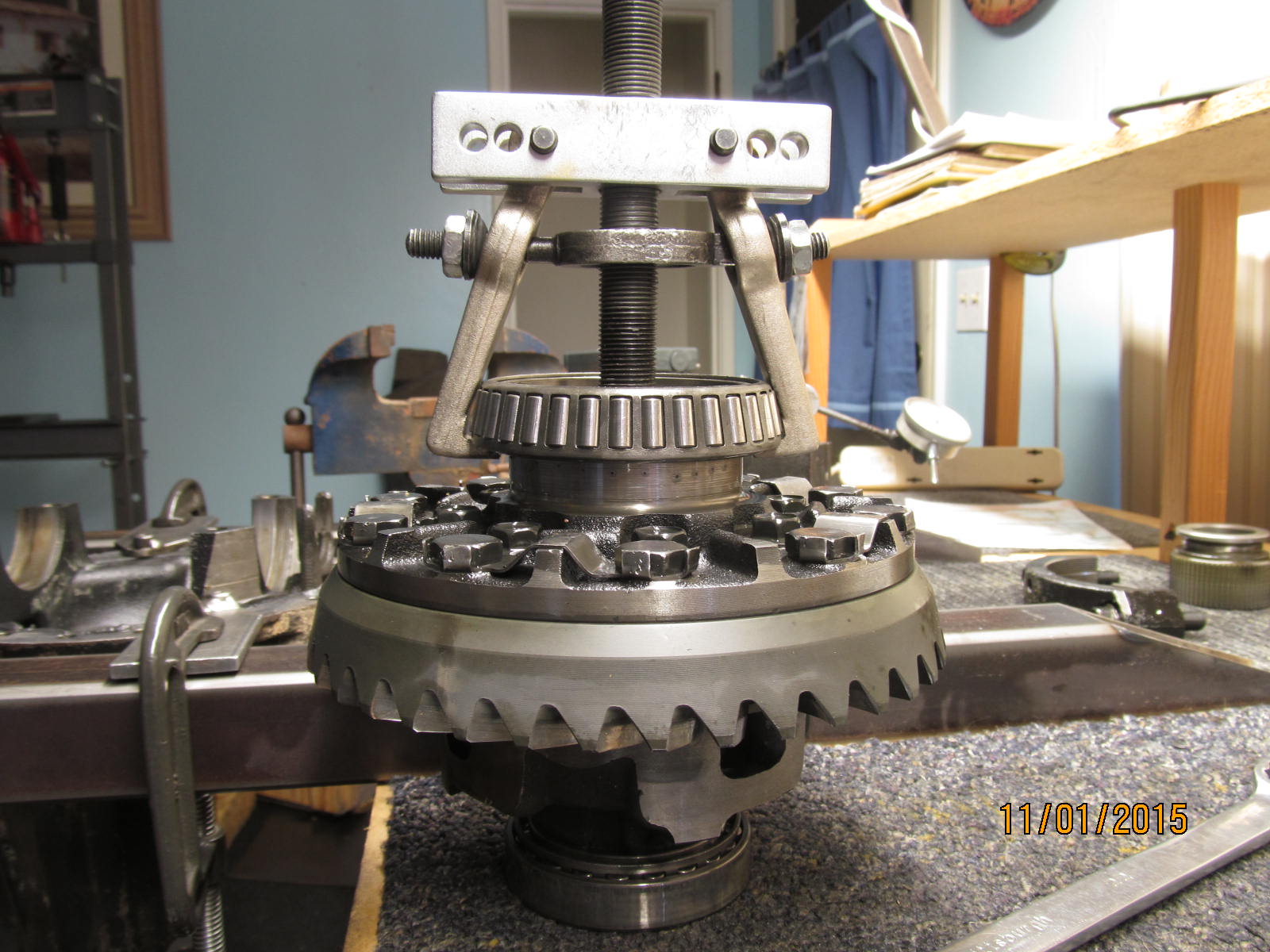 Big carrier bearing is removed.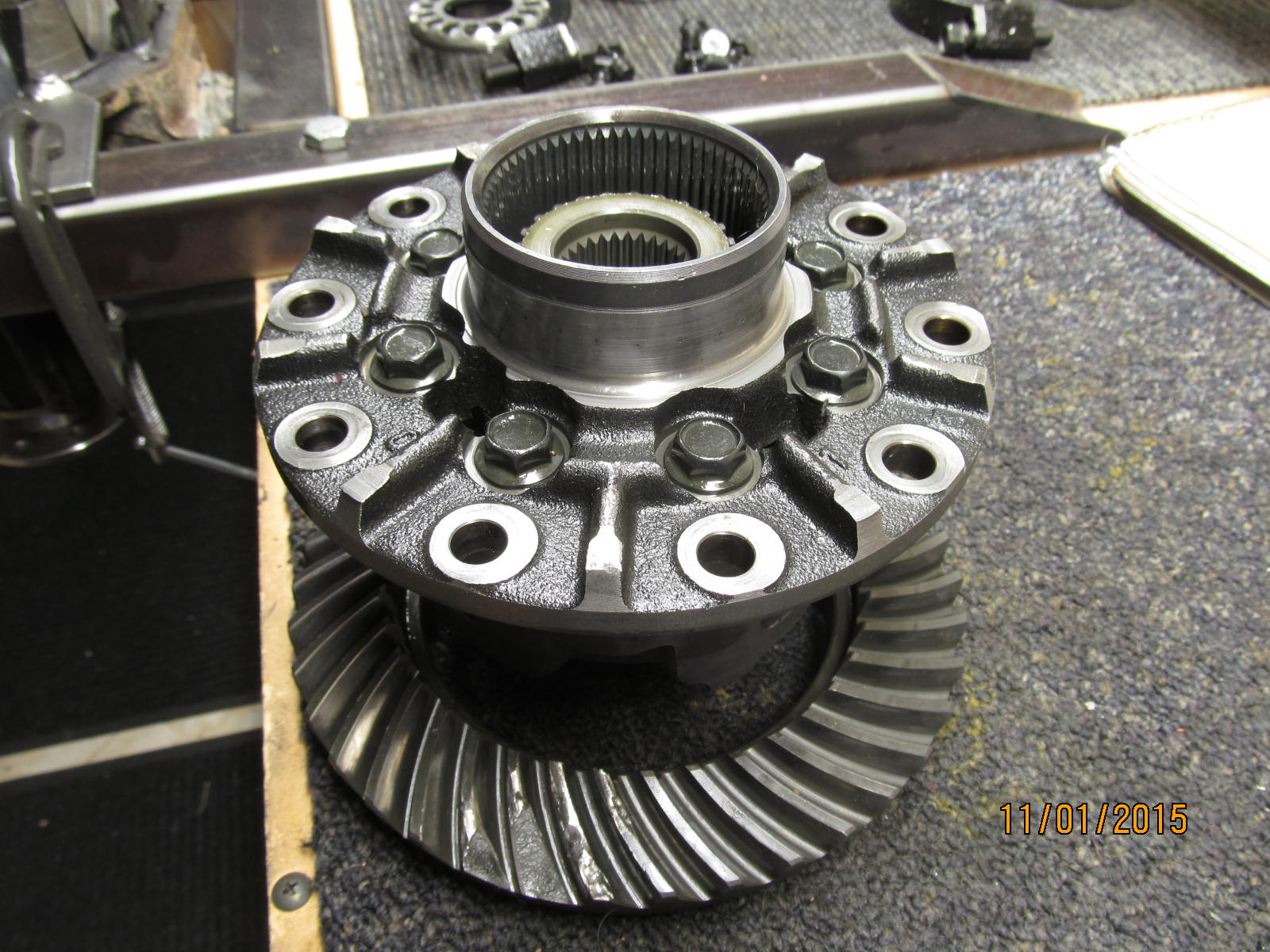 Ring is dropped and the chewed up teeth can be seen. At this point, it's always a good
idea to verify that the 8 case bolts are all torqued to 40 ft/lb and they were.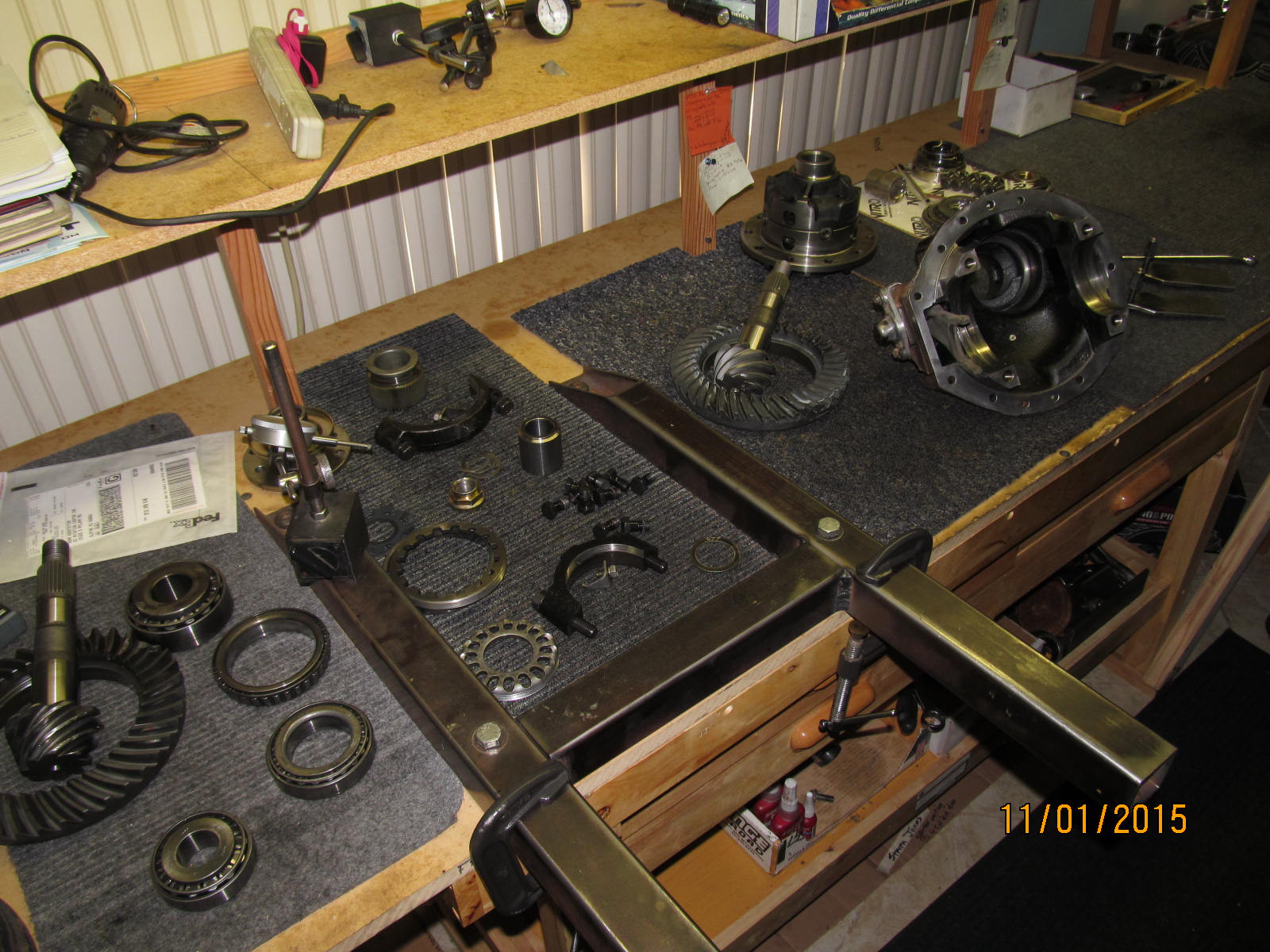 Parts are cleaned and organized.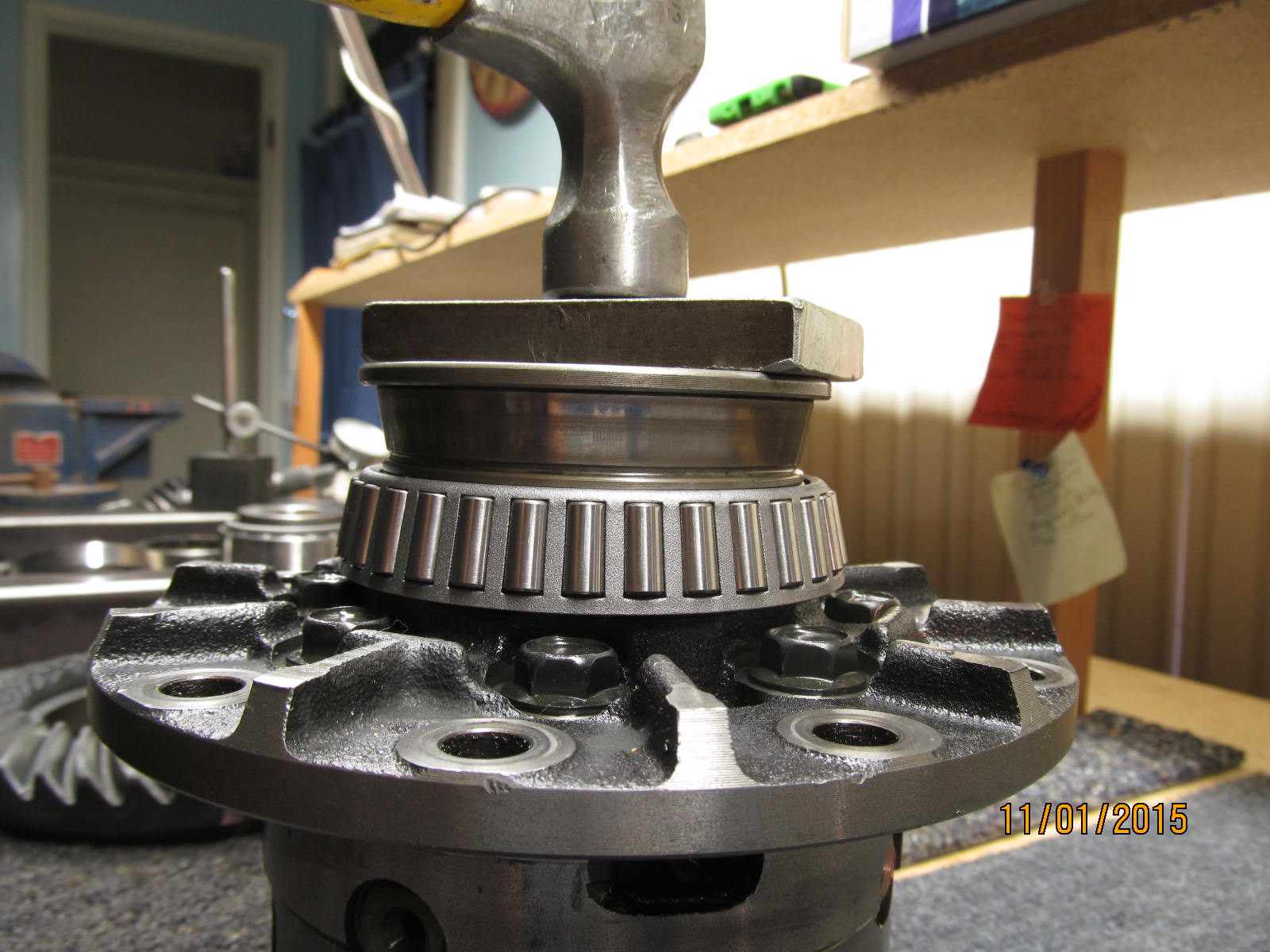 New carrier bearings is tapped on.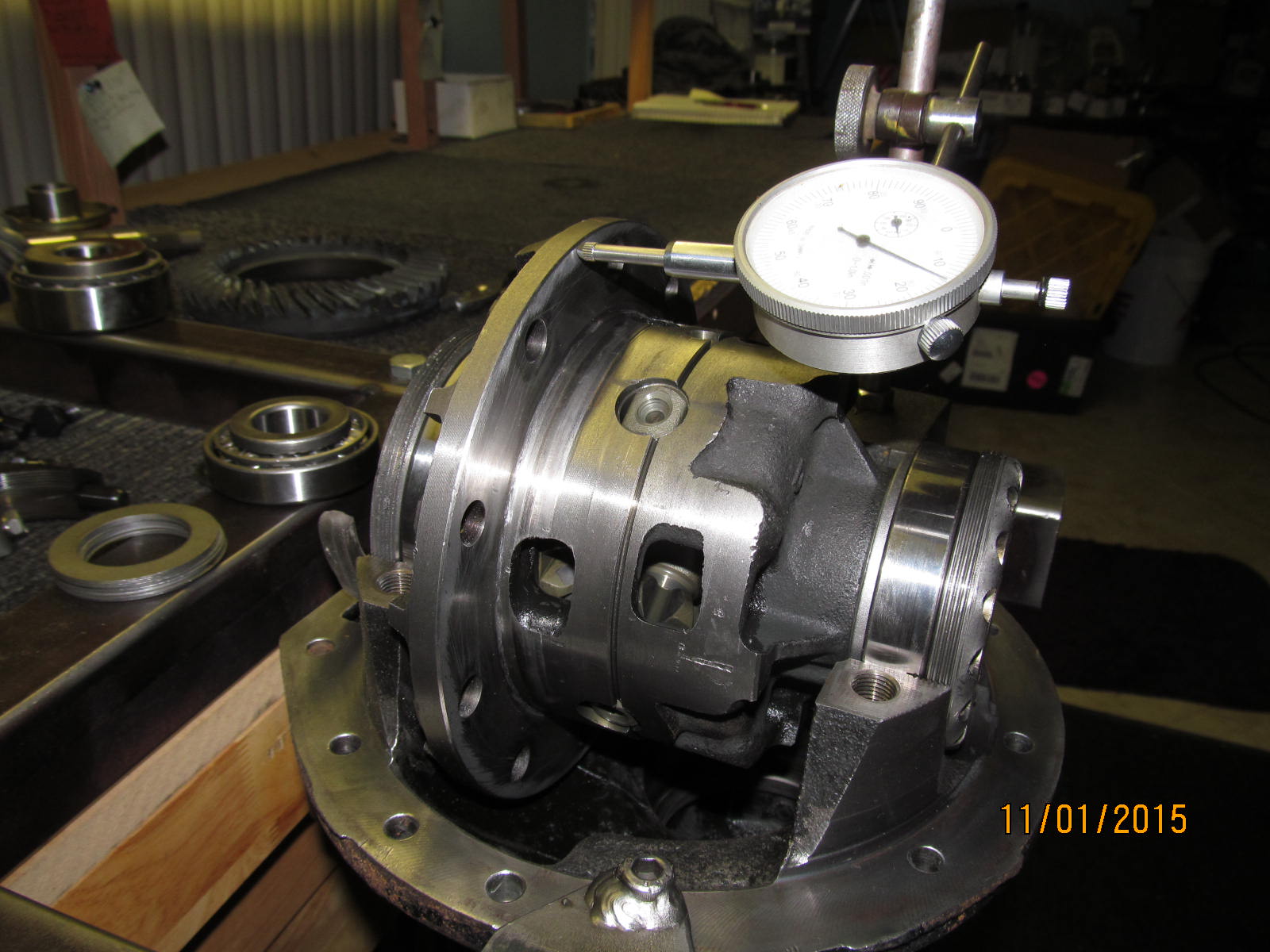 A quick run-out check shows only .002" variation so the case is still true.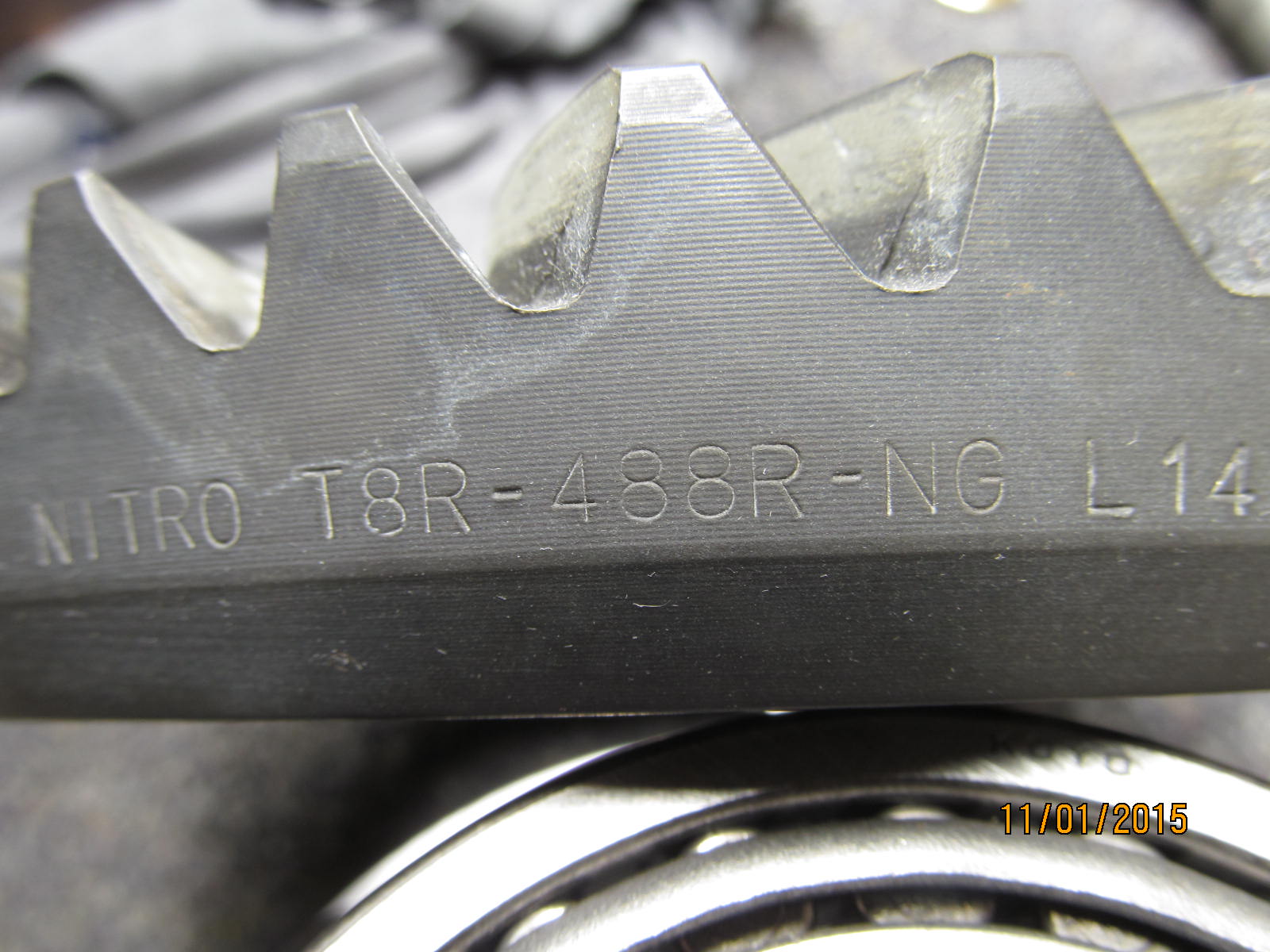 Nitro Gear....a quality gear. Reverse cut 488.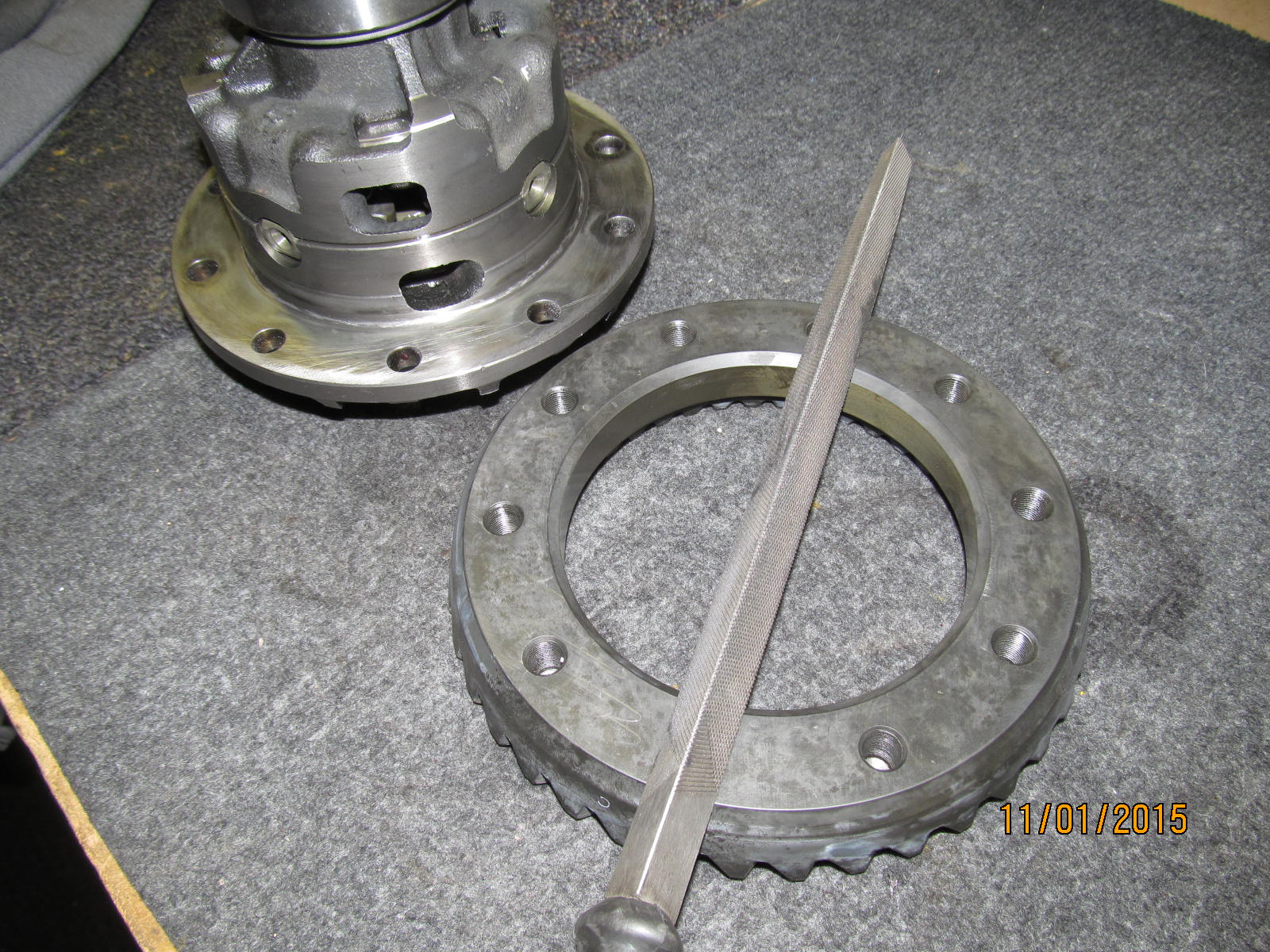 Surfaces are checked for irregularities or burrs and none found.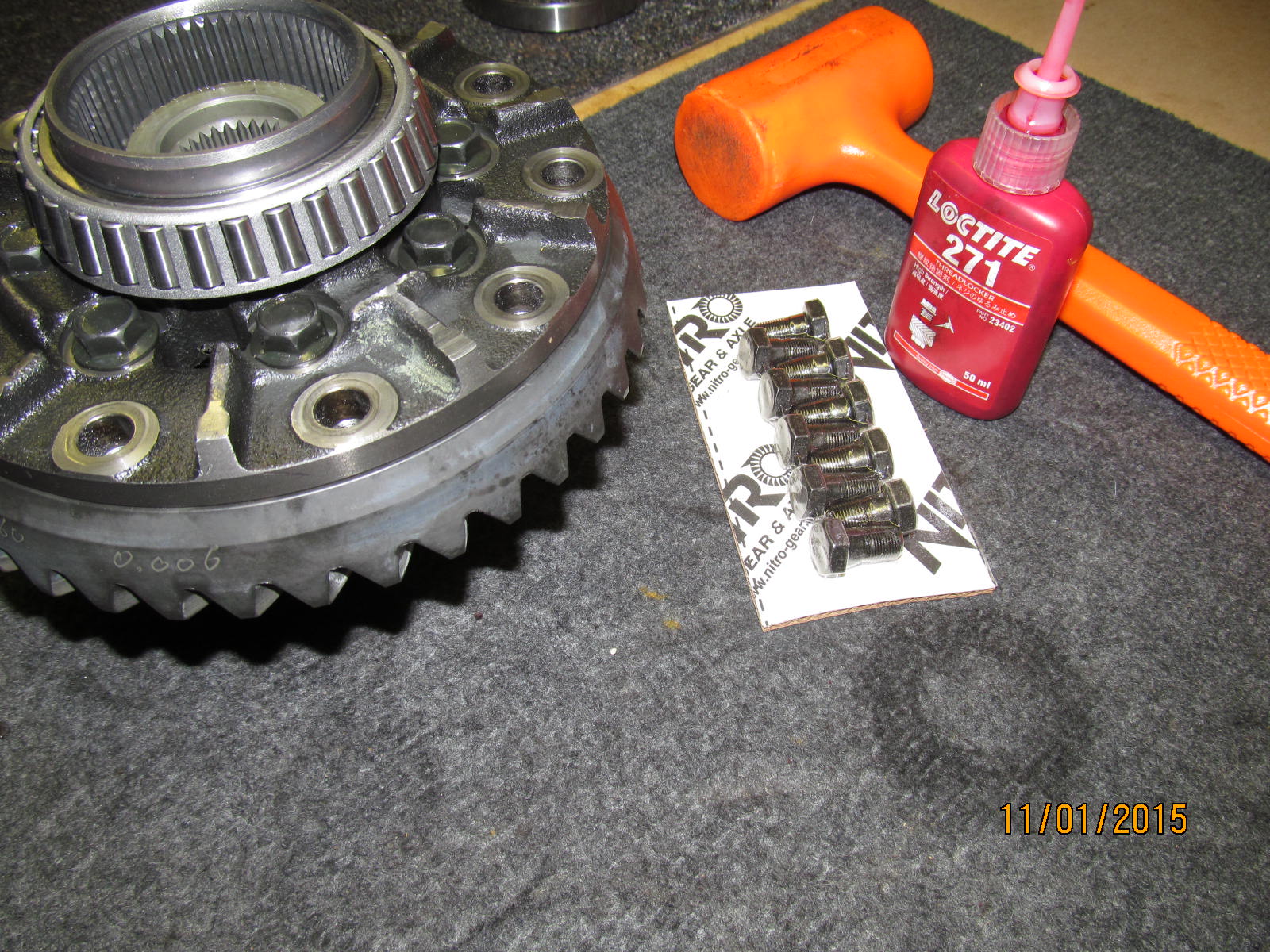 The new bolts supplied by Nitro will be used and red loctite also.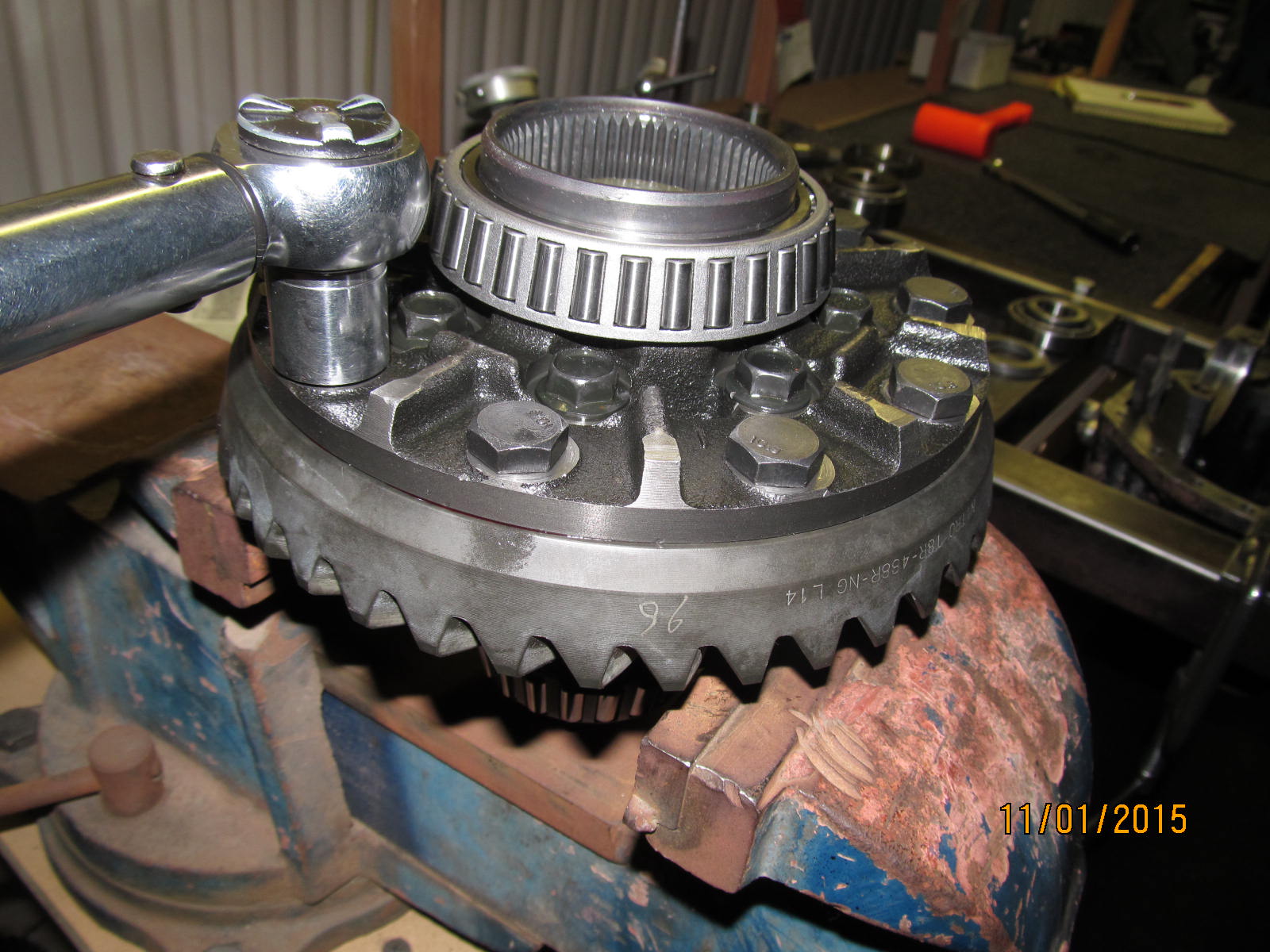 70 ft/lbs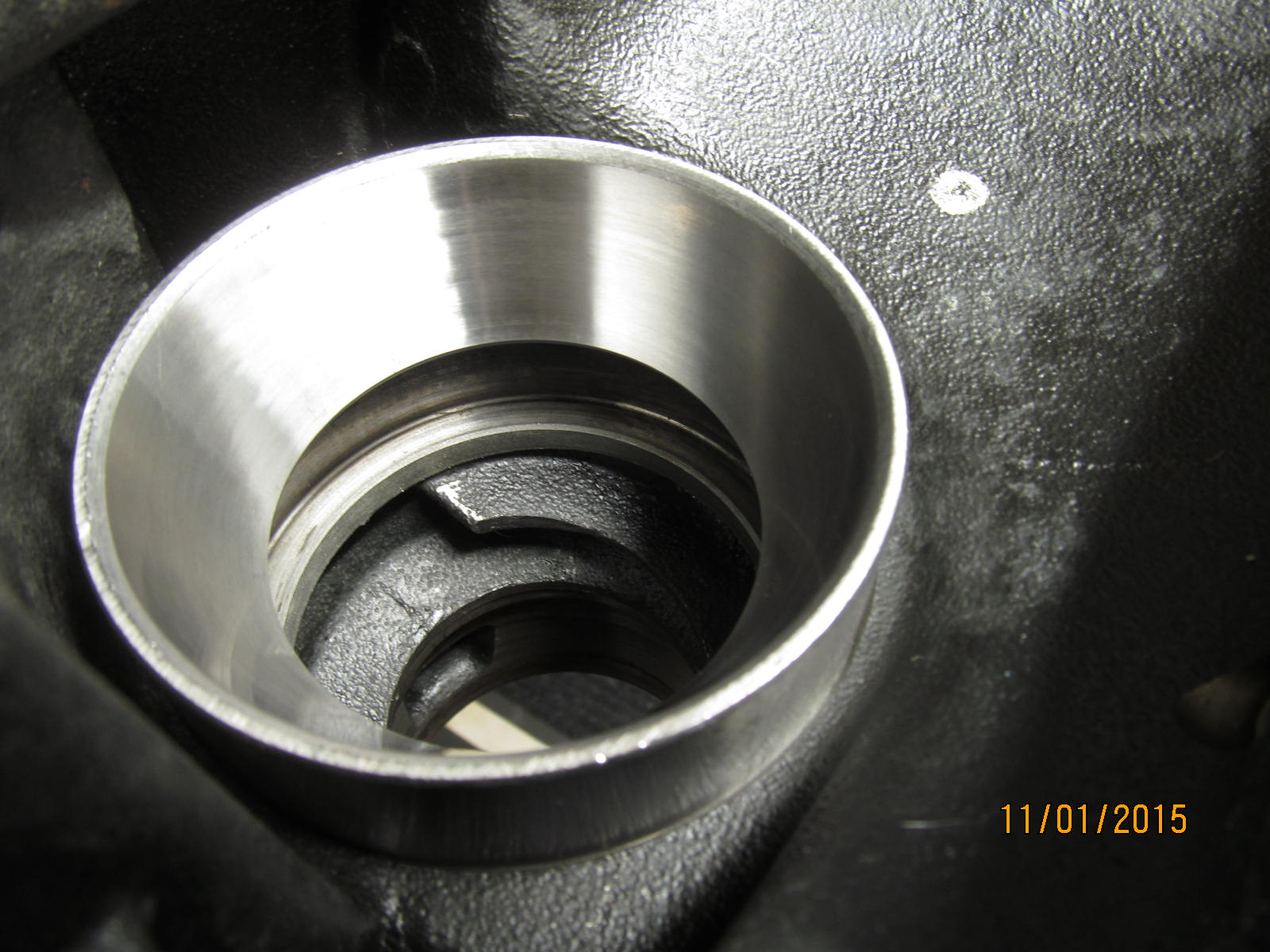 The large inner pinion race will go down real smooth if it is kept level and true.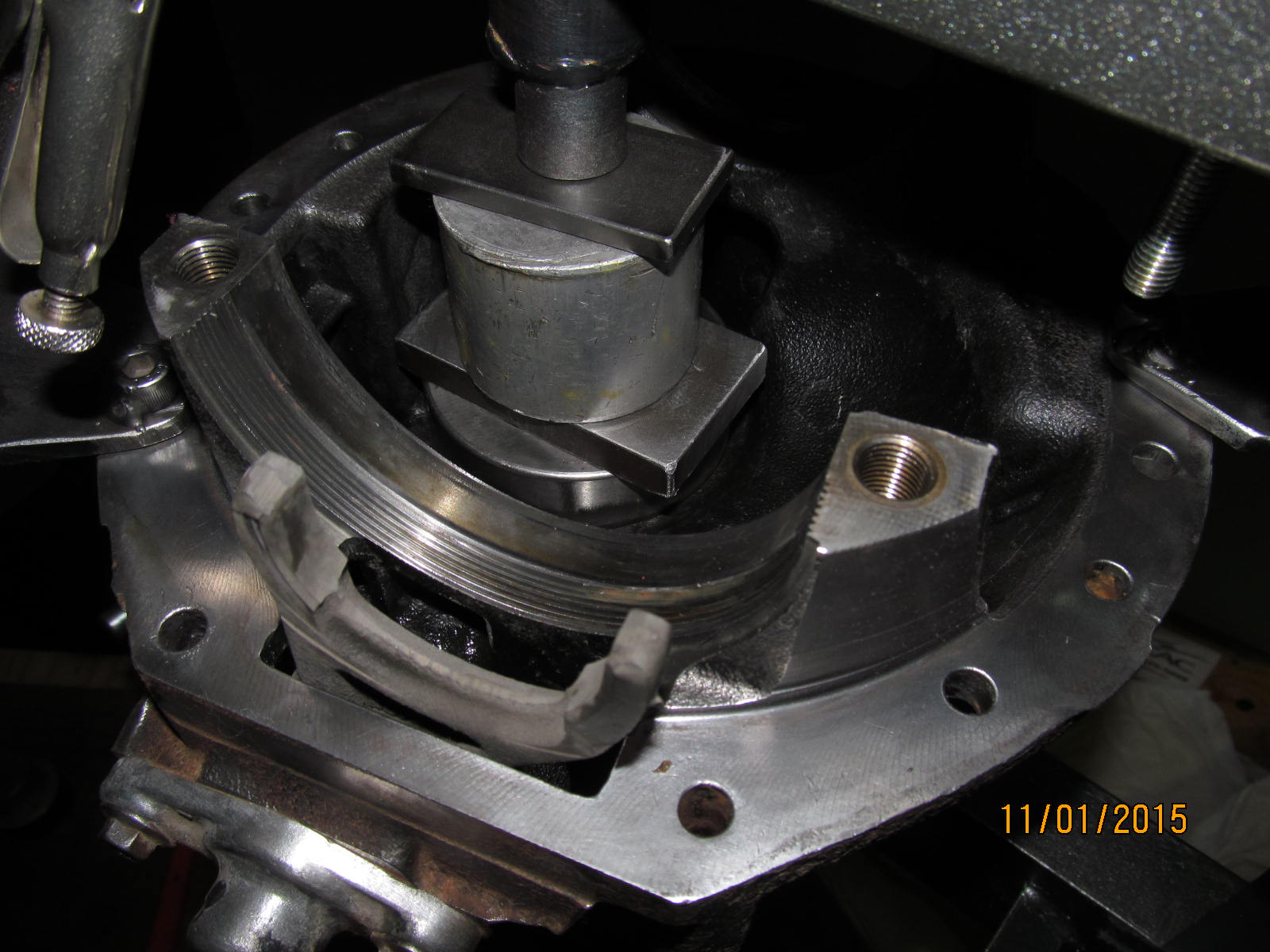 The press will draw it down like soft butter.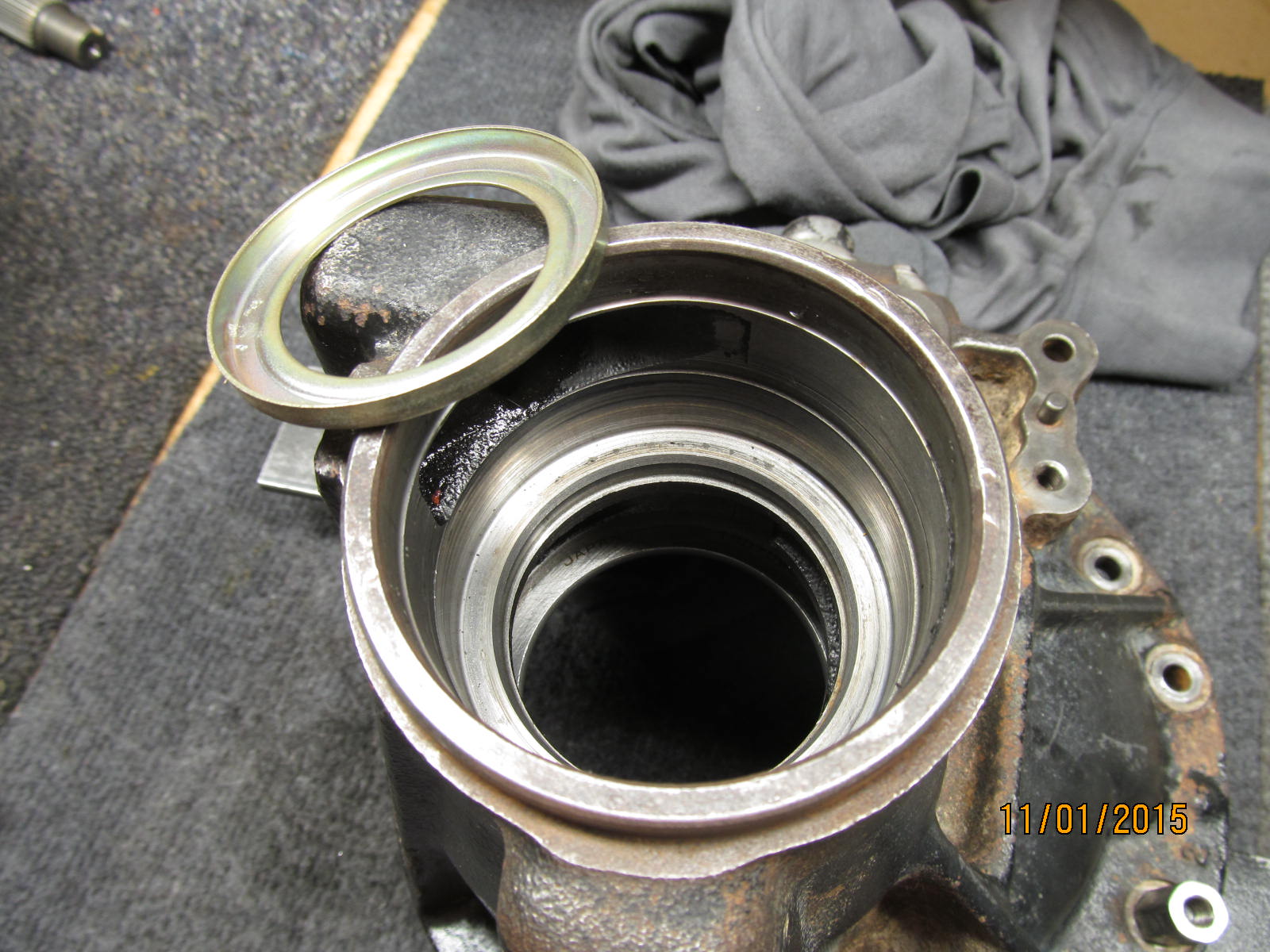 This one was missing the oil retainer so a new one was located.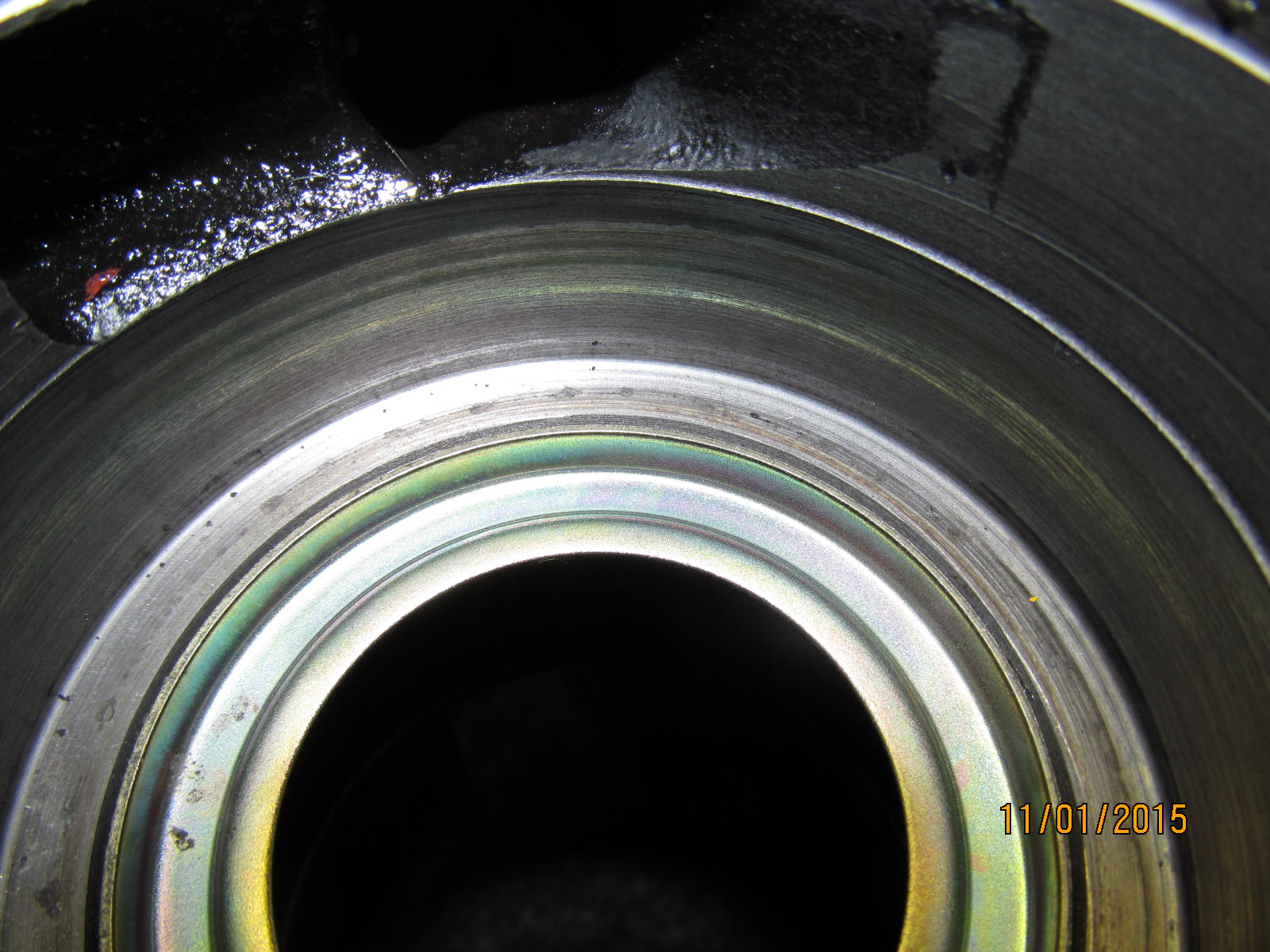 Tapped in place.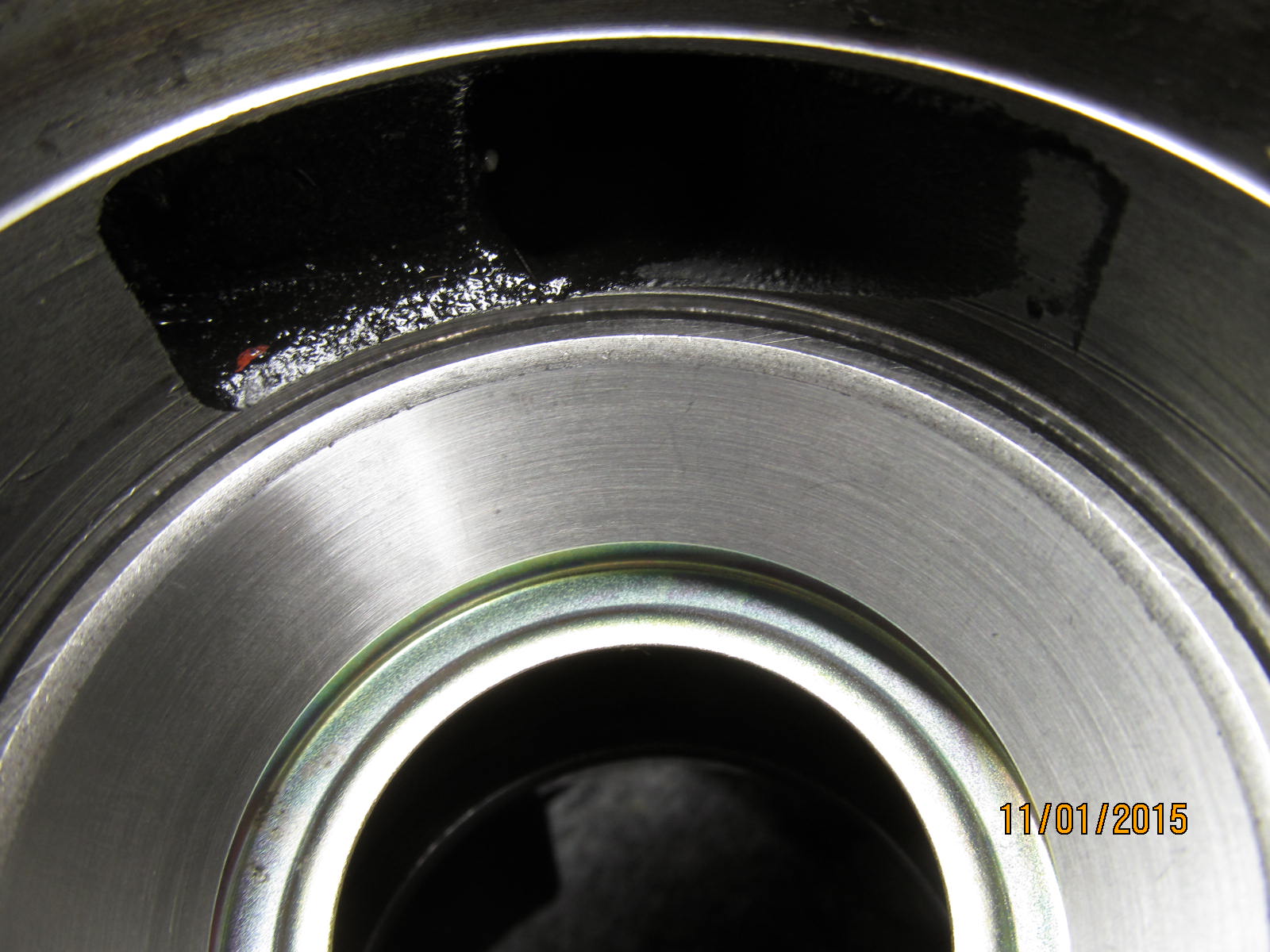 Then the small outer race is tapped in place. It's less trouble to seat than the inner is for sure.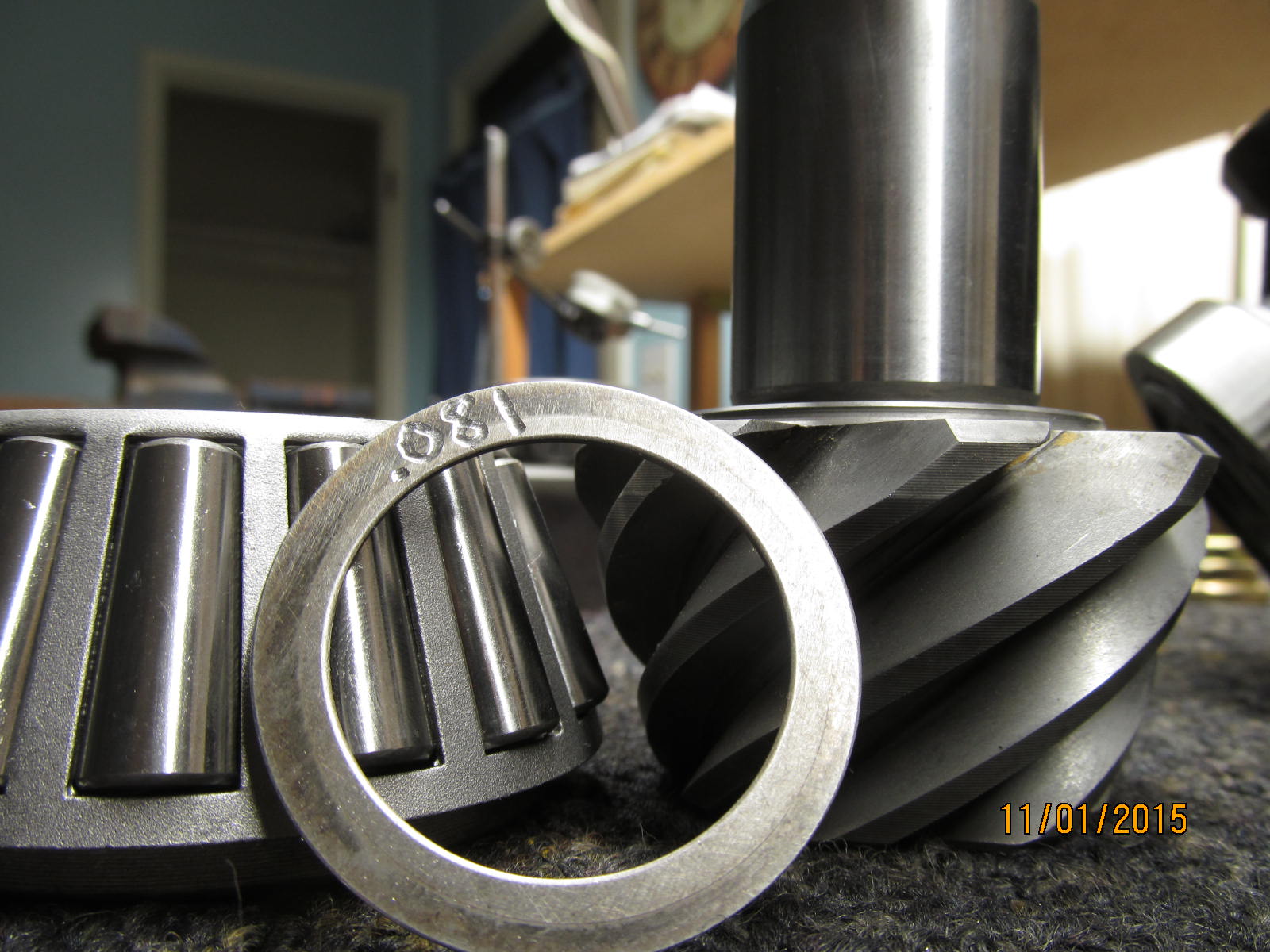 .081 pinion depth shim will be the first try.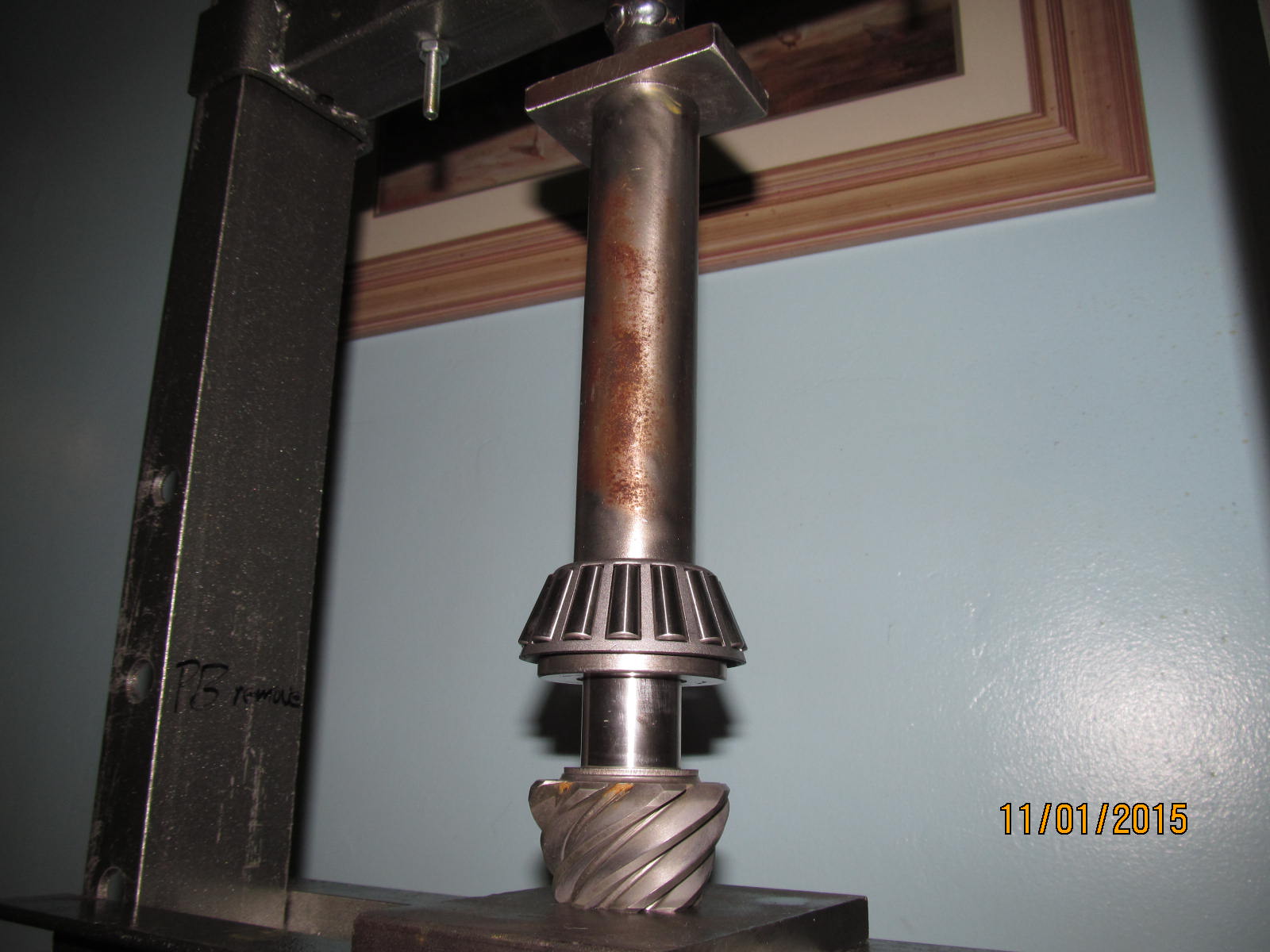 New bearing is pressed on with the shim.
Backlash is adjusted and some mild pre-load is dialed in, also.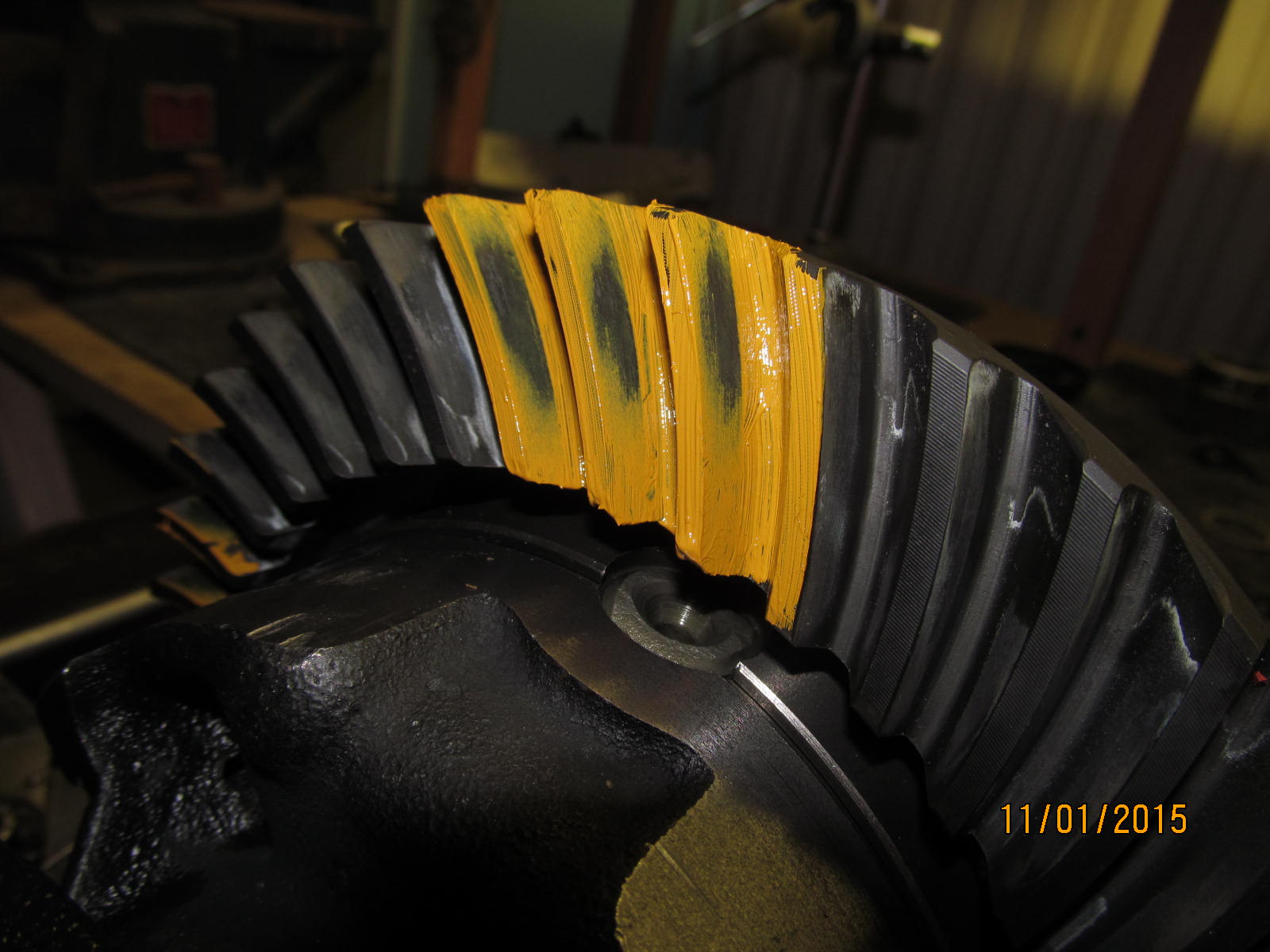 Drive side---It's a keeper. It favors the outside(heel) but that is not "adjustable" at this point
because the face to flank says that the depth is "slight deep" and the .006" backlash that
I have is the smallest BL that I can have.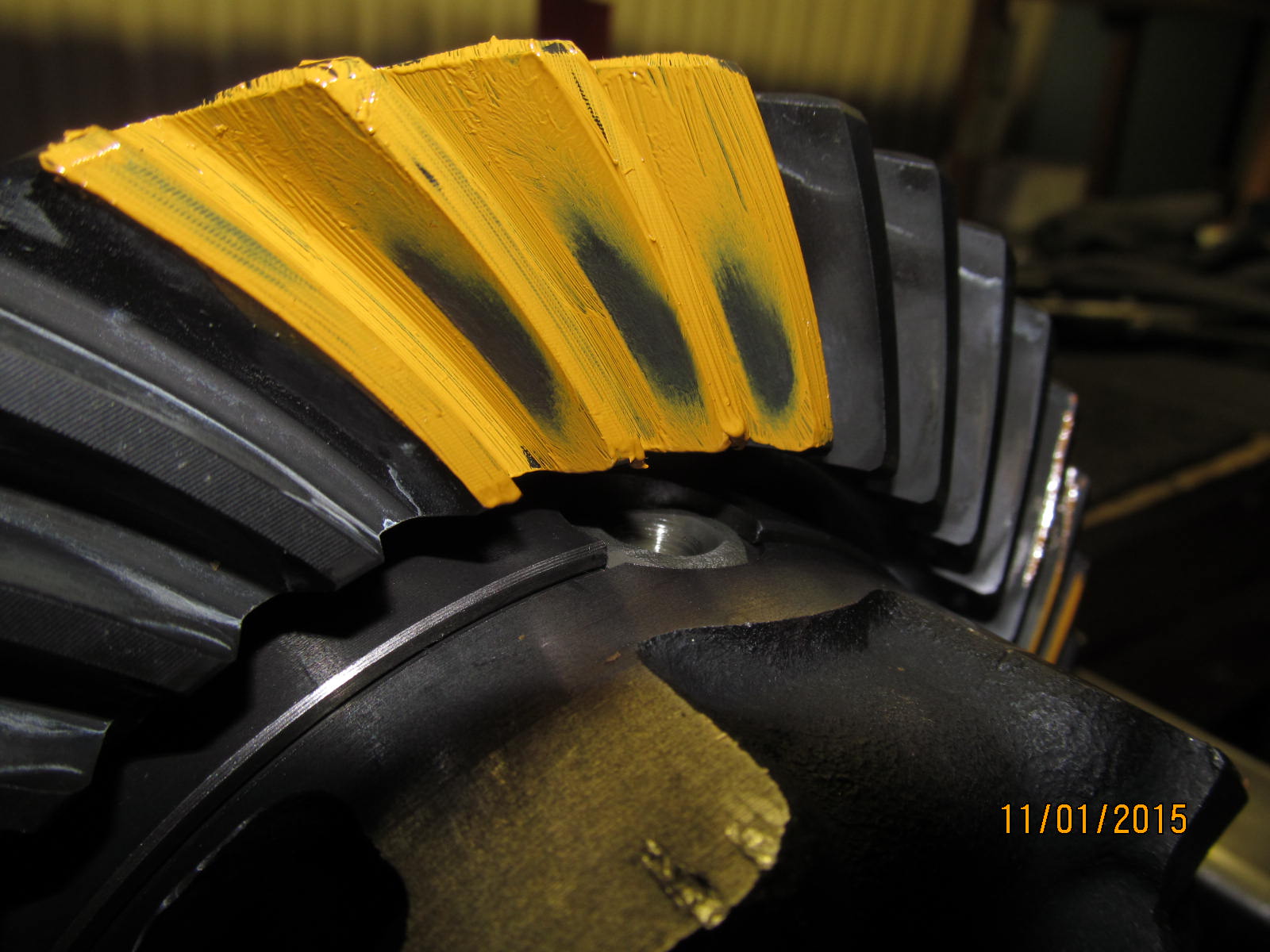 Coast--- Excellent. Slightly favoring the inside (toe) and good depth.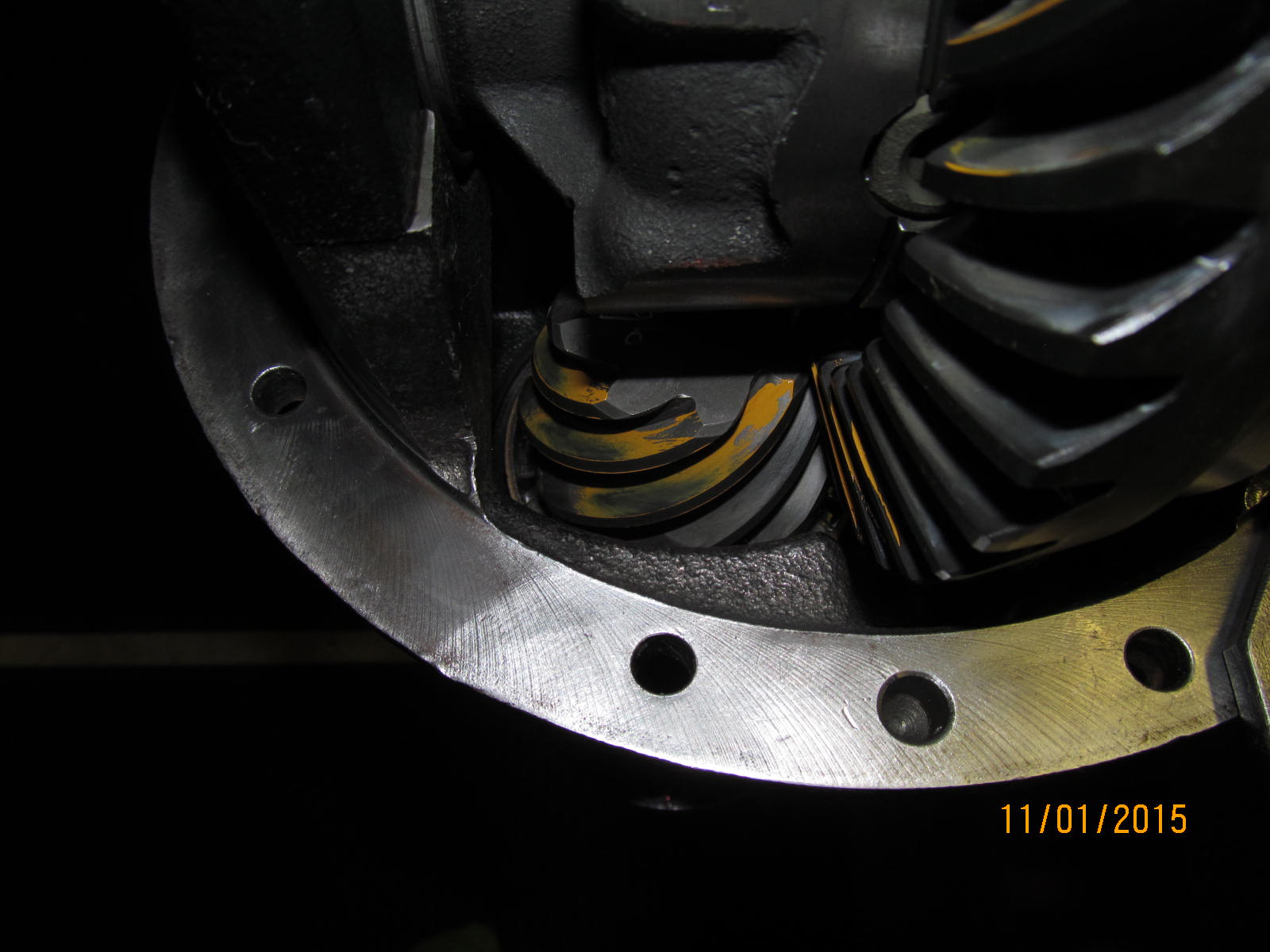 The drive side on the pinion shows the comet tail right in the center (ideal).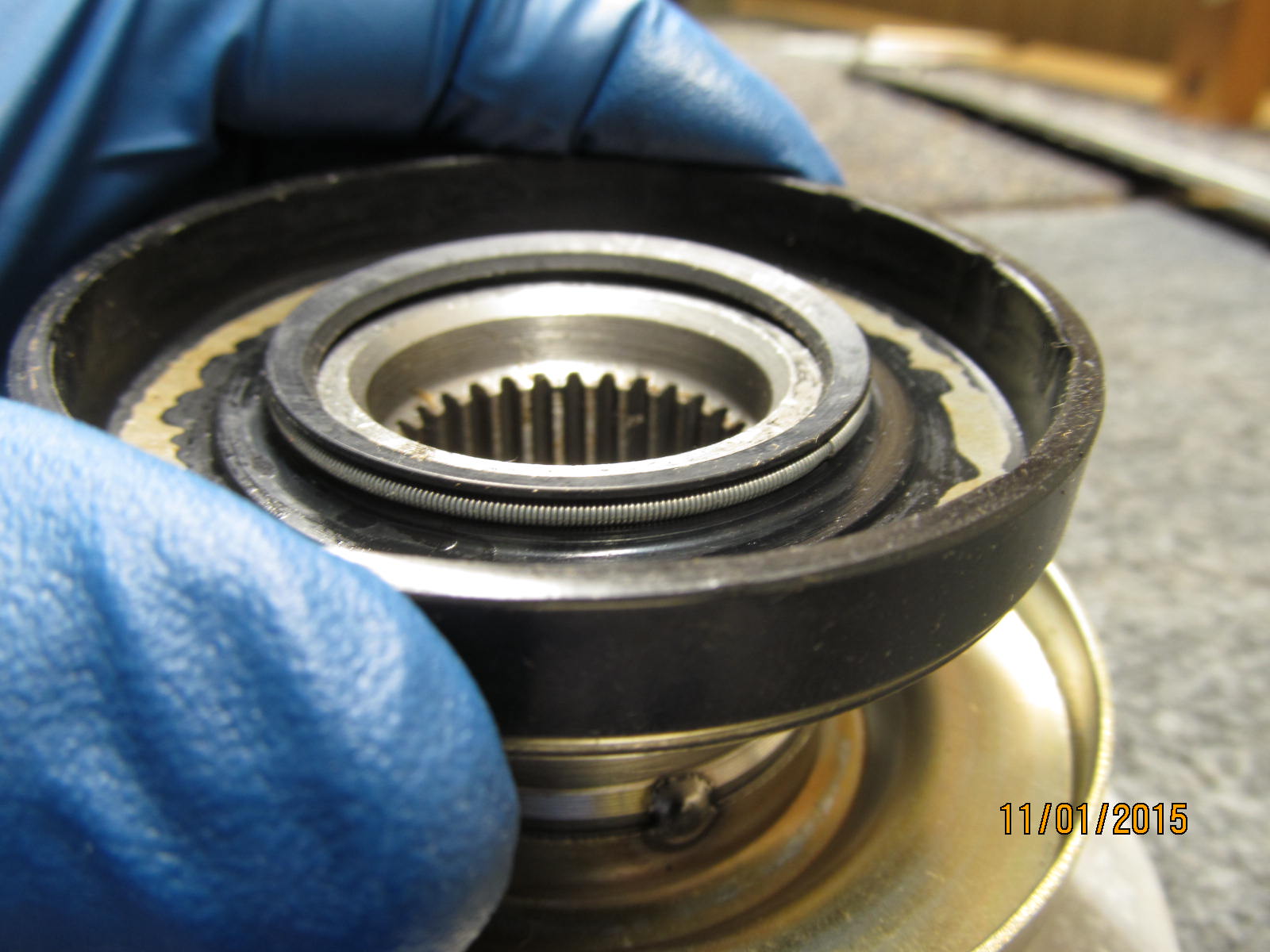 Rubberized seal lip test.....Looking at the way the lip wraps around the steel journal...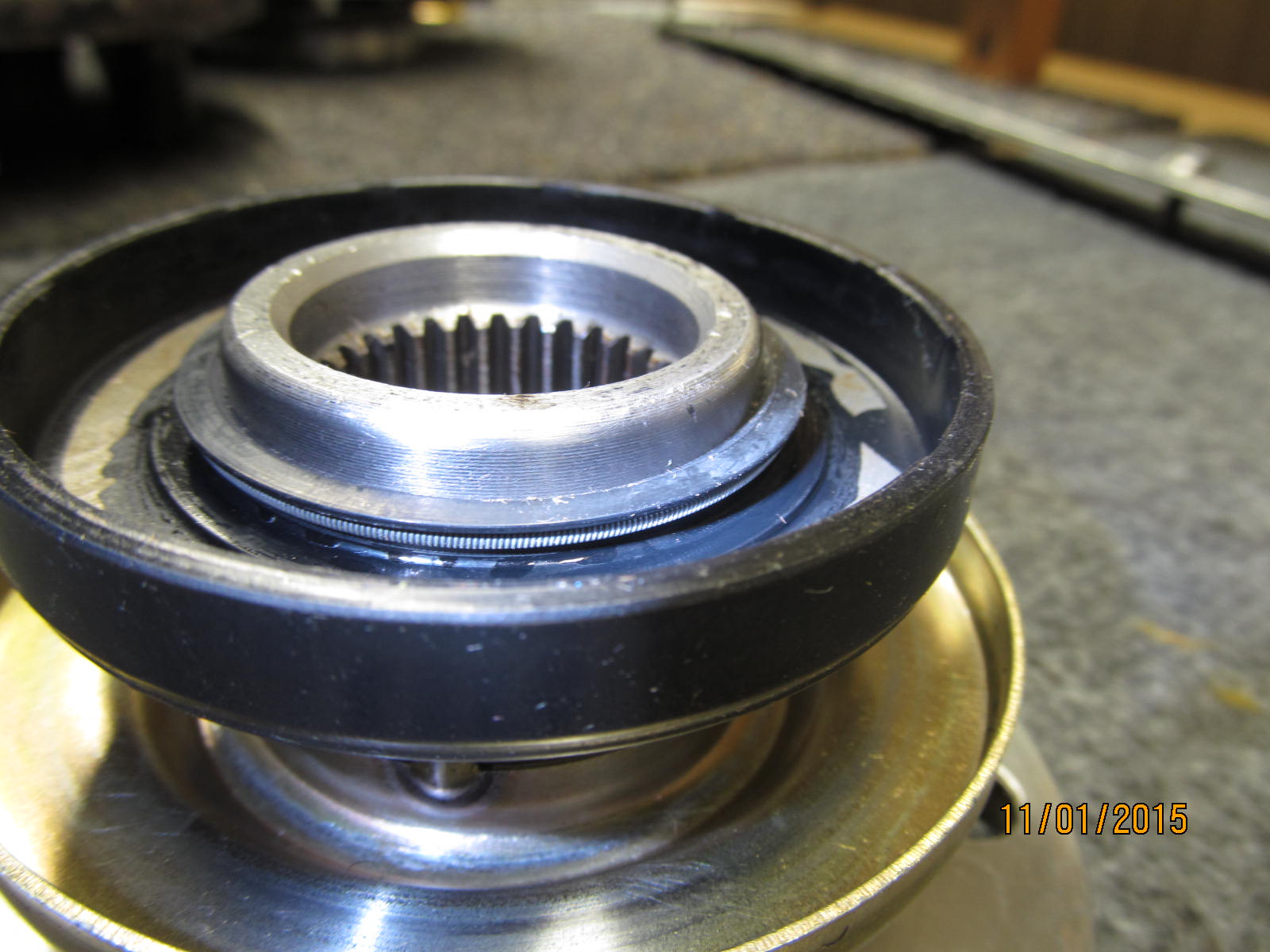 ...as the rubber lip is pushed on all the way.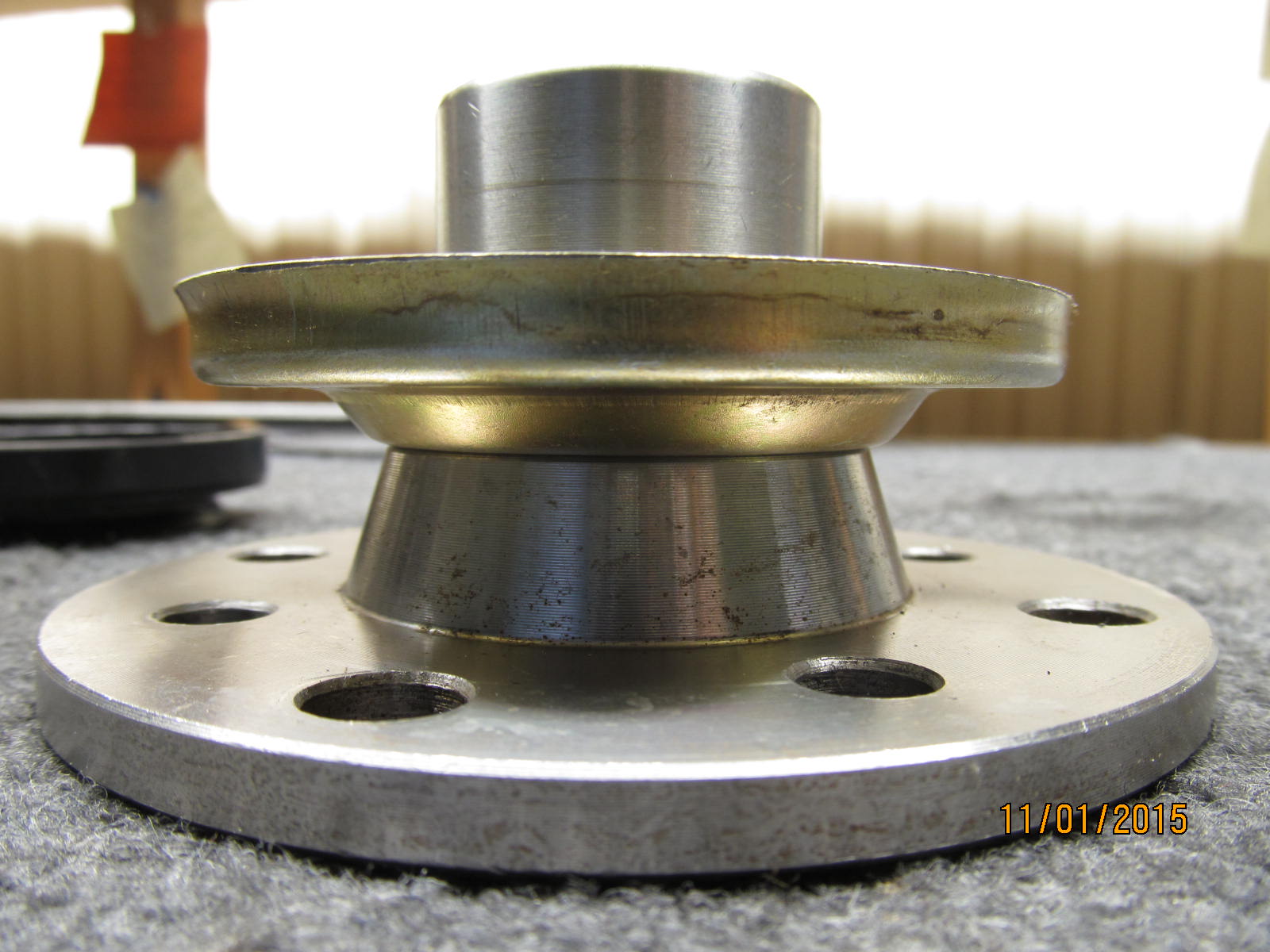 The flange that was already in the broken e-locker diff is in excellent condition as shown above.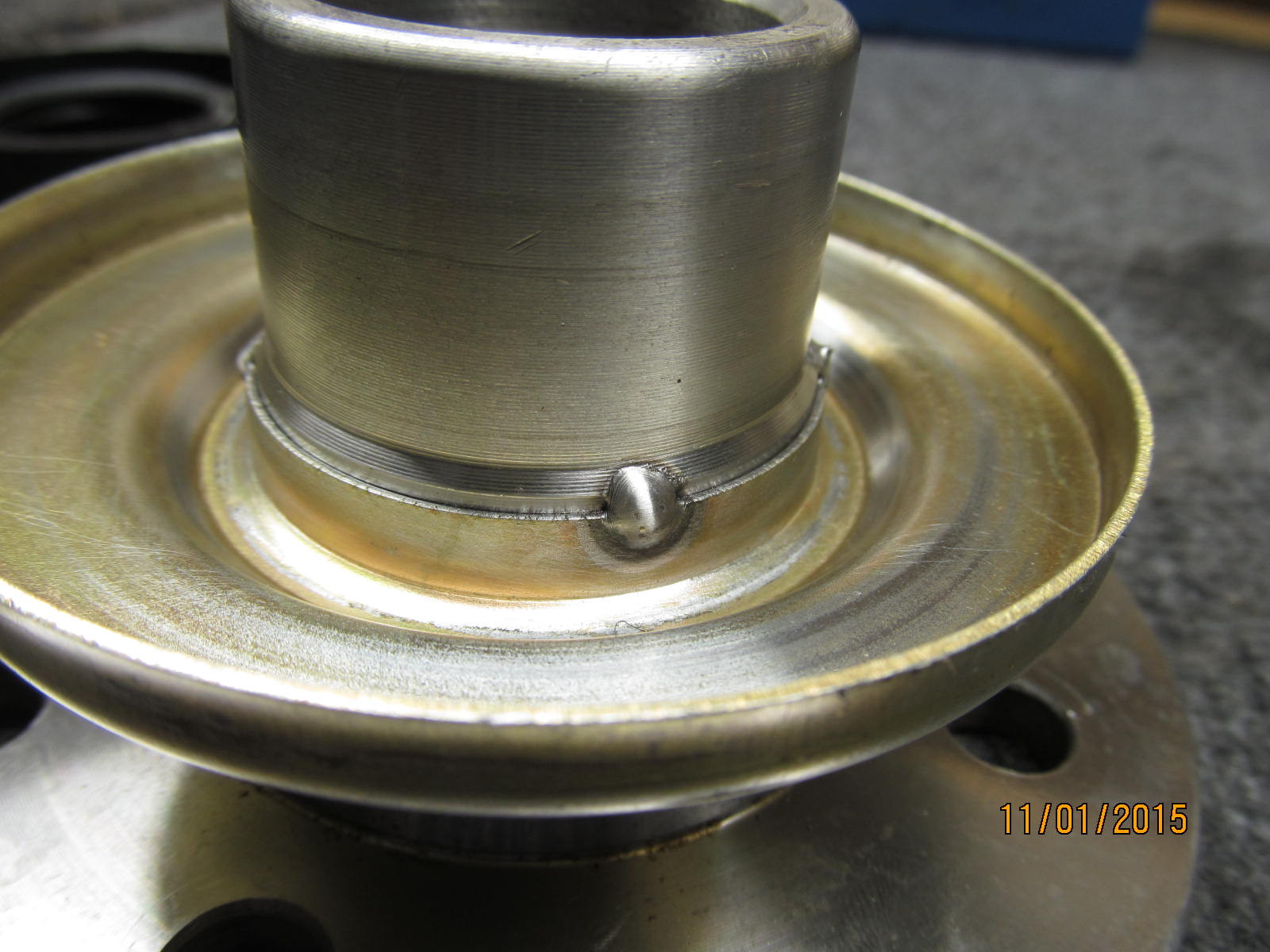 Occasionally, I get a flange where the dust cover is not as tight a fit as it should be and such was
the case here. The fix is to tack it in 4 places evenly spaced around the flange and now it will
never rattle loose again.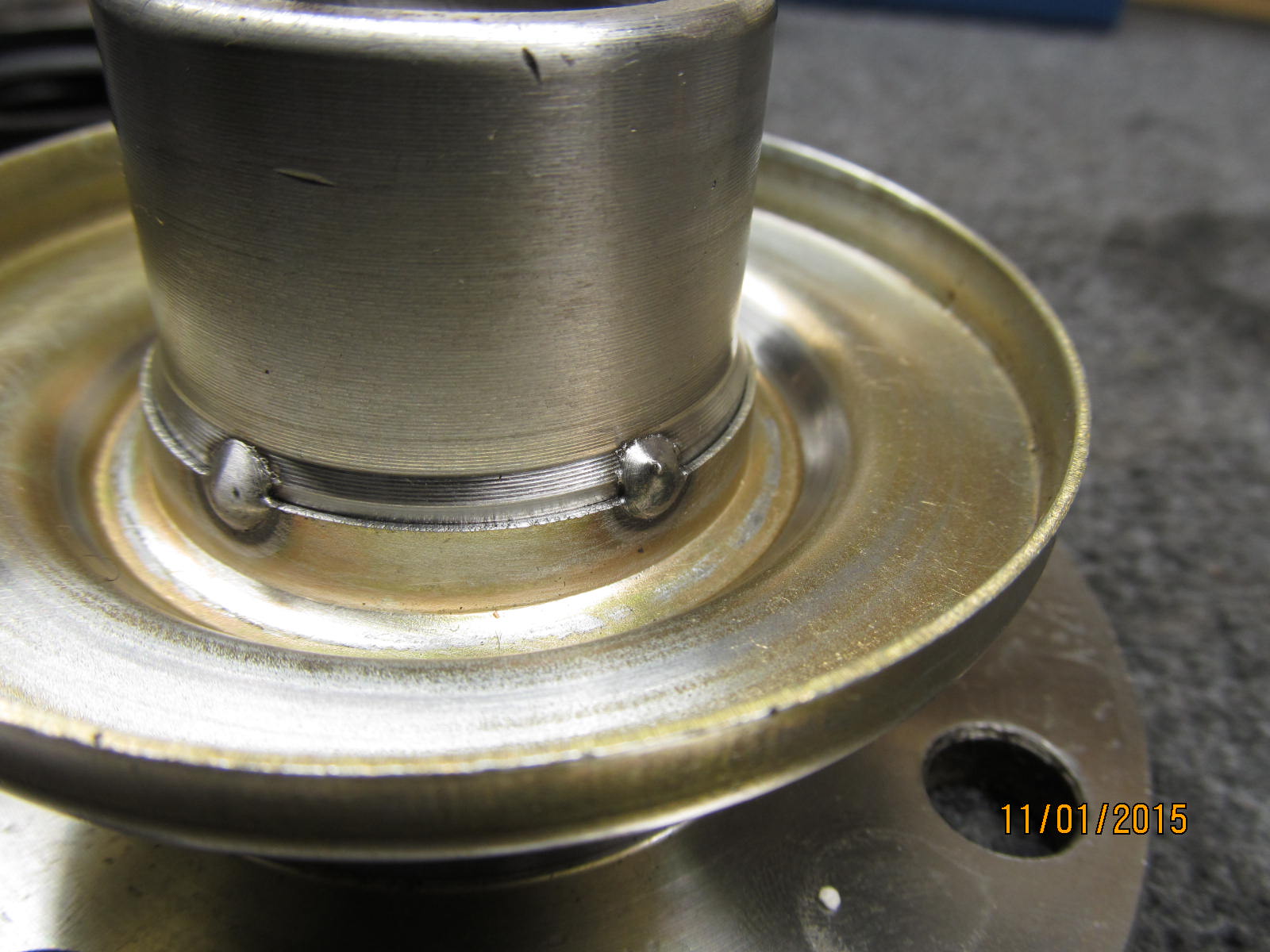 .......................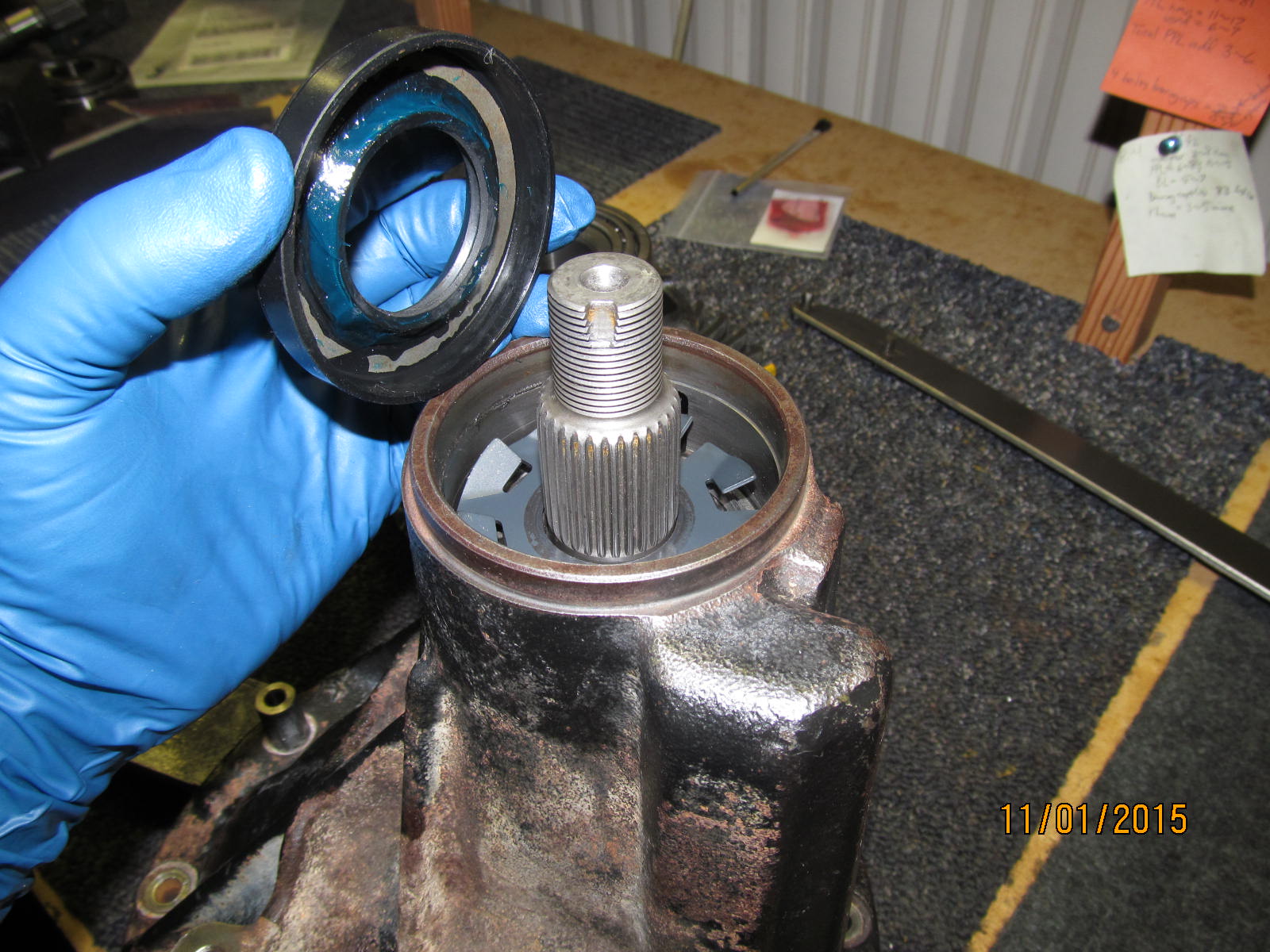 No pictures of setting the shimming up for the solid collar but it did take me 7 or 8 tries on
this one to get it right. Now to tap the rubberized seal.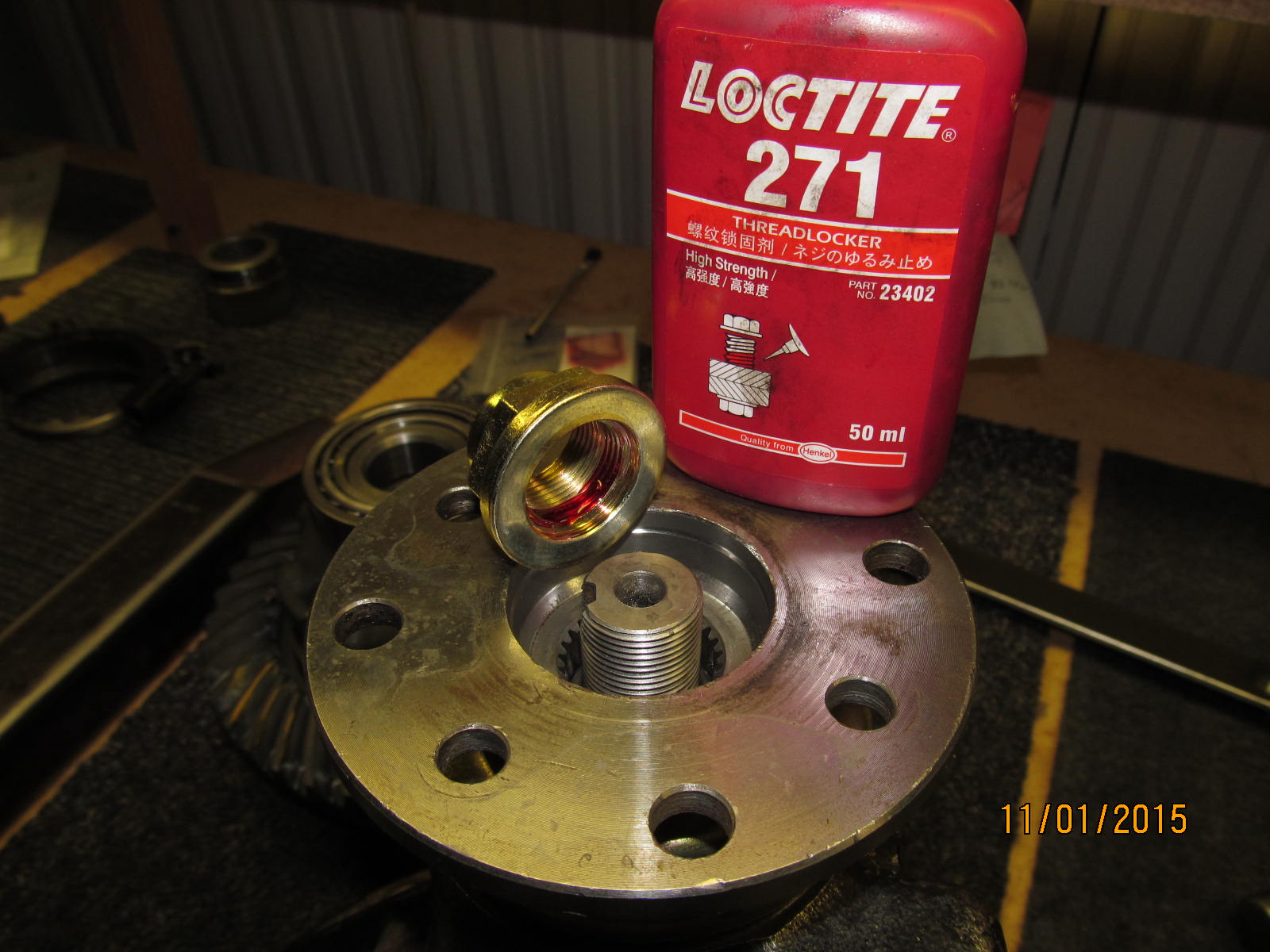 Red loctite on the new high quality flange style nut.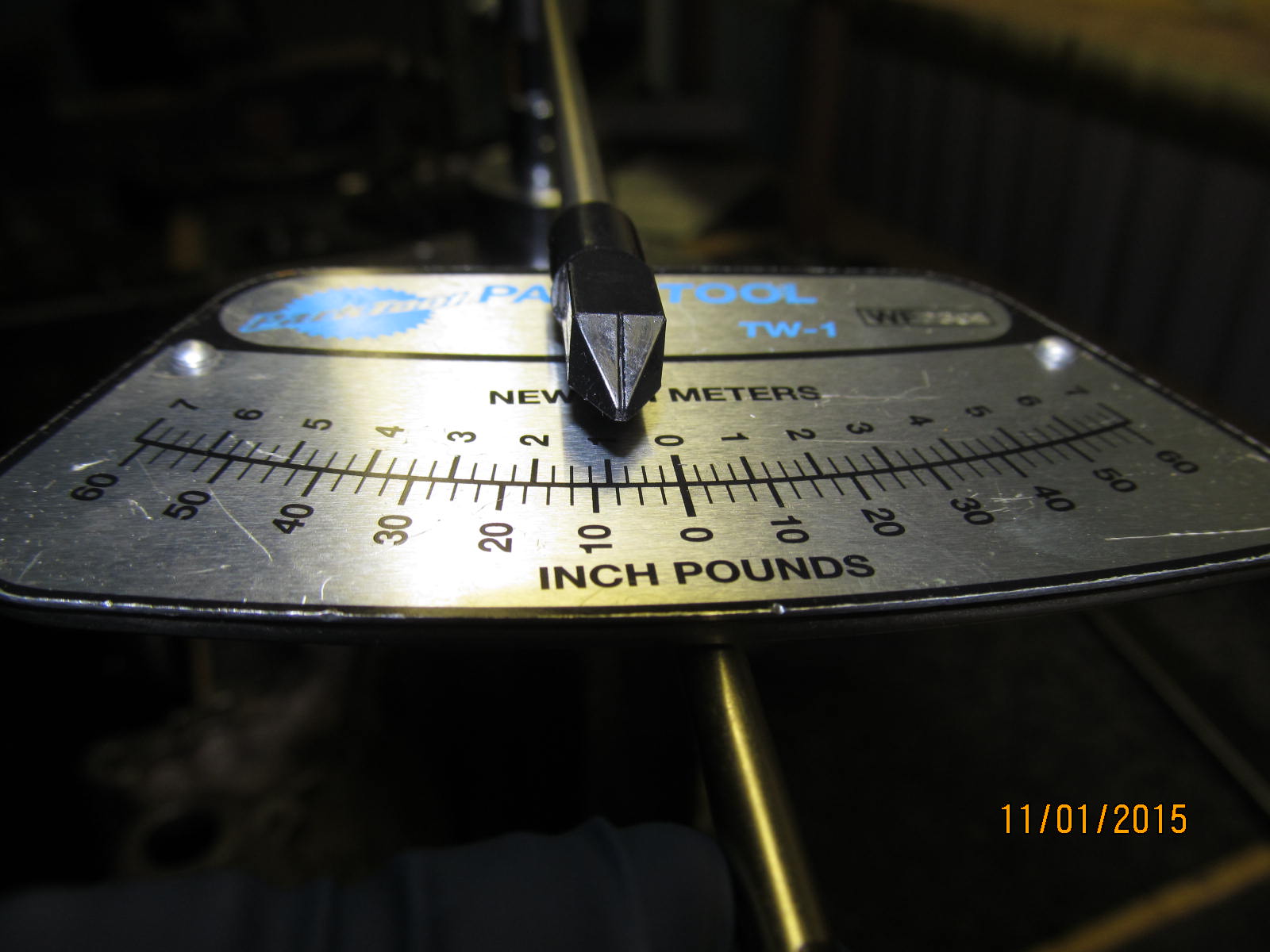 8 inch/pounds final pinion preload start torque.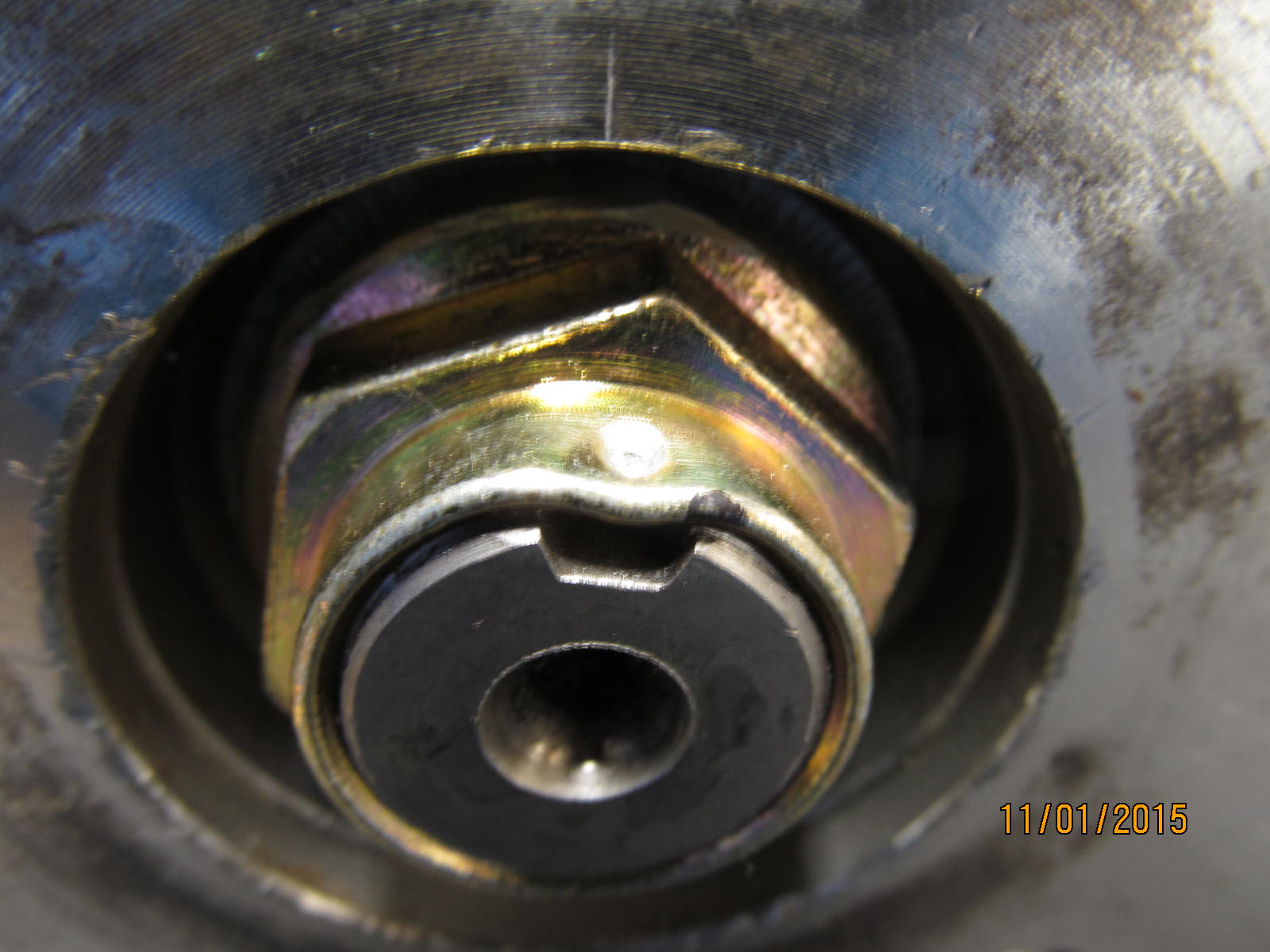 A nice DING! on the nut and this end is done.
Bearing caps are snugged up in place....70 ft/lb on all 4 bolts.
The 2 wheel adjusters are tightened....guiding the backlash to the target number (.006") while
making sure the preload on the carrier bearings is high.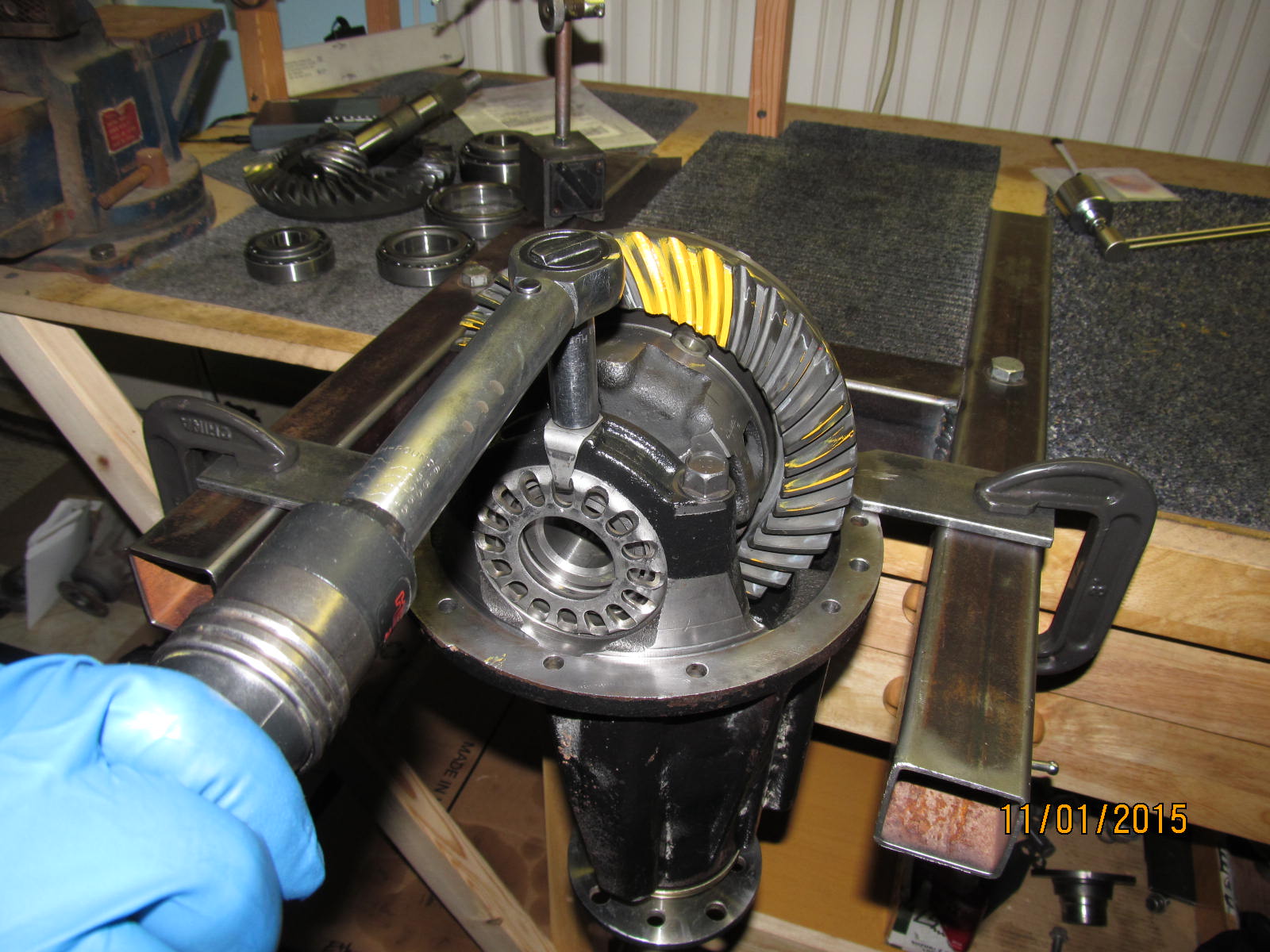 Backlash has already been checked on every 3rd tooth and the CBPL is good so now to tighen the
2 locktab bolts to 10 ft/lb.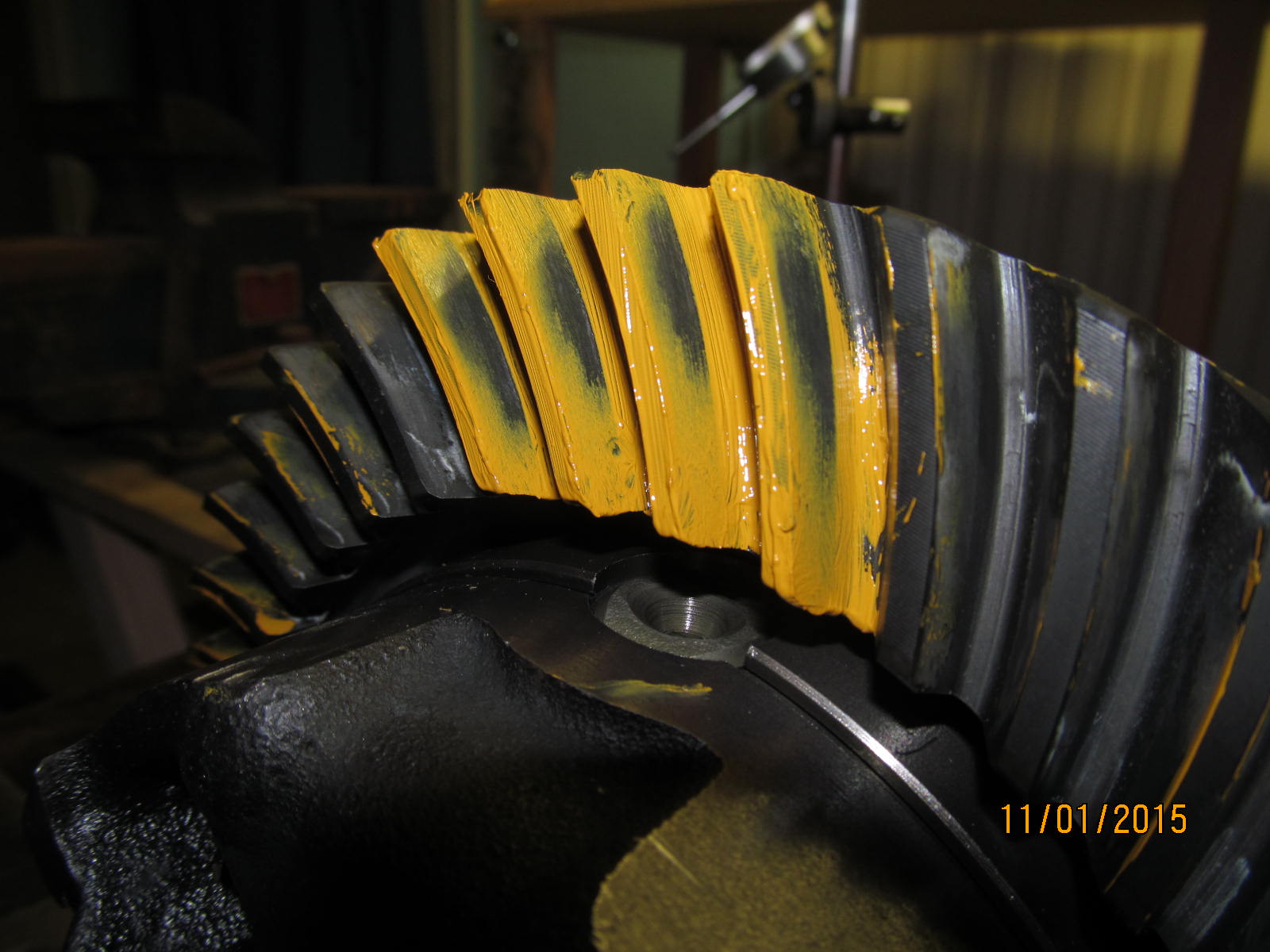 Another double check on the paint shows the same nice patterns as expected.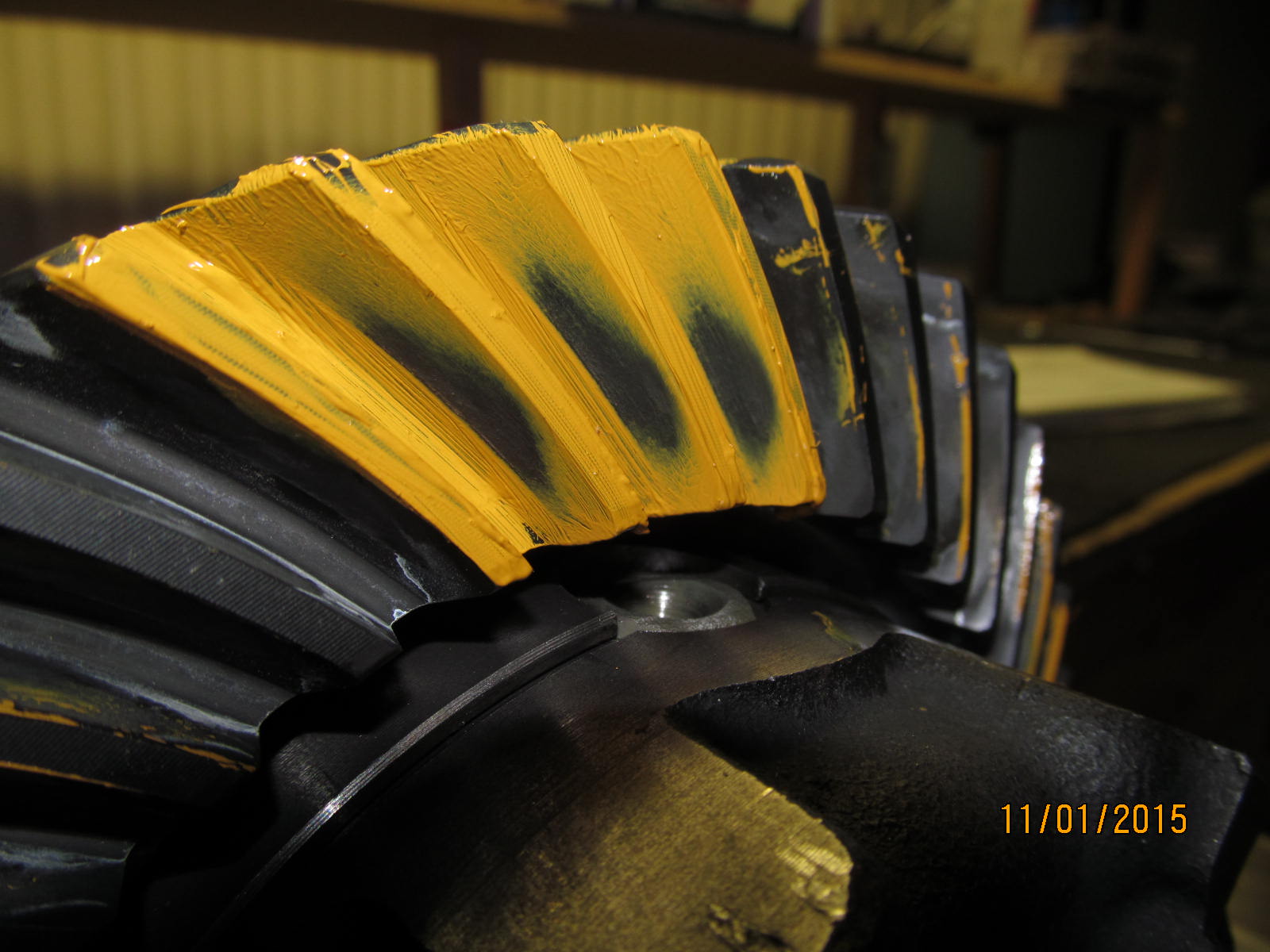 ,,,,,,,,,,,,,,,,,,,,,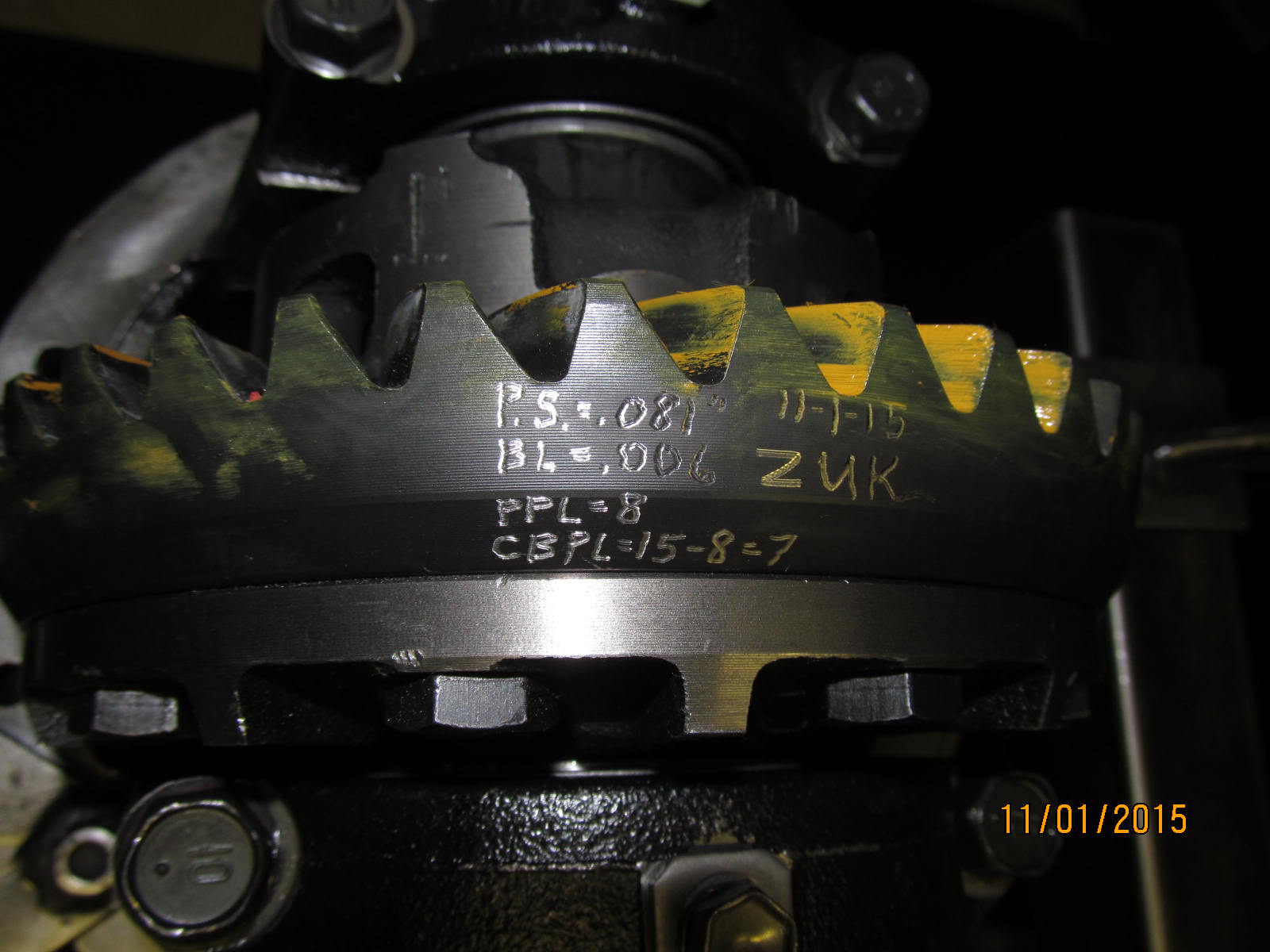 Specs that I set are engraved on the Nitro ring and date coded.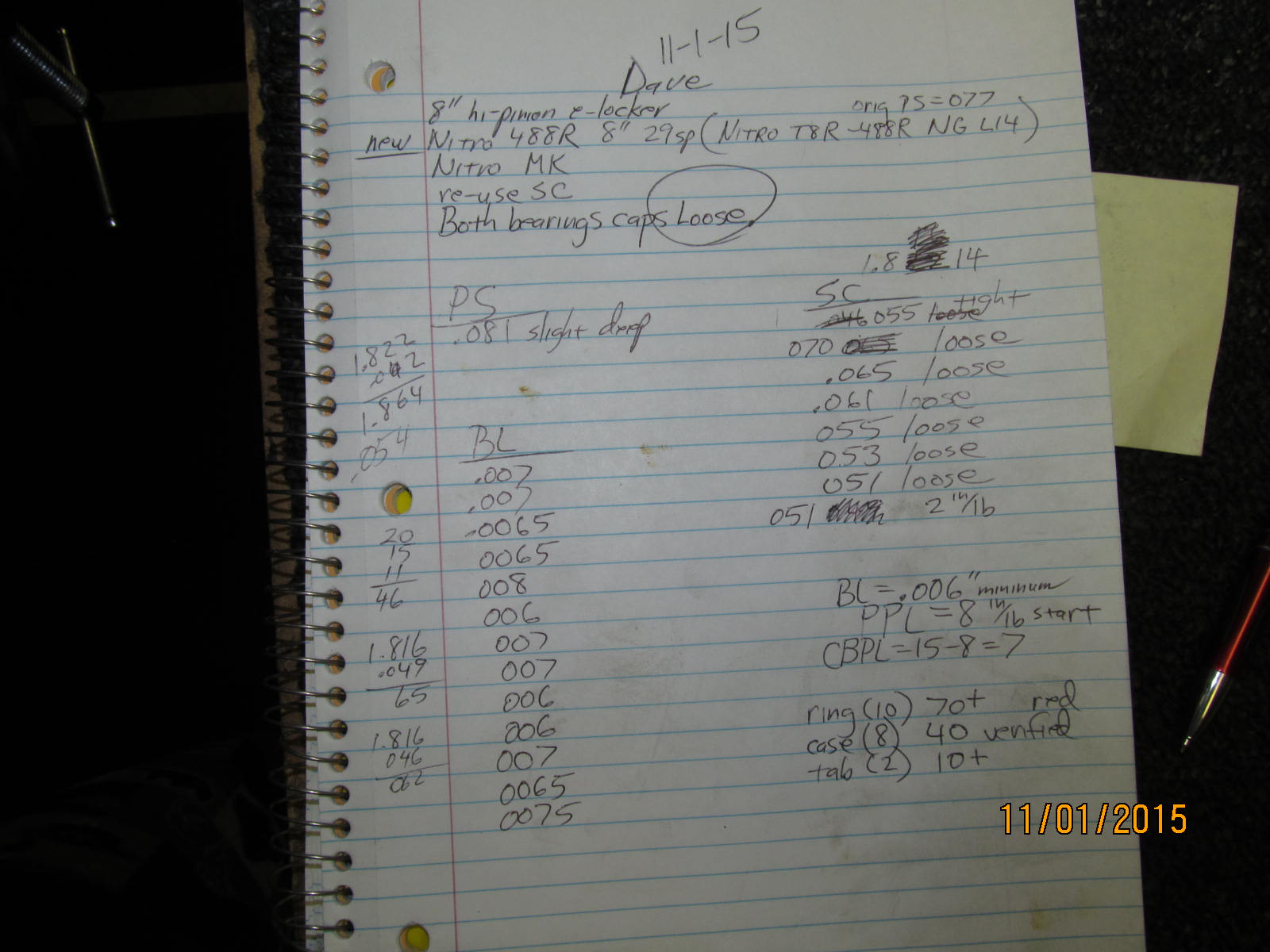 A snapshot of the notes taken during the install.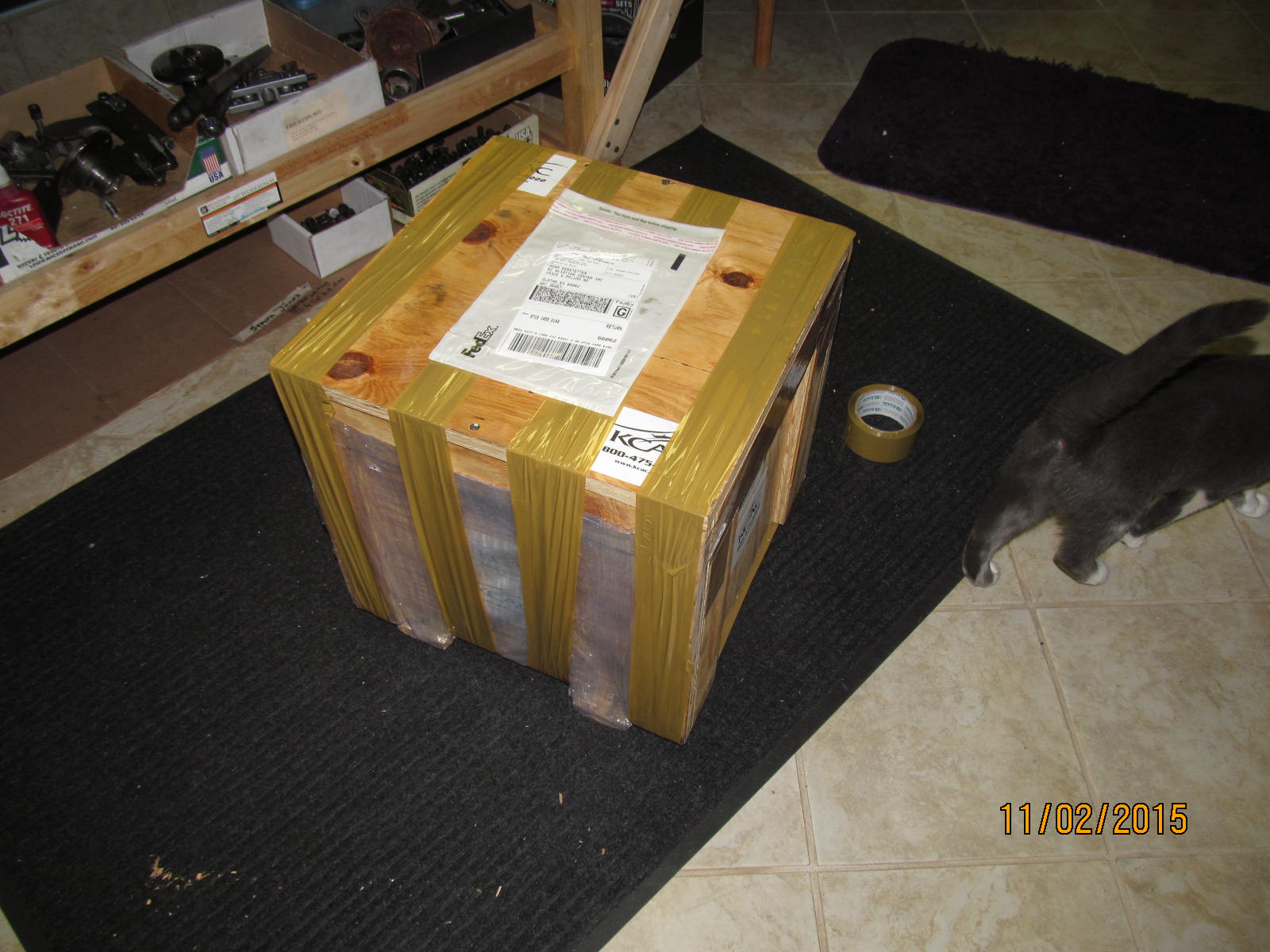 Boxed back up and ready for the Fedex ground trip back to Mitch.