Harrop Elocker/488 Nitro Gears in Andrew's '97 FZJ80(front HP8")
(44 BIG pics loading)
DEC 21 2016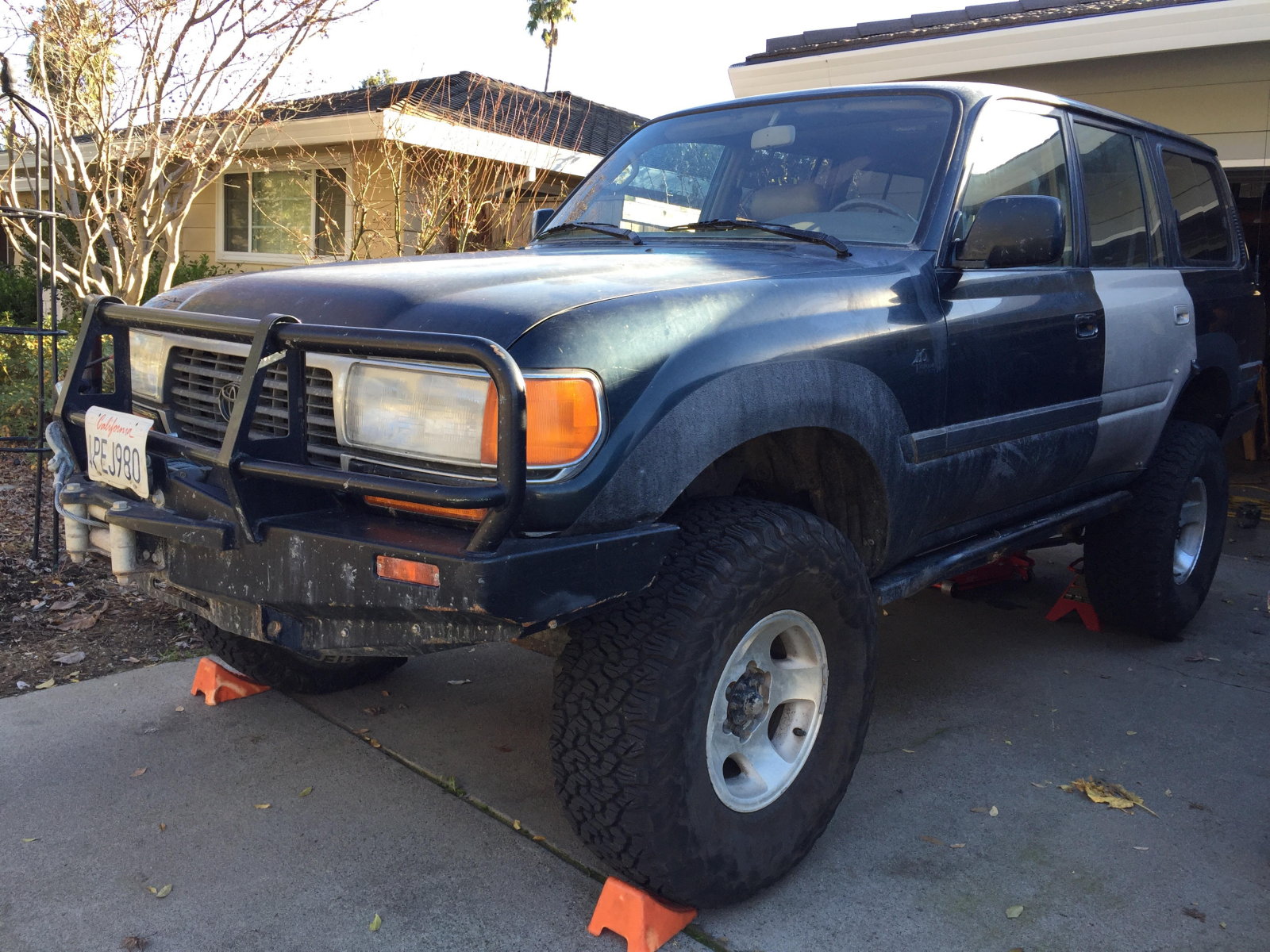 Andrew bought this '97 FZJ80 back in 1999 with only 40k miles on it. Now it has 160k miles.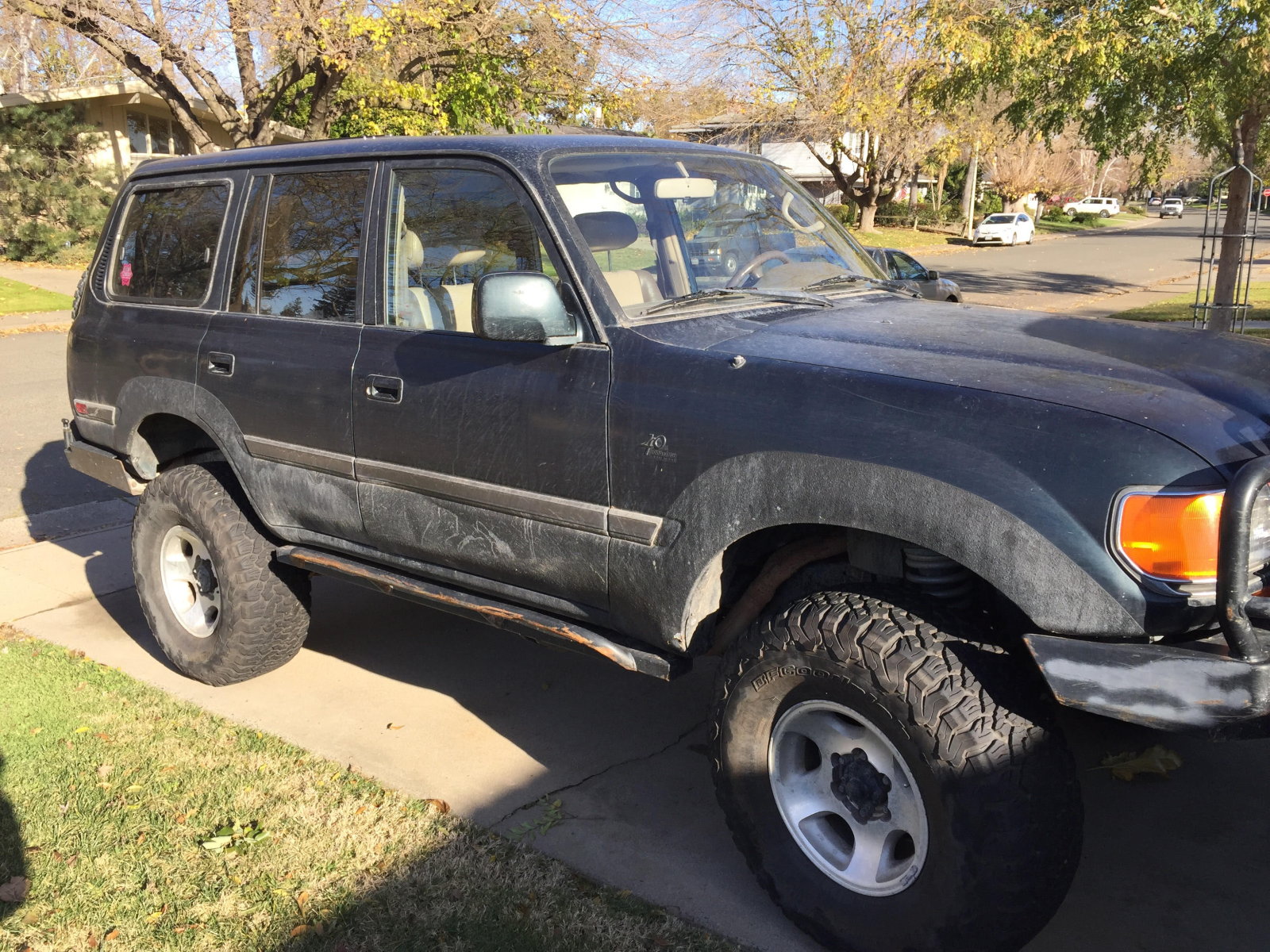 From the words of Andrew......

I did an initial build in 2001 with a 2 1/2 inch lift, a Slee rear bumper, and a set of sliders.
I used it like that for general use, some camping and a couple of trips up the North Coast
of California.

A few years later I added a front ARB bumper and a Warn M12,000 winch. After that we started doing
yearly trips to Moab

In about 2006 I added front and rear ARB airlockers with 4.88 gears and 35 inch tires. I continued
to take the truck to Utah, Death Valley, Mojave etc all over California. A "J" spring spring lift
went in around then too.

In 2008 or so I added Slee's first set of 4 inch springs. I needed more weight carrying capacity
so in about 2012 went to the Slee 4 inch progressive, heavy springs. These are great and I've
stuck with them. Early this year the transfer case got the Marlin 3:1 transfer case gears. The truck also has
dual batteries, a 160 watt solar system and a sleeping platform in the back. I've slept 100s
of nights back there. in the last 17 years. You'll note in the pictures that I have an off
color door. I crushed the original door on a tree in Deer Valley and replaced it with a door
off of Craig's list. People have come to recognize my truck due to that door so I may just leave it!

Anyway, the truck isn't all that pretty but it's perfectly maintained and I hope will go another
160K miles. As to why I'm changing to Harrop lockers-I figure it's time to go though the diffs
as maintenance, and I really like the Harrop I put in my FJ60. So it was time for all new
stuff-lockers, gears bearings, all of it. I want my differentials starting back at 0 miles.

So that's the story. 120k miles of fun and adventure. It's been a great truck.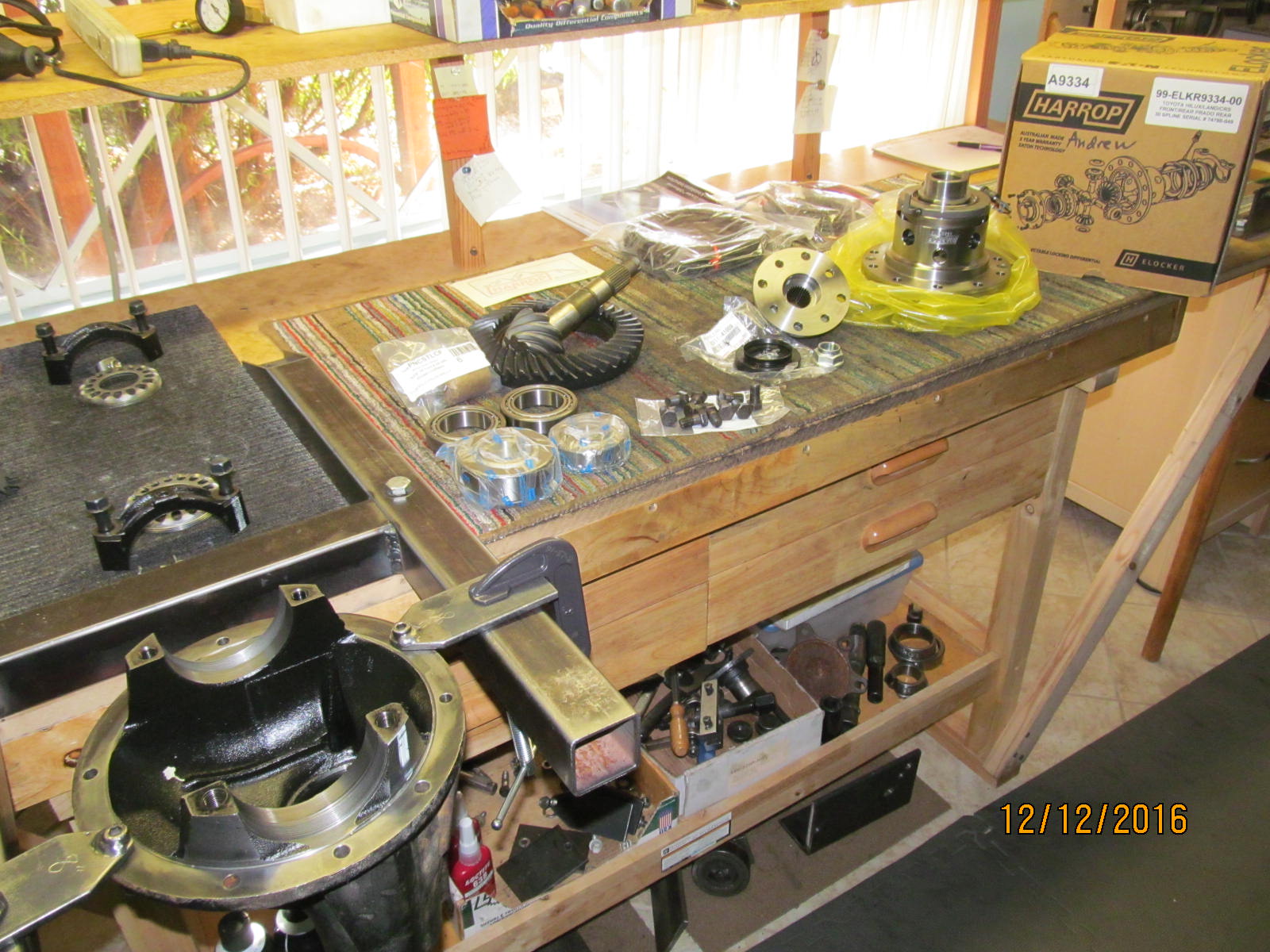 This write is for the front 8" High Pinion install. A link for the rear will be posted also.

Follow this link for the REAR 9.5" install

Andrew ordered up the bearings and gears and Harrops for me as shown in the pic.
Gears and bearing kits from Cruiser Outfitters.
Harrop Elocker from YotaLockers.com
The #9334 elocker is for the 8" hi-pinion FJ and the 8" low pinion pick-up and 4Runner....
both 4 cyl and V6 models.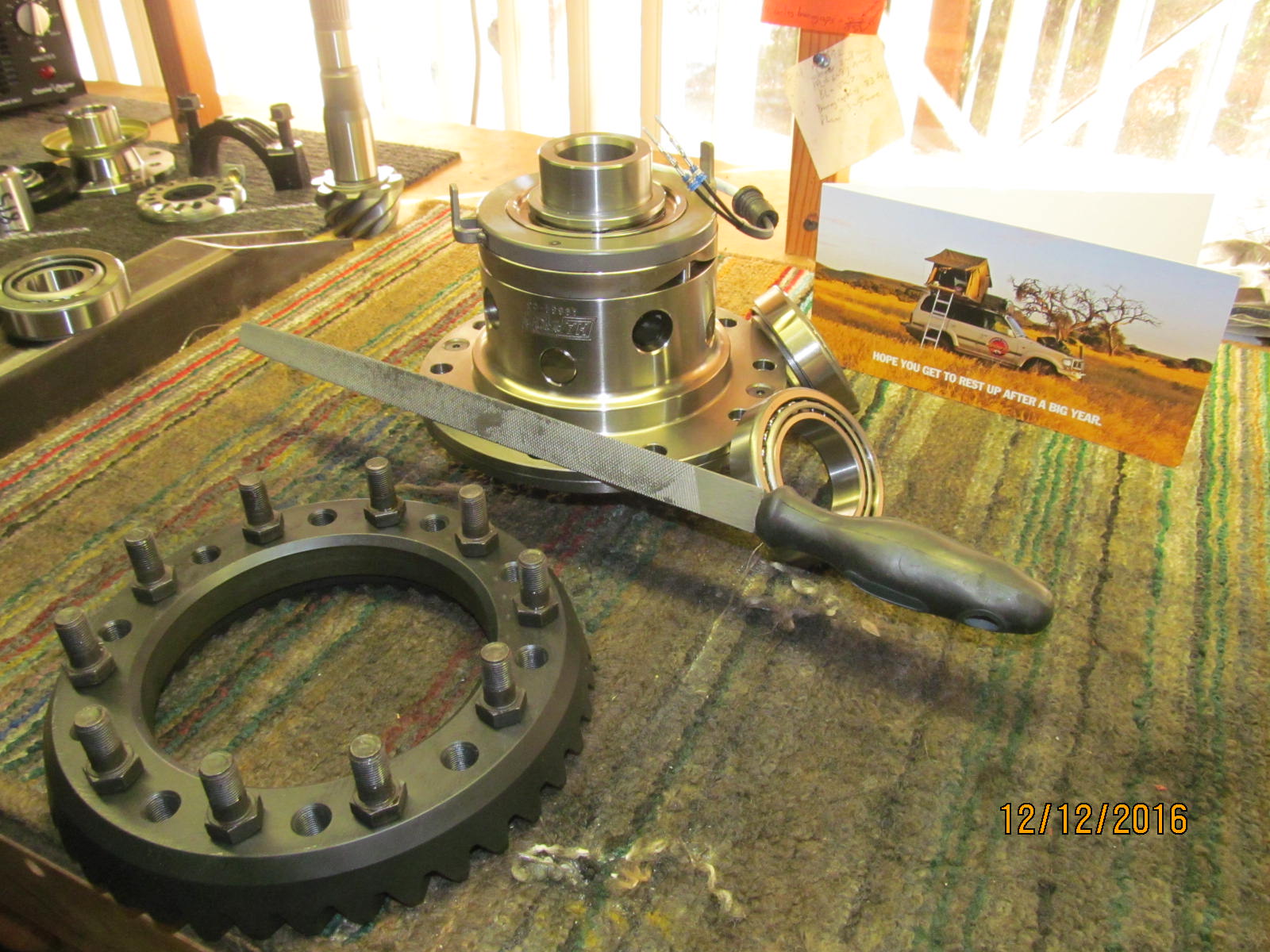 The order of assembly is "flexible" so I am starting with the Harrop portion here. Run a file
over the ring gear seating surfaces and no burrs or unusual high spots found.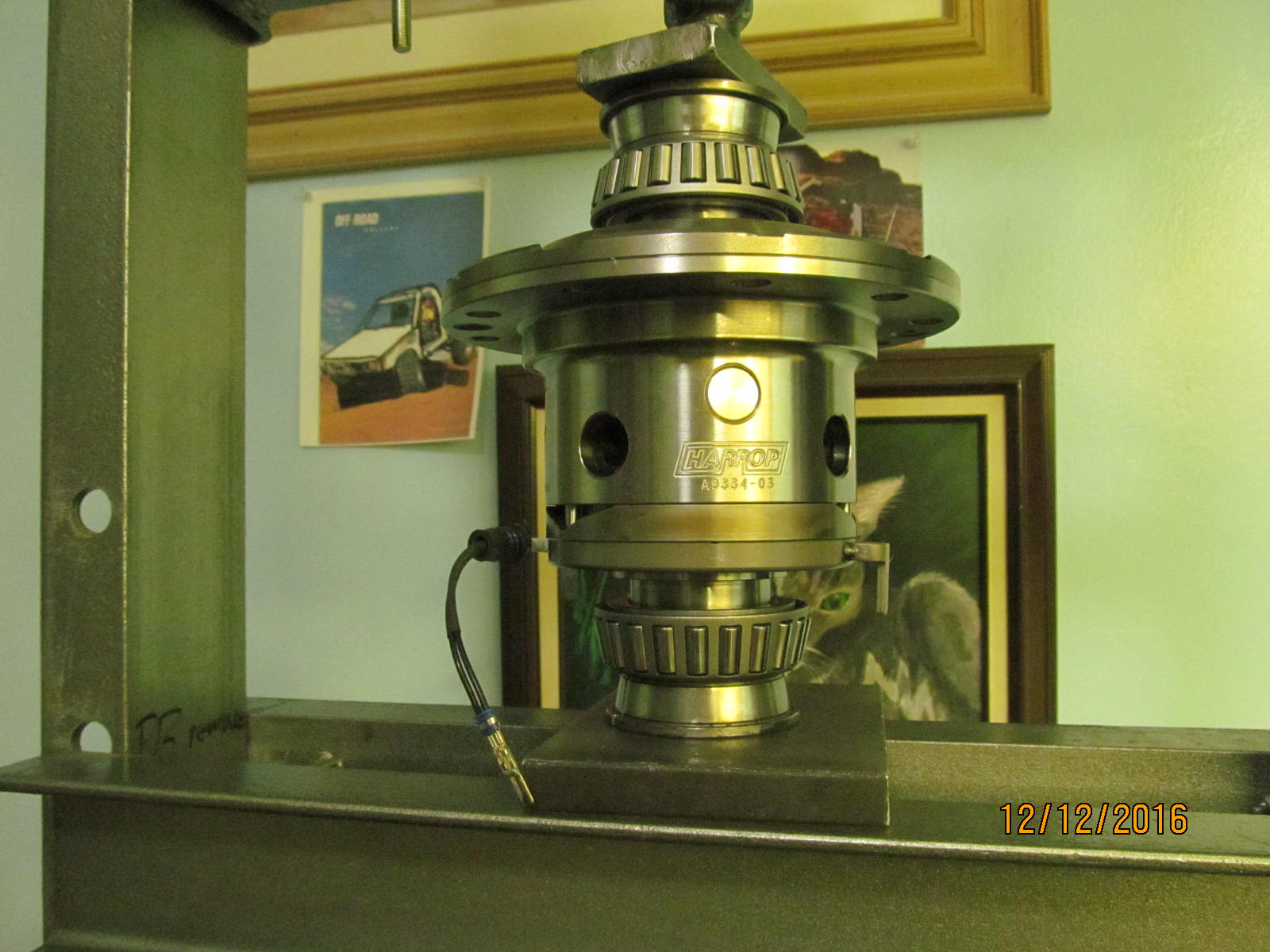 Carrier bearings can be pressed on at the same time. I noted a nice, tight press fit also.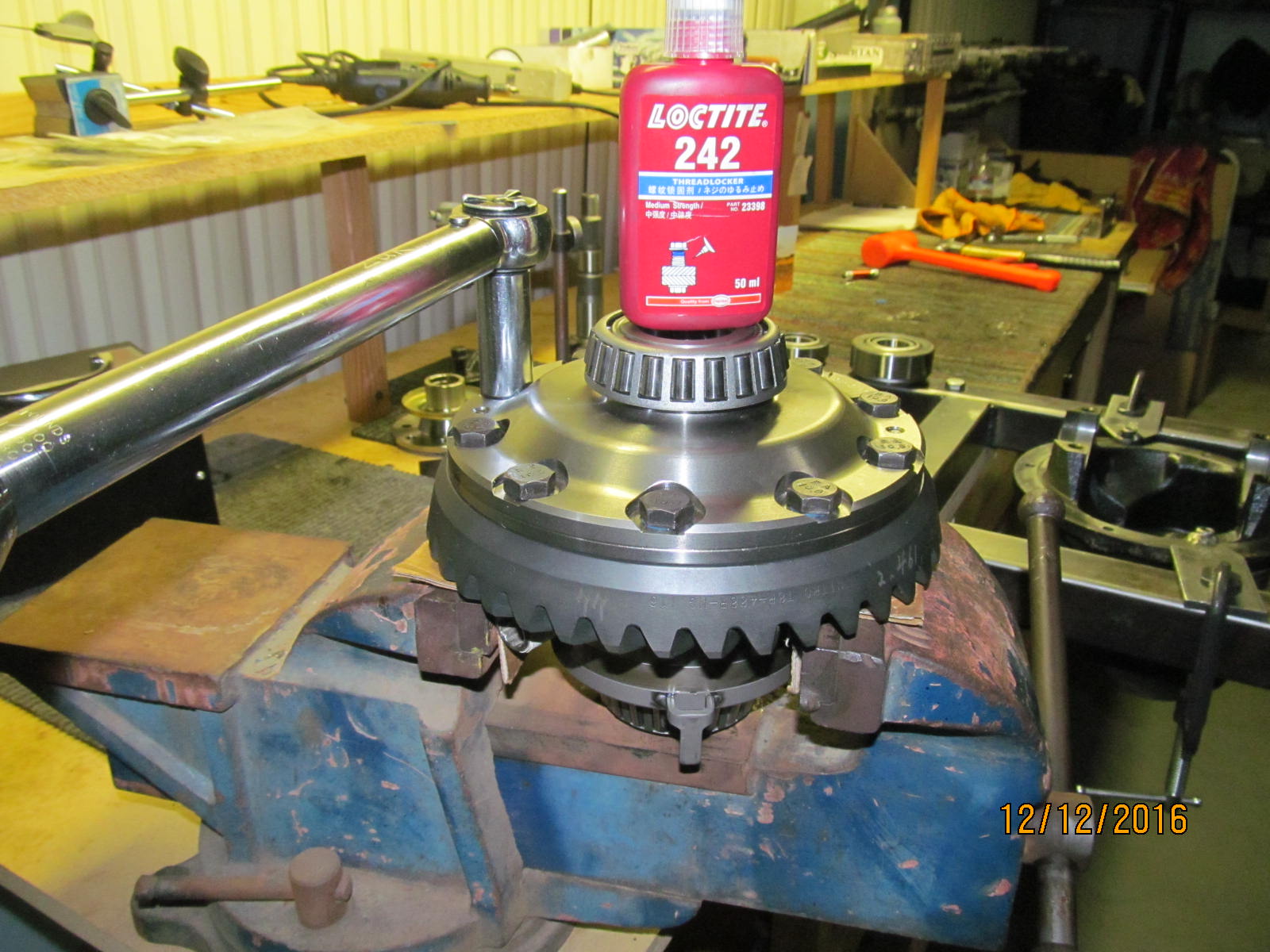 Nitro ring gear next....70 ft/lbs and some blue Loctight.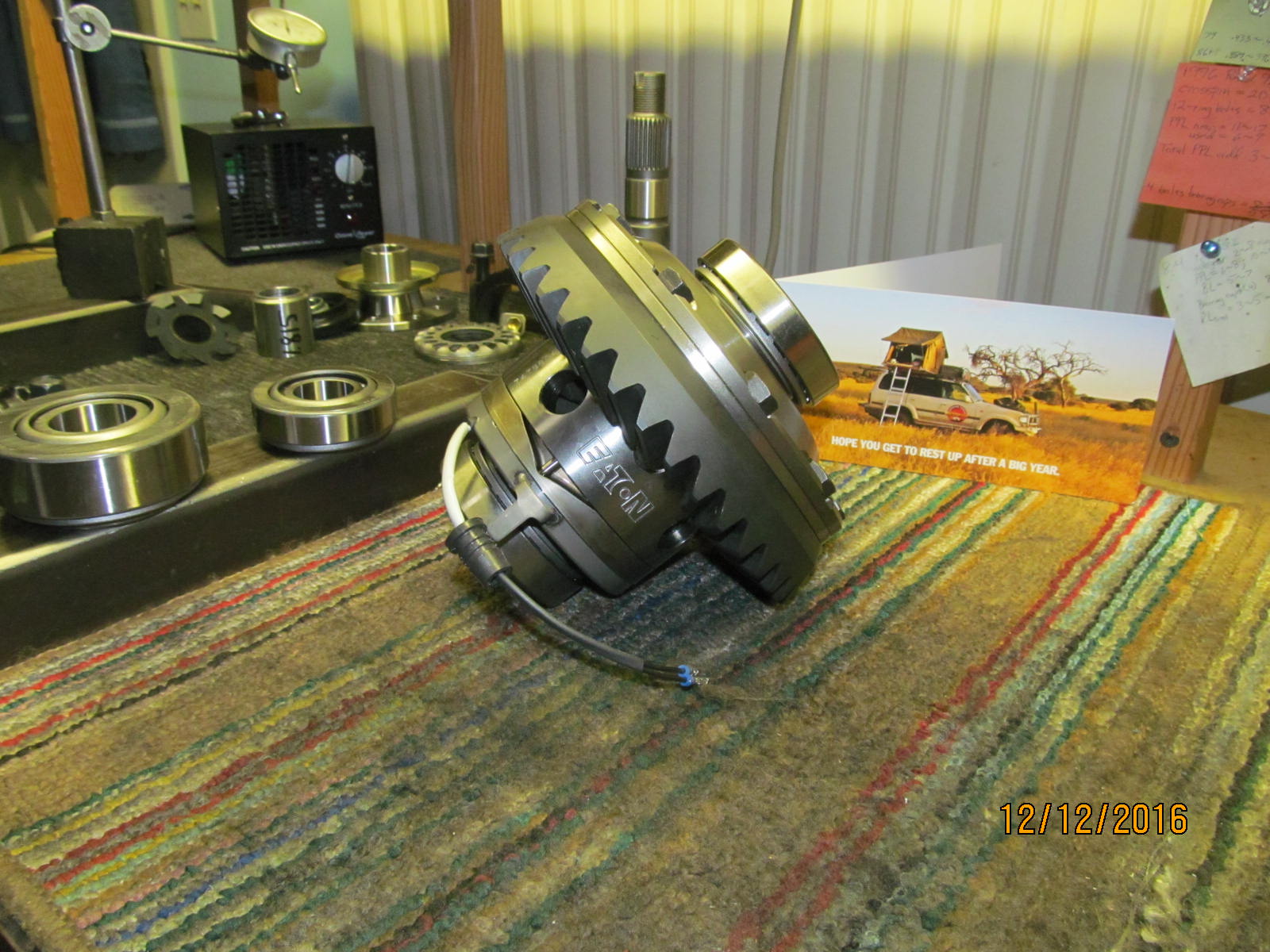 This end all done.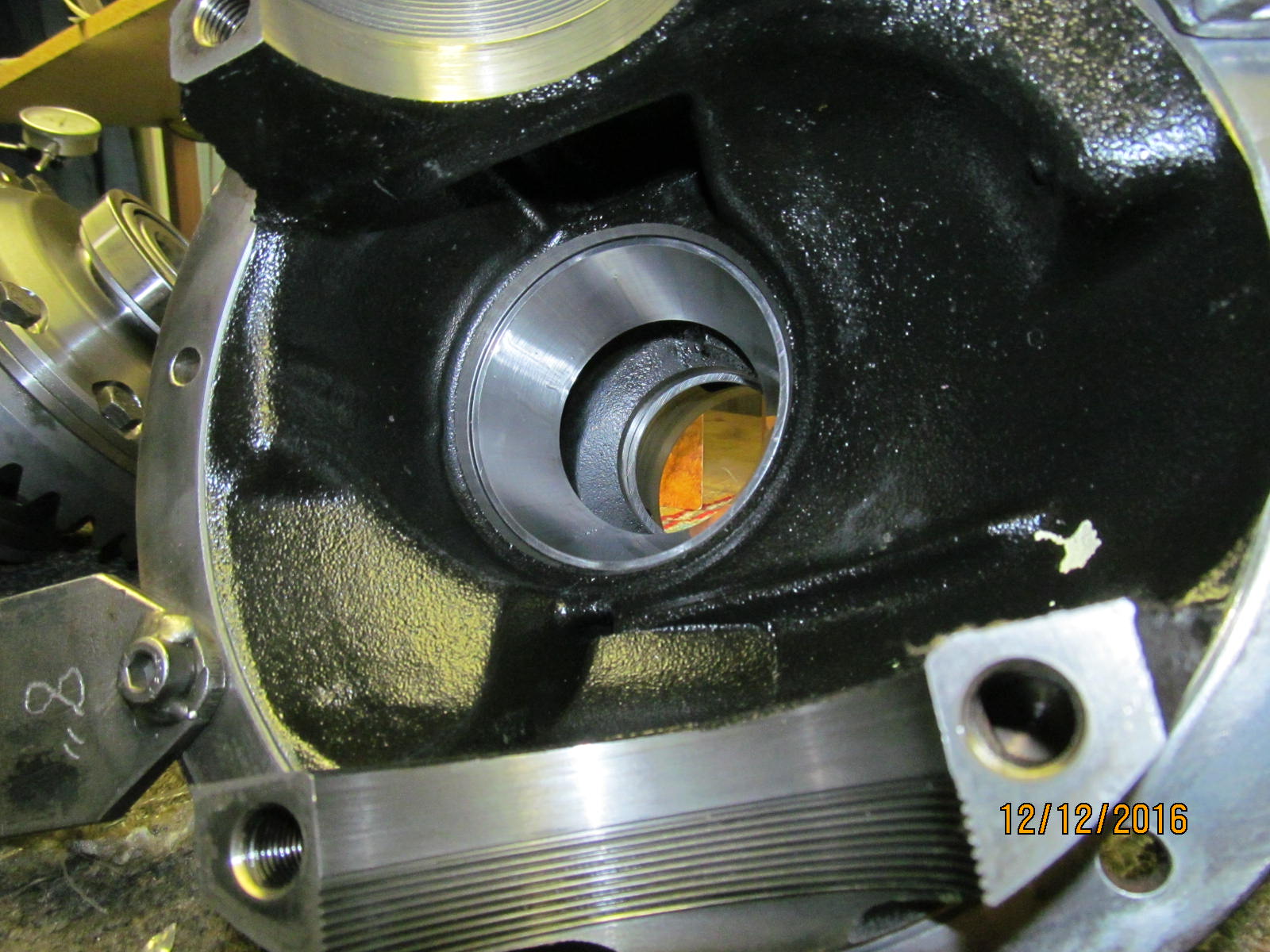 New inner and outer pinion races are pressed in.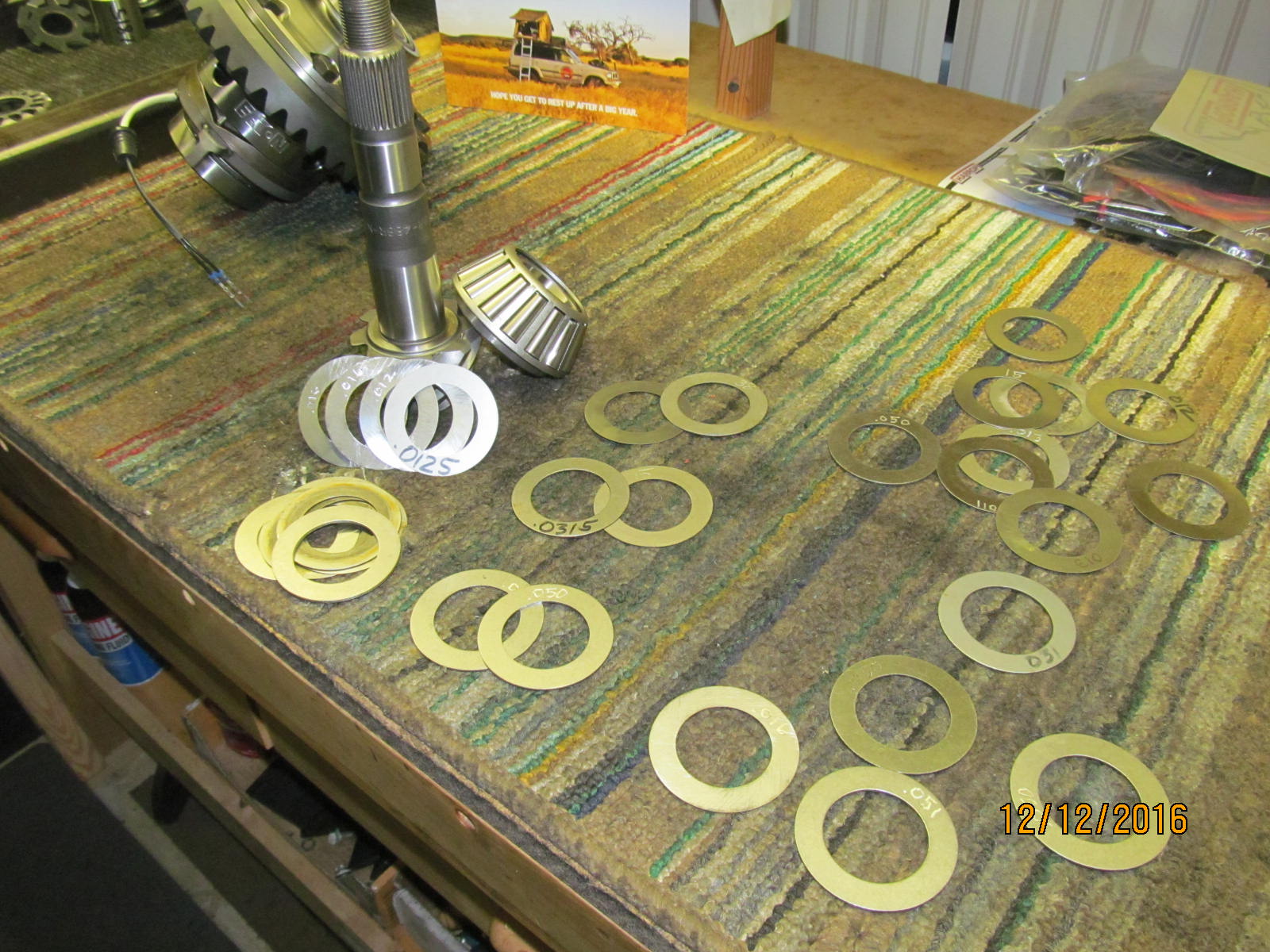 Onto the pinion....so many choices....and being the math whizz that I am sometimes,
I added them up wrong and ended up with .056" for this first try.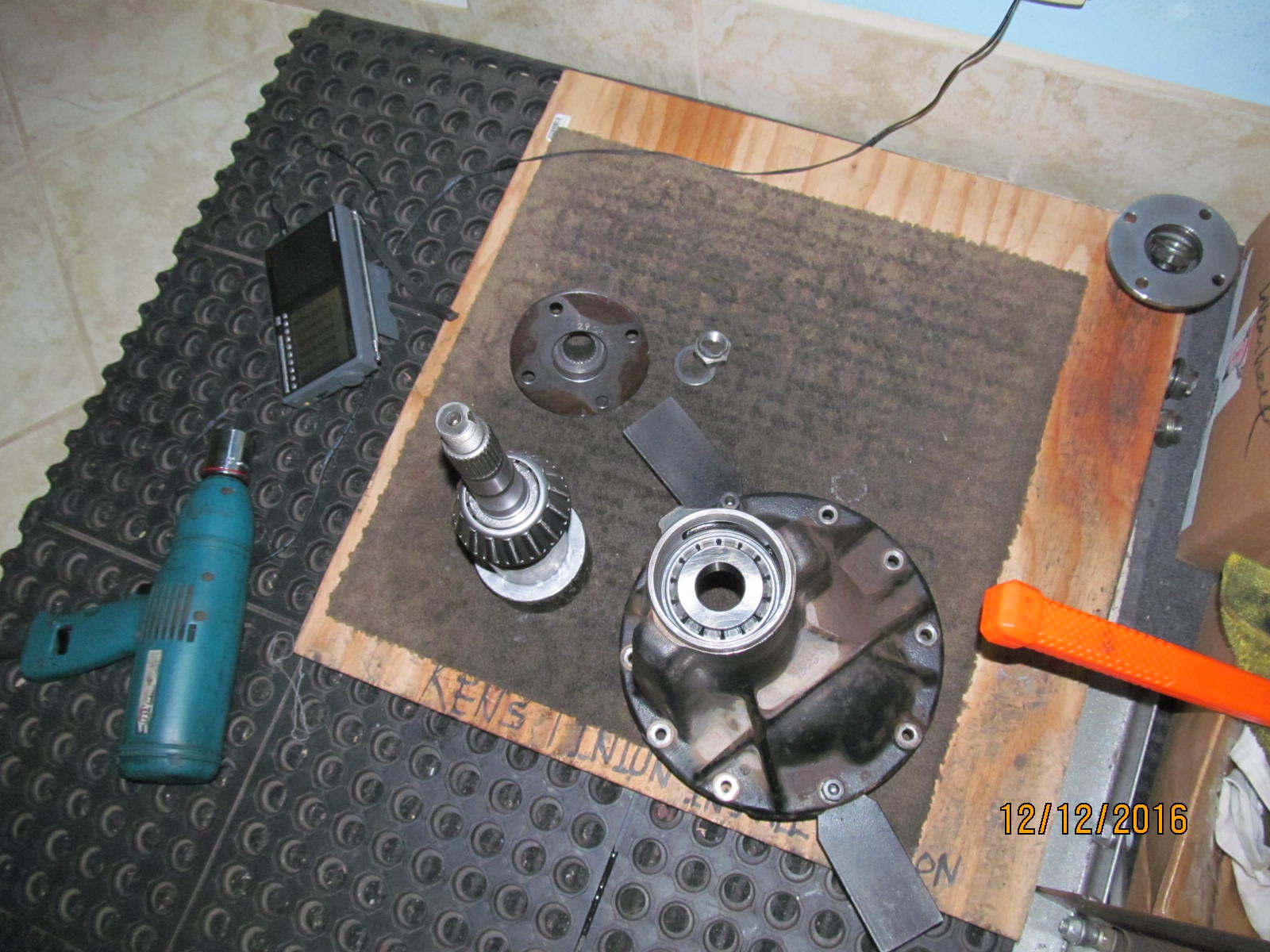 After the pinion bearing is pressed on the pinion shaft, now to mount the pinion into the 3rd itself.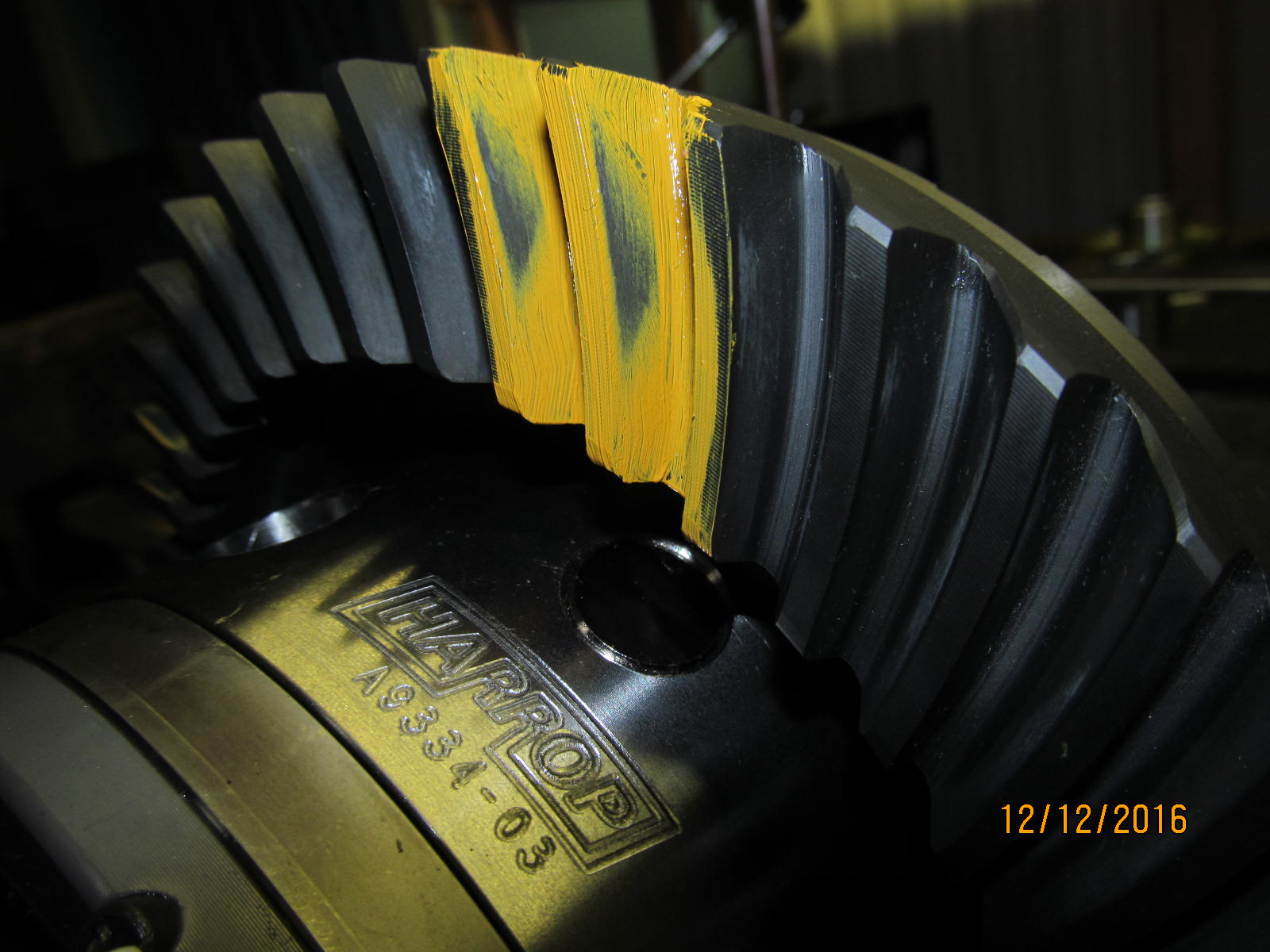 First paint check shows the drive side to be quite shallow.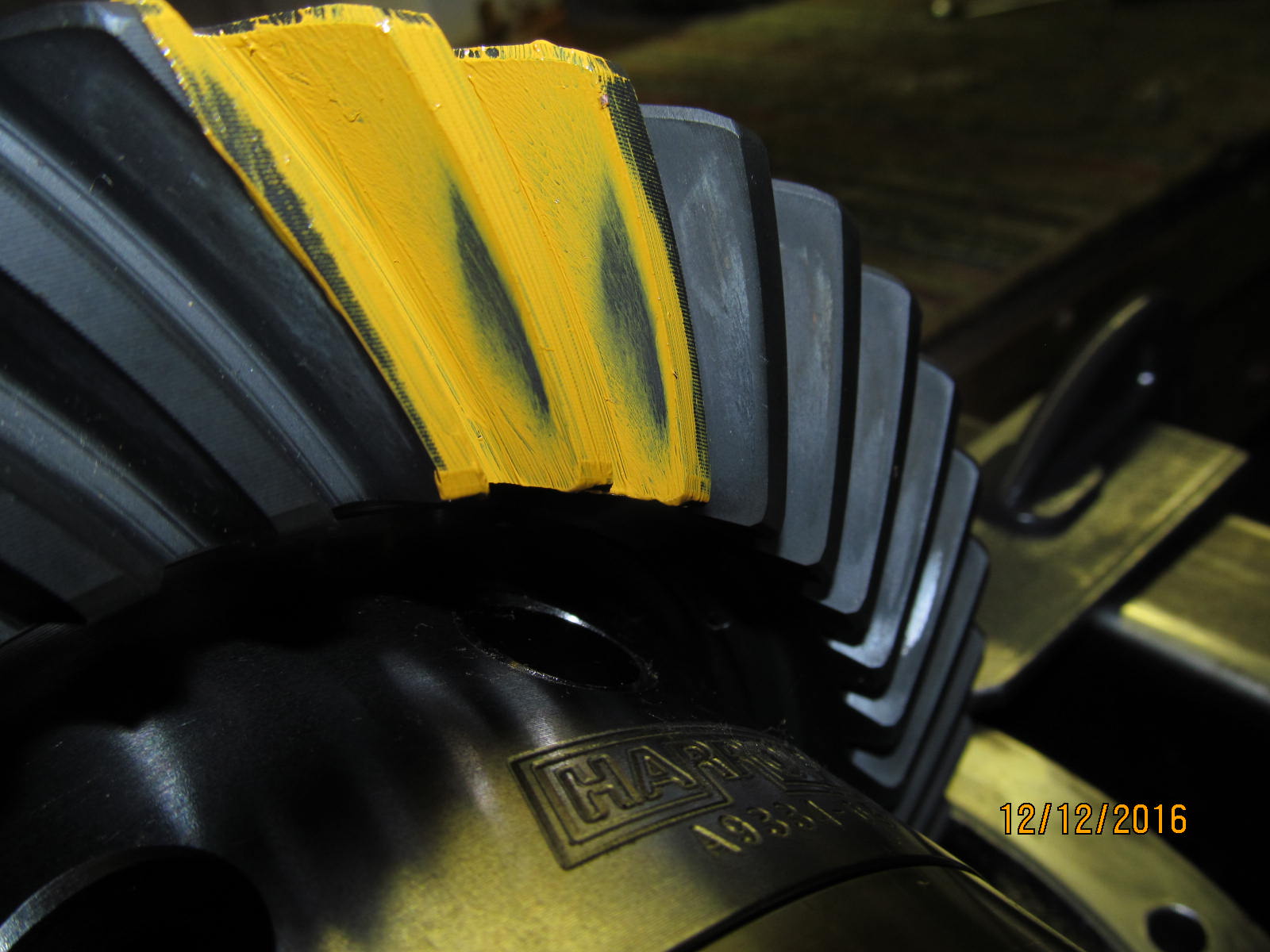 Same for the coast side.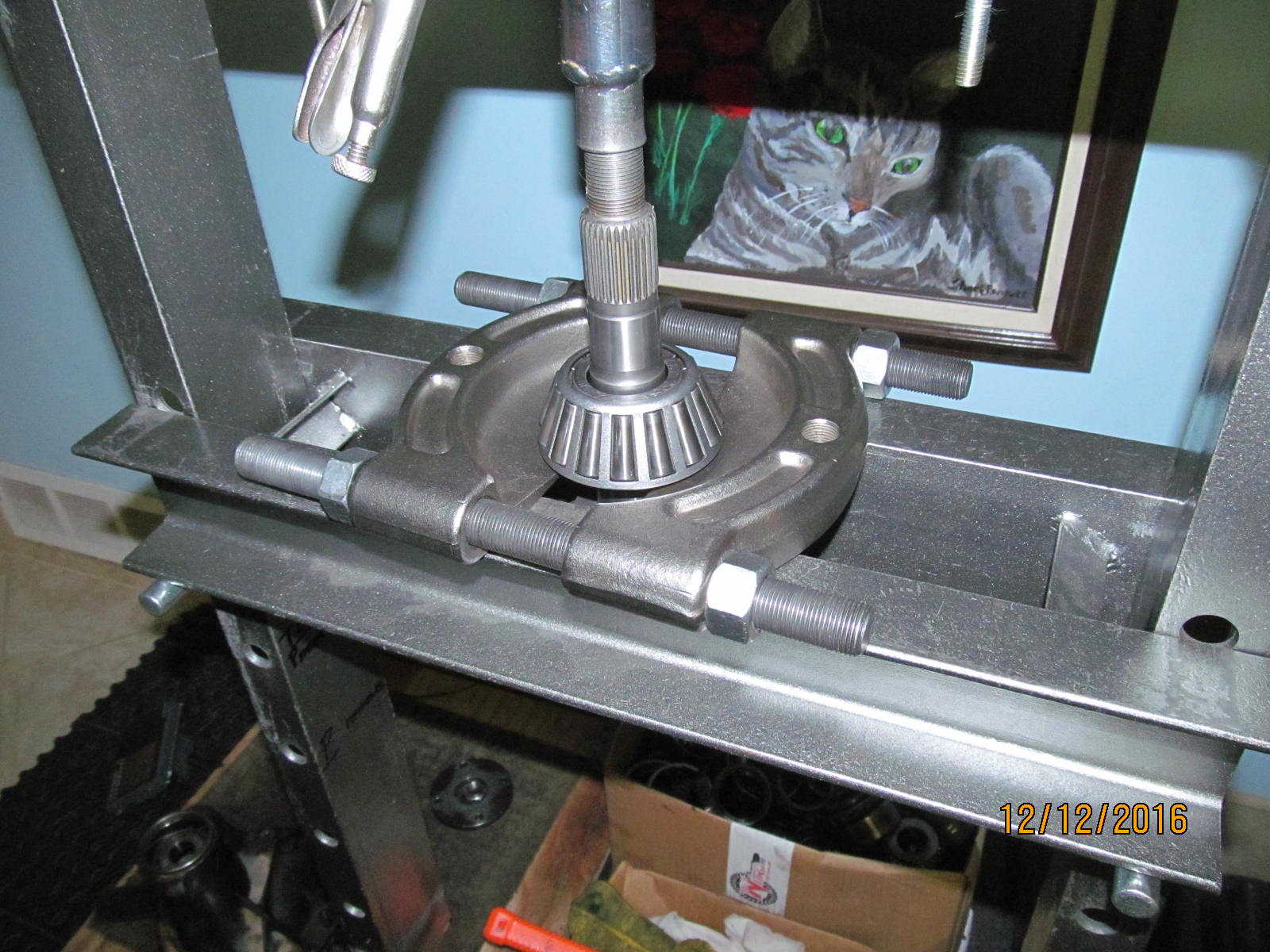 Then dis-assembling and pressing the bearing off, I discovered that my math was off.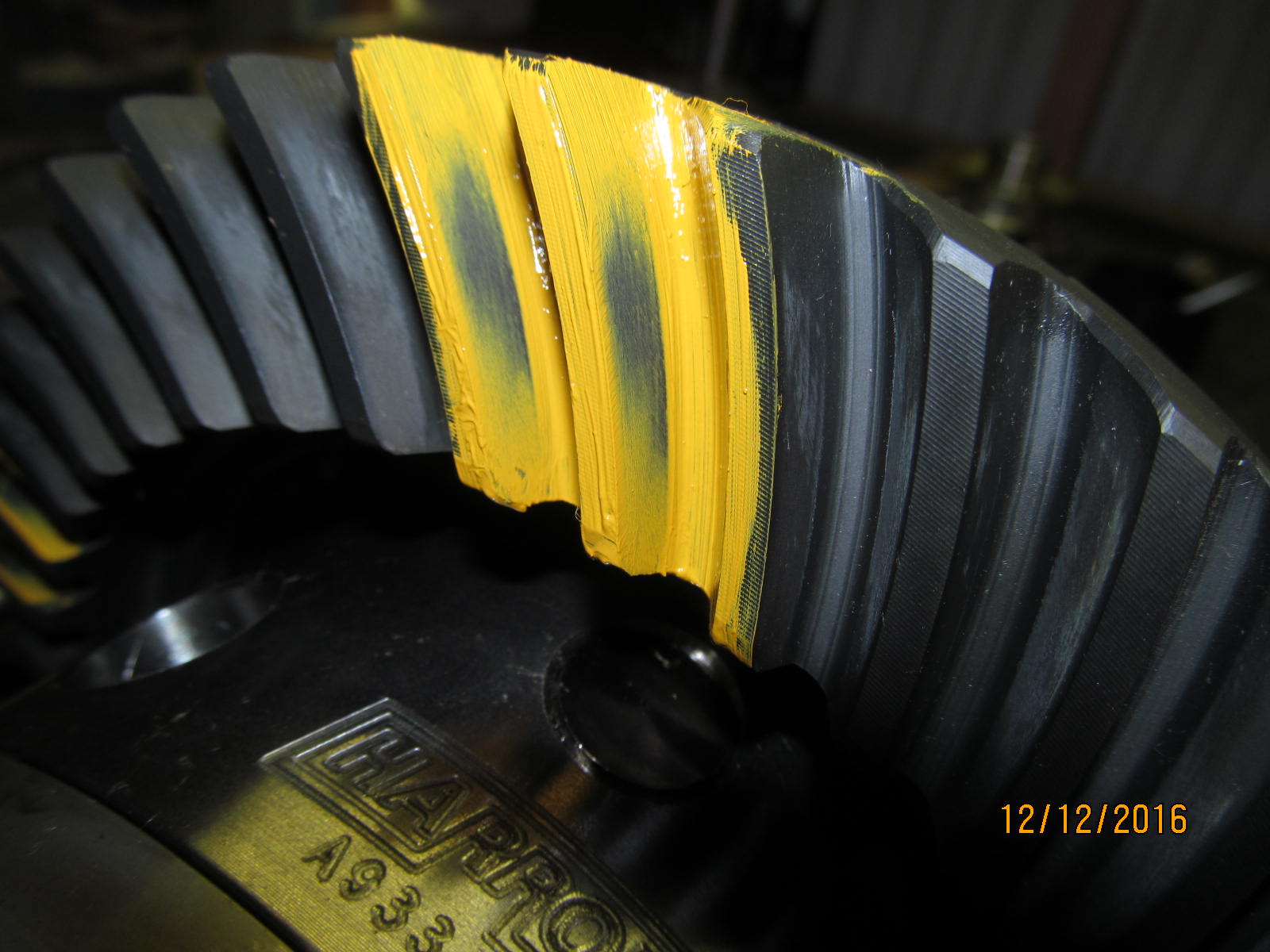 This time I assembled with a pinion depth shim of .071" and I like what I see...a slight deep condition.
This means that strength will favor the ring tooth and the much larger pinion tooth sees a small amount
of increased stress. The net effect is a stronger yet still quiet ring and pinion set-up.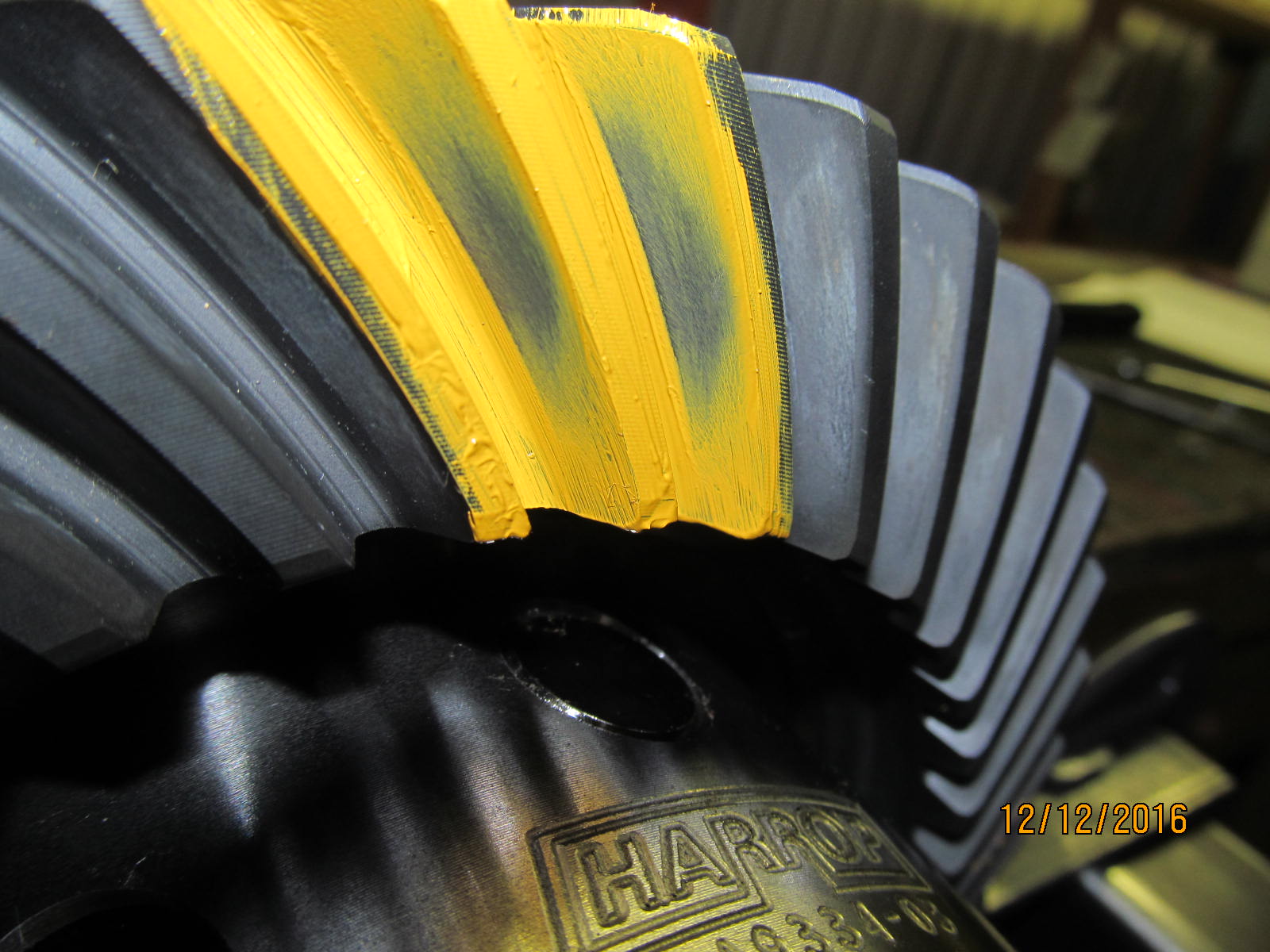 Nice. Good depth and it is centered from toe to heel which is a plus.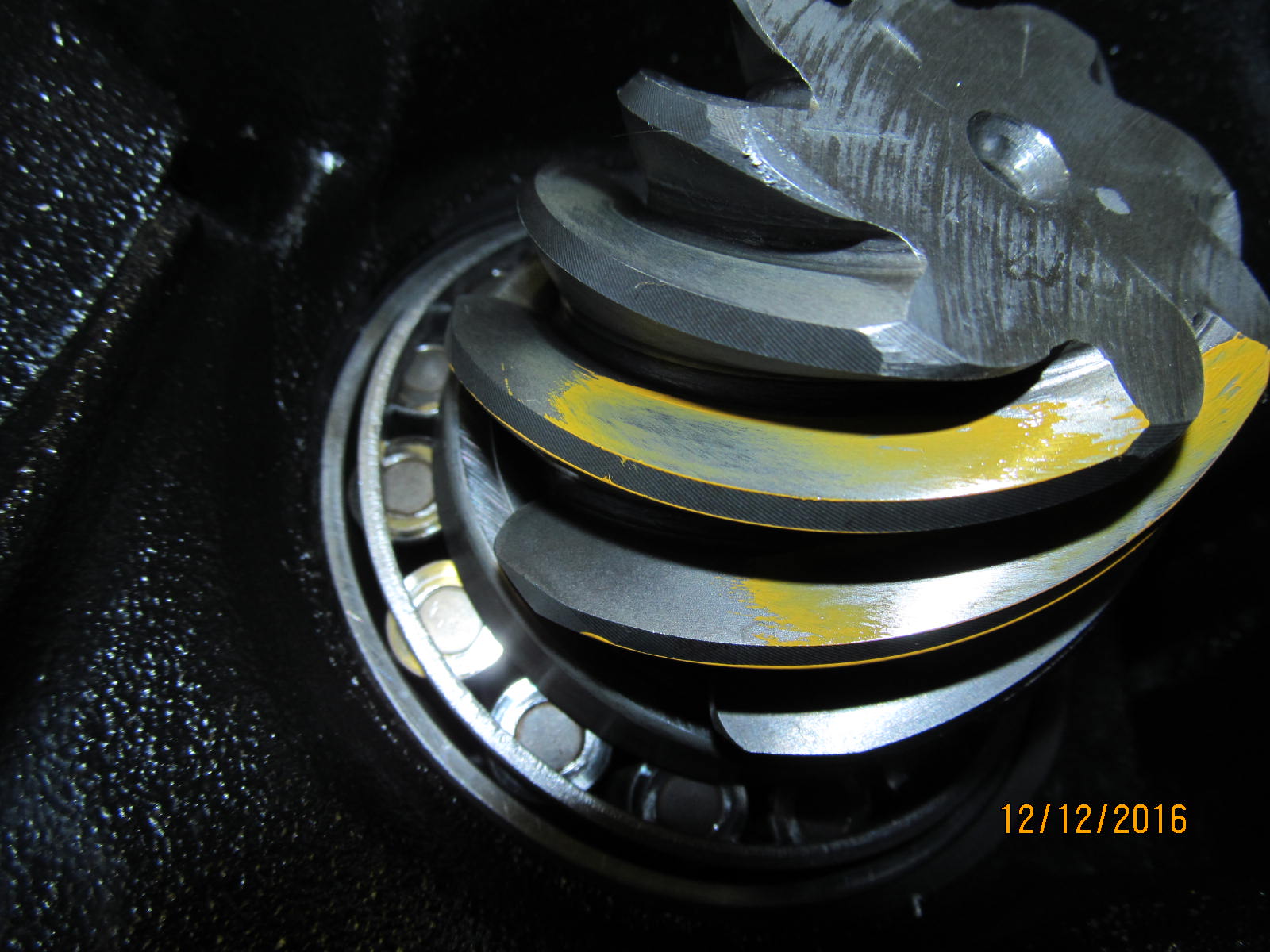 Looking at the drive side of the massive pinion tooth shows a comet tail that is "centered".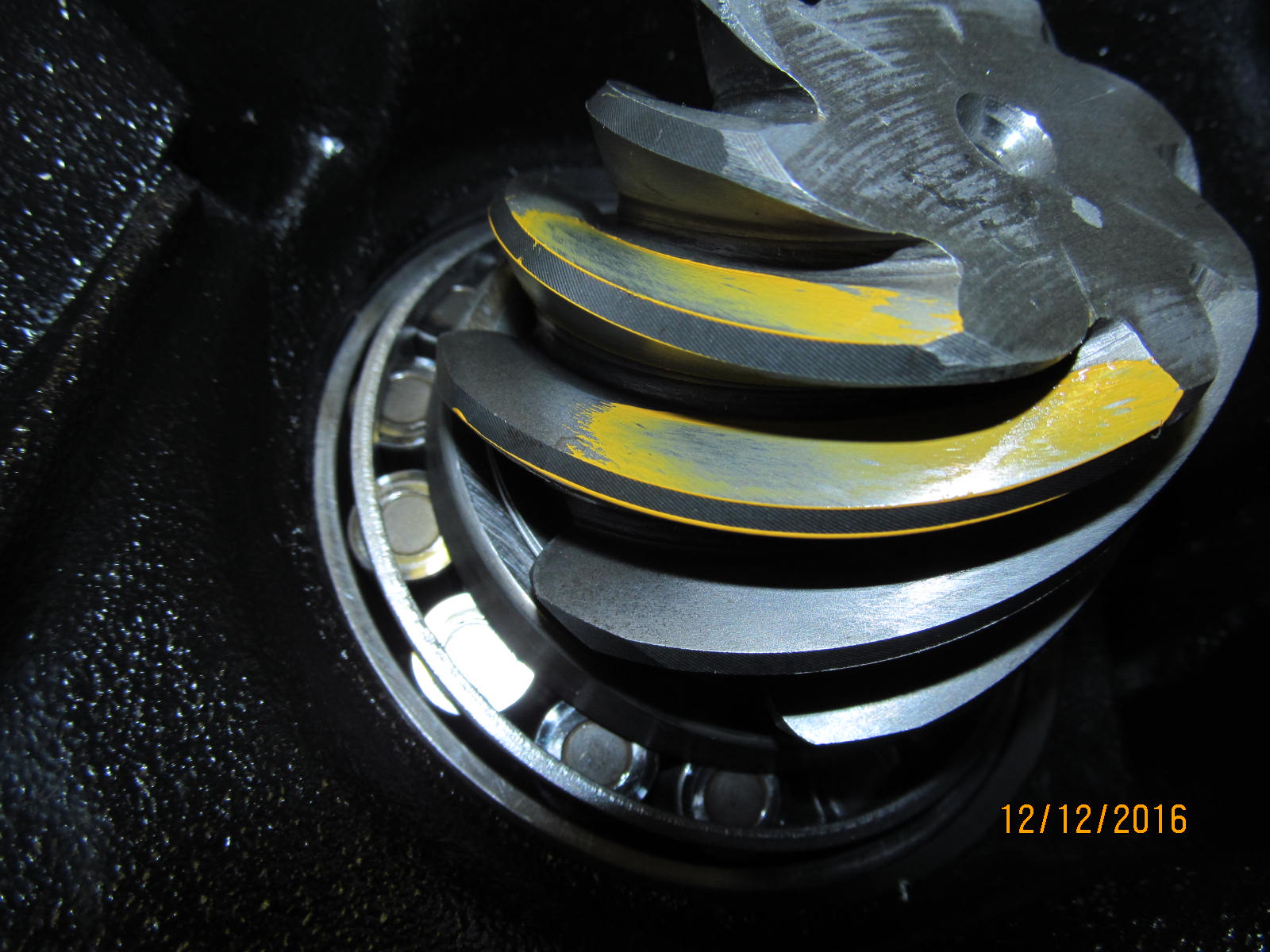 Nice.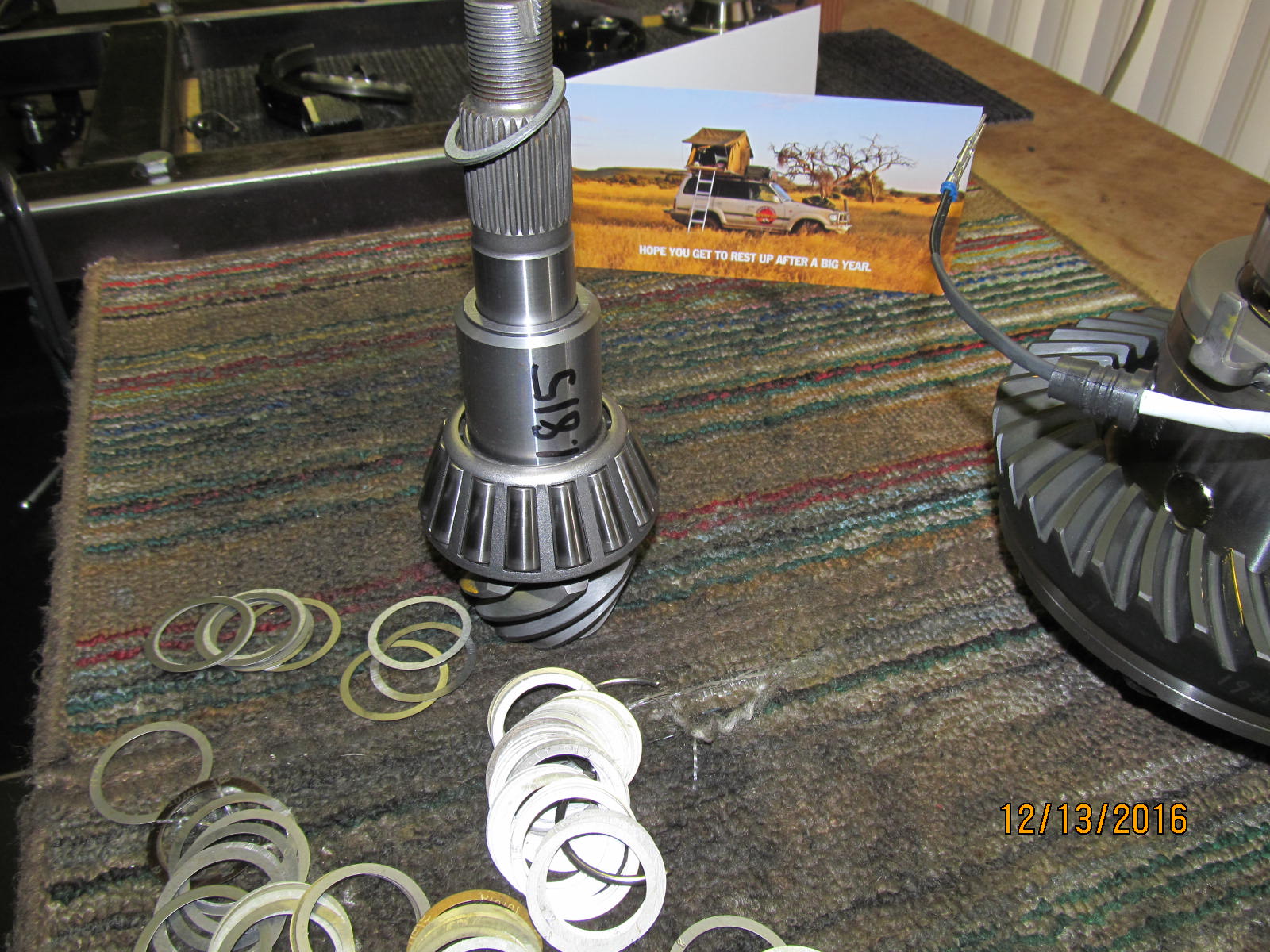 Now to install the solid collar. 1.866" is a good starting point. Collar measured 1.815"
so a .051" shim was tried and that resulted in a too tight pre-load. Try #2 was a lucky one...
added .002" to the shim and proper preload was reached. Usually takes 3 or 4 or 6 tries to
get it just right.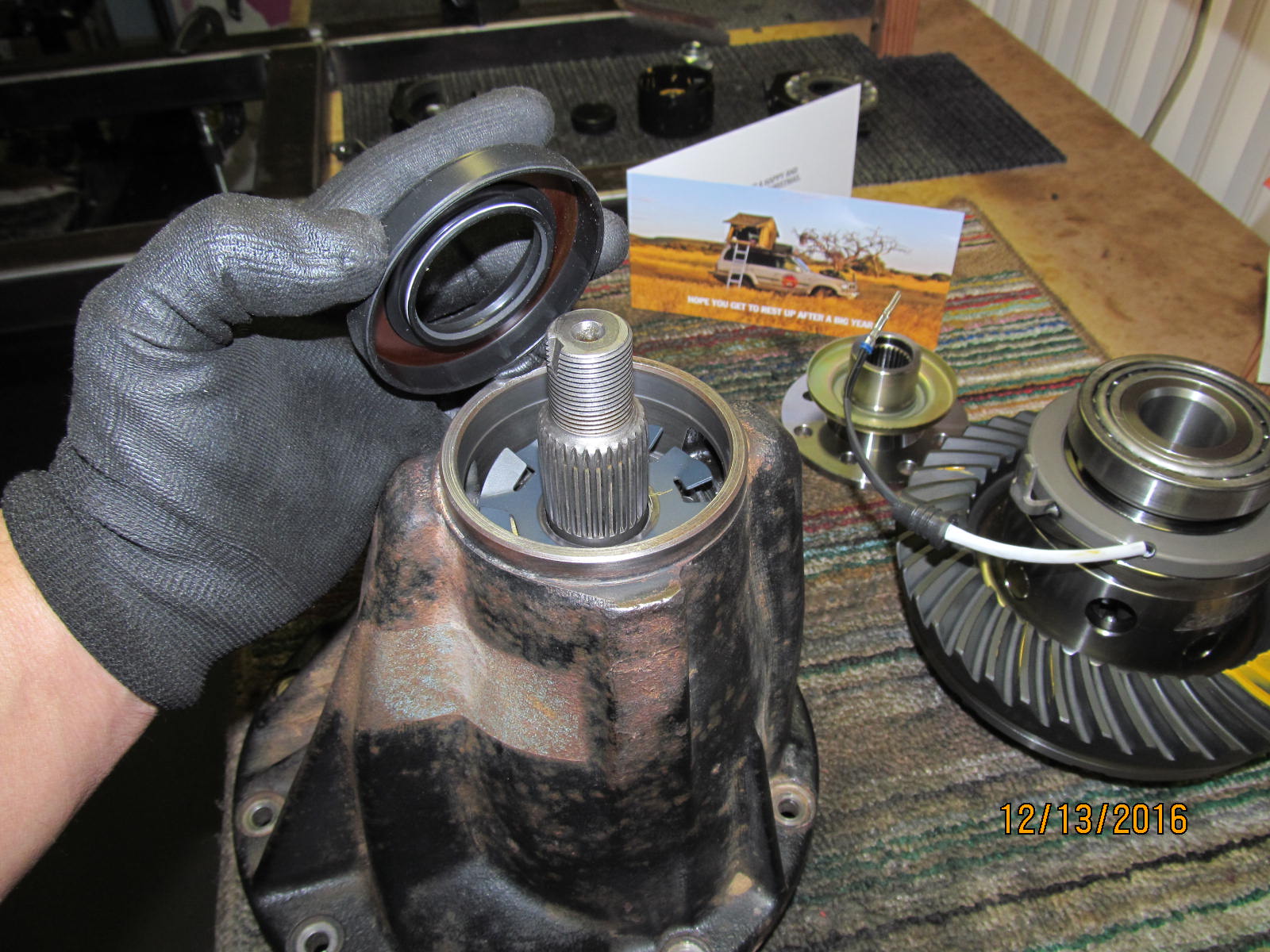 Splash guard is put in place followed by the rubberized seal. Notice that this is the larger
diameter 29 spline shaft and the old 27 spline splash guard slipped right on. This happens
rather easily IF you happen to have a Makita GD0601 1/4" die grinder and 4 minutes grind time.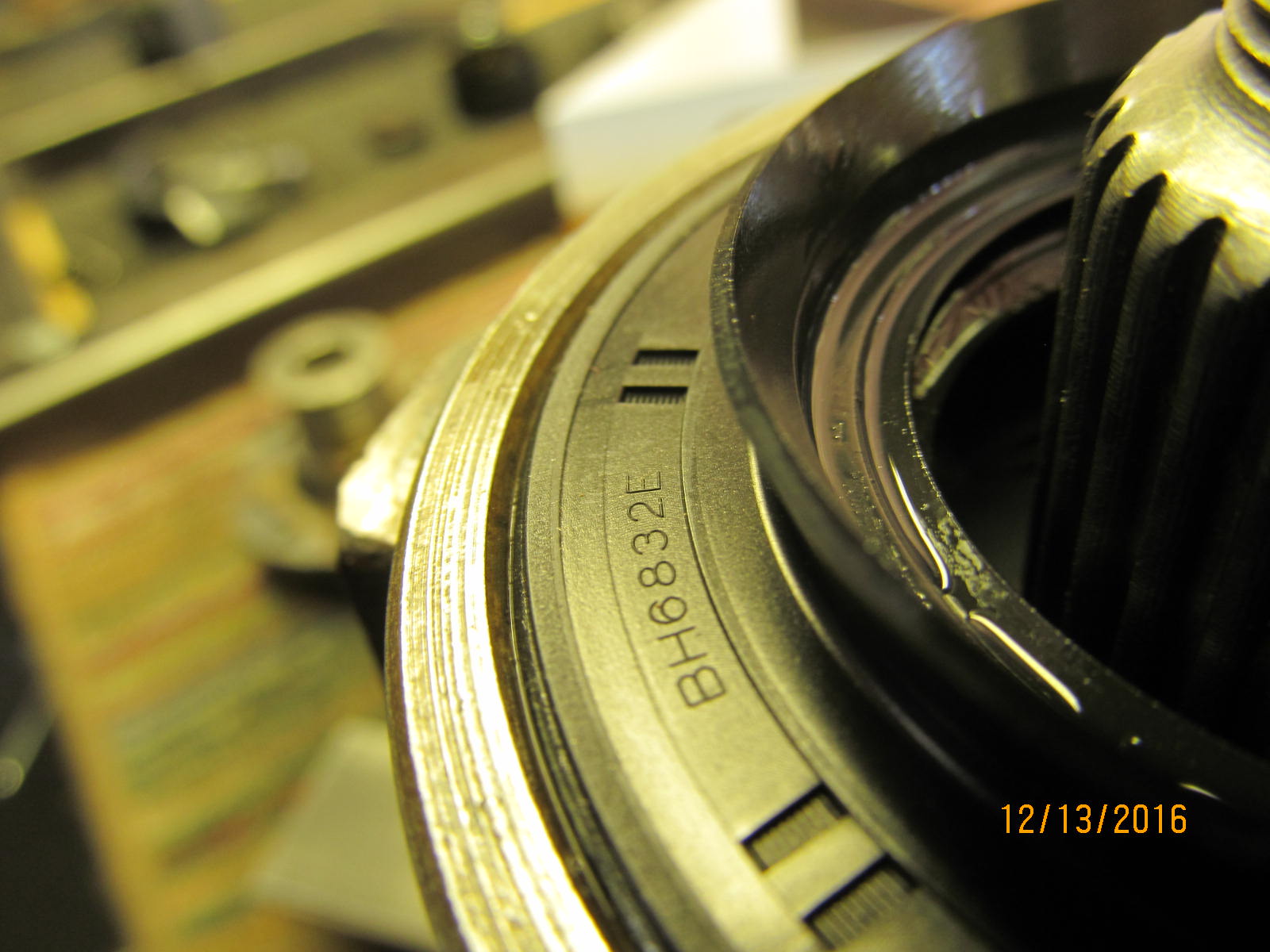 Rubberized seal is installed.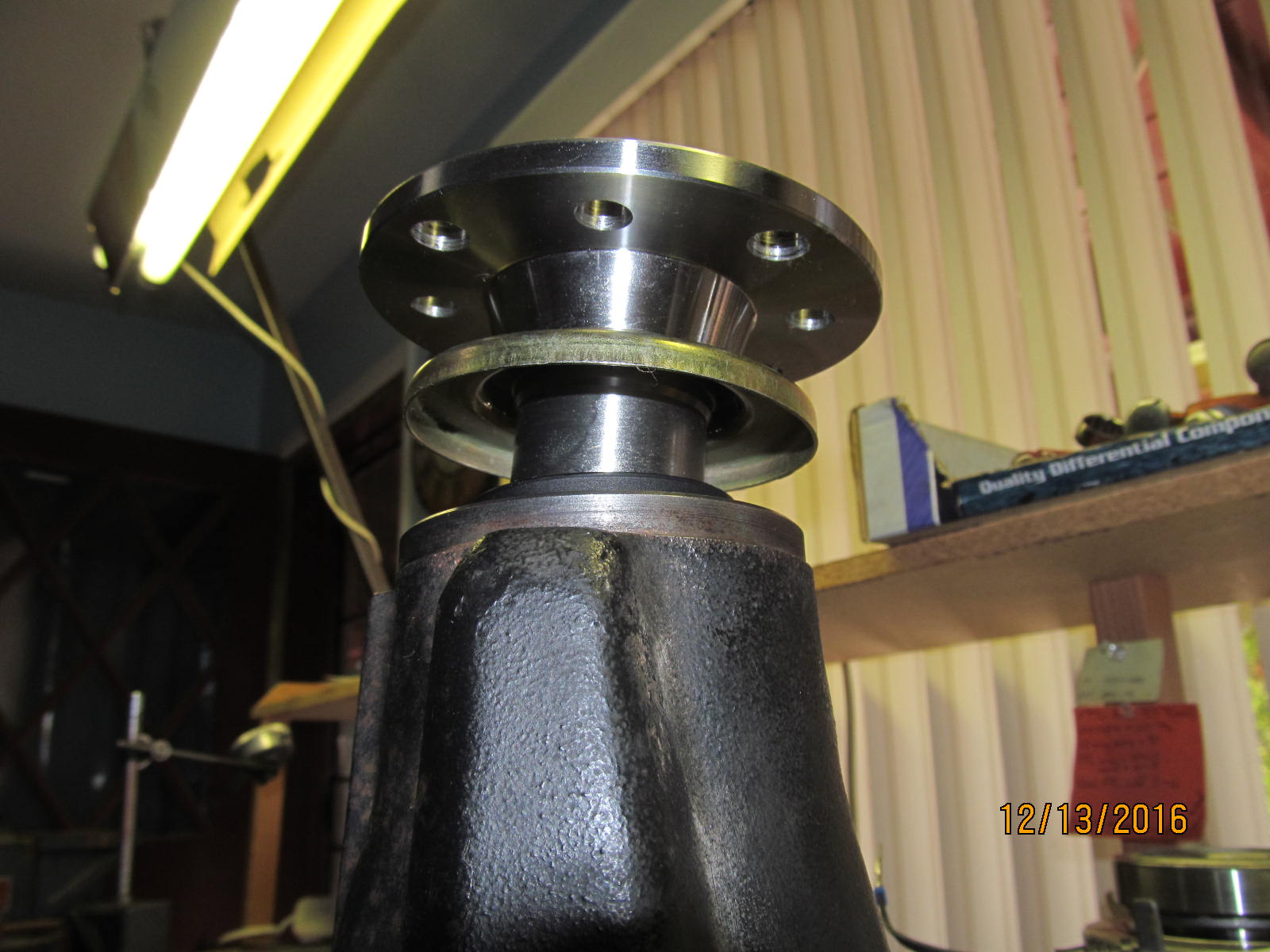 New dual drilled flange is next.
A nice, modest 10 in/lb of pinion preload.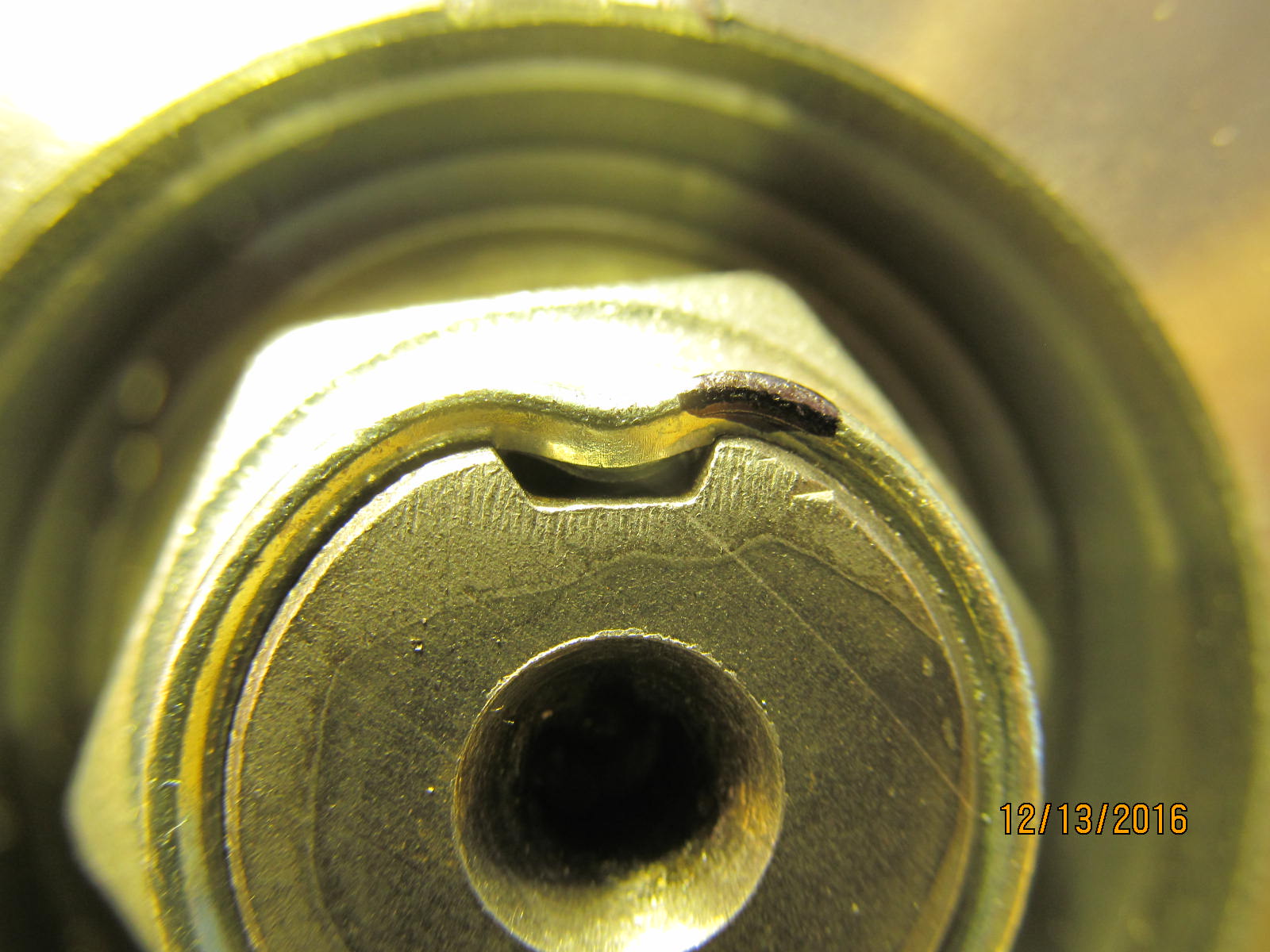 DING! and this pinion end is complete.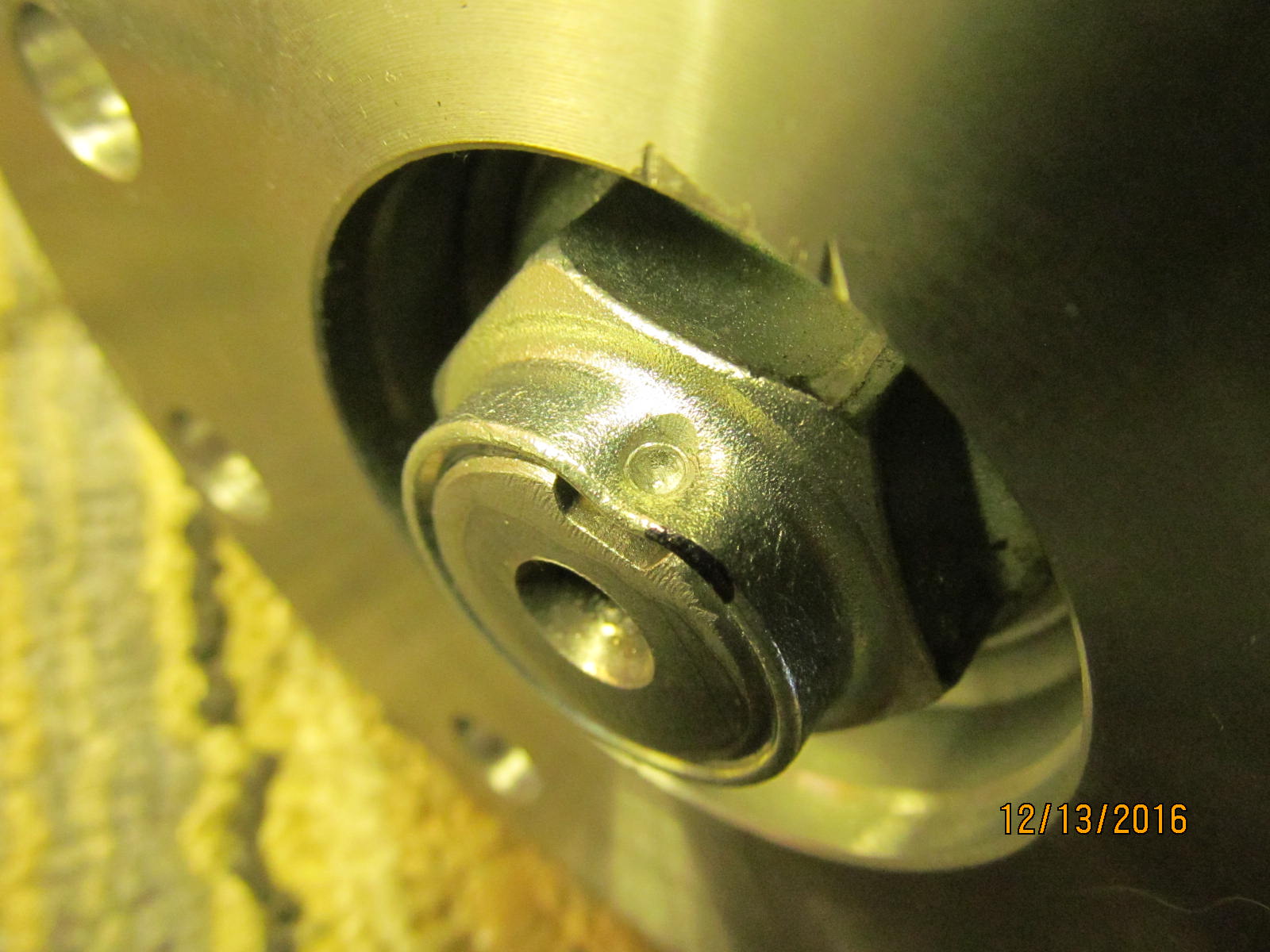 ...................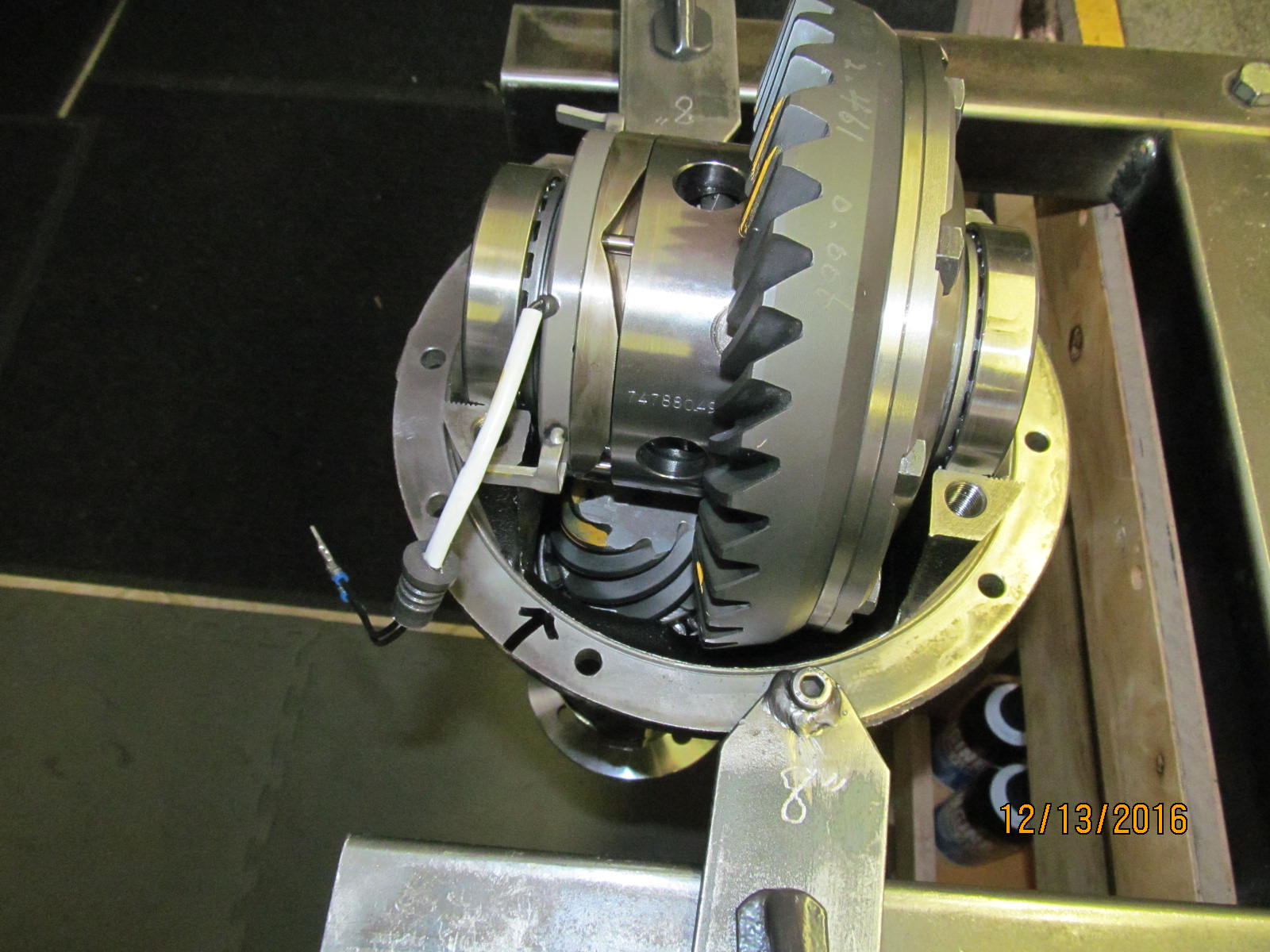 Now the Harrop elocker assembly goes in place only long enough to mark where the hole
is to be drilled for the grommet.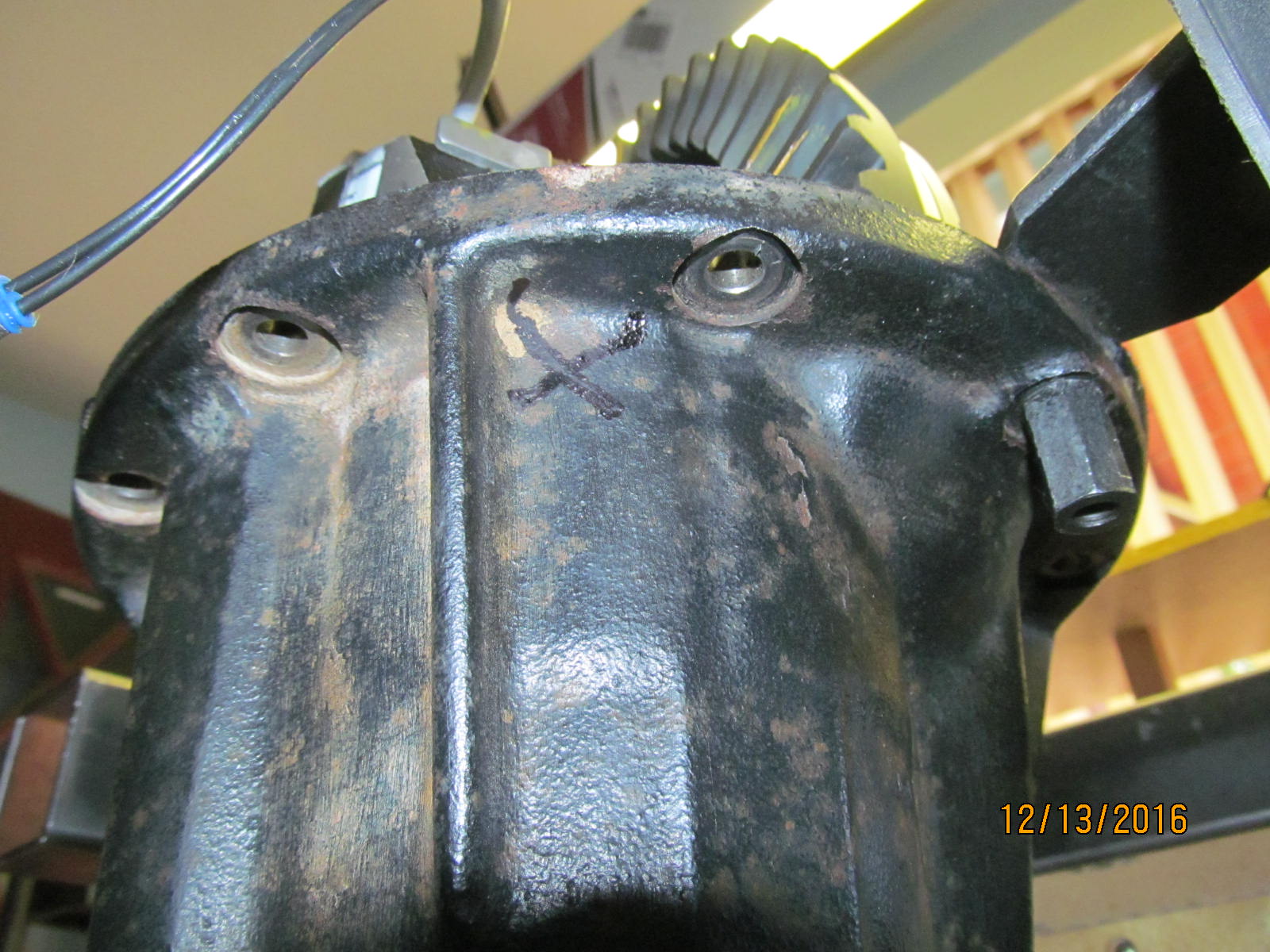 X marks the spot.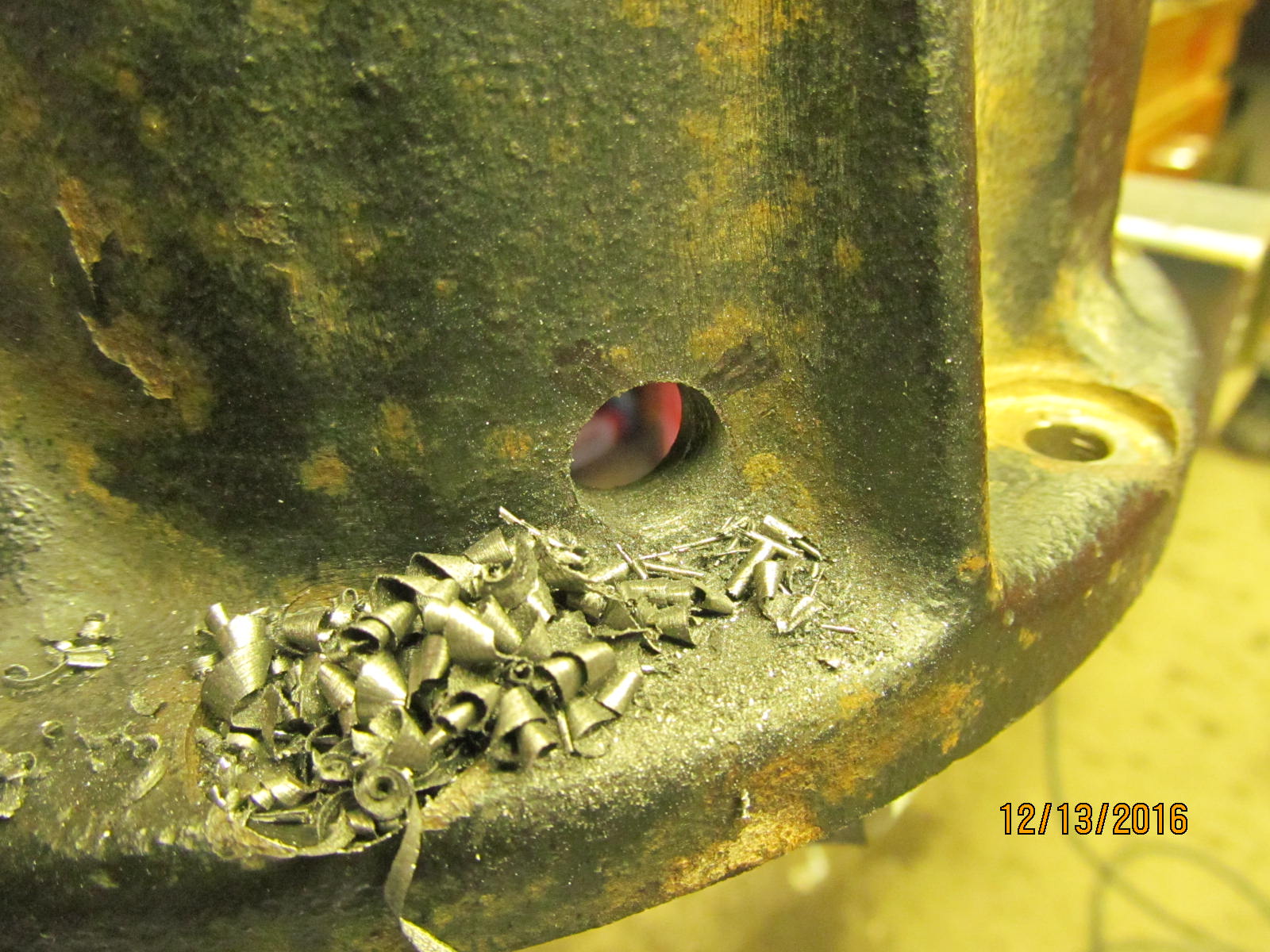 29/64th drill bit(.453"). Drilled such that the chips fall away from the pinion bearings.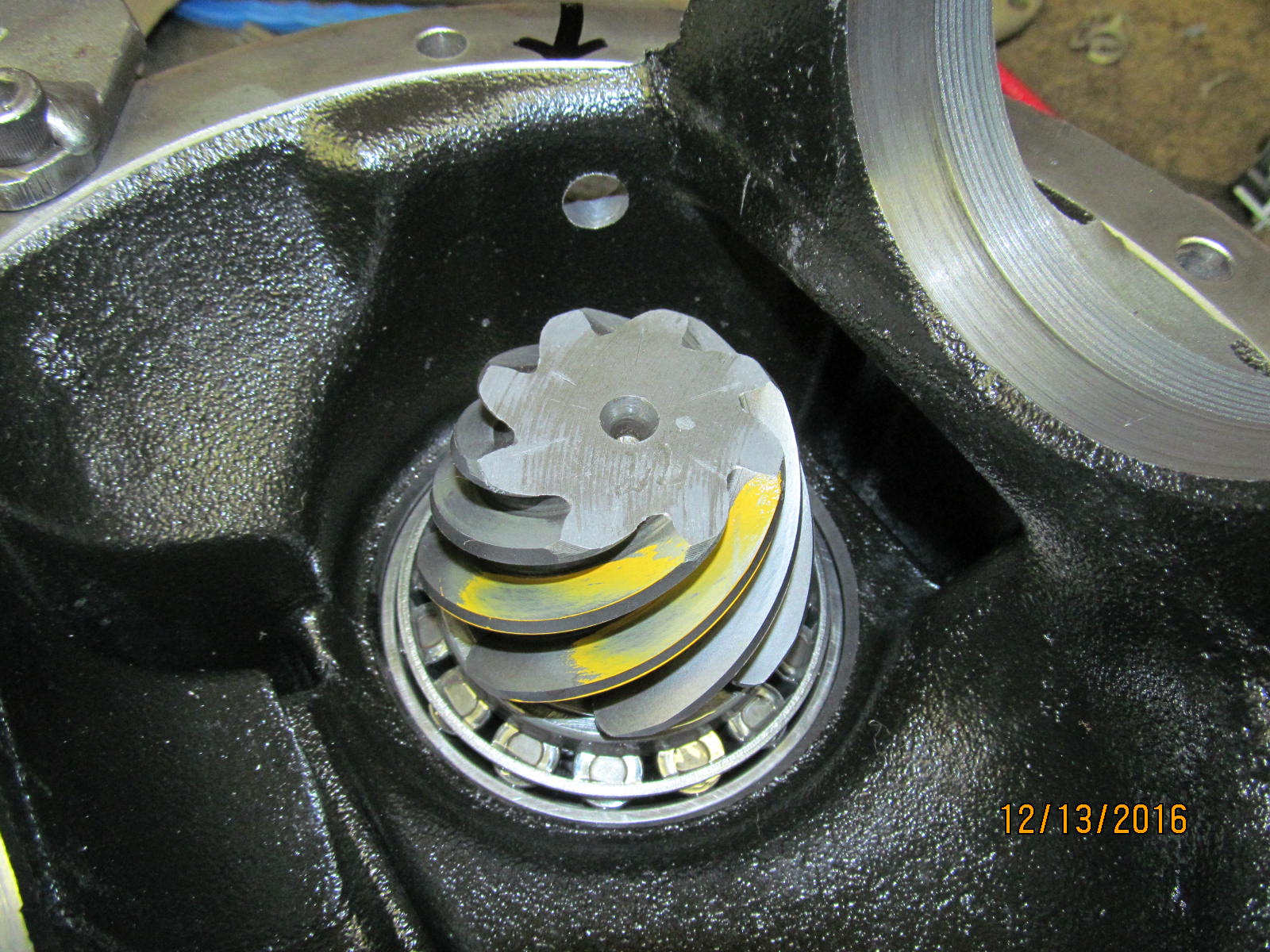 ,,,,,,,,,,,,,,,,,,,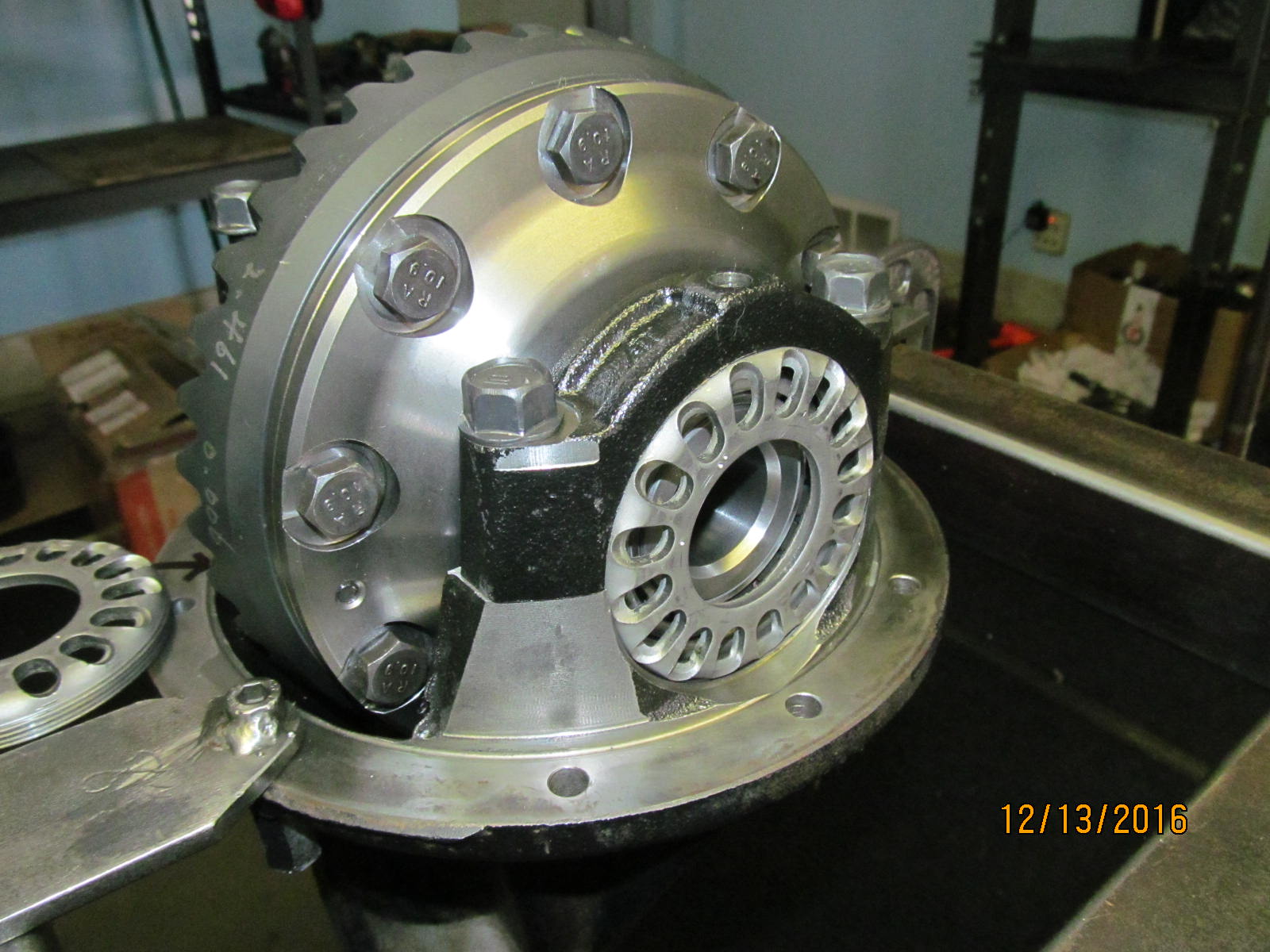 Now finally the Harrop elocker can be mounted.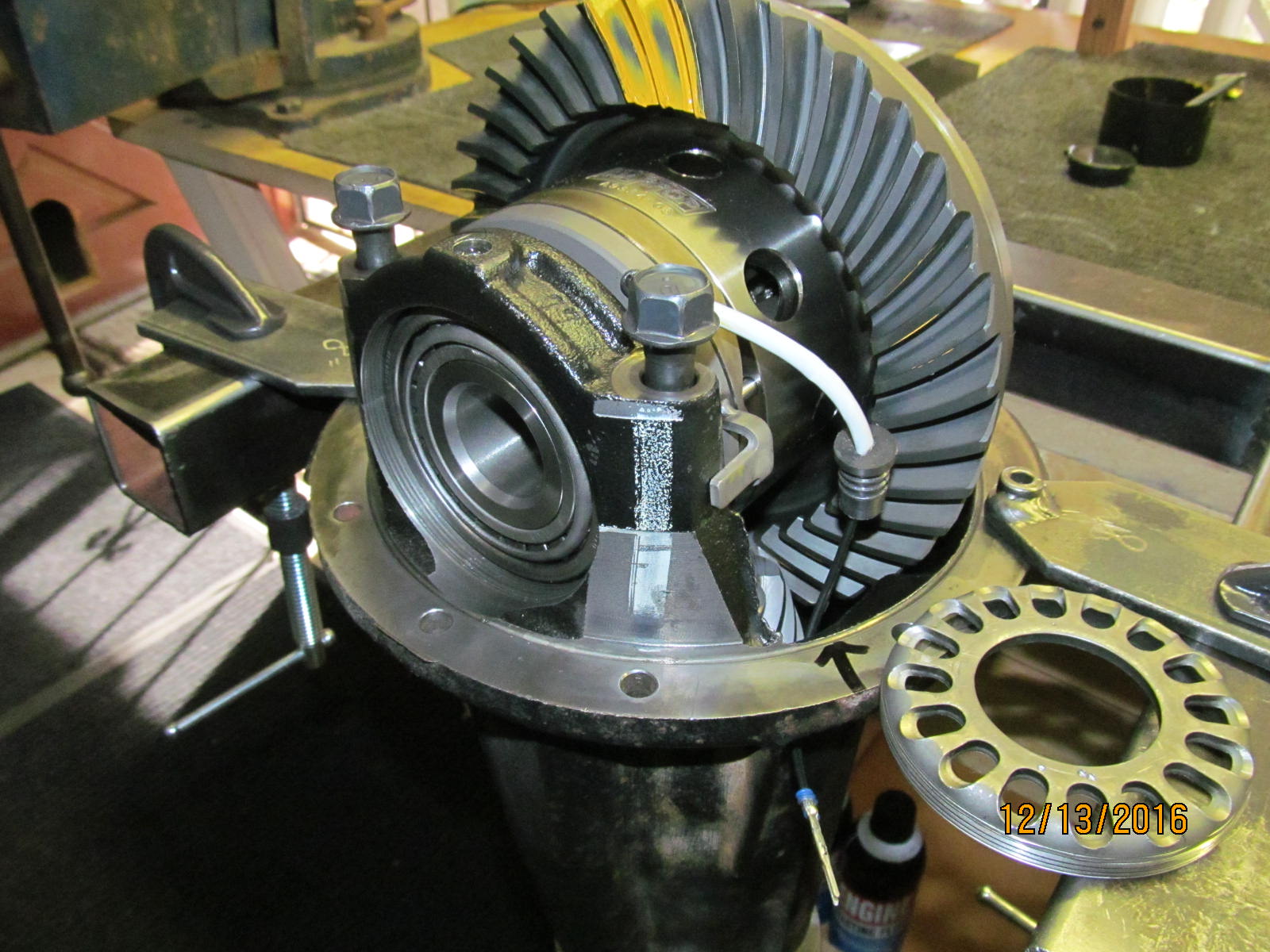 On this tab side the wheel adjuster gets screwed on last. Tab adjustment was also needed....
fitted much too tight....had to bend the tabs out a smidge.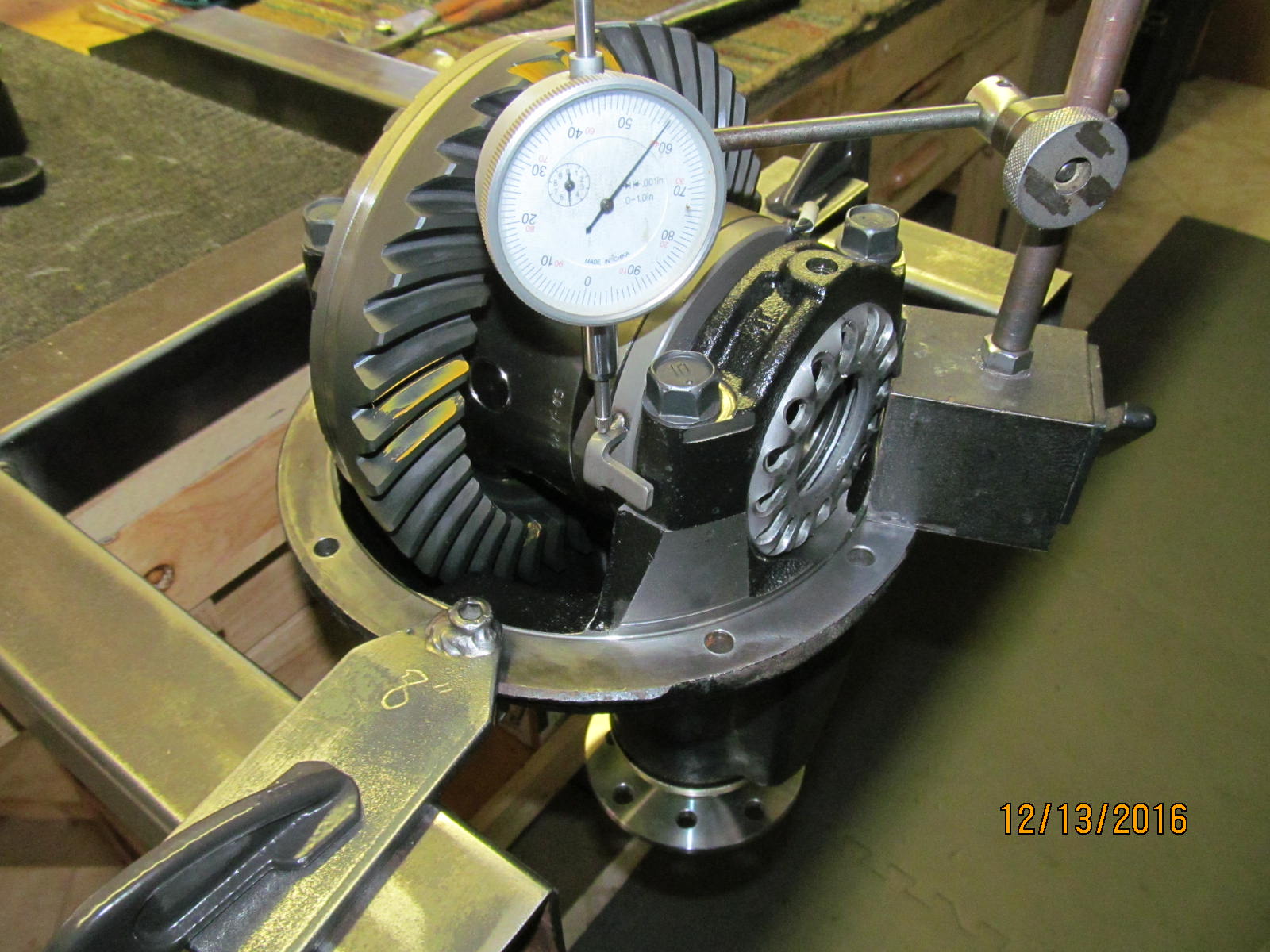 3mm of play was noted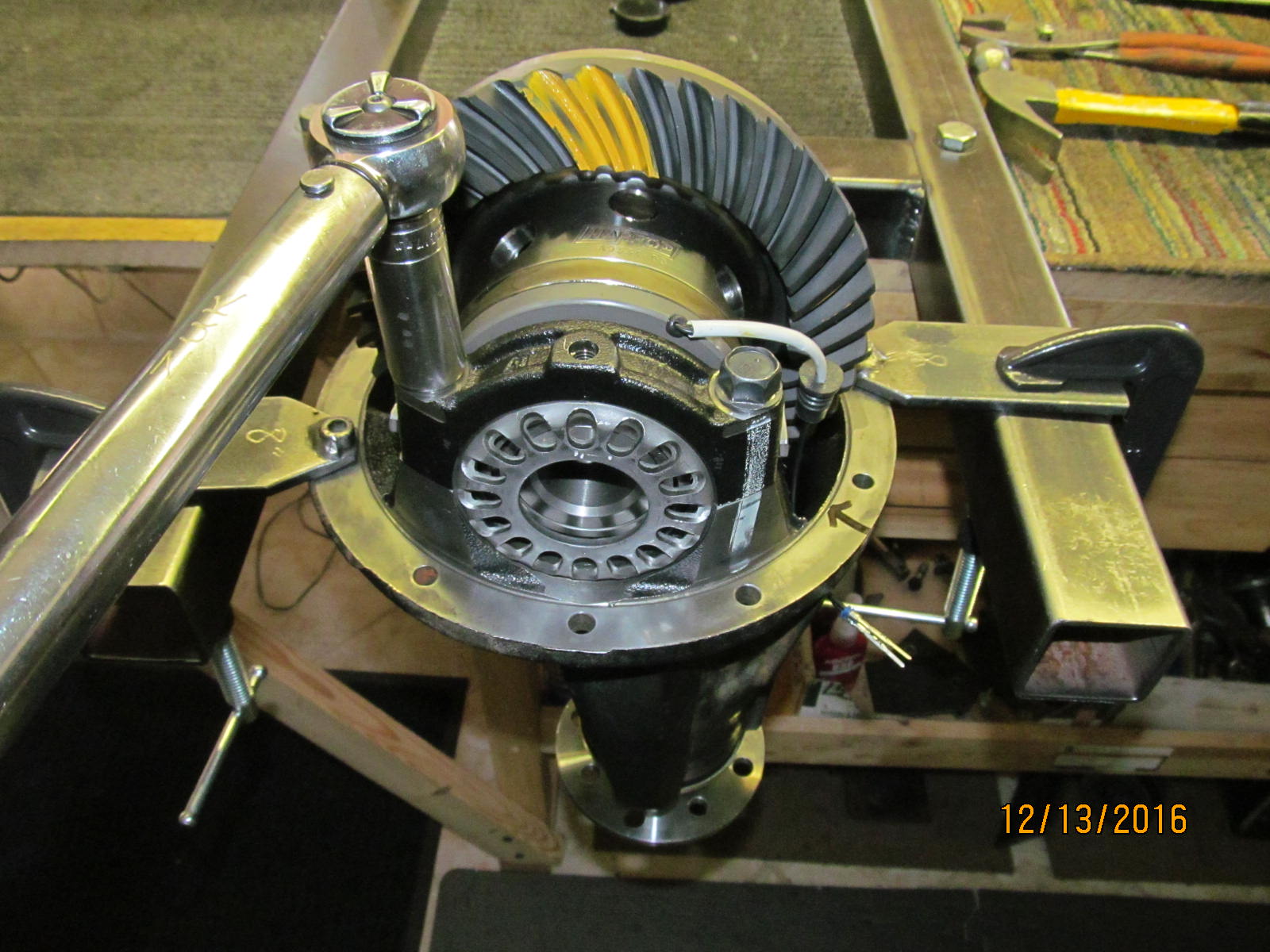 Caps were final torqued to 70 ft/lb.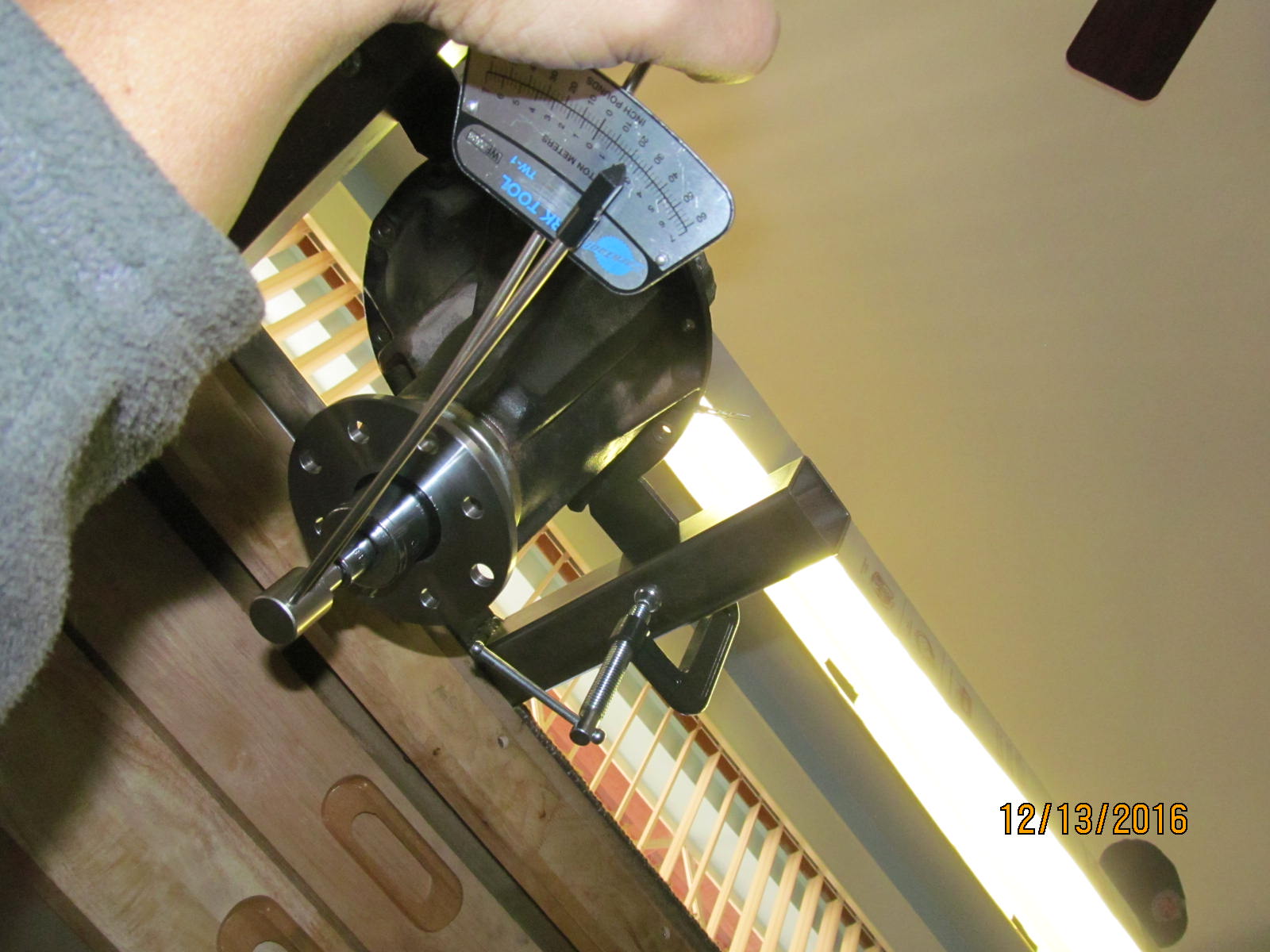 Backlash and carrier bearing preload was set. 18 in/lb was the TOTAL preload....take off the
pinion preload of 10 and that leaves 8 for the actual carrier bearing preload.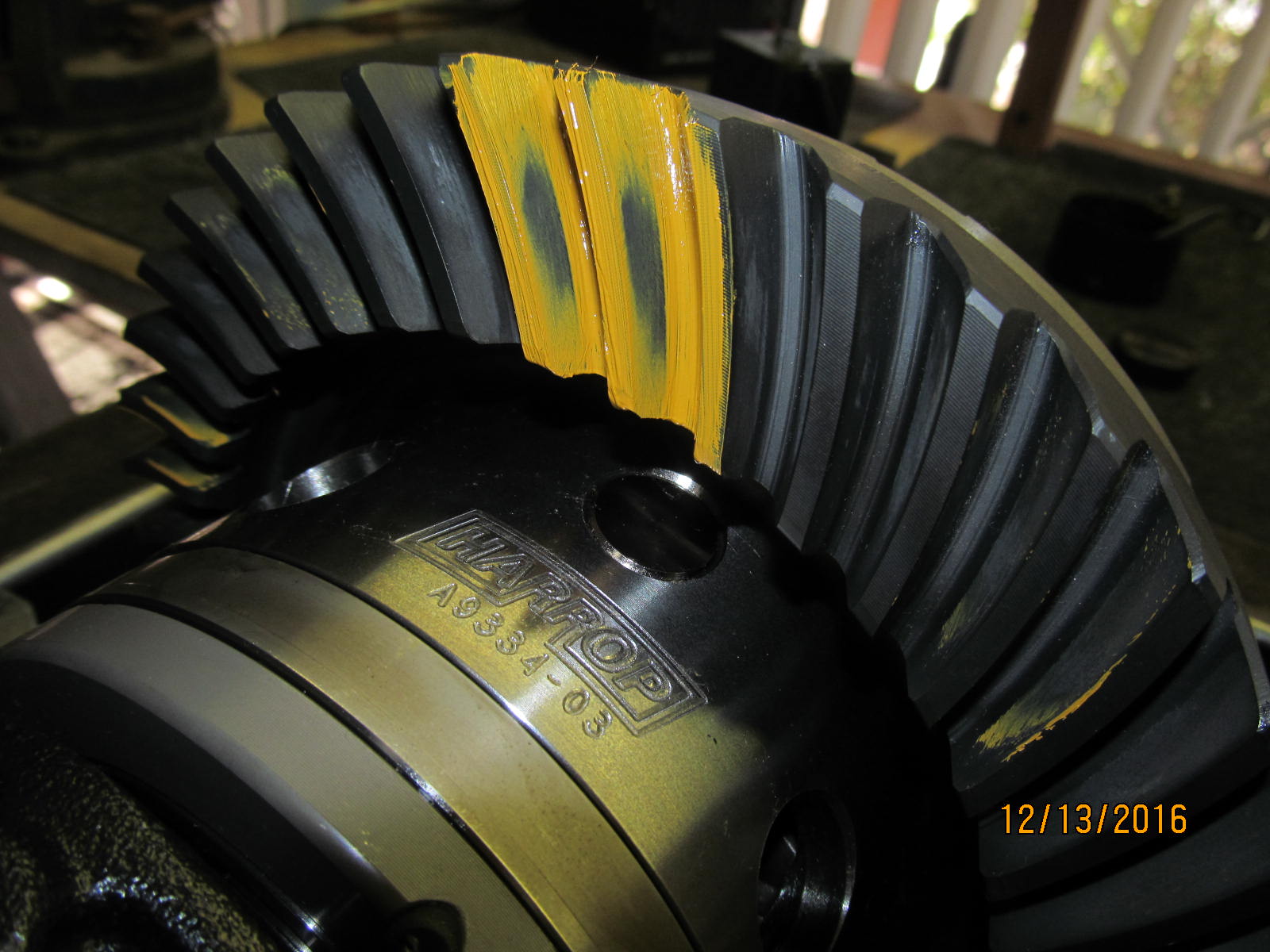 A final check of the depth and this driveside pattern looks great....a slight deep condition.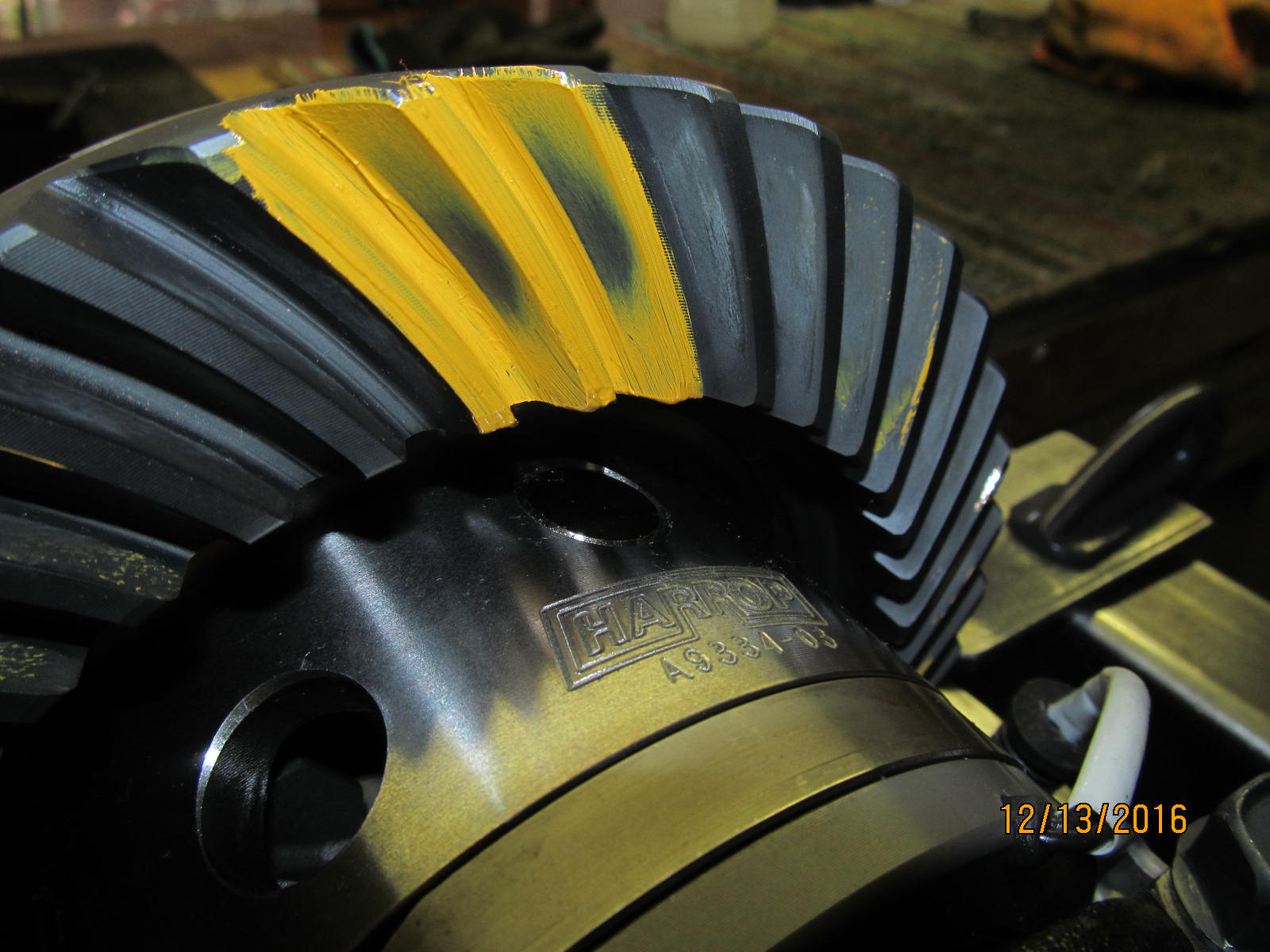 Coast looks wonderful, too.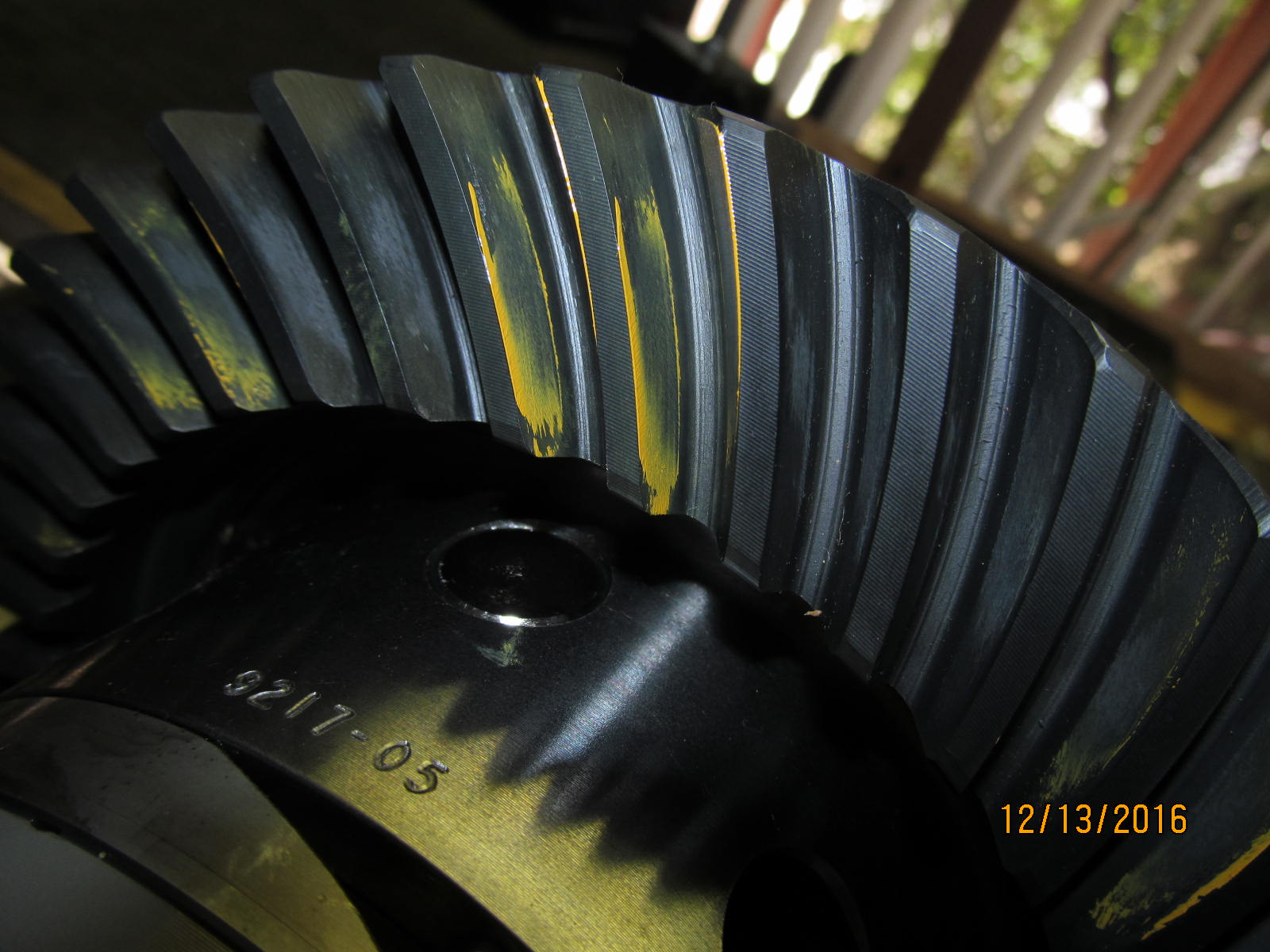 Reverse painted drive is nice.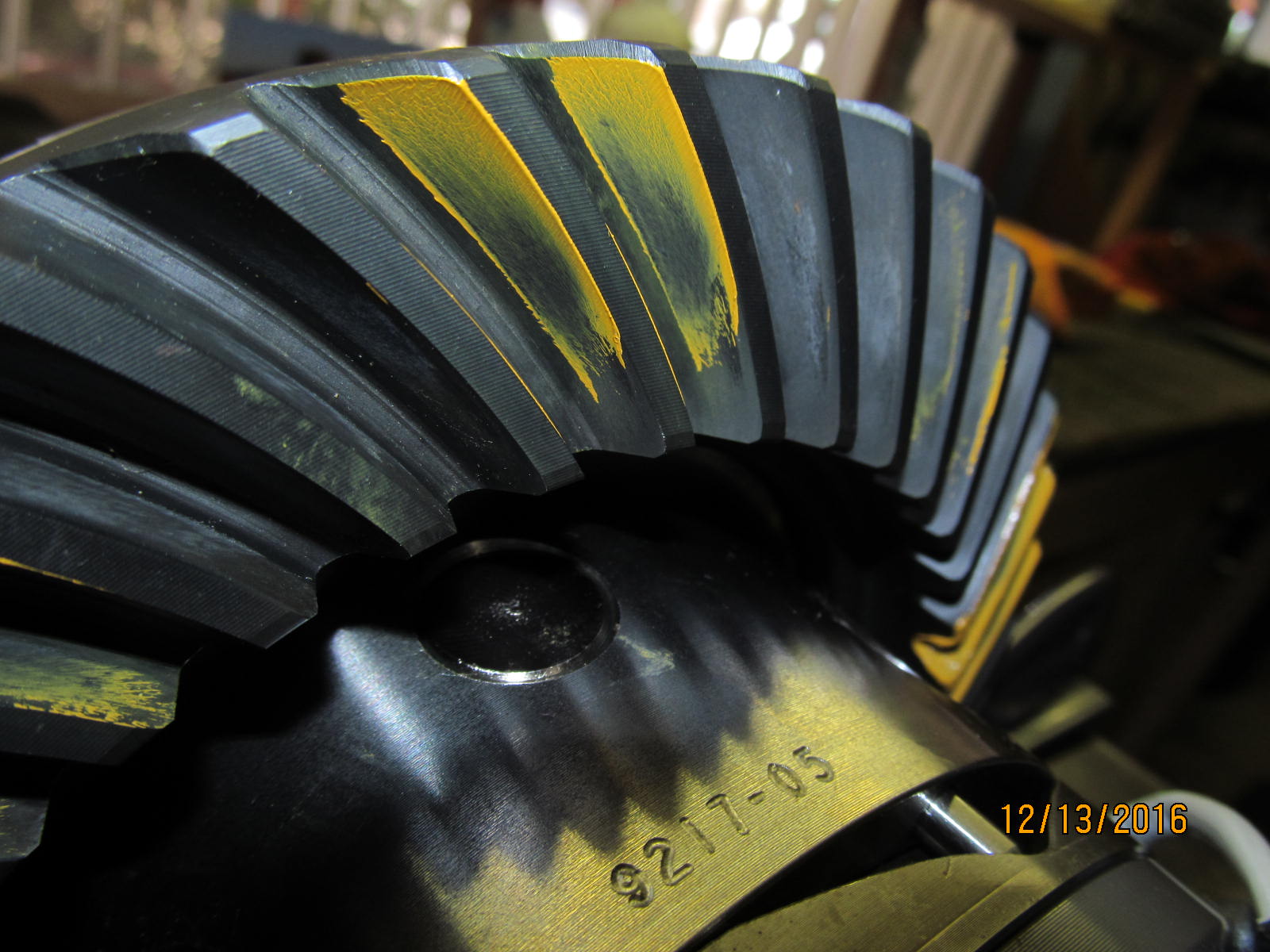 Reverse painted coast.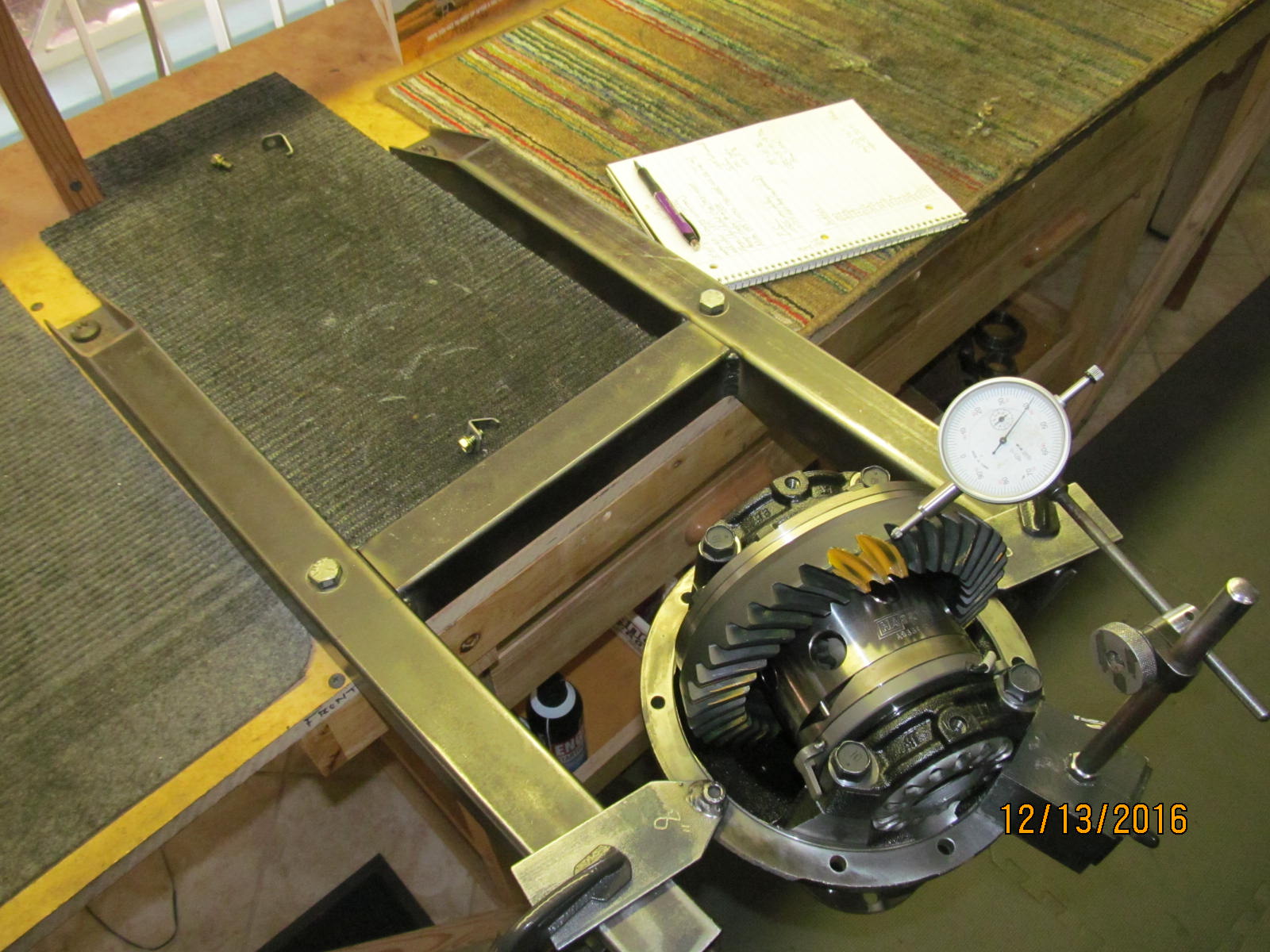 Backlash values were recorded for every other tooth for 20 readings.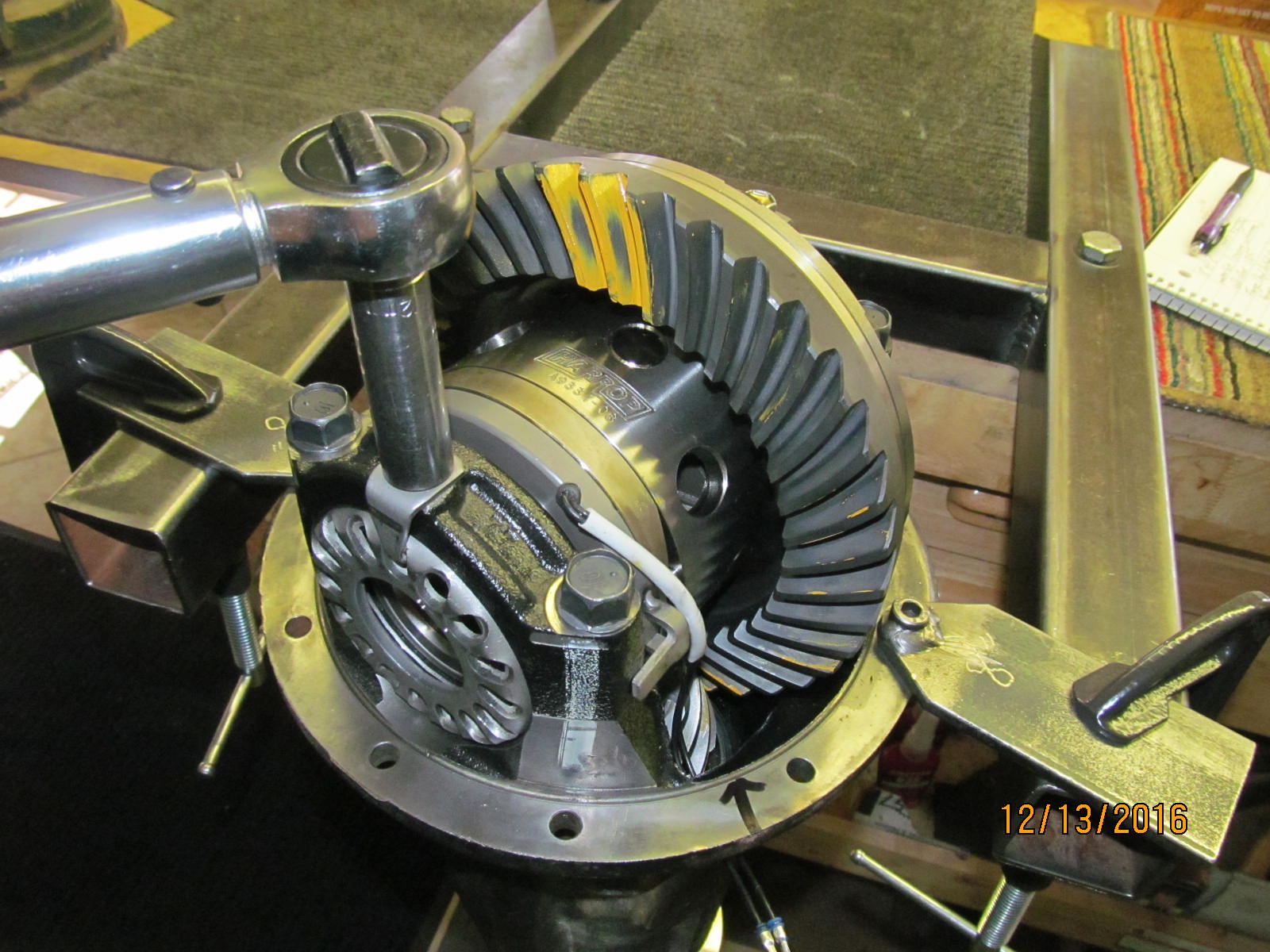 Lock tabs have a drop of blue locktight and 10 ft/lb of measured torque.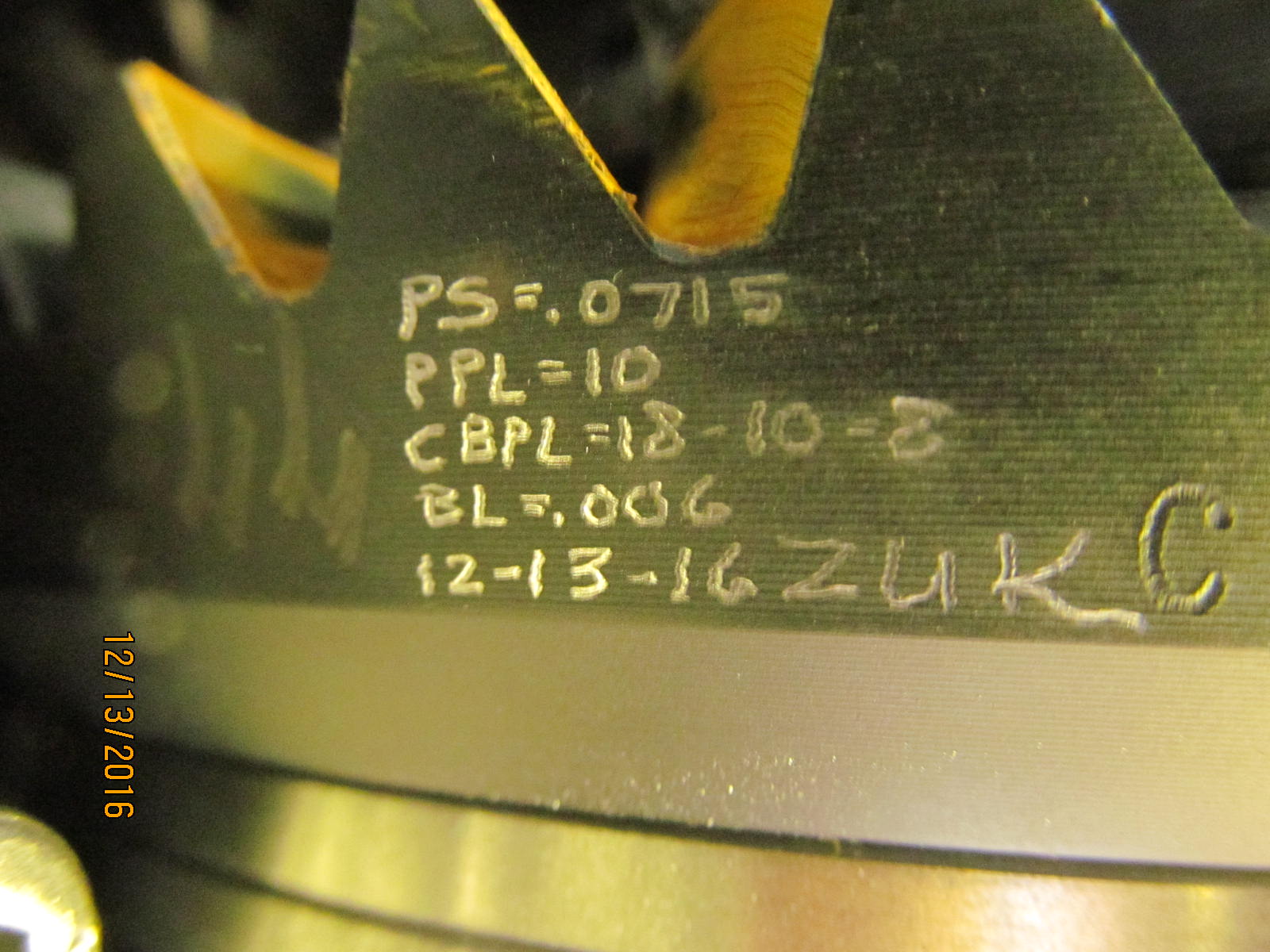 The basic info is inscribed on the ring gear.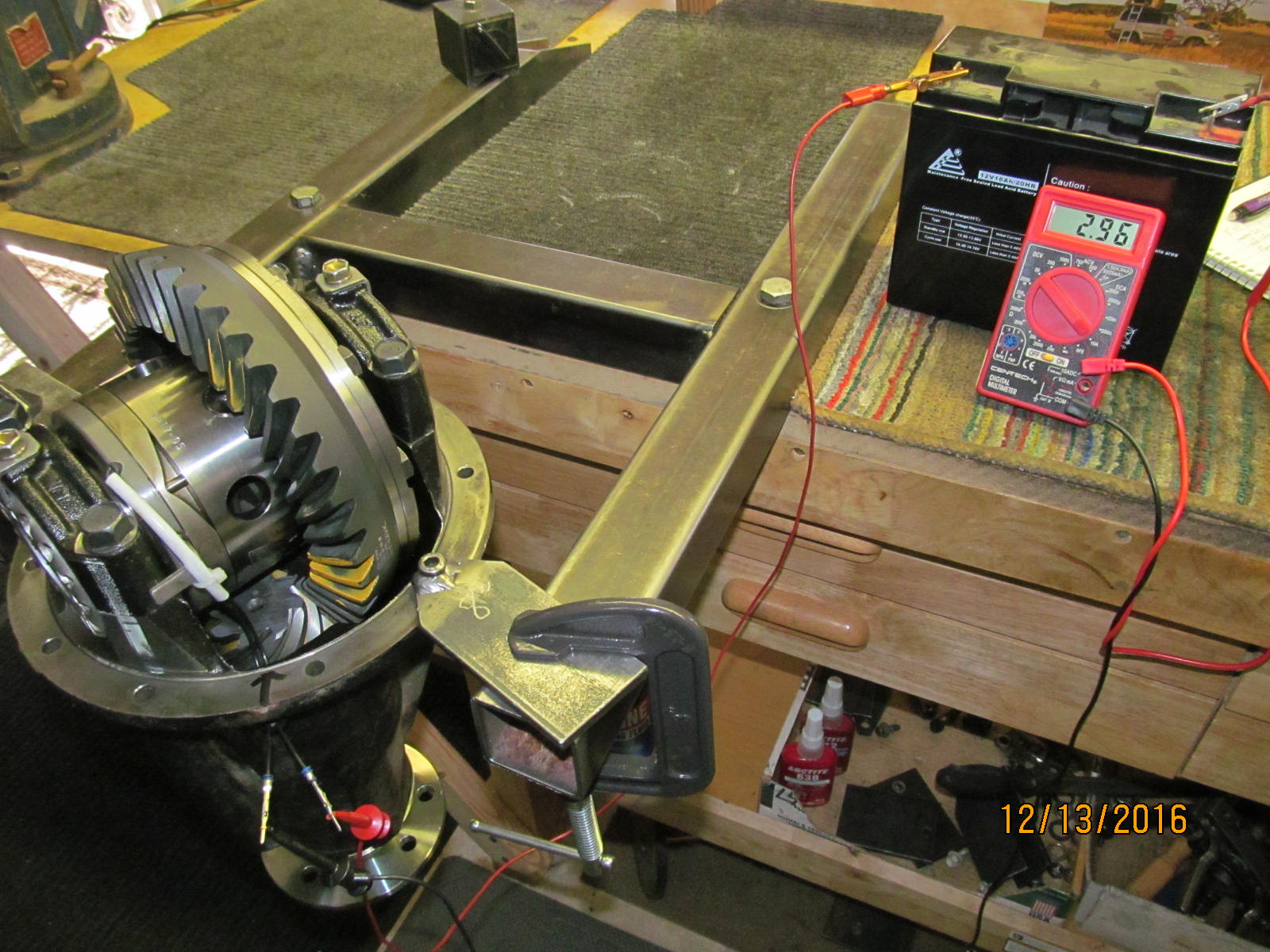 Amperage is measure with a 12.5 volt battery.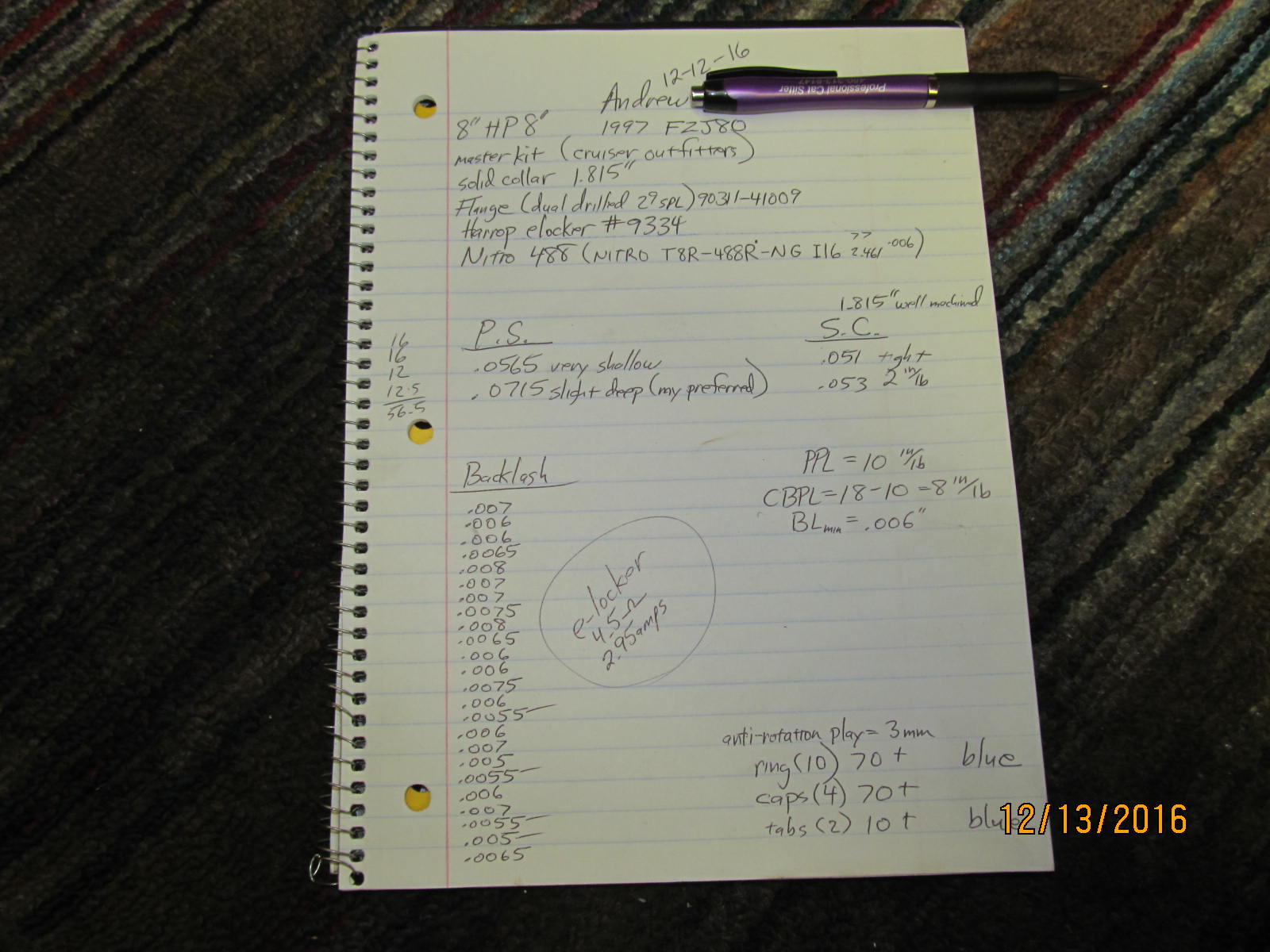 The notes that I took during the install process.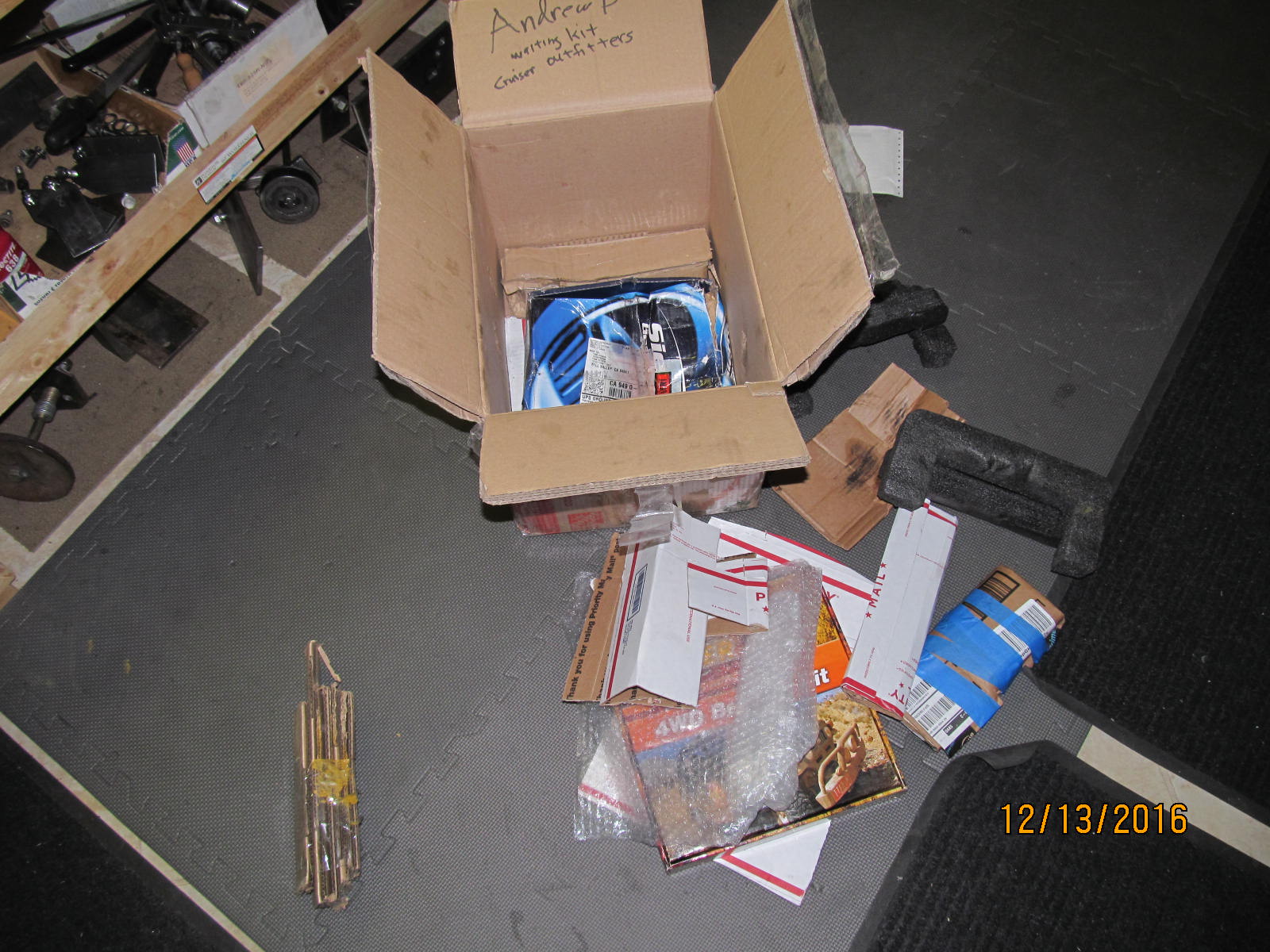 Pretty much using the same packing that Andrew did. Note the extra cardboard that Andrew has on
the floor deck. Box in a box....and the boxes are both double corrugated.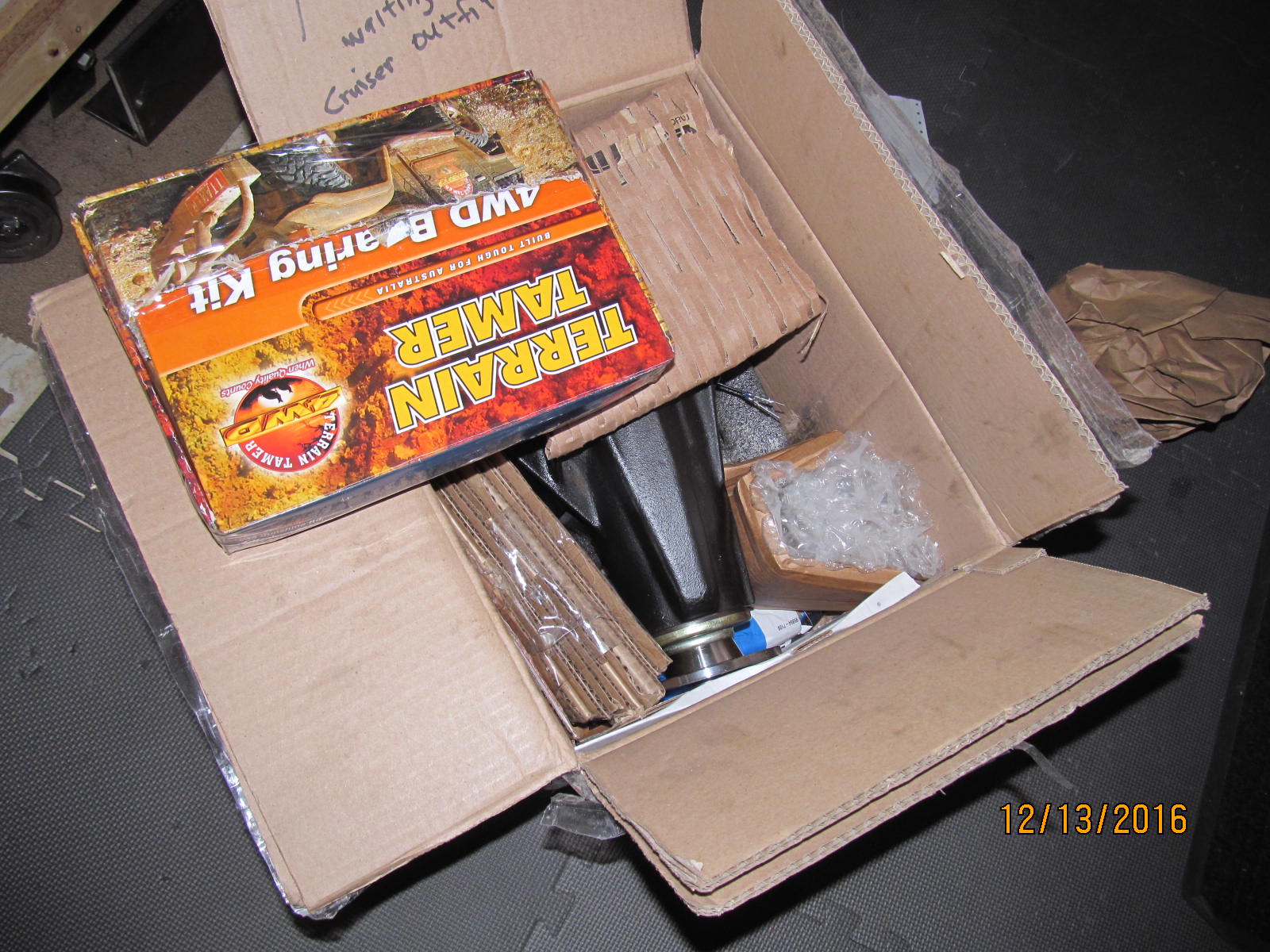 ..................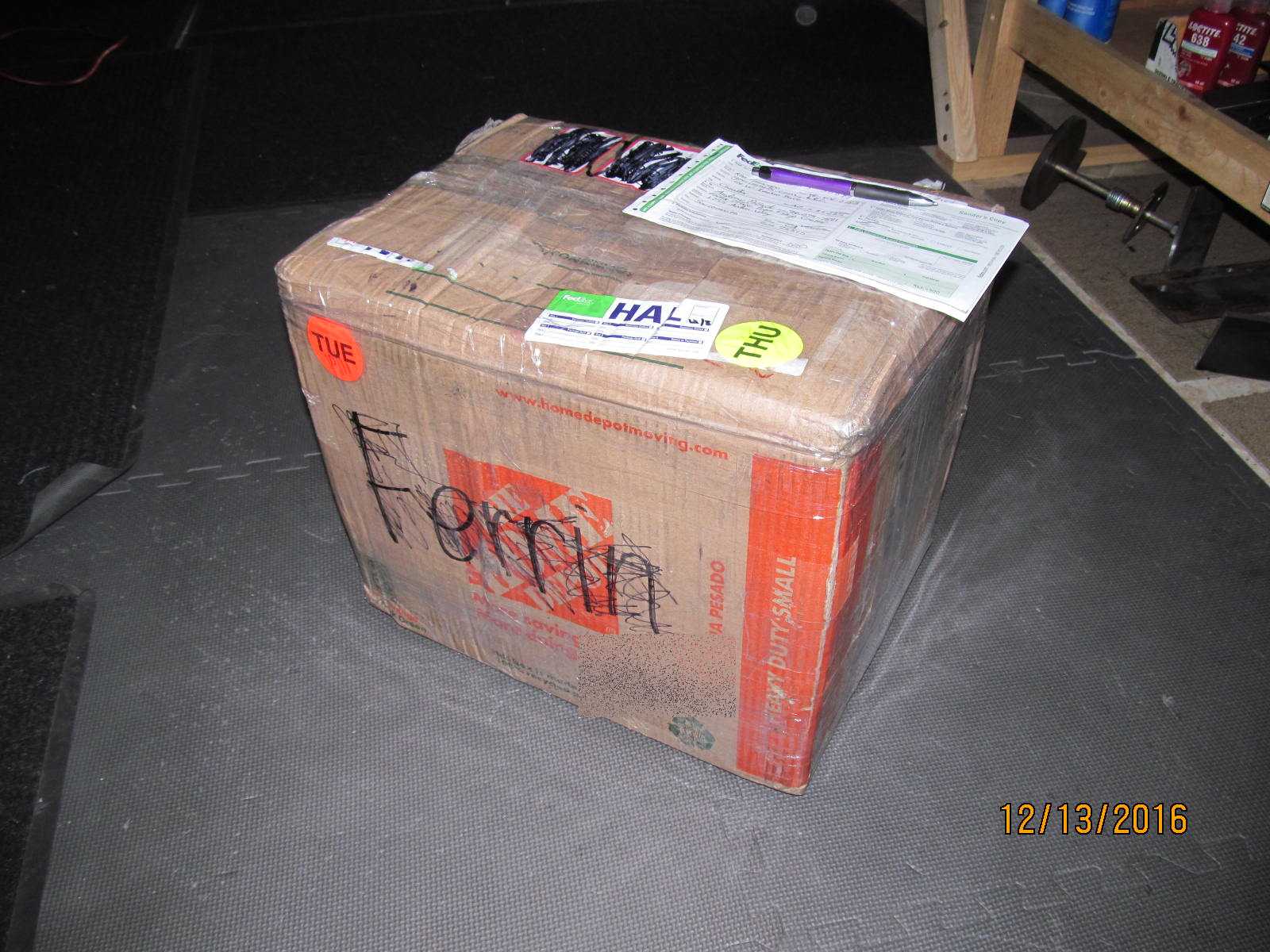 This is trip #4 I think for this box.
This box had a ton of strong scotch tap wrapped in every which way direction....
so theoretically, you would think that fedex would be fine with it. Well,
they almost refused it on Andrew's end due to mucho tape. Live and learn.