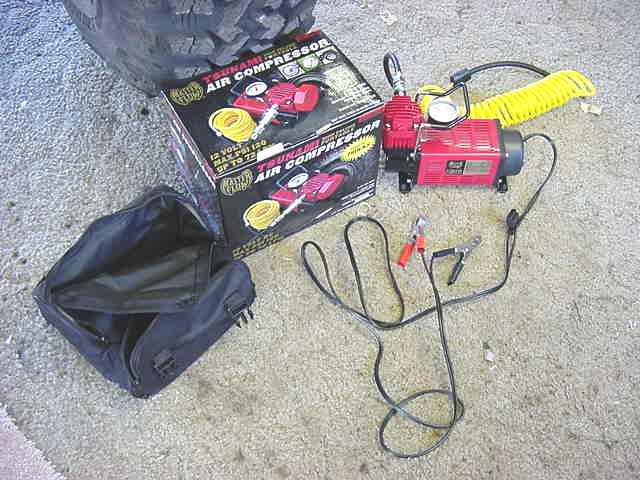 Well, I'm a believer now....I didn't think this $49 portable compressor would be even comparable to the well-known QuickAIR2($250). This compressor did so well, I may just pick up another for vacation trips in the daily driver.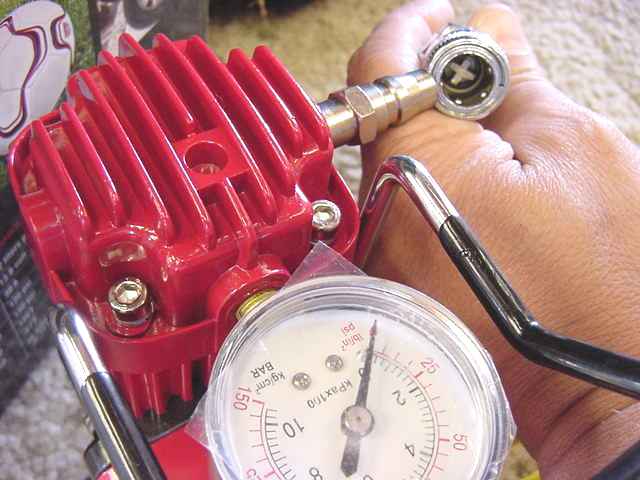 Nice that it has a quick dis-connect....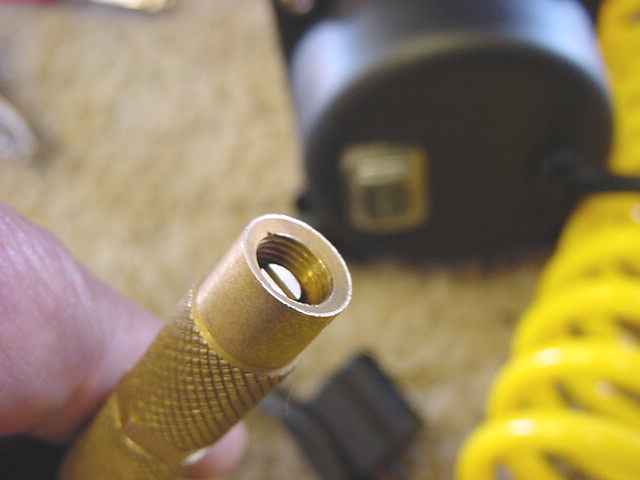 ...and the air nozzle easily screws onto the valve stem.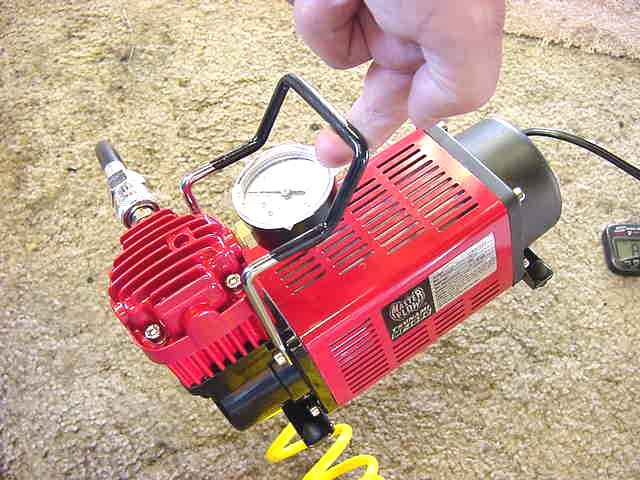 It seems to have some real quality to it....hard to believe "Made in China". Also, it has a good healthy sound while in operation.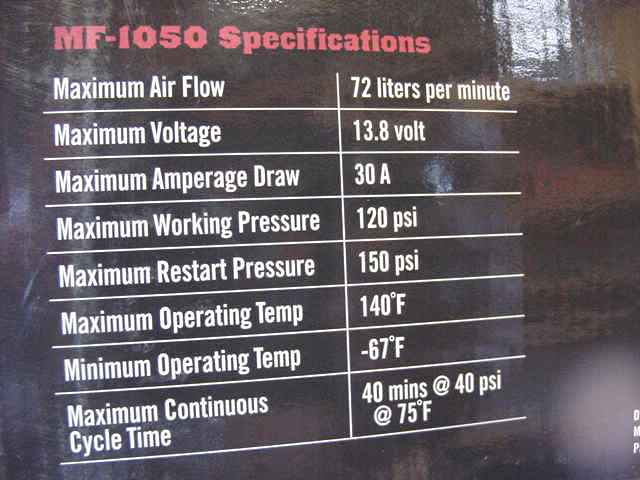 72 liters per minute is 2.54 cfm. This compressor is not in the "cigarette lighter" league...draws some good amps.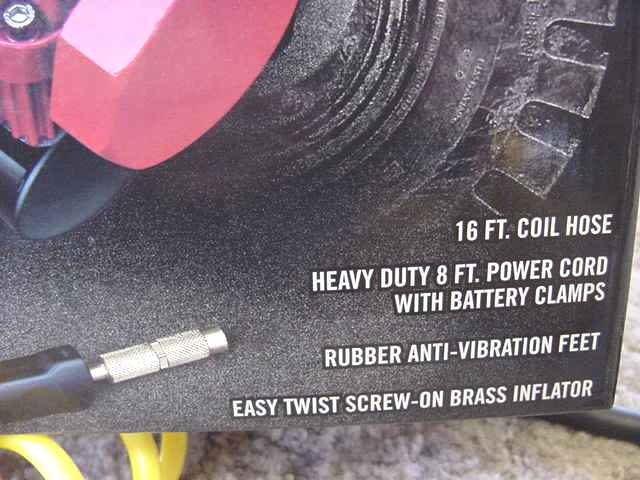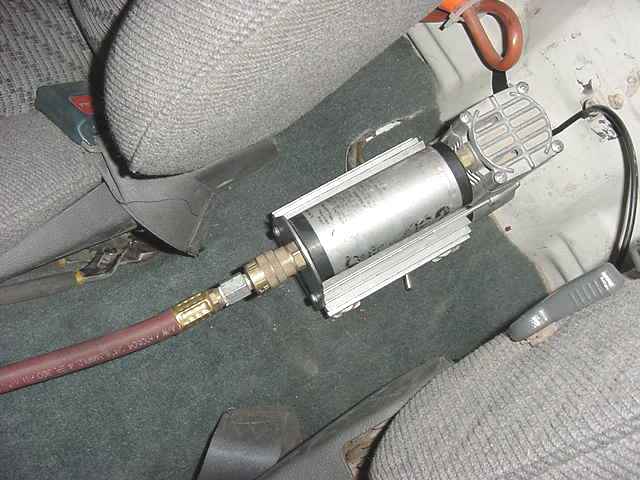 My QuickAIR2 is mounted in the cab of my trail rig...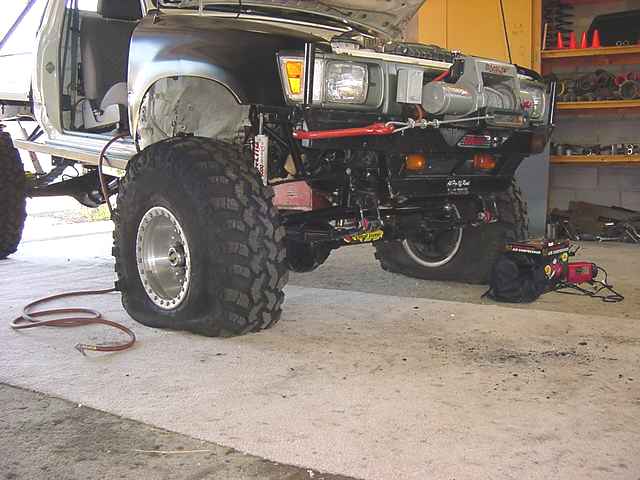 The test would be simple. With both tires aired all the way down, both compressors would be turned on at the same time and turned off in exactly 5 minutes. Then see exactly how much air is in each of the 36x13.50 IROK Radials. The next 2 pics say it all.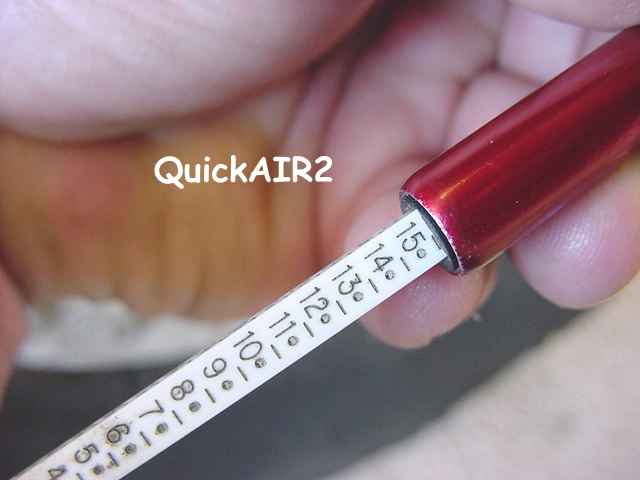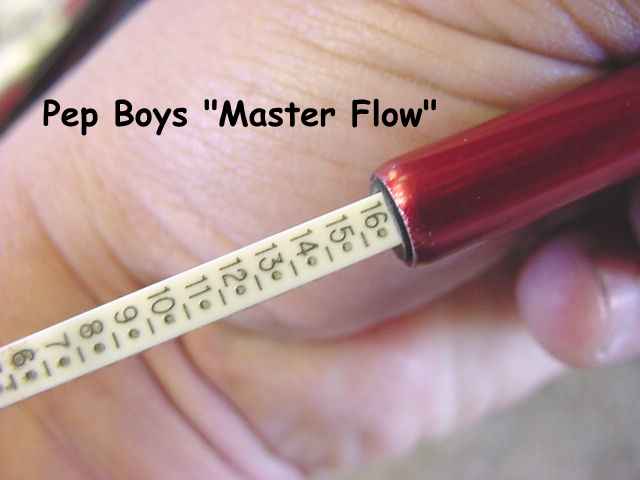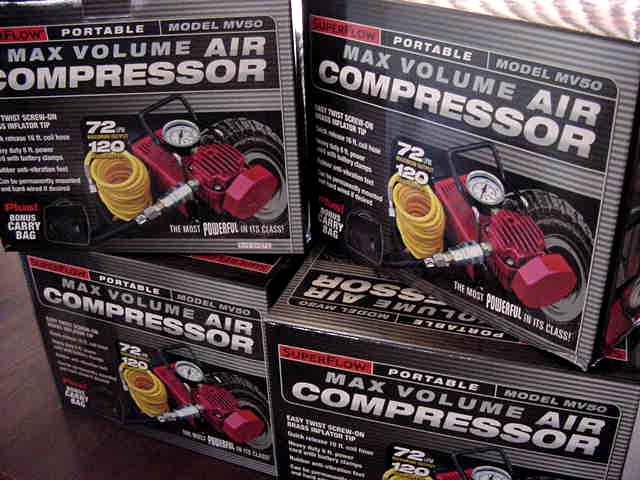 UPDATE::::May 18, 2005....There's another web-link floating around about a similar compressor (MV50) sold by Checkers. I had some trouble finding them here in Phoenix but did manage to locate some....and Yes, they are the same exact compressor as the Pepboys.....different part number and half the price ($24.99)!!!! I bought 4 of those to give away to friends :) Oh ya....better call the individual store to verify they have them actually on the floor....then grab 'em up. Checkers has dis-continue them due to poor sales due to "they do not plug into the low amperage cig lighter"! ha ha ha
UPDATE: It finally bit the dust 5 years later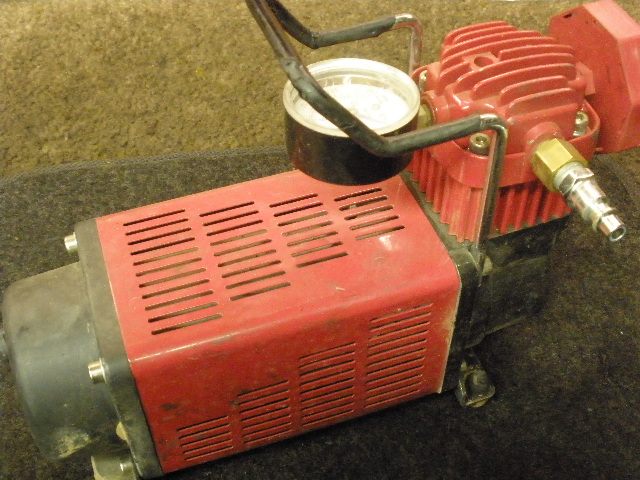 It was October of 2010 and it finally said good-bye. A terrible rattle came from the compressor and that was it.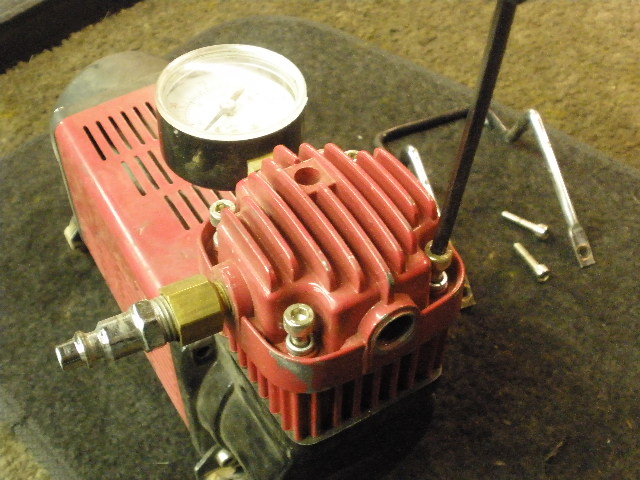 A new one that has been on stand-bye for the last 5 years will take over the duties. So, now is a good time to pull the head off and see the damage.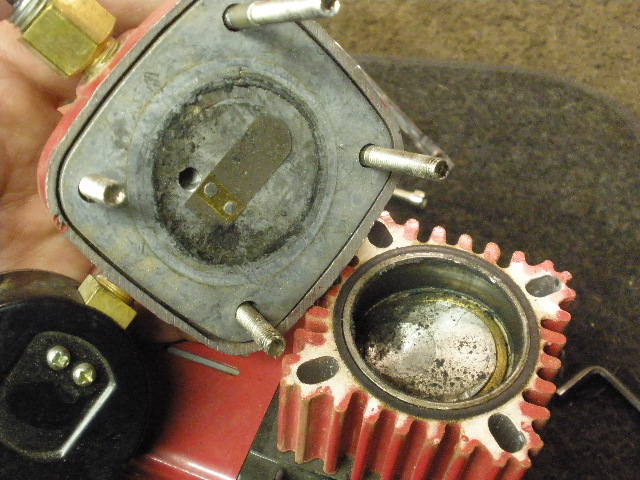 The reed valve is ok....the head has some grease and grime but no holes in it.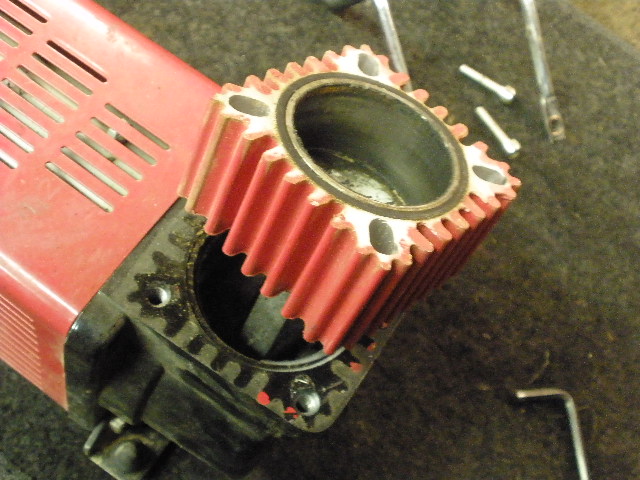 Taking the barrel off....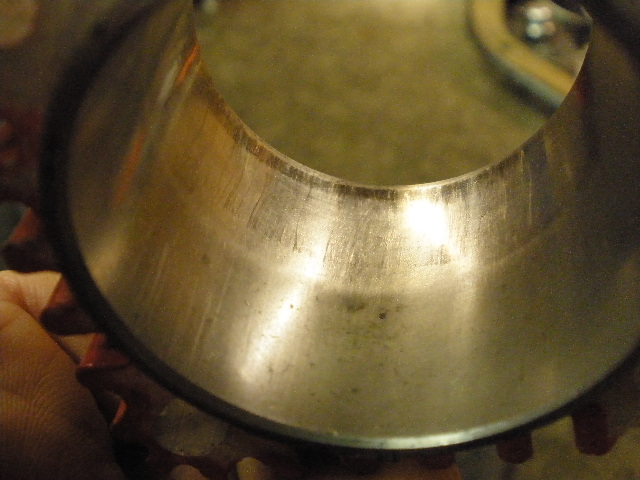 I wiped the grime off.....the walls look fair.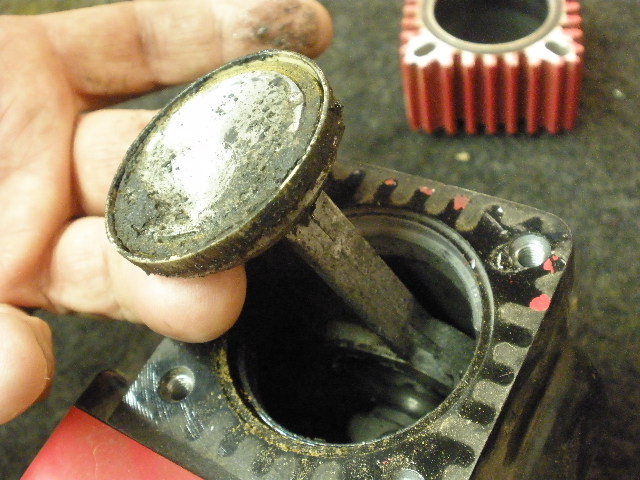 Such a short piston. Looks to be 1/4" tall.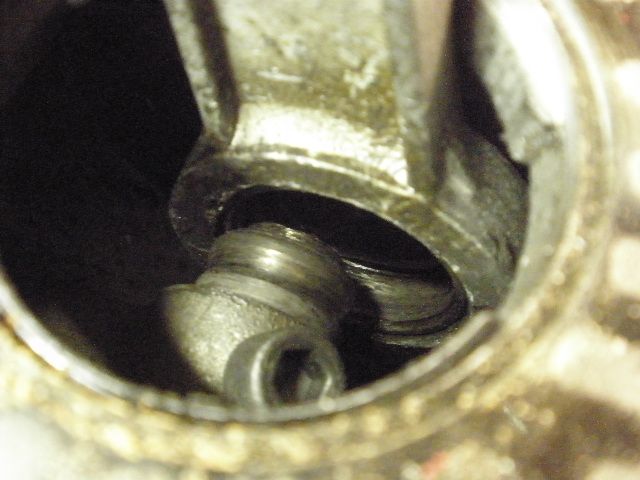 Here's the problem....all the ball bearings fell out.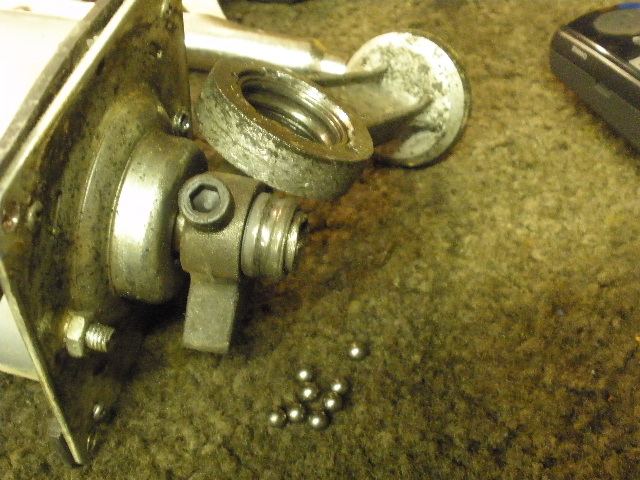 Not sure how that can happen since they should stay captured. There must have been considerable wear and slop for them to escape the groove. ZUK