Center coil install
14 low res pics loading
5-3-2004
(periodic updates at end of this page)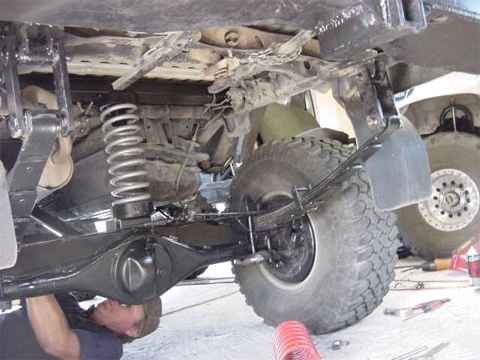 My friend, Scott, down in Tucson, has been having a major PITA
issue with his rear spring packs. Seems the packs have settled(after only a few months)
....and the rear was starting to look like it was dragging. So up to Chandler Scott
heads for an install of the not so well known ZUK-COIL. There's nothing really tough about
fabbing up a set-up like this. A chop saw, hand-grinder, mig welder, and a drill
will suffice. We used quite a bit of scrap metal laying around (have you priced
steel lately!?).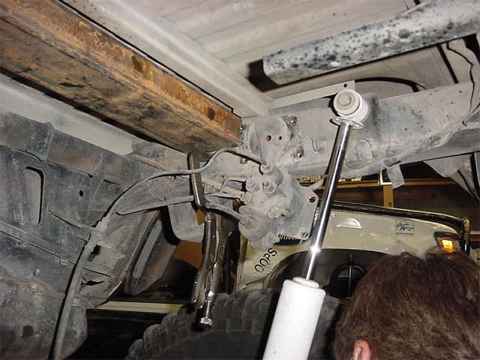 We cut this piece of 2x4x.120 steel to 37" and moved a few things out of the
way to fa-naggle it in position.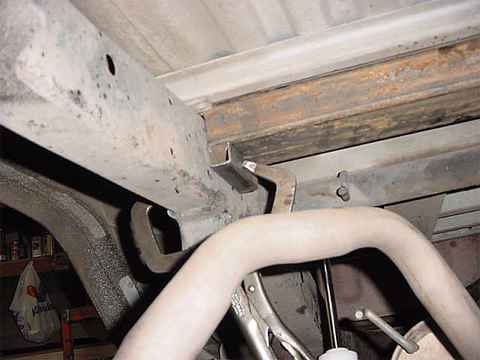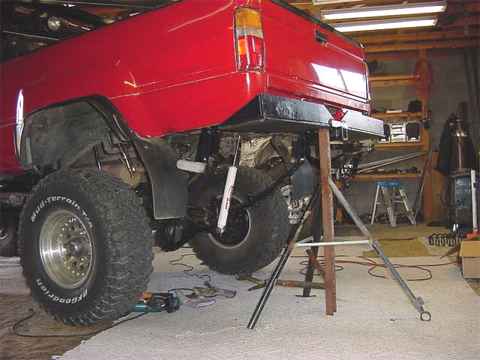 I made this junky tripod up many moons ago and today it came in very
handy.....much easier working under there with head-room plus some safety.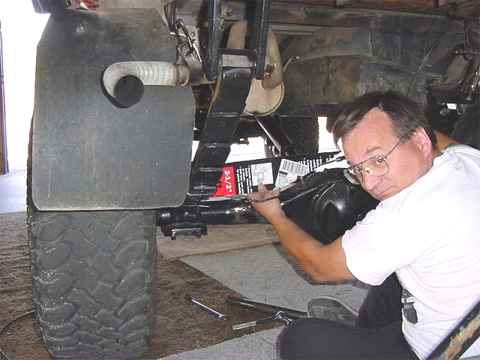 Different options to truss it....I cut up a chunk of
card-board to make a template.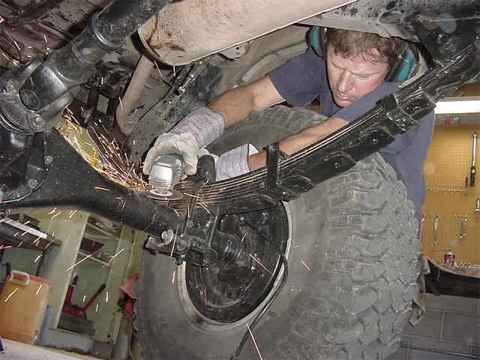 Scott removes the extra bracketry that was not needed or was to be
re-transplanted.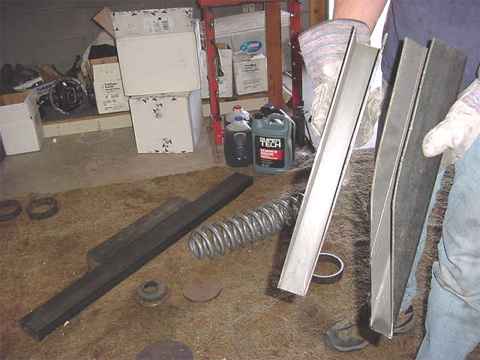 I used the chopsaw and the handgrinder and came up with this
truss...Time was spent trimming it to get a decent fit.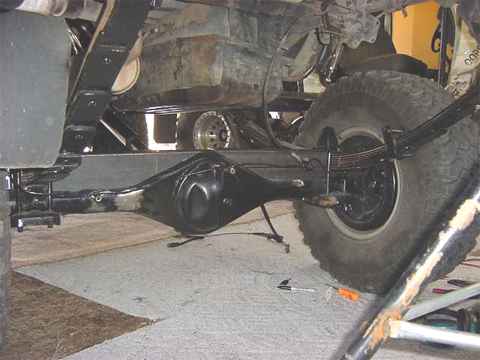 Here it is tacked in place.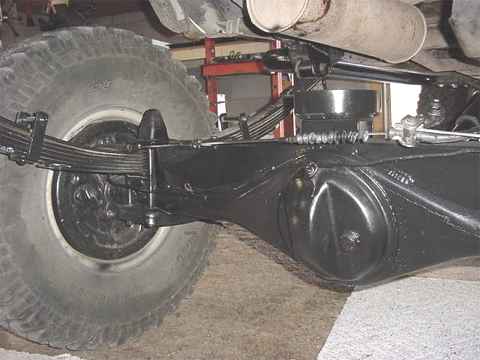 More weld and some paint. The lower coil dish was pointed at the dish above
near the bed and then welded/bolted in place. This dish unbolts and spacers can
be inserted to create additional lift.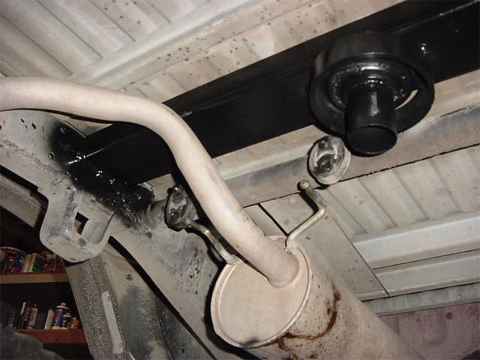 The top dish is welded to the cross-brace. The muffler tabs were
relocated(easy) about an inch downward to allow the tail-pipe to clear the
cross-brace.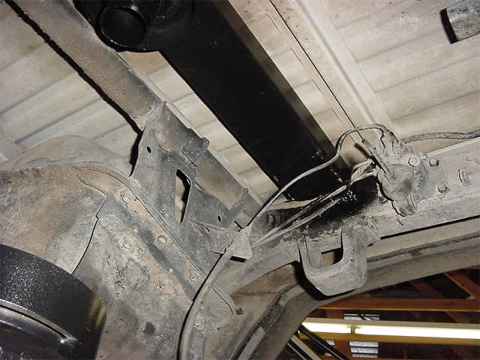 The other side of the brace cleared the brake valve a-ok.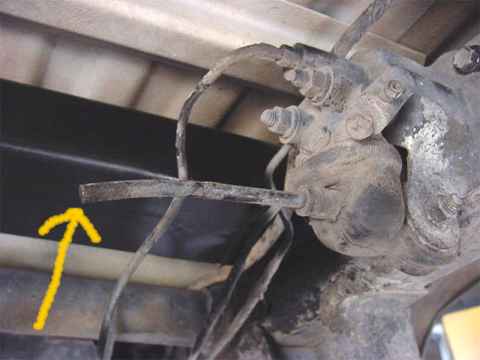 We chose to simplify things and cut it free.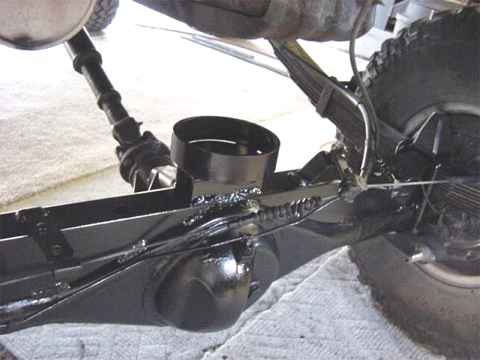 Emergency brake cable/brackets were easy to re-locate. New metal brake lines
will be re-formed and pass over the top of the truss out of boulder reach in the
near future.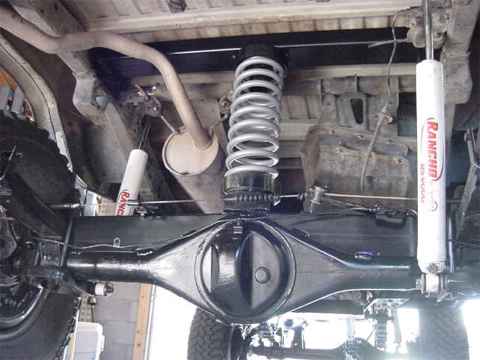 We cut 3 inches off of the Rubicon Express Jeep TJ coil......and it still
netted us 3.5" of much needed lift.The truss/coil install took about 8 hours and
was deemed a complete success. Besides having a somewhat stronger axle housing
per the truss, we now have a "support" lift system giving us better payload capabilities,
a softer ride, and leaf-packs that might last close to forever. ZUK

Update: 12-16-2005 So far, no loss of lift in 1.5 years FYI

Update: 1-9-2008 Working perfect so far. :)

Update 1-7-2011 ....still perfect 7 years after install.

UPDATE...... 5-28-2013...... STILL NO SAG AND WORKING GREAT
AS OF LAST RELATIVELY HEAVY LOAD..... sign Scott Rhodes

Update 3-18-2016 ....Coming up on 12 years on the same single coil in the center
.....just got off the phone with Scott and he reports no sag and works beautifully.

Update 11-10-2018 ....over 14 years now and Scott's running the exact same geometry
in the front and rear and the rear leafs with coil support has shown no sign of sagging. Looks like the
rear suspension is going to held up better than Scott is :) I bet when Scott is on Social Security
that the rear leafpacks will still be good to go.....not so sure about Scott though :)
.....Recently talked with Scott and he reports no sag in the rear at all (of the truck).

UPDATE...... 12-18-2022...... Was just chatting with Scott on the phone and he reports
everything is just fine with the coil. No visible change.


HOME