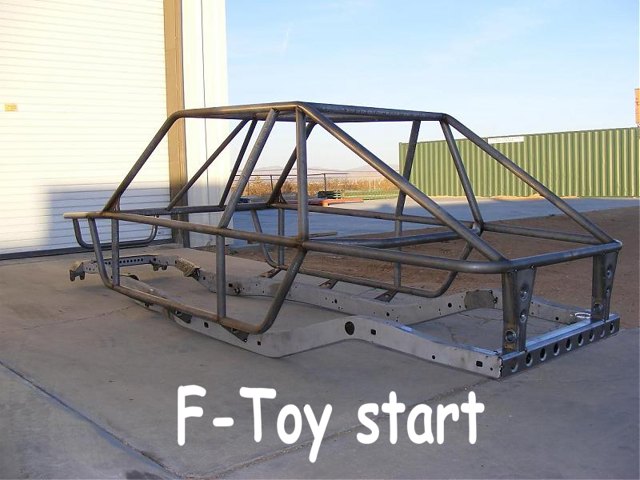 Jim is in the process of building up an F-Toy....first, a little background on F-Toys.... An F-Toy is a Formula Toyota, a Special class rock crawling vehicle with a tube chassis made to sit on top an existing Toyota pickup frame. The class was started a few years ago and now close to 100 chassis' have been sold by Hendrix Motor Sports. The idea is to have very consistent vehicles so the competition comes more from driver and spotter instead of who can throw the most money into a rig. In competition, the vehicles are very competitive within the class and even with Pro-Mod vehicles when facing them. In fact, in the 2008 King of the Hammers Race, the F-Toys did really well stacked up against unlimited vehicles (Moon buggies, Linked, Dana 60's, LS6 V8's, etc).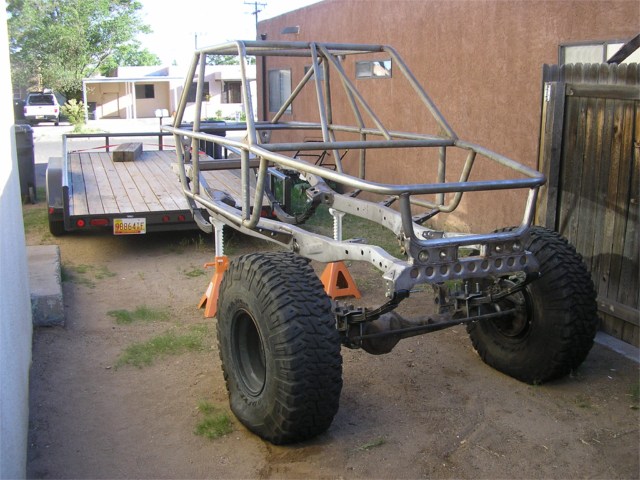 On the trail, where Jim plans to spend most of his time, the rig is expected to perform well. The 22re power plants are reliable, the power to weight ratio is sufficient (approx. 3000 lbs), the balance front to rear is near perfect (with the drive train moved back approx. 8" in the chassis), and the rigs just plain work. You can see Jim's build up thread on pirate.
This is some of what Jim is putting into the build....
22re EFI
5-Speed
Dual cases with 4.7 rear
E-Lockers F&R (I already had them) need re-geared
'83 axle trussed
IFS Rear
30 Spline Longs
Longs Hub Gears
ARP Studs
TG High Steer
ARP Knuckle Studs
Hydro Assist
ORS Harness
PRP's
37" MTR's
Almost everything on this build will be rebuilt with "new" parts (axles, t-cases, etc). The engine has about 40k on it and the trans has 15k on a rebuild.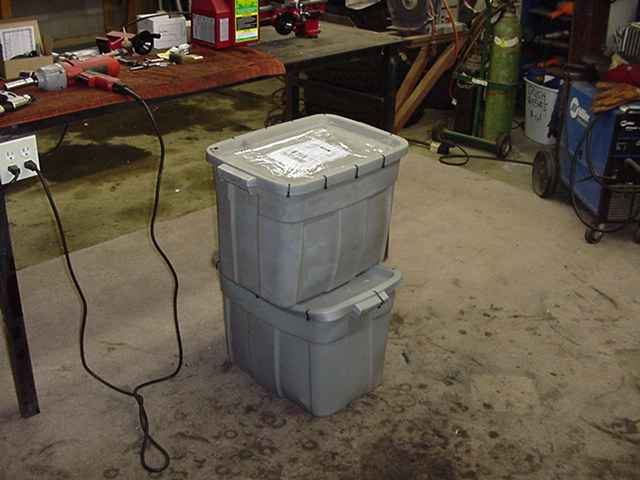 I'm doing the gear install portion of this build. Jim sent me 2 E-lockers. A friend of his wished he had gone with 571 gears instead of his present 529/37" tire combo. Jim considered this and after some research, decided that 571 gears are the way to go. They will be Motive gears....cryo treated...with cryo bearings...and installed to pro levels. Pushing 37,39,40, and sometimes 42" tall tires is asking alot of any 8" 3rd member but it can be done with a degree of dependability.....just gotta install those gears right ;)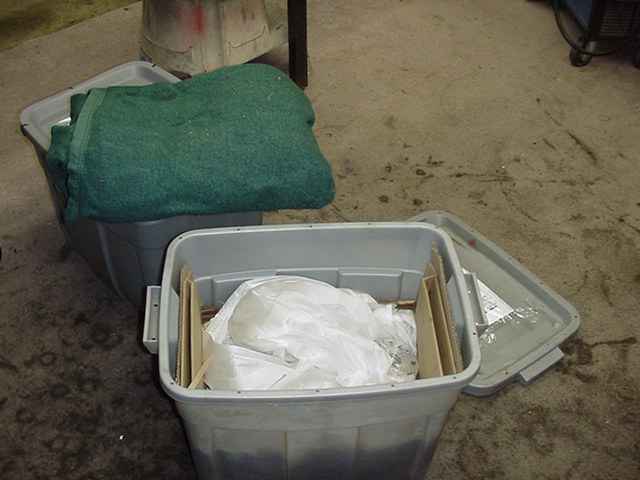 .......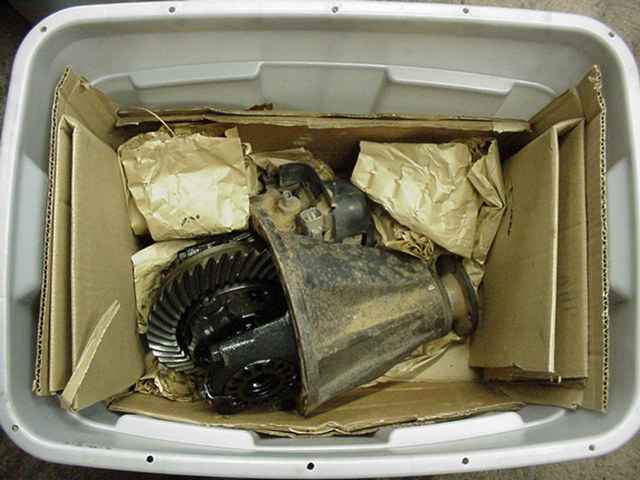 Insulated with cardboard...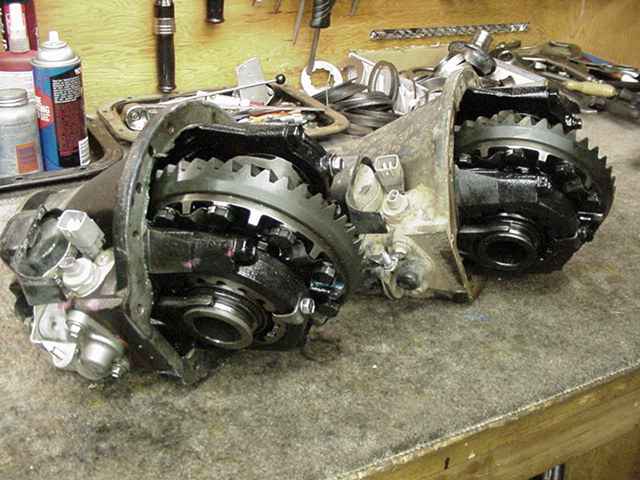 The plan is to use cryo treated Motive 571 gears....cryo bearings...and a solid collar. Close attention will be paid towards pinion depth (resultant pattern) and pre-loads.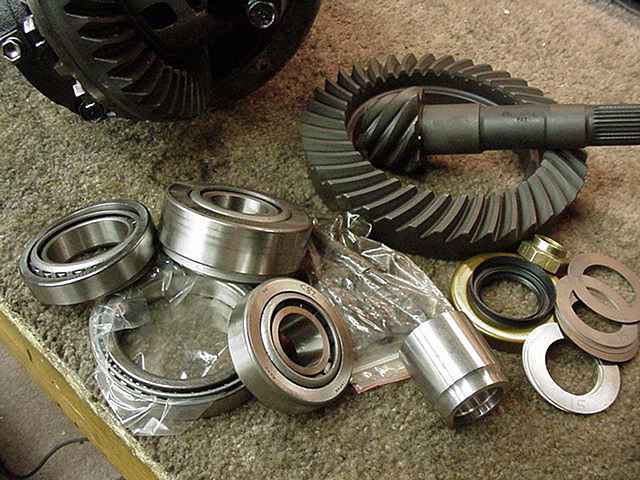 The gears and bearings have been professionally cryogenically treated locally here from Cryogenics International.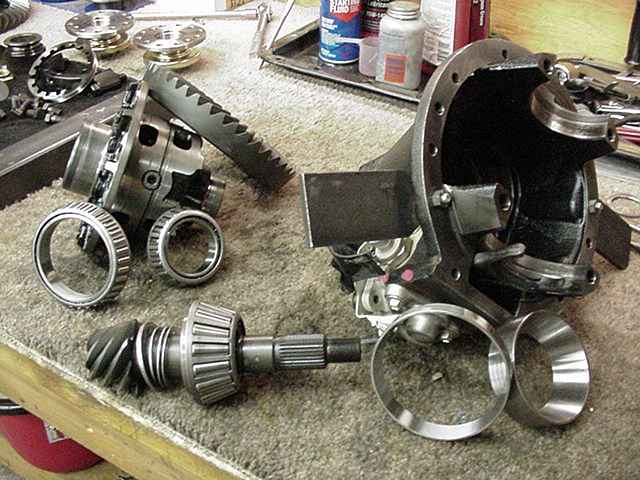 The carrier is dis-assembled and parts are cleaned/inspected...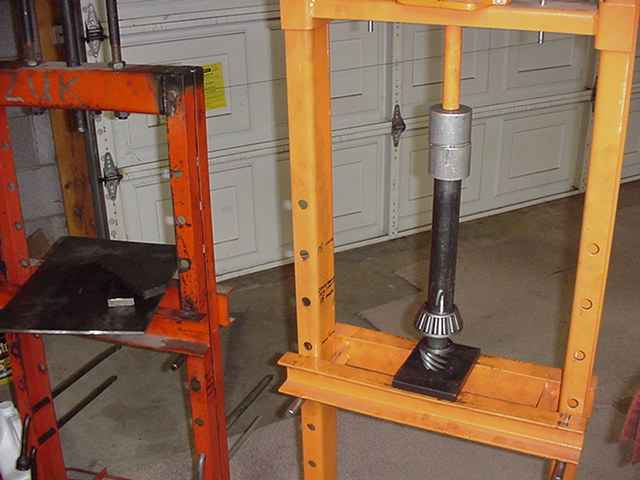 The new cryo treated pinion bearing is pressed on with a starter shim of .233".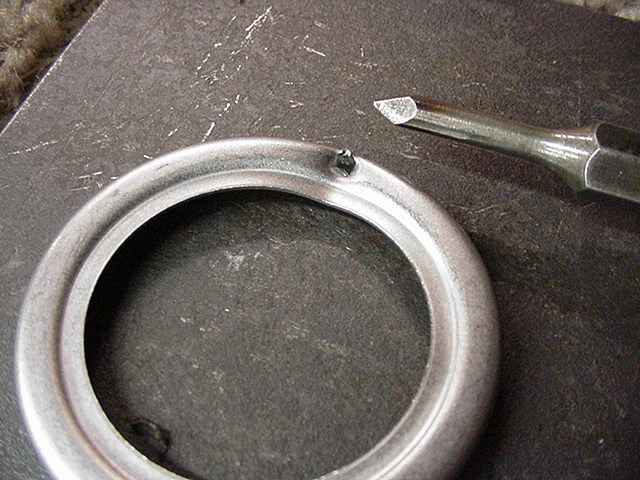 The oil retainer has minor damage due to the removal process.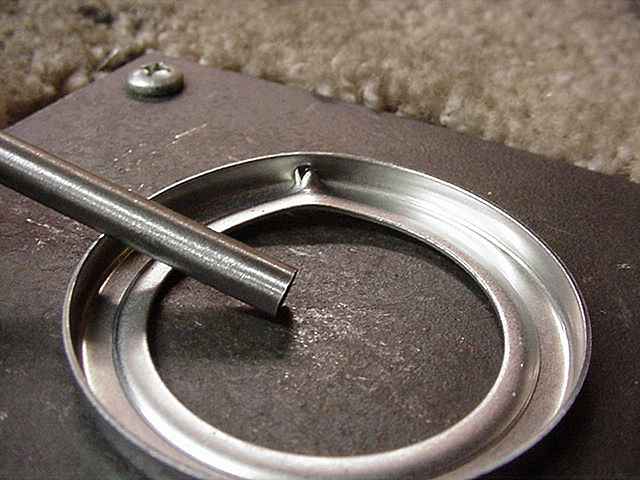 A few taps with a flat punch will make it all good again.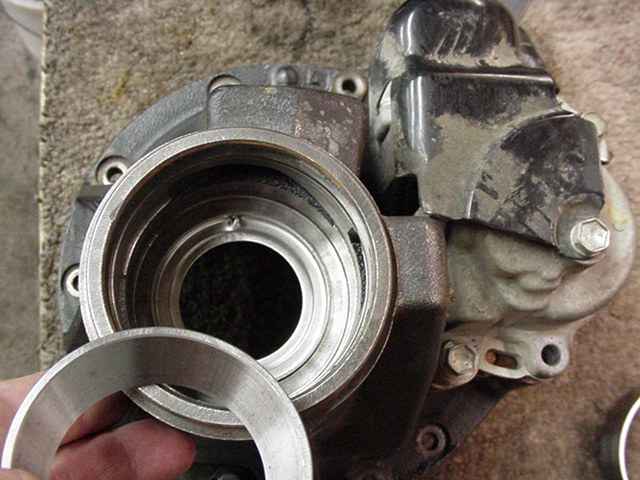 The damaged area is located in the straight up 12 o'clock position where it will not see any oil. Then the outer pinion race can be tapped in place.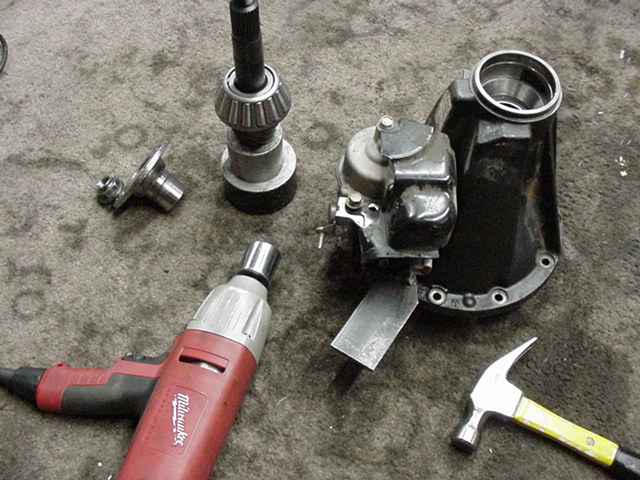 The pinion is then installed without a crush sleeve or solid collar at this point. We are just doing a pattern check so just tighten the pinion nut until about 10~15 inch/pounds of PPL is noted.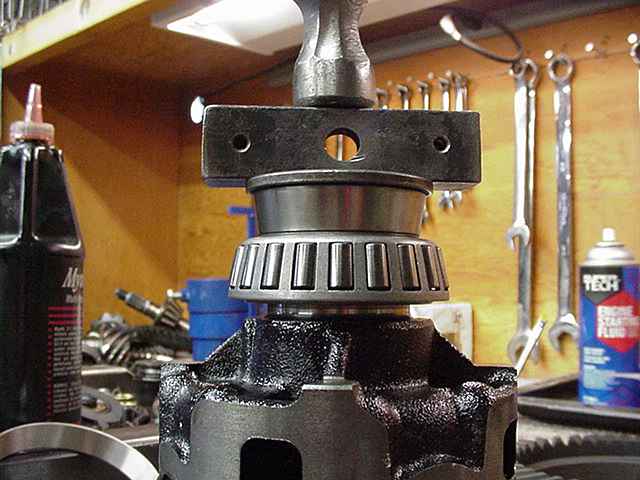 Now to tap on the carrier bearings.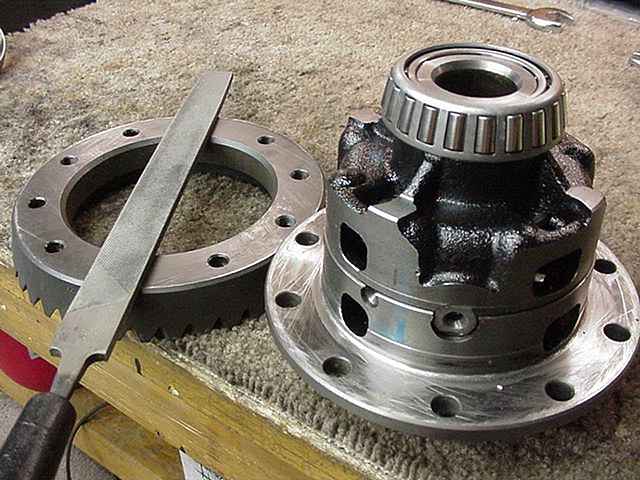 Surfaces are filed to check for burrs and raised edges and all was ok here. The ring gear is then mounted, loctited, and torqued to 75 ft/lb. The case is then mounted in the carrier...BL is set to roughly 8 thou and minimal CBPL is needed for just a pattern check.
Pattern is favoring the heel end and also appears shallow(not a big enough pinion shim).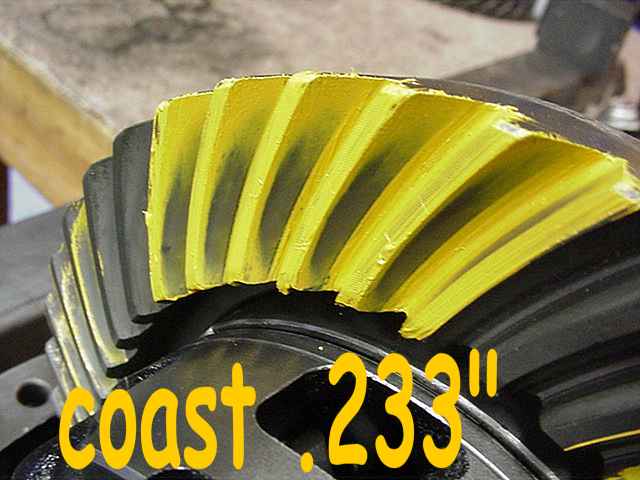 Coast is favoring the toe...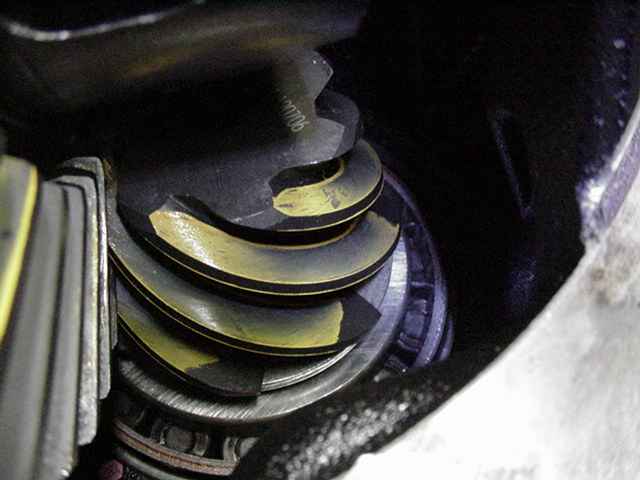 The pinion pattern looks deep which means the ring pattern is the opposite(shallow).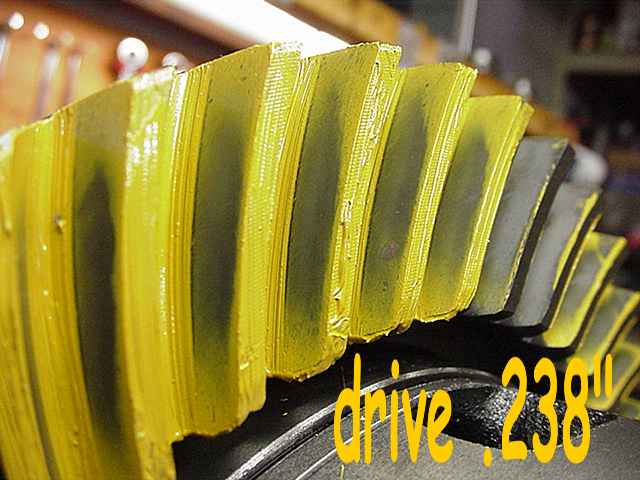 So I tore it all down and added .005" to the stack. Depth appears good....possibly slightly shallow.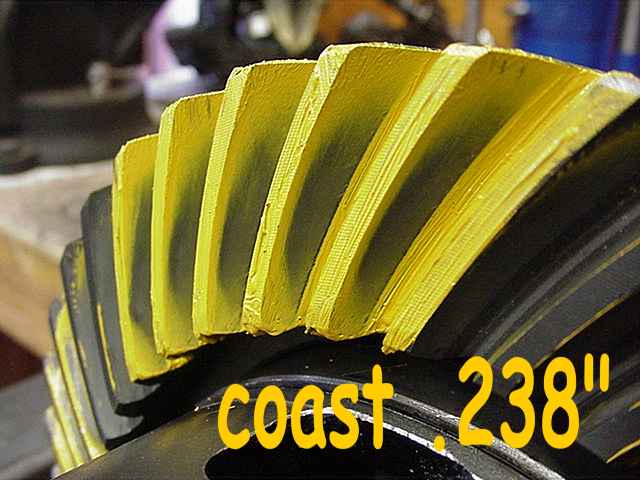 Balance is very good between the coast and drive.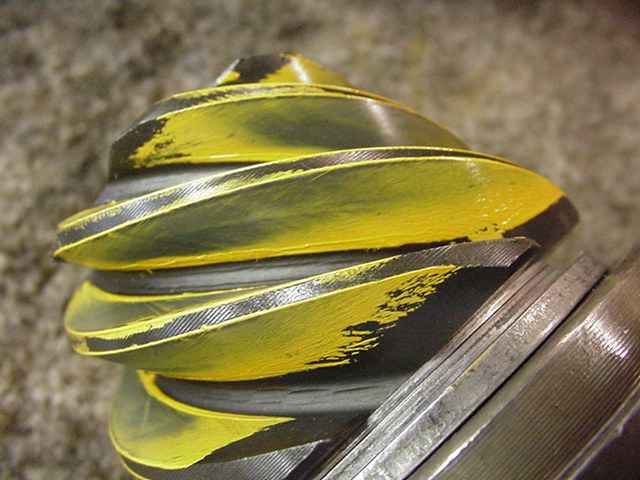 ...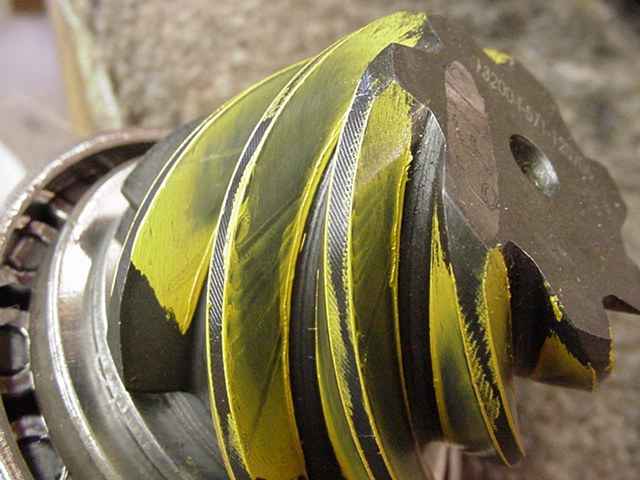 ....the pinion is not going to confirm one way or the other if it's a touch shallow.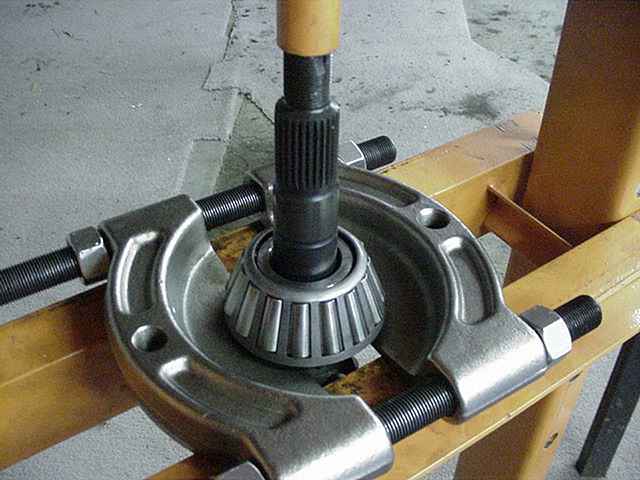 I will tear it down once more and add a few thou.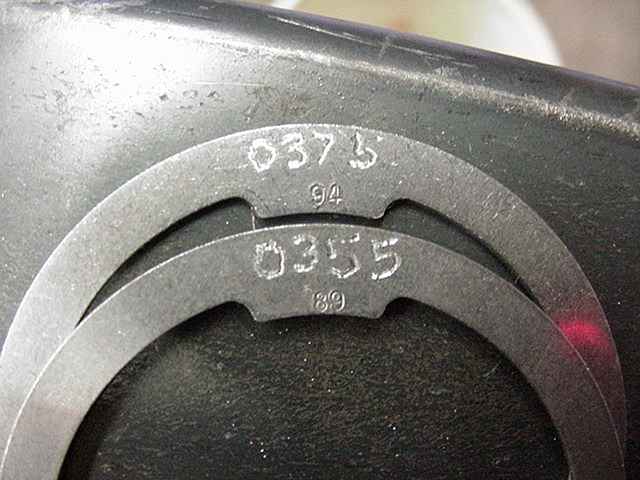 One of the shims in the stack was .0355" and I will substitute a .0375" shim.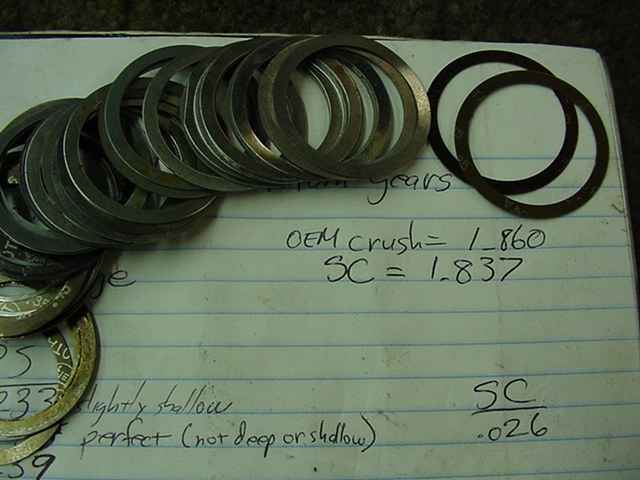 I'm fairly certain this new pinion shim value will be perfect so time to add the solid collar in. I will try a .026" shim.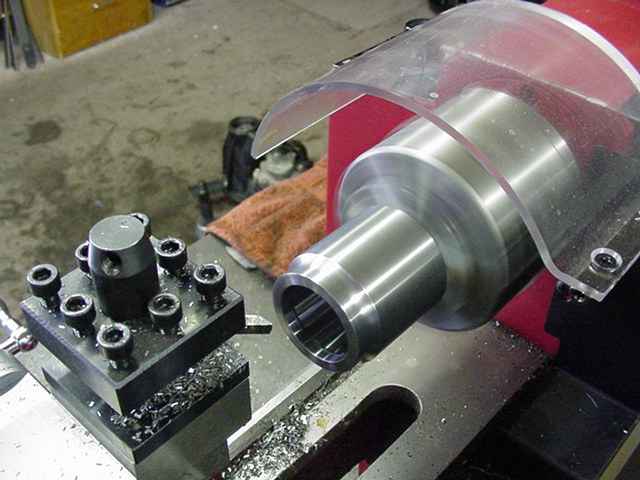 I trimmed off less than .001" in order to smooth the surface.

12-22-2014----Although the mini-lathe is a cool tool, a much simplier and effective method is a flat piece of floor tile and 100 grit sandpaper.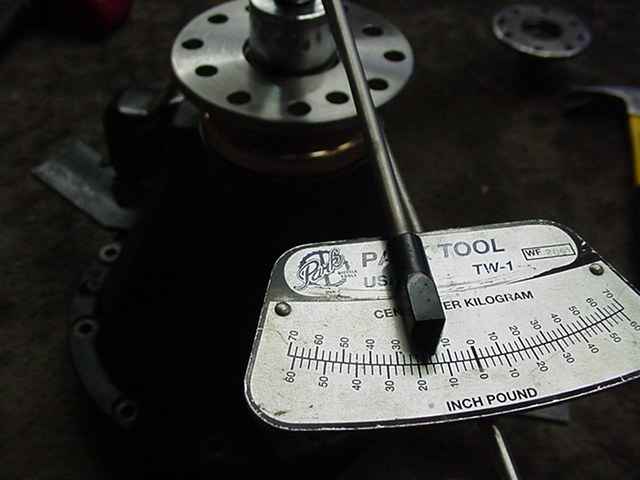 16 in/lb of rolling drag on the first try. Excellent.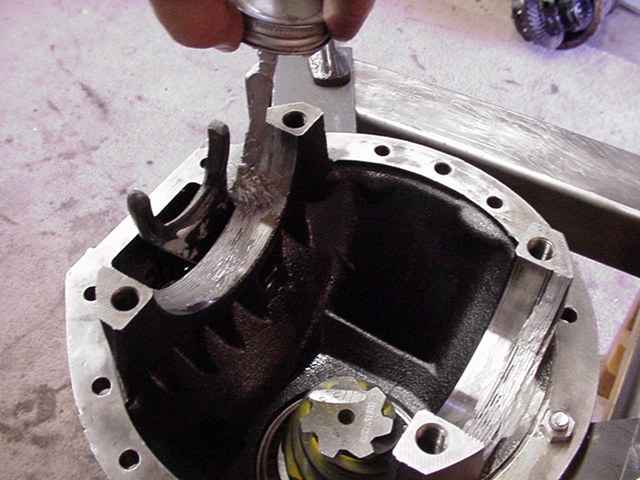 Anti-seize is applied to the threads...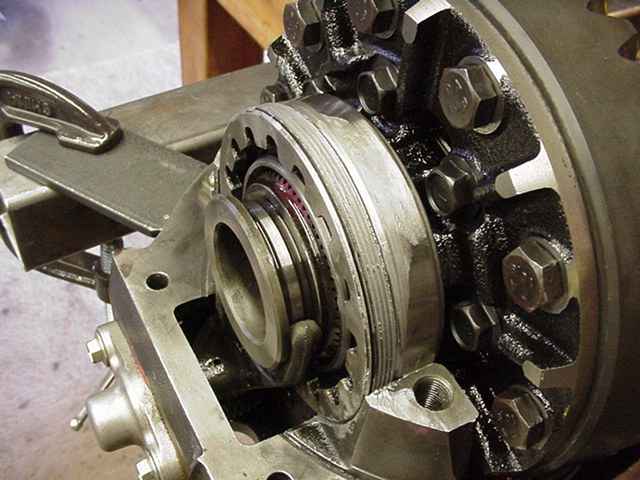 The adjuster wheels are verified to be meshing correctly.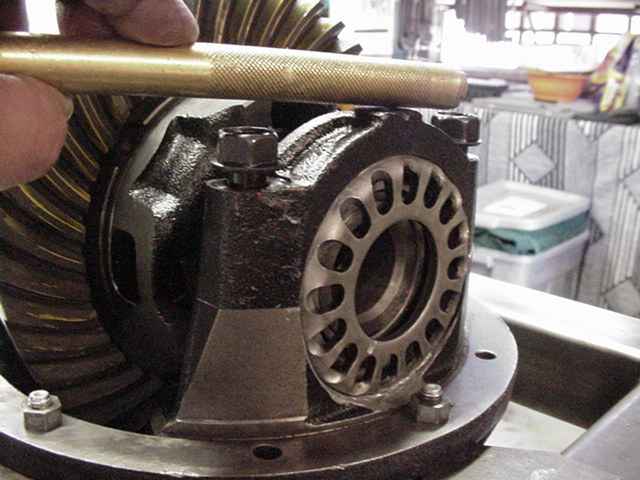 The bearing cap is aligned and tapped down.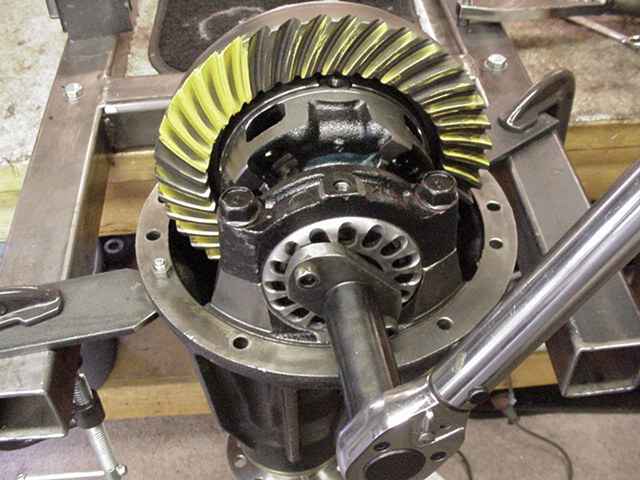 150 ft/pounds of CBPL. Not show is the hammer taps to shake the bearings and equalize tensions between both sides.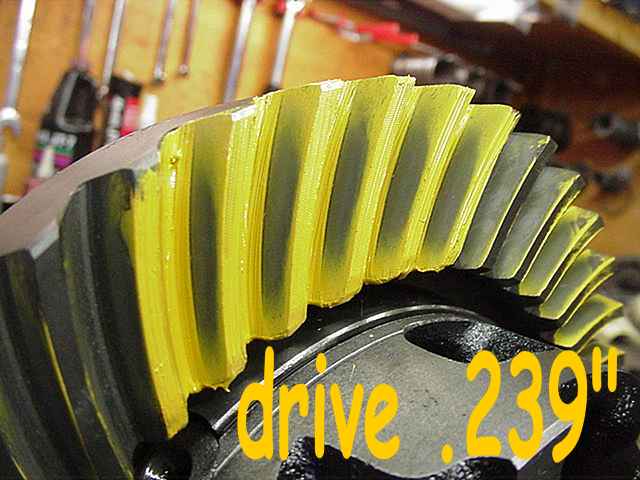 A fantastic pattern.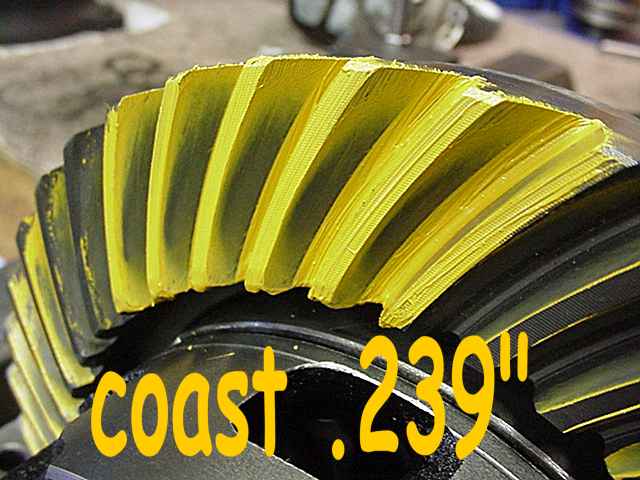 Coast is also the best.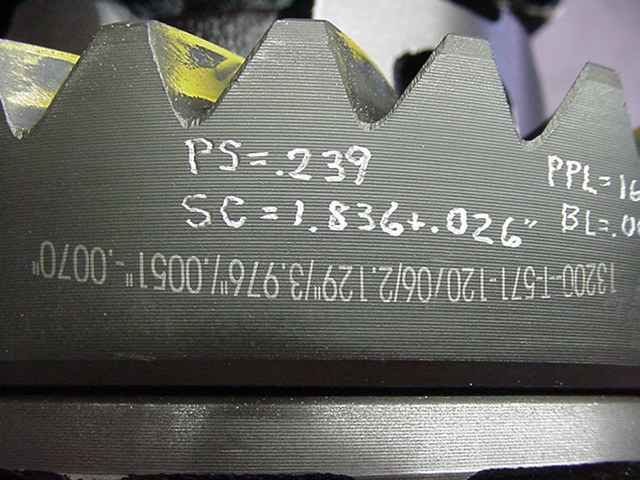 Measured specs are engraved on the ring.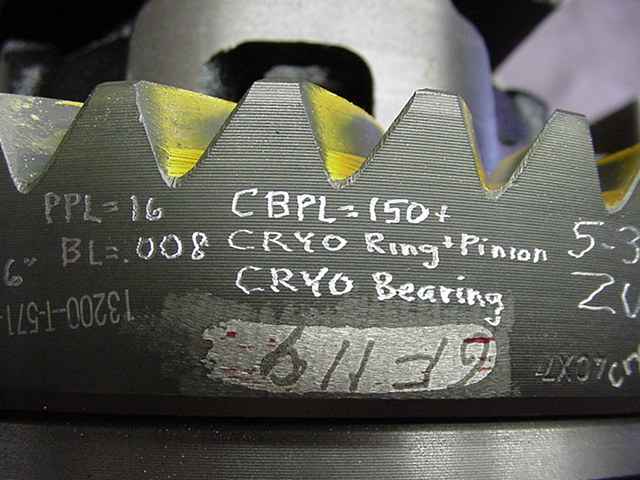 ...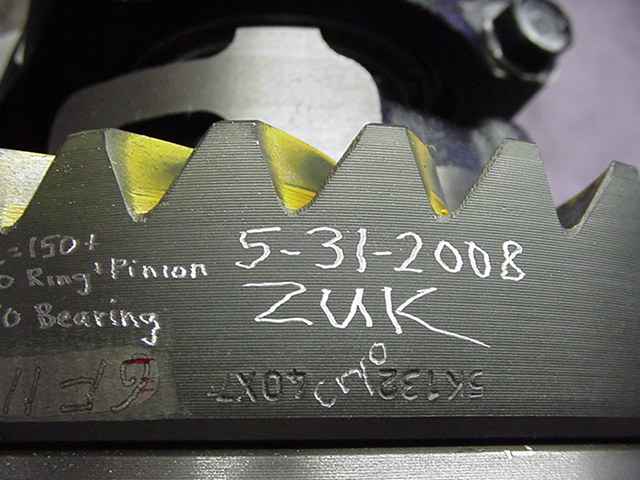 Done. ZUK
FRONT 571 E-Locker install...click here